The concerning rise of predators and cyberbullies have forced parents to look to monitoring apps for help. We present reviews of these monitoring apps to help parents find the best one according to their requirements and budget. So in this CocoSpy review, we will go through the various functionalities and assess whether this app is a good choice for troubled parents.
Part 1: What is the CocoSpy App?
Anyone who has been on the lookout for a monitoring app should have heard the name of CocoSpy at least once. CocoSpy is a popular spying app made for monitoring all the relevant activities that are taking place on the target device. The app is made to be light and hides once installed on the target device, making sure no footprint is left.
CocoSpy mainly targets parents concerned their child may be suffering from online harm. Parents can use the application to ensure their children are not talking with predators or are getting exposed to explicit content on the internet.
Although geared toward parents, CocoSpy can also be used by employers who want to make sure work is being done on their company-registered devices. Employers will have to take the employees' consent before monitoring them for legal reasons.
Part 2: What Can I Do with CocoSpy?
The CocoSpy app provides various features for monitoring the target device. Here are some of the features offered:
GPS Tracking

One of the most useful features of a monitoring app, GPS tracking, ensures that your target device is not going anywhere near any 'dangerous' zones. The device can be tracked at any given time, and parents can see whether their children have not ventured into harm.

Text Monitoring

CocoSpy has a dedicated message tracker built-in that allows users to read all kinds of messages. Even deleted messages are included and saved. For iOS users, iMessages are also tracked along with all the media exchanged there, such as photos and videos.

Social Media Check

All mainstream social media apps can be tracked through CocoSpy. When the target device uses apps such as Facebook, Instagram, or Snapchat, all updates are sent to the user.

Call Log Tracker

Detailed call logs are presented that include all outgoing and incoming calls. These calls are properly marked with relevant timestamps, the contact's name, and time duration. Then users can also use the dashboard to see the topmost called contacts. Potentially harmful exchanges will also send an alert.

Displays Media Files

All photos and videos of the target device, saved in the gallery, will be accessible to the user. The images can also be saved on the user's device without the target device finding out.
Part 3: CocoSpy's Compatibility
All devices powered by Android version 4.0 and up are supported and can run CocoSpy without any issues. Rooting is also not required and does not limit CocoSpy's core functionalities.
The iOS version has no limitations whatsoever. According to CocoSpy, every version of iOS will be able to run the app without any problems. Jailbreak or rooting is not a necessity, but CocoSpy might require you to perform these actions for monitoring some of the features of social media apps, including Snapchat.
Part 4: What the Customers Are Saying About CocoSpy?
Customer opinions on the CocoSpy tracking app are not favorable as it has a 3.2 rating out of 83 reviews. Follow the contents of this section to know more!
| | | |
| --- | --- | --- |
| Great | | Bad |
| 20.48% | 43.37% | 36.14% | "It offers value for money. The features are well-advertised, and I would recommend it to all."
Read More >> " This couldn't perform quite As I expected. They had no way of refunding. I'd say stay off these. "
Read More >>
Good Review Highlights
Customer Support. The customer service is very helpful!
Real-Time Tracking. It is a trusted monitoring service. The app offers real-time information on the target location.
Bad Review Highlights
No Keylogger Info. The keylogger does not work. You might have to spend money on a service that was not provided. The target phone sends you old messages from last year.
Lack of Transparency. They lack transparency in delivering their service!
How Good Is Their Customer Support?
Terrible!
They are not helpful at all. If you happen to apply for a refund, they delay the proceeding.
Part 5: What are the Pricing Plans of CocoSpy?
For Android:

| | Basic | Premium | Family |
| --- | --- | --- | --- |
| 1-month | $39.99 | $49.99 | $69.99 |
| 3-month | $59.99 | $69.99 | $99.99 |
| 12-month | $99.99 | $119.99 | $199.99 |
For iOS:

| | Premium | Family | Business |
| --- | --- | --- | --- |
| 1-month | $49.99 | $99.99 | $399.99 |
| 3-month | $79.99 | $199.99 | $699.99 |
| 12-month | $129.99 | $399.99 | $999.99 |
It's a shame that CocoSpy has offered no free trial for people who want to try the app before purchasing. Although not the same thing as a trial, the website has a demo available where users can check what the online portal looks and functions like.
Besides, if you are content that you want to use CocoSpy and see yourself using it for a longer time, go for the annual subscription as it's significantly less than the monthly one.
Part 6: The Pros and Cons of Using CocoSpy
Pros:
The app works regardless of the jailbroken status
Real-time location and a route that shows travel history
24/7 customer service that provides excellent support when needed
Photos and videos of the target device are entirely accessible
Cons:
Some tracking features require root
No free trial
Part 7: How to Use/Install CocoSpy?
The installation is relatively simple but may startle a few first-timers, so we have created an easy-to-follow guide broken down into two sections to make the installation process more manageable.
Installing the Cocospy app on your partner's or kid's cellphone will start with your device. Once that's done, it will begin setting up the app on the kids or the target mobile phone.
Step 1 Sign up
Visit the CocoSpy website and create yourself an account to use the service. Then, for those who already have an account, simply log in. Select whether the target device is an Android or an iPhone. Then, based on your requirements, select one of the offered subscriptions.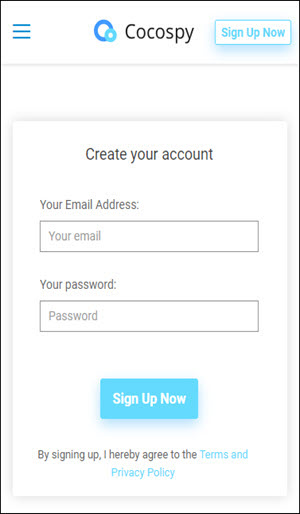 Step 2 Follow email instructions
An email with instructions will be sent to you. Follow those instructions to install the app on the target device.
Select the automatic setup option if you want the app to set up automatically, or go towards the manual option for more control. For beginners, automatic is suggested.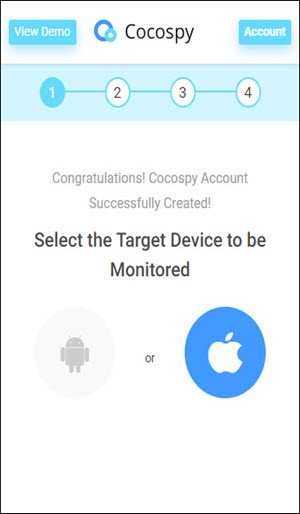 Step 3 Start Monitoring
The installation on both devices is complete, and now you can log in to your CocoSpy account and monitor the updates of the target device through the Online Dashboard.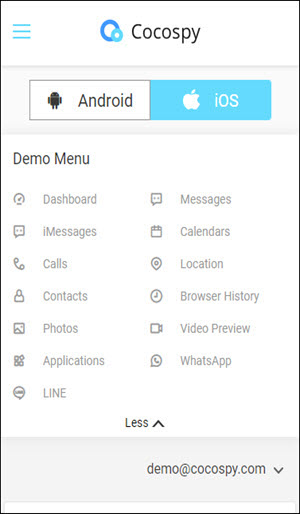 Part 8: The Comparison Between CocoSpy and Spylix
1. Similarity:
Both Cocospy and Spylix have fairly accurate location tracking features that can take you to the exact location of the targeted phone
Scanning through calls and texting is also a much-needed factor in tracking offered by both of these apps.
You can easily navigate through social accounts that have been logged in to the target phone without making any effort.
Both of these applications can give you complete access to browsing through a gallery where you can watch all sorts of media within the phone, including audio, videos, and photos.
2. Difference:
With Cocospy, you can't search through any incoming or outgoing emails. In contrast, Spylix lets you monitor every email on the targeted phone.
Spylix also notifies you whenever the connected phone receives any alert or message. But, in Cocospy, there's no such feature.
Spylix has an additional option of blocking all sorts of graphic elements on certain websites, apps, or even games. However, Cocospy doesn't go into much detail.
3. Why Is Spylix A Better Choice Than CocoSpy?
Comprehensive Tracking Features

Due to its extensive line of features reaching more than 40, Spylix is said to be a preferable option when you're looking for an app with sufficient functionalities. Meanwhile, CocoSpy can only offer up to 20 functions that are lacking in comparison.

Display Complete Data

Most monitoring apps, including Cocospy, only let their users look through the last message or the last call of the target device. However, Spylix ranks high in displaying the entire conversation, whether sent or received through WiFi or cellular data. Moreover, you can get the whole call history with a single tap.

Affordable

Spylix leans on the cheaper side when compared with CocoSpy on pricing plans, as these apps have much higher prices, offering much lesser features. The price starts from a price range of $39.99.

Always Up to Date

Cocospy has a relatively outdated help desk in contrast to Spylix, where the customer service representatives make sure to resolve all your queries within seconds.

Real-Time GPS Monitoring

Spylix allows you to carry out real-time tracking. Regardless of wherever the connected device is, you'll be notified, displaying their location on the map. This real-time tracking feature isn't provided by Cocospy.
4. How to use Spylix?
3 Easy Steps to Use Spylix

Step 1
Sign up
---

Step 2
Set up Spylix
---

Step 3
Start Tracking
Part 9: FAQs on CocoSpy
1. How much does CocoSpy cost?
Cocospy has different price plans for different operating systems, and Android plans are cheaper than iOS. The prices can go as low as $39.99 per month for a single Android device. Meanwhile, Spylix offers much lower subscription prices than any of its competitors.
2. Is there a free version of CocoSpy?
No, Cocospy doesn't offer any free version to its client, so if you want to use any of the features, you have to pay according to your needs, whereas Spylix has an entirely free version always available for you with limited features.
3. Can CocoSpy monitor Snapchat?
Cocospy knows the necessity of tracking Snapchat, especially when it comes to teens' phones. You can check every Snapchat activity of any targeted phone without getting detected. Similarly, Spylix can also keep you updated with the appropriate timestamps.
CocoSpy might also require jailbreak or root for monitoring some of the features of social media apps, including Snapchat.
4. Can Cocospy be blocked?
There is no way of directly blocking the Cocospy app after installation. However, the user may spoof their location to avoid GPS tracking or deletes all their messages as soon as they receive them to avoid being tracked.
Also, note that if the target device's user decides to format their phone, the app will get wiped, and the monitoring app will need to be installed again. For iOS users, if the iCloud account remains the same after a format, the monitoring will not be affected.
5. Can Cocospy be detected?
Once the Cocospy application is installed on the target phone, you can easily hide it from the user by turning on the stealth mode. So, whether you're using the Android or iOS version, it allows you to navigate while being undetected. Spylix works with a similar method of browsing remotely within the target phone.
6. Does CocoSpy offer a free trial?
No, Cocospy doesn't allow any free trial, so there's no way of testing out the features and characteristics of the app without buying the actual subscription. You'll have to invest in the basic plan for at least a month to get the most out of the app.
CocoSpy Reviews Conclusion
In this Cocospy Review, we tried to mention every element of this monitoring and tracking app. It works ideal in serving as a parental control tool. However, it lacks in most integral aspects, particularly help desk responses. The features that can aid effective parenting include location tracking, social media tracking, inappropriate content detection, etc.
You'll like the background mode of the apps that vanishes the icon from the app, letting you navigate without notifying the target user. In addition, the app is relatively easy to install. Finally, you may be disturbed by the cross-compatibility pricing policies of the app, but if you can afford it, then it will be worth your money.