The internet is flooded with parental control apps nowadays, and with so many options, it's easy to get confused. One particular app called Spyic has been quite popular amongst the community, and if you have been searching for a Spyic Review, you've come to the right place.
In this article, we will explore everything from various features to compatibility issues and subscription plans. So read on as we conduct an in-depth analysis of Spyic.
Part 1: What is Spyic?
Spyic is one of the more well-known phone monitoring apps and is geared toward parents who want to keep a watchful eye over their children. The app has been featured on several other platforms such as PC World, and CET and has users in over 190+ countries.
The app allows parents to monitor their kids through a dedicated online portal that provides updates relevant to the target device. Many parents look towards apps like this due to the ever-rising danger of cyberbullying and online abuse.
Parents need to protect their children. However, they don't want to restrict their children from using modern tech devices that connect to the internet, which leads them to an option that works best for everyone, a monitoring app for underage kids.
Spyic works on both Android and iOS devices and has several features under its umbrella. We will be discussing further down below.
Part 2: Features of Spyic
A list of features Spyic has to offer are as follows:
Users can track all incoming and outgoing calls. The information available will include the duration of these calls, proper timestamps, and the number of times a certain phone number was called. Users can even see favorites along with the most called number.
Message of the target phone will be visible to the user, and this will, in some cases, even include deleted messages. Proper timestamps will also be provided, and if any media files are present, they will also be included.
Parents can set boundaries on the map.When a child crosses a boundary carrying the target device, alerts will be sent to the parents.
Messages from all mainstream social media apps will be visible to the user, along with images of the people contacted and the media of the conversation. These mainstream apps include Snapchat, Instagram, Viber, Facebook, and WhatsApp.
Once the app is installed on the target device, the Spyic app goes under stealth mode, which will prevent even people familiar with tech from uninstalling the app.
The complete web history of the target device will be available, along with how often a particular website is visited and the saved bookmarks. In some cases, even small descriptions of the visited websites will also be provided.
Part 3: Spyic's Compatibility - Is Rooting/Jailbreaking Needed?
Spyic is compatible with both Android(4.0 and higher) and iOS devices with version 7 and up. It also doesn't need root or jailbreak to function for its core functions.
In addition, the online portal works on any modern browser accessible on a standard Windows and Mac desktop.
Part 4: Customer Reviews on Spyic
Spyic is not much popular with the users with significantly bad reviews across all review platforms. We will highlight what customers have to say regarding the renowned Spyic application.
| | | |
| --- | --- | --- |
| Great | | Bad |
| 7.14% | n/a | 92.85% | "I can finally control my daughter's phone usage. She used to chat during sleep time, but Spyic has helped me deal with that. Spyic is really an awesome monitoring app for parents. I will recommend it to my colleagues" "A real scammer avoided them. I installed it and it didn't work. When I asked for a refund they denied my request. And when I made my review in this very Trustpilot they went along with them and removed my review and I'm doing it again one more time! "
Read More >>
Good Reviews Highlight
Displays Media Files. The photo and video finder features work perfectly. It shows every photo and video stored in the target device.
Tracks Spouses Privately. It lets you access the in-phone messages of your spouse to help you learn if they are cheating or not.
Bad Reviews Highlight
False Advertisement. You can run into some technical issues while unlocking the 2FA.
Trouble Monitoring iPhone. There's no way to install this if the Apple ID has been in place for more than two weeks. You cannot disable two-factor authentication more than two weeks after it's initiated.
Flawed Refund Policy. It does not work and it is impossible to get a refund even if you request the refund within 15 minutes after purchase!
How Good Is Their Customer Support?
Disappointing!
Do not expect a timely back and forth from Customer Service if you live anywhere in North America.
Part 5: Is Spyic Really Worth The Money?
Spyic offers separate pricing plans to track Android and iOS devices. You can check out the packages in the tables below:
For Android:

| | Basic Plan | Premium Plan | Family Plan |
| --- | --- | --- | --- |
| 1-month | $39.99 | $49.99 | $69.99 |
| 3-month | $59.99 | $69.99 | $99.99 |
| 12-month | $99.99 | $119.99 | $199.99 |
For iOS:

| | Family Plan | Premium Plan | Business Plan |
| --- | --- | --- | --- |
| 1-month | $99.99 | $49.99 | $399.99 |
| 3-month | $199.99 | $79.99 | $699.99 |
| 12-month | $399.99 | $129.99 | $999.99 |
The prices are a little on the higher side of the spectrum as we can see that it's above most apps in this category. Unfortunately, iOS devices also lack a basic plan, and users will have to pay for a premium one if their target device uses iOS.
Part 6: Spyic Pros and Cons
Pros:
No root or jailbreak for core functions to work
Customer support is satisfactory and available 24/7 in all major countries
Geological fences are a helpful feature to keep children out of danger zones
No additional charges on switching devices
Stealth mode makes sure that even people with tech knowledge won't have an idea if their device is being monitored.
Cons:
Lacks call and video recording functionalities
Require physical access for jailbroken iPhones
A little expensive when compared to other competitors
The basic plan only includes the bare minimum
Part 7: How to Install Spyic?
As Spyic expects parents of all kinds to install the monitoring app, they have made the process incredibly simple and can be done in only a few steps.
For Android:

Step 1 Create an Account
Make sure you have an email address which you can access and receive emails from. Then, use that email address to create an account on Spyic.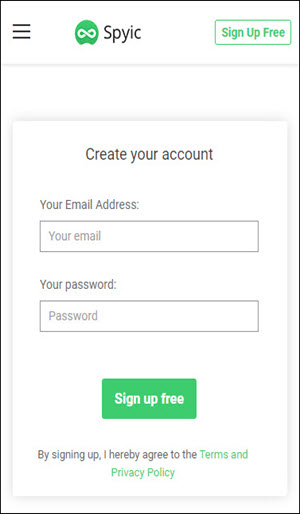 Step 2 Choose a Subscription
Check if the target device you want to monitor either runs Android or iOS and then navigate to the relevant pricing tab. In the subscription menu, assess your requirements and then make a choice. Next, all you need to do is follow the simple installation prompts and set up the target device.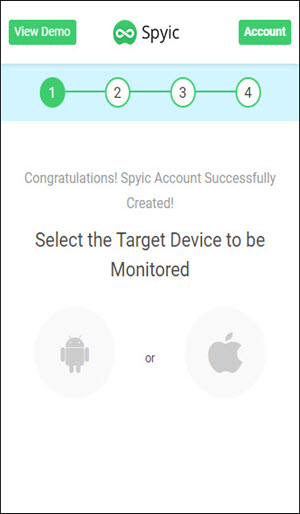 Step 3 Begin Monitoring
Once the monitoring app has been installed on the target device, you can monitor through the dedicated online portal.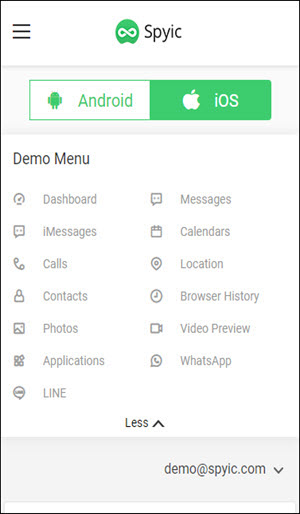 Comments on the process
The installation process is pretty straightforward, and people without even a little tech knowledge can follow easily through the installation prompts. Then, in only a couple of minutes, you will have your target device ready to be monitored.
Part 8: Spyic VS Spylix
1. The Similarity:
Allows users to monitor the target device's location and sends alerts if the device crosses certain limits set by the user
Call records monitoring with timestamps and duration
Browser history is available to view along with saved bookmarks
Stealth mode makes sure that the monitoring app remains undetected while the data is being sent
2. The Difference:
Spylix comes with a dedicated keylogger, whereas Spyic has none
Spylix doesn't require a jailbreak for its more important features
Spylix also has a more considerable amount of services offered
3. Why Is Spylix a Better Option Than Spyic?
Spylix offers up to 42 features, far more than its competitors, and most of these features work out of the box without the need for either jailbreak or root.
The problem with message updates is that most competitors only show the most recent message received. Unfortunately, this is not enough for the user, which is why Spylix provides access to the complete conversation along with included media files such as photos, and videos.
Although it offers more features, the price of Spylix is competitive and more often less than other monitoring apps in the same category, providing more value to the users. This makes sure that users don't have to invest in other apps for a few extra features, saving money in the long run.
Spylix makes sure that the customers are constantly heard of and provides 24/7 customer support. Other competitors also claim this. However, customer support is subpar at best. This is important because if you run into any problems during the installation or monitoring process, customer support will be your first place to go.
With Spylix, users also get several features that are often excluded from monitoring apps. Features such as broad file support and keyloggers are essential while monitoring the target device, which is why Spylix has made sure that users get them in the bundle package.
How to use Spylix?
3 Easy Steps to Use Spylix

Step 1
Sign up
---

Step 2
Set up Spylix
---

Step 3
Start Tracking
Part 9: What Should You Know about Spyic?
Is Spyic still free?

Spyic is not free, and users will have to buy a subscription to avail its features. However, there is a demo available on the website that can be used to have an idea of how the online portal works.

Is Spyic detectable?

Similar to Spylix, Spyic on iOS devices is utterly undetectable as it uses iCloud's features to fetch data. However, the Android version of Spyic does require an app to be installed, and although there is a stealth mode available, a phone format can easily remove the app.

Does Spyic Work on Android and iPhone?

Spyic works on both Android devices and IOS devices. However, iOS devices will require iCloud details, while Android devices will require physical access to the device for a short while.

Users also should note that some of the Spyic features are locked behind jailbreak and root requirements, whereas Spylix works completely without the aforementioned requirements.

Can Spyic Monitor Multiple Devices?

If the user has bought a plan which includes the monitoring of multiple devices, then yes, tracking of multiple devices is possible. However, do note that users will need to buy separate plans for Android and iOS devices.

Can my child Turn off Spyic?

Turning off stealth mode will require a lot of tech expertise which the children simply do not have. Most children will not even be able to tell if a monitoring app has been installed on their device. So no, a child cannot turn off Spyic as the stealth mode prevents it.

Does Spyic offer Social Media Monitoring?

Just like Spylix, Spyic also has social media monitoring, and parents can check the conversations of each of these apps along with their relevant timestamps. In addition, Spyic also allows parents to access the media in these conversations, such as photos and videos.
Spyic Review Conclusion
Monitoring apps are an important part of parenting in some cases, and we hope we have painted a clear picture for you in terms of Spyic.
In the conclusion of our Spyic reviews, all we have to say is that before choosing a service, make a list of your requirements and see the features that you need. Then see the price to value ratio of subscriptions and once you are sure of these two things, go in for the purchase.