You may need to monitor someone's chat, money transactions, or any digital activity the person is performing on their mobile phone. It could be done to protect your family from digital threats or you are monitoring your employees to save valuable information about your company.
Whatever the reason is, a monitoring app can help you in these circumstances. This article is about ClevGuard's reviews, how this monitoring app is helpful and what are the customers ClevGuard reviews about its working.
Part 1: What Is ClevGuard?
ClevGuard is the best choice to monitor tablets, computers, and mobile phones. It lets you monitor teen's activities or clear your doubts about your life partner. It can be used for the supervision of enterprise confidentiality and security.
ClevGuard is a Chinese company who is providing many monitoring products and the KidsGuard Pro app is one of their latest products. This parental control app is specially designed for parents so they can easily access their children's mobile phone data. Some of its main products are
ClevGuard Anti Spyware
KidsGuard
KidsGuard pro for Android
KidsGuard pro for iOS
KidsGuard pro for iCloud
KidsGuard for WhatsApp
It is an efficient platform that is used in 200 + countries around the world. It claims that they have achieved a 97% customer satisfaction rate where more than 400,000 have registered themselves on it. It also offers a 30-day money-back guarantee. It provides 24/5 customer service to its users.
It offers a lot of features depending upon the product you are purchasing. Some of its important key features include monitoring calls, text messages, photos, videos, and social media accounts. It is a secure platform that does not violate the privacy of your family or employees.
Part 2: Features of ClevGuard
ClevGuard has a distinctive position among all the available monitoring applications because of its features. Some of its key features are enlisted here:
Monitoring applications. It offers you the facility to track all the applications that are installed on your target mobile phone including social apps like ClevGuard WhatsApp, Facebook, or Instagram.
GPS tracking. It enables you to find the exact location of your child or employees at any time. You cannot only find the real-time GPS location on a map but also can view the past visited locations.
Deleted messages and files. It is a feature that most spying apps do not offer. You can view the deleted chats and media files including audio or videos.
Screenshot capturing. By using ClevGuard you can take screenshots of activities you are monitoring. In the case of Android devices, you can even take real-time screenshots.
Keylogging. It works as a keylogger where you can view all the keystrokes pressed by your target person on his or her mobile phone keyboard. This feature allows you to find out the username and passwords of the target person's different accounts.
Contacts, calls, and messages monitoring. It allows you to track the contact list present on the target device along with the calls and texts.
Part 3: ClevGuard's Compatibility
ClevGuard app is compatible with Android devices, iOS devices, and PCs. You can easily use this monitoring application on Android devices having Android 4 or later versions, iOS devices having iOS 9+, and PCs having Windows 7 or later.
Additionally, It does not require rooting or jailbreaking the Android and iOS devices respectively. On their official website two separate products are available, KidsGuard Pro for android and KidsGuard Pro for iPhone.
Part 4: What Does the Customer Say about ClevGuard?
ClevGuard has gained a lot of positive reviews about its working and customer support service. It has gained a 2.9 average rating and to know more about the ClevGuard bad and good reviews read this section.
| | | |
| --- | --- | --- |
| Great | | Bad |
| 71.13% | 9.28% | 19.59% | "I would like to express my gratitude to the ClevGuard technical support specialists for their expertise, personal approach to the customer, and excellent and fast communication. They helped me solve my problem to my complete satisfaction."
Read More >> "Although KidsGuard pro is supposed to be undetectable it can be easily seen in the settings menu on the device you want to track. Anyone with even a basic ability can see there is something that shouldn't be there and that it has full access to their phone..."
Read More >>
Good Reviews Highlights
Fast and easy setup. It is very easy to set up and you can do it by yourself in a few minutes. Even a person without having any technical skills or knowledge can install and set up the application on the target device.
Efficient features. It offers a lot of features that are praised. It is undetectable to the user so it is used as the best choice for the Parental Control. Its keylogger feature works well. The browser history monitoring feature is very good as it records everything even the phone goes into Cognito mode.
Good response time. Most of the users face auto-renewal issues. But when they contact customer service in this regard, they get a quick response and also are refunded.
Bad Reviews Highlights
Taking extra charges. It cuts extra charges from the user's account without getting their permission. When they are contacting to resolve the issue, they make excuses and ignore the facts. Other extra charges come under some other name of service.
Features don't work. Some of its features do not work properly. Sometimes Snapchat messages are not readable or GPS location did not work and screen capturing also stops. It was asked to uninstall and reinstall the application or restart the phone 4 times or change the time to the 24-hour clock. All these are annoying and frustrating.
The camera stopped working. After installing and setting up the app on the target device it has been observed that the camera stops working and it says that the camera is used by another application. ClevGuard accounts have to be removed from the target device to resolve this issue.
How Good Is Their Customer Support?
Too Bad!
The customer support team doesn't respond as they should. You can not call them as there is no customer service number and they also don't address where a complaint can be sent. The only way to request them is by email which they usually do not respond to.
Part 5: What Are ClevGuard Pricing and Subscription Plans?
KidsGuard Pro price plans
| | KidsGuard Pro for Android | KidsGuard Pro for iOS | KidsGuard Pro for iCloud |
| --- | --- | --- | --- |
| 1 month plan | $27.99 | $34.99 | $27.99 |
| 3 months plan | $43.99 | $49.99 | $43.99 |
| 12 months plan | $89.99 | $95.99 | $89.99 |
Other products
| | KidsGuard for WhatsApp | MoniVisor Windows monitoring |
| --- | --- | --- |
| 1 month plan | $16.99 | $42.99 |
| 3 month plan | $34.99 | $69.99 |
| 1-year plan | $75.99 | $109.99 |
Comments on ClevGuard Price:
Not Expensive
It offers different types of subscription plans for different products and different versions. In every plan, you will experience different features. It also offers a free trial version if you want to try it but it offers very minimum features. Its plans are not expensive but you will not get all the useful features in one product.
Part 6: Pros and Cons of ClevGuard
Pros:
Compatible with iPhone, Android, and Windows OS
Covers all social media platforms
Offers all-time tracking
Give access to all types of media files
Offers services in different languages
No need for rooting or jailbreaking
Cons:
Doesn't provide free viewer app for mobile
Doesn't offer email tracking and video recording
Some of ClevGuard KidsGuard Pro iPhone features don't work as advertised (i.e call recording, video monitoring, social media monitoring)
As a parental control don't offer restrictive features/ blocking features
Detectable on some Android devices
Doesn't capture social media messages
Part 7: How to Use ClevGuard?
After installing you can easily monitor your target person's data. And if you find any type of difficulty you can easily contact the customer service. For your guidance a step-by-step guideline is given below:
Step 1 Register an Account
Search for the official website of ClevGuard by typing "www.clevguard.com" in the search bar and ClevGuard sign in there by using your email address.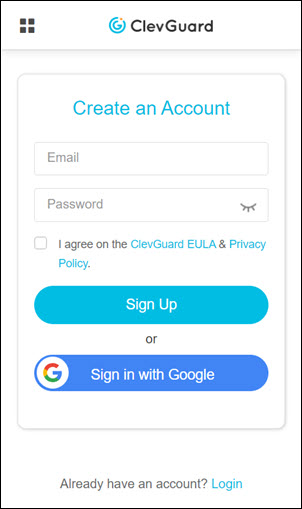 Step 2 Set up the Tool
You have to follow the guidelines depending upon the product you are purchasing to set up and install the app on the target device.
Note: you may have to perform some additional steps depending upon the product you are purchasing, For instance, if you are going with KidsGuard Pro iOS devices then you have to connect the target device with USB and WiFi.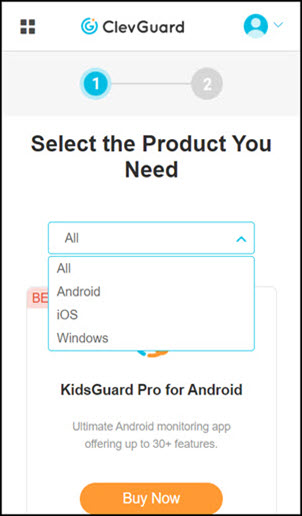 Step 3 Access Online Dashboard
Through KidsGuard Pro login go to your dashboard and start monitoring.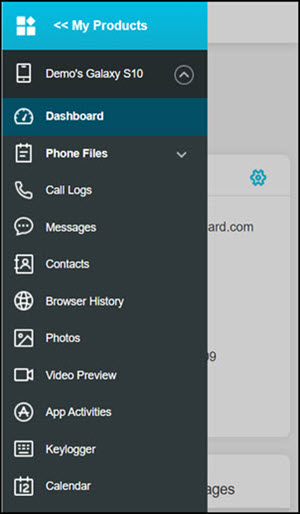 Comments on User Experience:
Easy
ClevGuard app is very easy to install and use. You don't need to be a professional investigator to use this as it does not demand any type of special skills or knowledge for working. It will take a few minutes to install the app on the target phone.
Part 8: ClevGuard VS Spylix
Spylix is an amazing monitoring app, a comparison between ClevGuard and Spylix is given below:
1. The Similarity:
Following similarities are present between ClevGuard and Spylix:
Both monitoring applications are compatible with iOS and Android devices and support all the latest versions.
No need for rooting or jailbreaking on target devices to use ClevGuard as well as Spylix.
Both provide some advanced features such as geofencing where you can set some boundaries.
2. The Difference:
Following differences are exhibited by ClevGuard and Spylix:
Spylix offers more monitoring features for Android and iOS devices as compared to ClevGuard.
Spylix offers email monitoring features that ClevGuard does not provide
Spylix offers parental control restrictive features like blocking apps and websites but the KidsGuard Pro spy app doesn't offer such type features.
3. Why Is Spylix A Better Choice Than ClevGuard?
Following are the reasons why Spylix is preferable as compared to ClevGuard:
Spylix offers a lot of features that make your spying process more interesting and fruitful. In the case of Android, it lets you enjoy 40 monitoring features and in the case of the iPhone, you are provided with 18 monitoring features. While ClevGuard does not support a lot of features it only offers 24 Android and 16 iPhone monitoring features.
Parental control applications must provide restrictive features to the parents so they can control their kids' activities efficiently. You will not find any type of restrictive features in the case of ClevGuard but Spylix offers a lot. By using Spylix you are allowed to block Wi-Fi, applications and some websites which you found are not suitable for your kid.
There is some useful information that you will not get if you use ClevGuard. For example, the KidsGuard Pro app does not support email tracking so you will not monitor the emails of the target person by using the ClevGuard app.

But by using Spylix you can not only view the emails of the target person but also can find other associated information such as the time the email has been sent or the sender's email address.

ClevGuard provides a social media monitoring feature such as KidsGuard Pro Snapchat or WhatsApp monitoring but the only thing that you can view is the notifications so if you want to read Facebook or Instagram messages then this morning app is not for you.

Spylix proves to be better in this situation as it does not only provide access to the social media messages but also lets you view the detailed description including the sender name and the time of message has been sent or received.

Spylix is a totally undetectable application. It hides its icon automatically and does not leave any type of clue so the target person will never find out that you are monitoring them but in the case of ClevGuard it has been reported that it is detected on some Android versions.
How to use Spylix?
3 Easy Steps to Use Spylix

Step 1
Sign up
---

Step 2
Set up Spylix
---

Step 3
Start Tracking
Part 9: FAQs about ClevGuard
Is ClevGuard Legit?
ClevGuard is a legit application that helps users to track any compatible mobile phone, tablet, or computer. You can use this app to find out what your child is doing on their mobile phone or you can use this to spy on your spouse's activities if you have some doubts.
You can also use this application for personal use where you can find out what is present on your mobile phone or locate it if you lost it. Spylix is another legit application that let you monitor your kids under 18 or your employees after informing them.
What is the Kids Guard Pro app?
KidsGuard Pro is an efficient parental monitoring app that is compatible with iOS and Android devices. This platform is a great help for parents who are worried about their kids' digital activities or want to keep an eye on them for security purposes.
It lets you view text messages, calls, photos, and videos that are present on your kid's mobile phone. It also helps you in tracking the GPS location of your kids. Spylix is also an efficient parental monitoring app that provides bundles of monitoring features.
Is ClevGuard detectable?
After installing the ClevGuard, it does not appear on the target mobile phone phase and works in the background mode. But it has been observed that it is hidden on some android devices such as Huawei mobile phones but in the case of Samsung, the icon is only disguised in the app drawer and detectable.
While Spylix is totally hidden on all types of Android and iOS devices it is supported. It does not leave any type of clue so the target person will never find out about it.
Is ClevGuard real?
Like an efficient monitoring application, ClevGuard is safe to use. It is 100% virus-free and all the data that you are monitoring is encrypted and protected so you should not worry that anyone can watch your kids or your personal information.
Spylix is also a secure and safe platform to use. All the data is transferred to your online dashboard encrypted and the only person who can watch is you.
What is required to use KidsGuard Pro for Android?
To use this product of ClevGuard you first have to access the target device to install the application on an Android phone. After that purchase the license to activate the related service. It is also needed that your target Android device must have an internet connection to upload all the data.
To use Spylix on an Android phone you just have to one time physically access the phone to install the app and then after login on into your dashboard you can easily monitor it.
Is there any Free ClevGuard voucher/ ClevGuard deal or ClevGuard discount?
ClevGuard offers you a free trial where without purchasing the app you can look for its working. This is very helpful to make a decision about purchasing this application. Spylix provides a free demo and also lets you register yourself for free.
ClevGuard Review Conclusion
This article contains a ClevGuard review, it is an efficient app that you can use to track a mobile phone, tablet, or PC. There are different products that it is providing to the public, KidsGuard Pro is its latest product. KidsGuard Pro reviews have shown that some important monitoring features are missing in it and some features don't work the way they are advertised. You can go with Spylix which is the best alternative option to enjoy more features than ClevGuard.