Finding a good spying app can be painful with so many options on the market. So for this very reason, we have put up a FlexiSpy review together, exploring elements such as price, features offered, compatibility, and much more.
Diving deeper into the app will help you analyze it better, helping you decide whether this app is the right choice for you. So without further waiting, let's get started!
Part 1: Introduction to the FlexiSpy App
As the name suggests, FlexiSpy is a spying app that allows users to track and monitor specific updates on the target device. These updates can be related to both online and offline services. FlexiSpy also supports a variety of different devices.
Where most monitoring apps only include mobile devices such as Android and iOS, FlexiSpy also works on Desktop PCs to track data.
The target audience for FlexiSpy is parents and employers. Worried parents can use the app to ensure their kids are safe from online predators. Parents can also make sure that their underage kids are not being exposed to adult or explicit material.
The app is also useful for employers who want to make sure that their company-issued devices are being used the way that they were intended to. For example, employers can make certain work is being done on their devices and that no employee is wasting the company's time by engaging in nonproductive activities.
Part 2: What Can You Do with the FlexiSpy App?
Here is the list of features available on FlexiSpy:
All installed application statistics will be available to the user. Details such as the frequency of opening an app, along with the usage time, will be presented. Additionally, the user can also view if any previous versions of the app have been installed.
The phone calls will not only be monitored but can also be recorded. These calls can be over the SIM network and through VOIP-based applications such as Skype, Viber, etc.
Conversations on social media will be visible, and the user can access both text message and stickers included in the conversation of apps like Messenger, Line, and many others.
The location of the device will be tracked and available to the user. The user can also export spots visited by the device in the form of coordinates into their map-based location of choice and then view them from their preferred angle.
A feature rarely found in spying apps, FlexiSpy allows users to activate the target device's microphone and then listen to all the sounds present in the environment.
Part 3: Does FlexiSpy work on Android and iOS?
Android:

FlexiSpy's website lists Android devices above 8.0 and above, which means older devices might have some problems running. Rooting is not usually required, but some advanced features can only be accessed through this process.
Samsung devices will also need to have advanced features disabled on the target phone, or FlexiSpy won't work.
iOS:

Jailbreaking is necessary to install the application on the target device. All devices that can be jailbroken are supported.
Part 4: What About the Customer Reviews?
FlexiSpy is a popular app among everyday users who are plainly looking to track the phone activities of their loved ones to keep them safe from harm. It has an average rating of 4.5 out of 501 reviews.
| | | |
| --- | --- | --- |
| Great | | Bad |
| 77.64% | 16.17% | 6.19% | "I was a ClevGaurd customer for nearly a year and the software never lived up to what it had promised. After nearly a year of half working software and no customer support I found FlexiSpy.
What a difference. FlexiSpy works. It actually does what it says it will do. Better yet my expectations were so low after using ClevGaurd that FlexiSpy actually over delivered what I was expecting. It is a great change from getting 1/2 of why you expected to getting more than you expected.
I highly recommend FlexiSpy if you want functional software to monitor a remote device."
Read More >> "I bought an Iphone 12 max pro, ordered it with pre-installed software with a year license. There was a specific reason I needed the pre-installed software package. A friend of mine showed me the app was working on his phone. So, I could order it safely, I thought...I highly recommend FlexiSpy if you want functional software to monitor a remote device..."
Read More >>
Good Reviews Highlight
Easy Interface. The installation was very easy, and also the user interface runs smoothly.
Smooth Tracking. You can monitor your workers' call log, text messages, iMessages and so on, without leaving the target phone lagging.
Keylogger. No matter what your child opens, whether it may be posting a calendar event or texting their best friend or meeting some weirdo on the internet you could see it all in real time.
Stealth Mode. FlexiSpy allows the icon to stay hidden from your child seeing it.
Bad Reviews Highlight
Complicated Installation. The installation is a very complicated process and you can't do it instantly as they would like you to believe.
Scam. The WhatsApp monitoring does not work!
How Good Is Their Customer Support?
Efficient!
The service takes pride in having the best support in the business with a guaranteed 24-hour response time.
Part 5: How Much Does FlexiSpy Cost?
For Android and iOS Tracking:
| | | | |
| --- | --- | --- | --- |
| | Lite | Premium | Extreme |
| 1-Month | $29.95 | $68 | - |
| 3-Months | - | $99 | $199 |
| 12-Months | - | $149 | $349 |
Unlike most spying apps, the price of both Android and iOS apps are the same here, which comes as a relief for iOS users who are usually charged a bit extra. The price is also on the higher side of the spectrum.
However, the list of features may justify it for some depending on the individual requirements. Moreover, FlexiSpy does not charge you for switching the target device.
Part 6: FlexiSpy Pros and Cons
Pros:
The friendly user interface allows ease of access.
The GPS coordinates can also be exported to other apps.
Customer service is great and there to support whenever a problem arises.
Cons:
Jailbreak is a must for iOS devices
Price a little on the higher side
Some simple features such as website or number blocking are missing
Part 7: How to Use FlexiSpy?
Installing FlexiSpy can get a little tricky depending on the device, especially for those with not a tech background. Here's a guide to help you through the process:
Android:

For Android devices, it's easy as only an app needs to be installed on the target device. Installation of the app will require physical access to the device.
Do note that using some of the advanced features will require rooting the device.
Step 1 Register an Account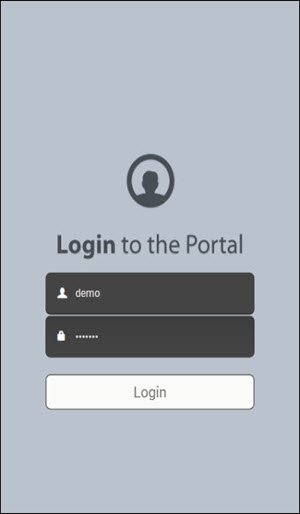 Step 2 Set up the Tool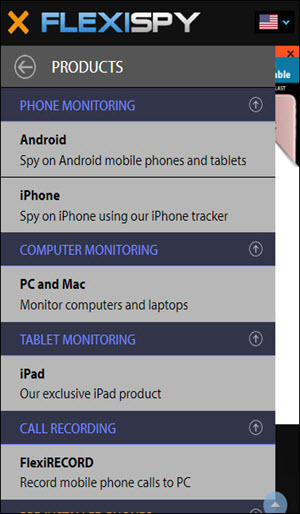 Step 3 Access Online Dashboard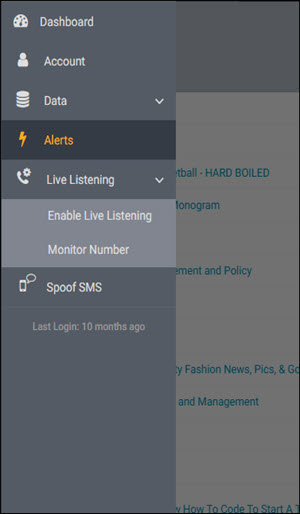 For iOS:

The iOS setup will require jailbreaking the target device. You can search on the internet on how to jailbreak but do note it voids the warranty and is different for every device, depending on the iOS version. If you are not comfortable jailbreaking the device yourself, you can hire a technician from FlexiSpy to help you out.
Step 1 Register an Account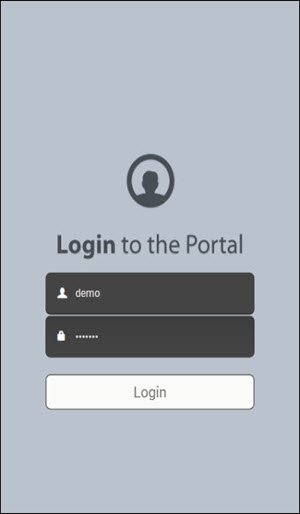 Step 2 Set up the Tool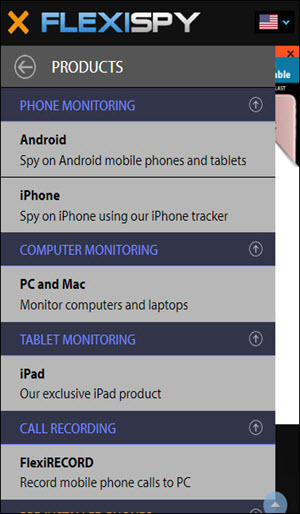 Step 3 Access Online Dashboard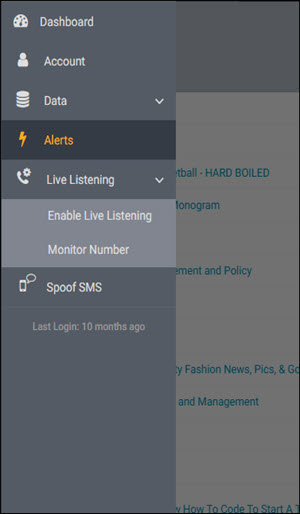 Comments on the installation process
The installation can get complicated for older users and those not in touch with tech. Setting up FlexiSpy on an iPhone requires a jailbreak. Unfortunately, Jailbreaking can be reasonably hard to do. Yet, guides are available on the internet, and FlexiSpy also offers a technician to help you out, costing $39.99.
Part 8: Thorough Comparison Between FlexiSpy and Spylix
It is wise to look at alternatives, enabling you to compare two platforms, and choose the one, which best caters to your requirements. Here, we will highlights the similarities and differences between FlexiSpy and Spylix:
1. The Similarities:
With the help of Flexispy and Spylix, you can easily stay updated with every activity of any targeted phone.
Both Spylix and Flexispy allow you to track down the app without being detected.
These apps also provide you with GPS and a location tracker that can help you get to the phone quickly.
Moreover, you can analyze the target user's behavior with their keystrokes in both apps.
Another common element between the two is that it allows you to monitor all the calls and messages on the targeted device.
You can monitor different social media platforms, including Facebook, Instagram, Snapchat, etc., with both of these tracking apps.
Both of these apps allow their users to detect word-to-word combinations of passwords for manually signing accounts.
2. Difference:
The main difference between these apps is that Flexispy offers to update calendar records as reminders, whereas Spylix only helps you mark an event.
Another difference is that Spylix is relatively much cheaper than Flexispy regarding subscription plans.
Flexispy can help you go through even the WiFi history of the device and call and search history. Meanwhile, Spylix allows you to track call and browser history only.
3. Why Is Spylix a Better Option Than FlexiSpy?
Potent Features

Spylix is one of those applications that offer not only several features but also easy functionalities. The application is said to provide 42 functions. Still, Flexispy only provides you with around 30 spying and tracking features.

Affordable Pricing Policies

When it comes to comparing the two, Spylix is slightly cheaper than Flexispy with prices starting at $39.99. Whereas, FlexiSpy's Premium Package is available at $68.

Detailed Call Logs

One of the drawbacks of Flexispy is that you can only go through the last calls or just a certain type of message. Whereas, Spylix allows you to go through the entire conversation reaching the start, and also track calls.

Excellent Support Service

Customer representation plays a prominent role in judging a brand, and Spylix is known for its responsive customer care unit. Every customer service representative tries to address your query immediately and resolve it with clear instructions. Meanwhile, the Flexispy help desk is not as good.

Accurate

Although both apps provide you with GPS and location tracking, Spylix offers doubled accuracy when it comes to the coordinates of a particular location. Unlike Flexispy, Spylix doesn't only stick to mainstream applications for monitoring, but it scans and tracks every website, game, and application you want, extracting suitable data.
4. How to use Spylix?
3 Easy Steps to Use Spylix

Step 1
Sign up
---

Step 2
Set up Spylix
---

Step 3
Start Tracking
Part 9: FAQs on FlexiSpy
Can FlexiSPY be detected?

Flexispy has a stealth mode through which the user can navigate through the targeted phone completely unnoticed by the user of that device. Similarly, Spylix also offers a background mode that lets the user undetected throughout the monitoring.

Does FlexiSPY cost money?

Yes, Flexispy costs you money, starting from $19.99 for the basic plan. However, if you want to test out the features, you can also choose the free-of-cost trial throughout the day. At the same time, Spylix has some cheaper options that are well-suited for just a month's trial.

Does FlexiSPY need to be jailbroken?

If you want to have access to all the features offered by the Flexispy app, you must implement an advanced installation procedure; in other words, you'll need to jailbreak your device.

In addition, it is required to run some prep software or programs for installing Flexispy. Spylix doesn't require any such procedure for running efficiently on the iOS device.

How does FlexiSpy work?

The working and mechanics of Flexispy are pretty simple as initially, and you'll have to install its application on your phone and register yourself. After that, you can download it on the targeted devices to get the relevant information needed. Spylix also works similarly and gives the desired data at the end.

Is it hard to install FlexiSpy?

If you want to restrict yourself to a limited number of features, then you can easily install the Flexispy on any device. However, for making the most out of the app and for utilizing all the features, it is essential to root the device, which calls for a lengthy and complicated process.

In contrast, Spylix is easy to install and even easier to use.

Do you have to jailbreak an iPhone to use FlexiSPY?

Yes, since the Flexispy app isn't available on the Apple Store for you to download, it is essential to jailbreak your iPhone before carrying on with the installation. However, Spylix won't need any jailbreaking for the app's smooth running.
FlexiSpy Review Conclusion
In this Flexispy Reviews, we tried to highlight different aspects to consider before choosing this app. Although it works efficiently, it is a hassle to install with additional measures for both Android as well as iOS devices.
Flexispy is a trusted app that can show you the entire activity of target users throughout the day. However, there is an extensive feature category that is often regarded as inconsistent either because of slow mechanics but also flaws within the performance. You also need to jailbreak the iPhone to enable specific features
There are three main pricing plans, including lite, premium, and extreme, that can make it easy for you to purchase the subscription. You can choose any of these prices based on your needs and requirements.