PhoneSpector is a mobile phone spy app that permits its users to remotely access the phone content of their target person easily. By using this application you can easily track someone's calls, messages, location, and much more content.
This app could be a great choice for parents, employers, and phone owners for tracking purposes. Before buying any spy app it is necessary to know some important information about the product.
In this PhoneSpector Review, we are going to describe the true side, pros, and cons of this tracking app along with some real user PhoneSpector reviews, so you can decide whether you should go with it or not.
Part 1: What is PhoneSpector?
PhoneSpector is more than a typical spying app because it is upgrading and innovating day by day. It provides modern solutions to your problems and promises to deliver authentic and reliable results about the target device.
It is the best choice for parents that are concerned about their child's safety or for the businessman who has an interest in employee working hours and wants to keep an eye on company-issued devices or mobile phones. Besides this, you can also use this app for yourself so if you lost your phone you can easily find it.
It supports Android as well as iOS devices and can collect almost 100 percent of the data present on that mobile device. By using this application you can even view 98% of all the deleted photos, videos, and text messages. It is very easy to use and work remotely so you can easily monitor virtually your target cell phone.
Part 2: What Does PhoneSpector Offer?
PhoneSpector offers the following features to its users:
SMS/ MMS, IM chat, and Emails. It offers you to view all the sent, received, archived, and deleted messages exactly in the same way as they are displayed on their respective application or platform.
Call logs and contacts. PhoneSpector saves recordings of all the outgoing and incoming calls and also provides associated information including timestamps, caller information, and call duration. It also lets you view the contacts number, ID, and other information saved on the target device.
GPS tracking and geofencing. It can capture GPS coordinates in the range of 50 feet from the exact location. You can also bound some areas and set alerts so that when the target person enters or leave the area you will be notified.
Social media and browser monitoring. It collects information about the activities and interactions on social media applications including Snapchat, Facebook, and Instagram. It also collects web browser activities including visited URLs, web pages, and search results.
Remote control. By using this application you can easily access all the information about the target device from a remote location by using an online working PhoneSpector dashboard.
Keylogger. It also works as a keylogger and saves all the keystrokes that have been pressed by the target person on different platforms.
Part 3: Compatibility of PhoneSpector
PhoneSpector is compatible with almost all types of network carriers and mobile phone providers. It supports all iOS and Android devices including the most recent versions.
Although it does not require rooting your Android phone or jailbreaking your iPhone to install or set up the app, rooting or jailbreaking is required for unlocking specific features such as viewing chats on private messaging applications.
Part 4: What Does the Customer Say about PhoneSpector?
We consider PhoneSpector as an average Spy app when we analyze the reviews it has gained. It has gained relatively very few good reviews with an average rating of 3.5. This section reveals more about the bad and good reviews customers have shared about this.
| | | |
| --- | --- | --- |
| Great | | Bad |
| 9.00% | 13.00% | 78.00% | "Some time ago I suspected that my husband was cheating on me. He stayed up late at night and was always on his phone even when he was meant to be sleeping. I was worried and decided to do something about it since he wouldn't talk to me. A friend suggested I try out PhoneSpector cell phone spy on his phone which I did and I found out that it was all work-related. I was happy I tried out the PhoneSpector cell phone spy. I suggest this to everyone having doubts about his or her partner."
Read More >> "This company is advertising what they do not offer. It's a waste of time trying to use this. My purchase didn't show any information, from the phone that I needed. Don't be deceived by their lies. I certainly wouldn't recommend this company for this service. I came across an agent that after talking to me was able to come up with the information that was needed from the phone."
Read More >>
Good Reviews Highlight
Monitoring kids. It is efficient to be used for monitoring kids' activities they are performing on their mobile phones. Users can view what they are sharing on different social media platforms and what kids are searching on the internet along with much other useful information.
Catching creeps. By installing the PhoneSpector on anyone's phone you can easily collect evidence of all his or her bad activities. It allows you to view someone's chat and media files they are sharing on different platforms.
Bad Reviews Highlight
Waste of time. The PhoneSpector app is a total waste of time along with money. After performing the whole procedure it does not work and when you try to contact customer service they waste your time and do not respond. Every day they just give the run around until the user quit falling for it.
Didn't work. After purchasing it did not work, they are not offering as such what showing in the advertisement and you will also not be refunded. If you try to contact customer service it is like wasting your time.
Don't refund. If you want to cancel the subscription you will not be refunded. After requesting many many times they simply answer you that you pay, you are responsible no matter what the circumstances are.
How Good Is Their Customer Support?
Not Good!
Contacting their customer service is a waste of your time. They just copy-paste all the emails irrespective of the issue in the response. Calling their phone number also did not work as it is based on an automatic answering machine and no live person will ever listen and answer you.
Part 5: What Are PhoneSpector's Pricing and Subscription Plans?
It offers basic and pro plan to its users. You have to choose the package according to your needs or the level of monitoring. Both packages contain all the essential tools and features that a person requires for efficient monitoring and accessing the control panel.
| Basic plan | Pro plan |
| --- | --- |
| $ 29.99 | $ 39.99 |
Comments on PhoneSpector Price:
Acceptable.
Basic and Pro packages contain different numbers of tools and by using the Pro plan you can have more features as compared to basic. Although its prices are reasonable the features it provides are not enough to do deep monitoring.
Part 6: PhoneSpector's Pros and Cons
Pros:
Easy to download and install
Offers advanced monitoring features including GPS tracking and geofencing and retrieving information remotely.
Offers reliable data backup tools
and Supports all the latest versions of iOS and Android mobile phones.
Offers a one-time payment and 30 days money-back guarantee
Cons:
No free trial package
Doesn't offer to recover iPhone Viber messages.
Slow monitoring and fetching the data.
Messaging and social media monitoring are only available on its Pro plan.
Need to root or jailbreak to get the latest features
Part 7: How Does PhoneSpector Work?
PhoneSpector is a very user-friendly app that is easy to install and operate. For your guidance, a step-by-step guideline is provided here:
Step 1 Register an Account
First of all, you have to visit the official website of PhoneSpector and purchase the plan from here. Download the application for your target device and log in to set up the app.
Step 2 Set up the Tool
Install the PhoneSpector application by login into your target person's Apple ID or by providing a product license key.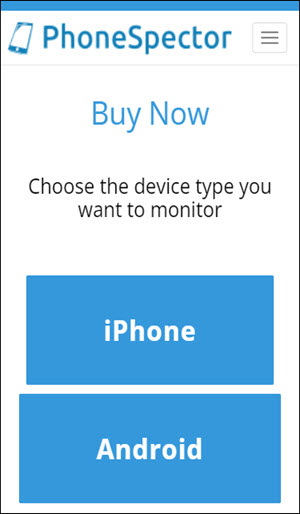 Step 3 Access Online Dashboard
After installing the application you can easily access and view all the extracted information on your personal dashboard by PhoneSpector login.
Comments on User Experience:
Easy
Honestly, it provides a very easy setup process and runs smoothly from downloading to installation. The whole process will hardly take a few minutes and a few clicks and provide you with access in a hassle-free environment.
After installing the app you just have to monitor and no need to worry about being caught as it works in the background mode and doesn't send notifications so that the target person will never find out that you are spying on them.
Part 8: PhoneSpector VS Spylix
Spylix is an excellent spying and tracking application that is considered top-rated among all the available options. A comparison between PhoneSpector and Spylix is given below
1. The Similarity:
PhoneSpector and Spylix are providing the following common features to the users:
Both tracking applications work remotely so you can easily view all the information on your dashboard by using any web browser.
Spylix and PhoneSpector are compatible with almost all the latest versions of iOS and Android devices.
Both applications work secretly and provide advanced tracking solutions and additional associated information.
2. The Differences:
Following differences are present between PhoneSpector and Spylix:
Spylix offers you more than 40 different types of data to monitor and track, which is way more than PhoneSpector offering.
Spylix lets you use all the features without any restrictions but in the case of PhoneSpector, some features can be unlocked after rooting or jailbreaking the target device.
PhoneSpector only allows monitoring of messaging and social media applications after purchasing the pro package while Spylix is offering all the features in their basic plan.
3. Why Is Spylix a Better Option Than PhoneSpector?
Spylix is the top-rated tracking application and according to its 96% positive reviews, it is the most reliable, efficient, and trustworthy app. The following reasons elaborate on how Spylix is better than PhoneSpector:
When monitoring is concerned Spylix let you enjoy 40 different types of data while PhoneSpector does not provide you such a great amount of monitoring features.
Spylix provides all the features without any restrictions and also lets you view much-associated information. For instance, while monitoring the social application you cannot only view the chat but also find out the timing of sending or receiving messages along with much other information.

While PhoneSpector provides you messaging and social media monitoring only in the pro plan.

Spylix subscription packages are more affordable and worthy to buy as compared to PhoneSpector.
How good an application is, a time may occur when it faces an error or bug problem. At that time you need fast and responsive customer care service from the product so you can enjoy the monitoring process without any hindrance. Spylix provides you 24/7 customer service which is way more efficient than PhoneSpector.
Spylix dashboard is much more advanced and upgraded and it has been reviewed by some users that the PhoneSpector dashboard needs to be upgraded.
PhoneSpector did not provide certain monitoring features on iOS devices as you cannot monitor Viber messages but by using Spylix you can enjoy this feature along with many others advanced monitoring features.
By using Spylix you can easily record screen and incoming as well as outgoing calls of your target person but PhoneSpector did not allow you to record calls on the target device.
Some PhoneSpector users have complained that while monitoring the data the dashboard becomes slow sometimes but this type of complaint is never been observed in the case of Spylix.
4. How to use Spylix?
3 Easy Steps to Use Spylix

Step 1
Sign up
---

Step 2
Set up Spylix
---

Step 3
Start Tracking
Part 9: FAQs about PhoneSpector
Is PhoneSpector Legit?
It is legal to use PhoneSpector for good purposes. It is legal for parents to keep an eye on their kid's online activities for their safety purposes. It is also legal for a business when the purpose of monitoring is to ensure the right use of company-owned mobile phones or to track the exact location of employees.
Spylix is also a legal platform to use whether for catching a cheater, for parental control, or for spying on employees.
What is PhoneSpector used for?
PhoneSpector is a monitoring software and cell phone tracker just like Spylix and it can be used on any type of iOS or Android device. It works remotely and provides you with all the information about a target device on your dashboard online from a remote location.
By using this tracking application you can easily track location, social media applications, messages, calls, and many more things.
Does PhoneSpector have a free trial or demo version?
Unfortunately, PhoneSpector does not provide any type of free trial or demo version. After searching a lot no special offer or discount has been found on their plans. In contrast to PhoneSpector Spylix offers its users to create a free account and also provides them demo service so they can perform the task without any interruption.
Can PhoneSpector be installed remotely?
No, you cannot install the PhoneSpector app remotely. You have to access the target device physically for a few minutes just to set up and install the application but after that, you don't need to possess the target device in order to monitor.
But Spylix let you install the application on iOS devices remotely by using the Apple ID and password of the target person but in the case of an Android phone, you need to access the target device physically.
Is the PhoneSpector icon visible on the monitoring phone?
Yes, the PhoneSpector icon is visible on the menu page and in the application manager menu. The icon will remain visible until it is uninstalled from the device. Spylix icon does not appear and it will hide so the user will not find out that you are spying on them.
How long PhoneSpector take to install?
PhoneSpector provides an easy and straightforward method to install and set up applications. It will hardly take 3 to 5 minutes to install the app on the target device. The same is found in the case of Spylix where you can easily install the app within minutes without any hindrance.
PhoneSpector Review Conclusion
Advanced tracking solutions have made this possible to spy on someone without knowing the other person.
This is where a spy app works, PhoneSpector is one of the tracking apps available for parents, spouses, or businessmen to enjoy iOS as well as Android mobile phone monitoring.
It is a budget-friendly app but the features it is offering are way less compared to other available phone trackers. Because of this the user may not able to dig deep and get the complete information.