In the past cheaters were free as there was not any tool to reveal them. Now the technology has advanced to its great level and we have got different spying tools. If we just categorize the top most spying tools then mSpy must be among them.
This tool provides different spying features to its customers to confirm the real identity of the person. It helps to save the customer from any fraud or scam. mSpy review along with its prominent features are explained below.
Part 1: What is mSpy?
mSpy is a tool that proves to be helpful for people who want to know the activities done by their partner or children on their cell phones.
We can easily remote the cellphone of the targeted person using mSpy and can receive notifications regarding phone calls, messages, and social media notifications of the targeted phone.
The amazing fact about this app is that we don't have to do much effort but only install the app on the targeted phone and the app will run in the background without alerting the phone's owner.
This app is proving beneficial for the parents who want to keep check and balance on their children and the company owner who wants to check whether the workers are working or busy with their cell phones.
The main reason for its popularity is the reliability that allows users to use it without fear of losing data. Moreover, we are allowed to use it on both iPhone and android hence is considered the most flexible application.
Part 2: Features of mSpy
Manage the target person's device remotely

This allows you to obtain all the information related to the phone's memory, operating system, and cellular service, along with the software that is installed. Different functions that are present in the mobile phone on the target person can be disabled or turned on remotely without any hint to the target person.

Investigating the calls and messages

mSpy also provides details related to the sent and received messages and calls on the device of the target person. Entire conversation threads can be viewed along with the deleted messages. Even minor details including the call's length, caller phone number, and the blocked contacts are also visible.

GPS tracking and Geofencing

mSpy phone tracker provides the real-time location of the person as you can locate them within the range of 20 meters distance. A user will also notify about the frequently visited locations of the target person. You will also be notified when the person enters suspicious locations.

Keep an eye on IM functions and installed apps

If you are doubtful that your partner is cheating you then you can check all the installed apps along with the IM functions. Any dating app or harmful sites will be detected and the person will be notified. Voice calling and instant messaging activities of different social media websites can also be checked using this tool.

Check Sites and block pages

mSpy provides an opportunity to check the frequently visited sites, pages, and URLs of the target person. You can also block the undesired content, keywords, pages, and bookmarks from the device remotely. This feature makes mSpy an efficient parent control app where the parents can restrict their child to go to certain websites.

Monitor every keystroke and tap

It offers a keylogger feature that saves information about every keystroke and every tap that has been pressed by your target person on his or her keyboard. Because of this feature, you can extract much useful information such as you will find out the passwords that have been set by the user.
Part 3: mSpy's Compatibility
mSpy app supports android and iOS devices so you don't need to be worried about the target device type as it works well on both main types of mobile operating systems. . It is compatible with all iOS devices and Android devices having Android 4 or higher version.
Another advantage of using mSpy for Android and mSpy iPhone is that you don't need to root or jailbreak the target device.
Part 4: What Does the Customer Say about mSpy?
A lot of people have shared their reviews about mSpy, we collect 7459 reviews from the third-party review platforms. Although it seems to fail to get 100% positive reviews from its customers. This section is all about mSpy reviews, specifically describing what are the things that are praised by the public and what are its dark sides.
| | | |
| --- | --- | --- |
| Great | | Bad |
| 45.06% | 4.22% | 50.72% | "Mspy has made me feel very comfortable right from the beginning haha. It's been great, Log In is seamless every time... Seems like any goof up or game crashing, not finding what I'm looking for, etc., Can cause me to Whiplash my mood and say ' slow cruise to 100 mph Dang! ( I'm getting too old for this Sh t.) Thank you mSpy for being User Friendly. PEACE."
Read More >> "The only reason I bought Mspy was because of the fact that they had just offered new features such as monitoring Skype, WhatsApp, and Installed Apps. However, those features don't work and it seems as if my $120 has gone to waste."
Read More >>
Good Reviews Highlight
GPS tracking. It works as an efficient GPS tracker to track kids' GPS location or for monitoring company-provided mobile phones. It gives updates of every moment so the user feels relaxed.
Limit usage time. mSpy is a great help for all the worried parents. It lets the parents limit the usage time of social applications on kids' phones. When the set usage time is up mSpy will block that particular application like Facebook or Instagram automatically.
Catching cheaters. mSpy is an efficient spy app that offers a lot of monitoring features that help the spouses to catch cheaters. It helps in tracking emails, phone calls, text messages, WhatsApp, and even deleted chats. It also lets users monitor pictures and videos shared on social media platforms for efficient monitoring.
Safe monitoring employees. It offers all the essential features that employers need to monitor their employee's activities to avoid time wastage such as monitoring social media applications and call logs.
Bad Reviews Highlight
Does not work. After purchasing the mSpy it doesn't work most of the time and if you contact them firstly they don't respond on time or if they do then offer you other products or packages to buy which also doesn't work.
Doesn't refund. On its official website, it is mentioned that they offer a refund policy but they never refund. If you request a refund your request is avoided for many days and then you will be misguided by their billing department.
Face a lot of bugs. mSpy is a buggy software and it is not possible to uninstall and remove the application from your mobile phone without resetting it. Even the control panel is buggy and does not work in the way it should.
How Good Is Their Customer Support?
Not Good!
Customer service is very bad. The team misguides and refers to others whenever you ask them for a refund or to guide. You will get a reply to your messages after days and still the problem will not be solved.
Part 5: Subscription Plans of mSpy
For iOS and Android Devices
| | Basic Plan | Premium plan |
| --- | --- | --- |
| 1-Month | $29.99 | $69.99 |
| 3-Month | $59.99 | $149.99 |
| 12-Month | $99.99 | $199.99 |
Comments on mSpy Price
Expensive
You have to choose the plan carefully as both these plans offer different features. The mSpy cost plan seems to be expensive when it comes to a 1-month subscription plan. The savings keep on increasing along with the time duration of the subscription plans.
Part 6: Pros and Cons of mSpy
Pros of mSpy:
Does not require rooting for android devices.
Beginners can avail mSpy free trial.
Good customer service
Compatible with android as well as the iOS operating system.
Budget-friendly subscription plans
Cons of mSpy:
Data wiped out by the target person is not saved
Physical access is needed to install the app
Cost increases automatically with feature addition or updation
Doesn't support multiple device monitoring
Data will be removed after deleted from the target device
Part 7: How to Use mSpy?
mSpy does not let users do much effort as there are just three simple steps to monitor someone else's activities.
Step 1 Register an Account
Firstly, we have to gain access to the official website of mSpy and then select the subscription plan based on your budget and requirements. We will receive a confirmation message after the completion of the subscription using credit or debit card details.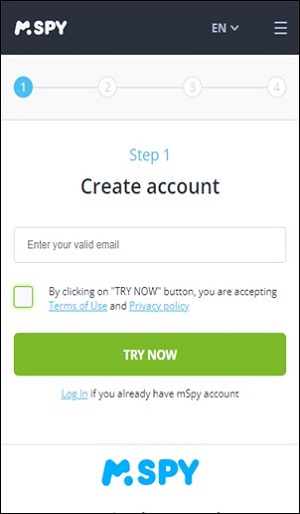 Step 2 Set up the Tool
We will be provided with complete guidelines on the email, follow them, and install the app on targeted devices.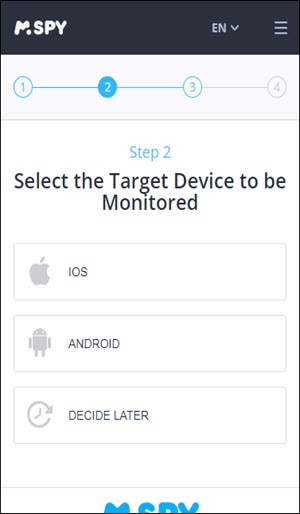 Step 3 Access Online Dashboard
After installation of the app, we have to open our account and then move to the dashboard to view the data coming from the targeted device.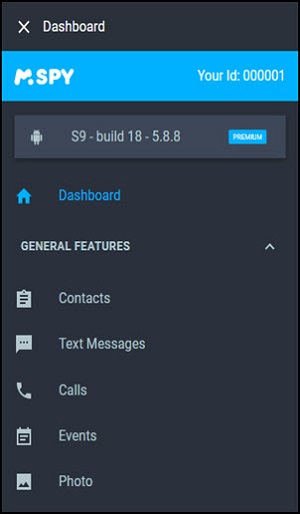 Comments on User Experience:
Easy to Use.
The procedure to use mSpy has a user-friendly interface. The tool quickly provides access to the target person's device with an amazing experience. It is important to have interaction with the target device for a few seconds to install the tool on the device.
A user can effortlessly spy on all the activities of the target person using this tool. It also shows that all the data will be saved and a person can check it anytime without any loss.
Part 8: mSpy VS Spylix
Similarity:
Spylix and mSpy both can be utilized on iPhone as well as Android devices without any restriction.
Customers are offered an undetectable mode on Spylix as well as mSpy.
Both of the applications contain keylogging features and work remotely for the user.
Difference:
mSpy must require root permission or jailbreak from one person but Spylix does not require any such command.
mSpy does not offer advanced and latest monitoring features to the customers that are provided by Spylix.
Moreover, payment plans of mSpy are quite high as compared to Spylix and fewer features are provided in mSpy.
Why Is Spylix a Better Option Than mSpy?
More Features

Spylix contains 42 more features as compared to mSpy features in the online market. Spylix provides real-time location updates, deleted media and chats information, access to the iCloud storage, and credentials that are not provided in mSpy. All features that are provided by Spylix have multiple functionalities which are not entertained by mSpy.

Advance

The spying feature of Spylix is much more advanced than mSpy as you can see old or even deleted conversations by using this tool. mSpy can see the recent conversation and only present the data of the target person.

Spylix is advanced in providing real-time information along with the previous information of the target person while mSpy focuses on the present information.

Budget-Friendly

Spylix is the most budget-friendly tool as you can have the subscription plan according to your budget including all the features. mSpy doesn't provide as many features as Spylix but is quite similar in the budget. Almost the basic plans of both the tools are similar but the differences lie in the features provided to the customers.

Supportive Customer Services

In different situations you always need a tool that can sort out problems immediately with supportive customer services. Spylix contains the most popular customer, and a customer's problem is sorted out in quick response services.

mSpy customer services are not advanced and quick hence a user needs to wait to get the problem sorted out by the officials.

Undetectable

Spylix is quite undetectable in its working as a user doesn't need to get access to the device of the target person. In the case of mSpy, it is required to get access to the device of the target person to install the application. This thing makes mSpy doubtful and detectable.
How to use Spylix?
3 Easy Steps to Use Spylix

Step 1
Sign up
---

Step 2
Set up Spylix
---

Step 3
Start Tracking
Part 9: FAQs about mSpy
1. How does mSpy work?
mSpy extracts all the necessary information including GPS location, text message, calls, and other data from the target phone and transfers it to your dashboard. Just like Spylix, it works remotely so you can easily access your control panel from a remote location by using any type of browser on your PC or smartphone.
2. Is mSpy truly hidden in its working?
mSpy is not completely hidden in its working as users need to get access to the device of the target person to install the tool. After the installation of this tool in the device of the target person, it completely becomes invisible and undetectable.
In this way, we can say that mSpy is partially hidden in its work. On the other hand, Spylix is truly hidden in its work as you don't need to get access to the target person's device. It works in an undetectable manner for the customers.
3. Is mSpy compatible with iPhone and Android devices?
mSpy has compatibility with the iPhone as well as Android devices. It is not required for the customer to indulge himself in rooting or jailbreaking for mSpy. Like Spylix this tool also has good compatibility with Android along with the iPhone devices.
4. Is mSpy login legit?
mSpy login is not illegal in its working if you are using this tool for your child who is below 18. If you are trying to use this tool for a person who is an adult without his or her permission then it is considered to be illegal in that scenario.
A user needs to ask for the permission of the target person to install mSpy on their device. If you talk about Spylix then it is completely legal in its working as no permission is required.
5. Is mSpy considered good in the top spying tools list?
If we categorized the top spying tools in the online market then mSpy must be present in it. Some of the top spy tools are
Spylix
Spyzie
uMobix
FreePhoneSpy
FlexiSpy
6. Is mSpy a safe tool?
Yes, mSpy is considered a safer choice in its working as a user doesn't need to worry about the data. It is always in courage to read the policies of mSpy as most of the customers give reviews against this tool without reading the return policies.
Spylix is the most popular safe tool considered in the online market. Different features that are provided in mSpy are quite similar to Spylix due to which it is safer than others.
Sum Up on mSpy Review
mSpy is an amazing app to monitor the working of your partner on their personal devices including messages and call details.
All the information related to the usage features working similarities and differences of the mSpy app from the other strong competitors are explained in the above mSpy reviews.
The tracking of this tool may not be legal when it comes to spying on adult persons, as you need to ask the target person before installing the application on the device.