This article will be full coverage of what you need to know about the SpytoMobile spying application.
Various instances prompt you to use spying software. You could be tracking your phone to know where it is or that of a child growing up so fast. If you have a valid reason to spy on someone's phone activities, here are SpytoMobile reviews.
We will shed light on what it is and what it entails. You will also know how to access the SpyToMobile services via the website and the various pros and cons you will likely encounter as you use it.
Part 1: What is SpytoMobile?
SpytoMobile (also known as Spy2Mobile) is spying software that helps in collecting phone activities before syncing them to an online control panel. It allows you to view phone activities while away since the dashboard is online.
The app claims to offer services worldwide, and it supports more than 15 languages. So, anyone who needs a spying application to monitor their kids, employees, or spouse is welcome. Once you install SpytoMobile on the targeted phone, the next part is accessing the features on the online dashboard.
Some of the announced features here include calls, messages, and GPS location. We will shed more light on the functionalities as we proceed. While you can use it on different phones (Android and iOS), you need to check the laws regulating spying techniques.
You can use this software on family, friends, and employees. Spying on anyone outside that scope requires legal authorization to prevent being on the wrong side of the law.
Part 2: What Can I Do with SpytoMobile Features?
Once you are SpyToMobile, you get the following functionalities:
Spy on text message: The control panel shows all the received and sent SMSs from the targeted phone. The timestamps and dates will also be available.
Get the Calls: You will also view the incoming and outgoing calls. They will also have the timestamps and dates.
contacts: The application will also fetch all the saved contacts on the phone.
Social media: SpytoMobile can convey messages and activities on WhatsApp and Viber. For the latter, you need to root or jailbreak the phone.
Location monitoring: SpytoMobile has a GPS tracker that gives you the phone's real-time location. You will also see the last places via the orange button on the menu.
Phone information: On the control panel, you can view the culprit's phone IMEI, battery level, Internet connectivity, and the phone's model. You can also add a device to monitor more than one phone.
It seems like SpytoMobile may not be sophisticated, but it delivers basic data from phone activities. The best use-case scenario is when you need to know the current and past locations of the device.
Part 3: SpytoMobile's Compatibility
SpytoMobile works on Android and iOS devices from the earlier versions to the latest. You need to root or jailbreak the devices, respectively, to use it. The bright side is that you will get all the fetched information exclusively.
The dark side is that the device owner will notice the change on the phone. So, the application does not offer complete stealth mode.
Part 4: Customers Reviews on SpytoMobile
People have been saying both positive and negative things about SpytoMobile. Out of 40 reviews, half of them (50%) are positive, while the rest are middle and negative. At an average rate of 4.1, the application fairs well.
Here is an overview of the customer reviews and what they are projecting about the spying application.
| | | |
| --- | --- | --- |
| Great | | Bad |
| 50.00% | 19.23% | 30.77% | "SpytoMobile is a good spying app and not an expensive alternative for other better-known applications used for monitoring a cell phone. I used another application for some time, but I was not happy. It was more expensive, and they even charged me after I canceled the service. I wanted to use Flexispy, but their complete software for Android is almost 400$, so I did not get to try it. SpytoMobile was good for me. Their support team is also ok. They even transferred a license from a phone I wasn't using anymore." "I tried to use this app to track my children's iPhones. Guess what a surprise! 1st they charge your credit card, and later when downloading the application, even though you have the username and password, there is no access to the phone. The only option is to make your children aware that you're trying to track their phones. Later when you want to recover your money for no service, they just deny giving a refund because..."
Good Reviews Highlight
Quite affordable: Although some customers may not agree with this fact, most users attest that the application is budget-friendly and don't pay much to monitor the phones you need.
Excellent Android monitoring features: If you want SpytoMobile to spy on an Android, you are in for the best remote monitoring service. There are more features for this platform, and most of them do not require rooting.
Social media tracking: Most users still agree that you can spy on more social media accounts on the Android end. The only time you may not be able to reach them is if they are hidden on the targeted phone.
Bad Reviews Highlight
Jailbreak for iOS: If you want SpytoMobile to spy on an iPhone, you will have to jailbreak it. Otherwise, it will not be easy to access the information. Messing up a bit with the OS will also notify the target that something is wrong with the phone.
No money-back guarantee: After getting some poor service from the support team, there is no way to refund you the cash. If you are spying on iOS, you'll pay more than the advertised figure and not get much. At times, you get a static remote dashboard.
How Good Is Their Customer Support?
BAD!
SpytoMobile has poor customer support. After a while, they can respond to your questions, but you don't get answers if you have a problem with features not working or wanting your money back.
Part 5: How Much Does SpytoMobile Cost?
Using the SpytoMobile application will cost you 0.99€ per day for one phone. So, you can multiply the price by the number of phones you want to spy on. If you pay more, there are bonuses.
For example, if you pay 30€, you get a 10€ bonus. The best part is when you pay 100€ and get 100€ back.
NB: Once you create an account, you get 3€ for testing purposes.
Price review: The price is quite fair since it will cost you about 30€ per month for one phone. If you pay the amount, you will get 10€ as a bonus. While the price is straight to the point, it's too much for spying on just one phone, and not many people could spend such an amount just to spy on a few phone activities.
Part 6: SpytoMobile Pros and Cons
Pros:
It can spy on a wide variety of devices in Android and iOS environments
Reliable location tracking features
Show your vital data such as calls, SMSs, contacts, and social media apps like WhatsApp.
It's always hidden on the targeted phone
Reliable customer service
Cons:
It spies on a few things when compared to other robust applications
Requires rooting or jailbreaking to use it
Part 7: How to Use SpytoMobile
Step 1 Register an Account
Visit the SpytoMobile website and sign up for an account.
Step 2 Set up the Tool
Follow the video tutorial to install the app on the targeted device. Another option is to visit the application stores and download the application.
Step 3 Access Online Dashboard
Before installation, you need to root or jailbreak the device. After installation and confirming your registration, the app will hide. Visit your account online and go to the dashboard.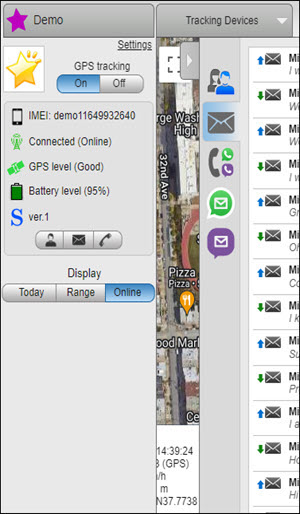 The procedure is easy, but it's not straightforward. The application you get on the stores does not have the name 'SpytoMobile', which can be confusing. Before the setup, you need to have rooting/jailbreaking knowledge.
The application loads fast if you have a proper internet connection, but the UI needs polishing if you compare it with the recent applications.
Part 8: SpytoMobile VS. Spylix
If we compare SpytoMobile with Spylix, we get the commonalities and differences.
The Similarity
They both work on Android and iOS
There is a hidden mode in both
The apps can fetch common data such as calls and SMS, and track location
You get the information remotely via your online account
The Differences:
Spylix can collect more information thanks to its many features
Spylix has an interactive UI that's easy to navigate when compared to SpytoMobile
You have to install SpytoMobile, whether it's Android or iOS. For Spylix, iOS does not require installation since the app syncs with the iCloud
Spylix does not require rooting or jailbreaking to use it. SpytoMobile requires them.
Why is Spylix a Better Option than SpytoMobile?
Spylix has several advantages that make it favorable when compared to SpytoMobile. After testing, we found that:
Functionalities: Spylix has more than 42 specifications while SpytoMobile has less than 10. That means you cannot use it to get more data if you are interested in more than GPS tracking and fetching a few calls and SMSs.
Complete information: Spylix will show everything. Every message in a thread is there as well as up-to-date location information. You can even use it to block certain things on the internet, and the list is endless. For SpytoMobile, it still has a long way to go.
Pricing: If you get the yearly plan, it's cheaper than what Spylix offers for monitoring one phone.
Customer support: They both have better customer support if you need something. However, in SpytoMobile, you may not get much since their app does not cover a lot.
Easy procedure: SpytoMobile requires rooting or jailbreaking for Android and iOS. That means you will need knowledge of such practices, and not knowing what you are doing may ruin the targeted phone. In Spylix, you don't need such techniques.
How to use Spylix?
3 Easy Steps to Use Spylix

Step 1
Sign up
---

Step 2
Set up Spylix
---

Step 3
Start Tracking
Part 9: FAQs about SpytoMobile
Does SpytoMobile Work?
Like Spylix, SpytoMobile works on both Android and iOS devices. There are more features in the prior, though.
Is SpytoMobile legit?
Yes, it's legit. It's among the Spylix list of verified applications to spy on mobile phones. Some regulations govern the use of such apps. Therefore, you should know what the local rules say about spying applications in general.
Is SpytoMobile Truly Hidden?
It has a stealth mode, which means the targeted phone's user will never know whether SpytoMobile is installed. You have to activate the hiding in Android 2.x and 4.x versions. For Spylix, it's automatic when you install or set it up online for the iOS case.
Does SpytoMobile Have a Trial Version?
SpytoMobile gives you 3€ to test the application after creating an account. They give you the trial before asking for the 0.99€ per day for one phone. If you use Spylix, you get a 14-day trial period.
Can SpytoMobile Monitor Multiple Devices
You can use the application to monitor more than one device. Like Spylix, you can add a phone, but with different methods. Spylix will use a user-friendly wizard to add the device. For SpytoMobile, you have to navigate to somewhere on the top-left of the dashboard.
Will SpytoMobile Work Anywhere in the World?
SpytoMobile and Spylix work worldwide. They are both supported in more than 180 countries, and all you require is an internet connection to access a phone's information. The only restrictions you may get to not using the app are from the laws and regulations governing a region or country.
SpytoMobile Review Conclusion
We have come to the end of the SpytoMobile reviews, and there are some things to note. It's a diverse application that works on Android and iOS environments, requiring more features. If you compare it with Spylix, some work is still to be done.
On the better side, it has a good phone tracking ability, and it can fetch information from primary phone users. You may want to use SpytoMobile if you are mainly interested in location tracking and getting a few things from the call list and the messages.
If you want more features via a simple installation procedure, consider Spylix as the better spying tool.