Instead of relying on a traditional physical spying approach, digital spying is more fruitful and impactful. With the digital advancement in technology spy apps are becoming more advanced and upgraded.
As a parent, it is your duty to safeguard your children from digital cyberbullying, inappropriate content, online predators, or other digital dangers. This is where a parental control app comes in.
uMobix spy app is an efficient new arrival in the spying app market. The given article is providing authentic uMobix reviews, its features, pricing plans, and how you can use it.
Part 1: What is uMobix?
uMobix company was started to provide excellent monitoring and spying experience to the customers. They developed a trustworthy app with a transparent refund policy and helpful customer service.
It is a newcomer in the spy application world and it has proved itself as an efficient platform that enables you to give a safe and carefree internet environment to your children.
Besides parental control, it is the best choice to catch a cheater or to locate someone. Additionally, It allows monitoring of iOS or Android devices from a remote location by using the internet.
It permits you to enjoy calls and SMS monitoring and find the real company and thoughts of your child. Additionally, you can easily spy on the social media activities of your child without knowing them. It covers Snapchat, Facebook, and WhatsApp to transfer all the digital social data to your uMobix dashboard.
You can use uMobix to track any victim or to monitor any type of mobile phone activity of your target person. It can also be used to collect cheating evidence because of its screenshot capturing feature.
Part 2: uMobix Key Features
Tying knot with the above discussion, uMobix also provides the following features that make it among the best monitoring apps:
Call logs monitoring. uMobix enables you to view the call logs in chronological order it also provides information regarding the contact name, timestamps, and call duration along with the phone number.
View SMS. You can easily view all the text messages that have been sent or received even the deleted ones.
Access media files. uMobix allows you to access the gallery of your kid and view the media files that have been created, shared, or received.
Offers keylogging. By using its keylogger feature you can easily view a list of all the keystrokes that are pressed by your target person on their keyboard.
GPS tracking. It provides a GPS tracking feature through which you can not only view the location but also find the location history and can view geographical coordinates.
View browsing history. It provides complete information about the browsing history of your kid's mobile phone
Social media spying. It supports the monitoring of many social applications including WhatsApp and Instagram. You can view all the instant messages that have been sent and received or deleted and the media files belonging to these platforms.
Part 3: Compatibility of uMobix
As an efficient parental control app uMobix is compatible with both types of main smartphone categories. It supports Android and IOS devices.
It is compatible with all the Android versions running on 4 or above. Regardless of the version, every iOS device is compatible with uMobix.
Moreover, it does not require rooting or jailbreaking in the case of android and ios devices respectively. Some functions work very well without rooting or jailbreaking.
Part 4: Customer Reviews of uMobix
You will find a lot of positive reviews about uMobix but there are also some uMobix reviews that show its drawbacks. It has 117 positive reviews out of 162 reviews with an average 4.33 rating. This part describes different types of reviews uMobix has gained on different platforms.
| | | |
| --- | --- | --- |
| Great | | Bad |
| 70.30% | 11.88% | 17.82% | "This app has turned out to be very good, better than I thought it would be. Installation was easy, it's very intuitive in its design and I'm very happy with it. I had one issue with permissions and had great customer service from Sandra at uMobix getting it sorted out. Based on all of the above, I highly recommend this app."
Read More >> "I wouldn't even rate them a single star but I had to! They will show you a monthly amount and then charge you for the year. And when you reach out immediately they will not refund you! Terrible terrible customer service!"
Read More >>
Good Reviews Highlight
Customer service. uMobix customer service is very outstanding and has full knowledge and grip over all the issues. Whenever they are requesting for answering the questions or for guidance they are available and responsive all the time. Even in the late-night hours, you will get your answers from the customer support service.
Easy to work with. uMobix offers a very easy way to install and get the application. It works best for the non-tech parents who did not know much about the latest technology. Additionally, if any issue occurs it is fully available for customers to guide and resolve the problems.
Bad Reviews Highlight
Not working as promised. The app does not work as it is shown. It does not work secretly and shows as "casting" on the right side of the screen of the mobile phone. It also accelerates the battery drainage rate three times more as compared to normal which is very problematic.
False location update. The GPS location tracking system does not work well as it should. Most of the time it provides a false location. Sometimes it gives the user location instead of the target person or gives a totally incorrect location somewhere else in the world that is 100 miles away.
Delay syncing. uMobix Sync timing is very bad. Sometimes it syncs the data of the target device only 4 times in a day and for all the other 18 hours you have to wait for an update.
Doesn't refund. uMobix charges you more than what is mentioned on their official website. If you ask for a refund they never give you the money back and totally refuse to do it.
How Good Is Their Customer Support?
Good!
Customer service is quite good. They behave well and deal with patience. Whenever you want to approach them they respond and answer all the questions that have been asked patiently.
Part 5: uMobix's Pricing and Plans
uMobix offer different features in different plans and pricing depending upon your kid's device. A detailed description of iOS and Android uMobix price tiers of uMobix is given below:
For iOS devices:

| | |
| --- | --- |
| 1-Month | $49.99 |
| 3-Month | $79.99 |
| 12-Month | $149.99 |
For Android devices :

| | |
| --- | --- |
| 1-Month | $59.99 |
| 3-Month | $99.99 |
| 12-Month | $179.88 |
Comments on uMobix Price:
Comparatively Expensive
It is clear that Android packages are a little bit more expensive than iOS packages. Because in the case of an Android phone you can enjoy more features.
Its packages are comparatively expensive. If you are willing to use it for the long term then it is recommended to get a 12-month subscription at the lowest monthly price. For more information visit the uMobix official website.
Part 6: uMobix Pros and Cons
Pros:
Comes at reasonable prices
Offers adjustments of syncing frequency starting from 5 minutes
Offers scanners and tracking 19 different social media and instant managing platforms
Significant features working without rooting
Accurate browsing history tracking and keylogger feature
Cons:
No bookmarks information
Non-consistent social media updates
Exhaustive installation process on iOS devices
Lack of remote installation in Android
Limited iOS monitoring features
Noticeable battery consumption
Part 7: How to Install uMobix?
For your better understanding a step-by-step guideline is given below:
Step 1 Register an Account
Navigate to the official website of uMobix and click on the "Try it now" option and register yourself through your email ID.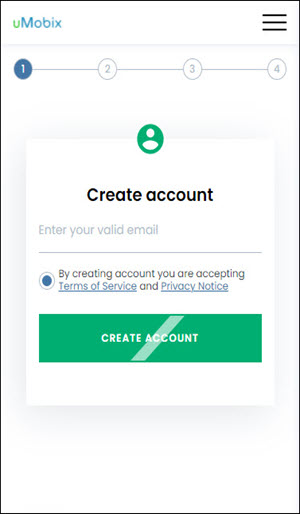 Step 2 Set up the Tool
After signing up, select the device type (Android or iPhone) and choose the subscription plan.
Install and set up the app by following the instructions provided on the website portal.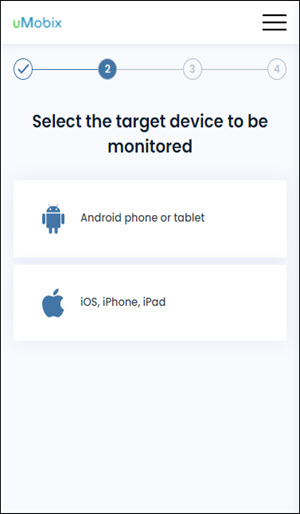 Step 3 Access Online Dashboard
After installing the app on the target device log into your control panel to check the performance.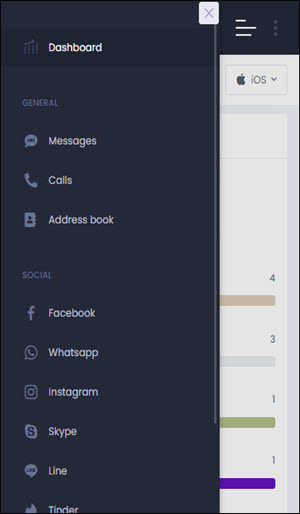 Comments on User Experience:
Simple and Easy
One of the main advantages of using uMobix is that it is very easy to install and does not require talking to support before installing it. You can do it by yourself in a few minutes. The setup file is 6.17 MB and it will hardly take 5 minutes to install it.
In the case of an iPhone, you need an iCloud Email and the password of a target person. After providing this information Apple will send a code to the phone that you have to enter in your uMobix dashboard. iOS installation may take a lot of your time and can be an exhausting process.
Part 8: uMobix VS Spylix
1. The Similarity:
Spylix is also efficient monitoring and spying app that comes with great features as uMobix is providing. There are the following things that are common in Spylix and uMobix:

Both are compatible with Android and IOS devices.
Both applications offer effective monitoring of target devices from an online dashboard.
Some common features include keylogging, monitoring of calls, and text messages.
2. The Difference:
Following differences are present between uMobix and Spylix:

Spylix offers monitoring of 40 + different types of data which is very high compared to what uMobix offers.
uMobix doesn't display the details associated with each message as we found in the case of Spylix.
Spylix is very cheap as compared to uMobix.
3. Why Is Spylix a Better Option Than uMobix?
Spylix is a well-established and reputable platform while uMobix is an emerging app. Following are some reasons that elaborate on how Spylix is better than uMobix:
Spylix gives you access to more than 40 types of different data files that no spying app is providing you. uMobix is providing access to very limited monitoring features, especially in the case of iOS devices.
Spylix offers you to access many additional features that no one is supporting. For instance, you can view emails of a target person from the online dashboard from a remote location. You can easily view all the sent and received emails.
It also provides other additional information associated with emails including the time they were received or sent and contact information related to them.
It offers a very user-friendly interface and by following the 3 simple steps you can easily install and set up the app without wasting your time.
To use uMobix easily on an iOS device you have to access the device physically but by using Spylix you can easily remotely install the application on any iOS device by just using the Apple ID and password of the target person.
It also provides other associated information about the text messaging display and information regarding browser bookmarks which uMobix doesn't offer.
Spylix is very budget-friendly, especially if you want a long-term plan as its yearly plan costs only $ 11.66 while the uMobix 12-month plan: is $ 179.88 which is quite expensive.
It provides better customer care service as compared to all of its competitors. To respond and guide its services are available 24/7.
By using Spylix you can easily monitor all types of social media applications that are present on your target person's mobile phone. It also lets you access the calendar entries, notes, and maps but uMobix doesn't offer all these with great access
How to use Spylix?
3 Easy Steps to Use Spylix

Step 1
Sign up
---

Step 2
Set up Spylix
---

Step 3
Start Tracking
Part 9: FAQs about uMobix
Is uMobix undetected?
Yes, uMobix is a totally undetectable app as it works in the background in stealth mode so your target person or kids never find out that you are spying on them.
It would be undetectable only if you have chosen to hide the app option while installing and setting up the process. Spylix is also an undetectable app that always works in stealth mode and it never leaves any type of clue that makes the target suspicious.
How to uninstall uMobix?
uMobix offers the feature of removing unwanted apps from the target device, it provides an option called unwanted app remover which lets you remove any type of app from your target person's mobile phone remotely but I am not sure how to uninstall uMobix from the device.
Is uMobix Legit?
Yes, uMobix is one of the legitimate companies that provide reliable services and products just like Spylix. This parental control app provides all the essential features that a parent needs to keep their kids safe from internet dangers. Spylix is also a reliable app that provides much other useful information that makes your spying process more efficient.
Does uMobix track Snapchat?
Yes, uMobix can monitor many social media applications including WhatsApp, Messenger, LINE, and Snapchat. You can also go with Spylix where you can easily monitor all the social media accounts of your target person. Additionally, Spylix also provides additional associated information about the Snapchat chats.
Is uMobix a Good App?
Yes, it is quite a good app, especially in the case of parental control. It works well if we compare the price to features ratio. Although it doesn't provide a lot of monitoring features as we can get from Spylix but it still can be a good app for monitoring certain data of your kids.
Is uMobix Compatible with iPhones & Androids?
Yes, it is compatible with both types of devices. uMobix provides two separate different versions for Android and iPhone. The process of installation and prices are different for both types of devices.
It has been observed that uMobix is easy to install on android as compared to iOS devices. It also provides limited features for iOS. Spylix is also a cross-platform app that supports Android as well as iOS devices but it offers easy installation on both types of devices. It also provides many useful features in the case of iOS devices.
uMobix Review Conclusion
Here uMobix review comes to its end and we conclude here that it is a good app in many fields and circles of performance. It is reliable and provides many useful monitoring options that can facilitate the monitoring process a lot. Its interface is user-friendly making it a useful option for beginners. So if you are in search of an app that lets you spy on your kid or any other person without them knowing then you can rely on uMobix.