Monitoring apps have made it so much easier for people to monitor their target devices. Gone are the days when people had to install shady apps to ensure their children were safe from online harm.
Instead, these apps make the entire process easier and more ethical. In this article, we will be going through Spyzie. Throughout this Spyzie review, we will be breaking down various parts of the app and seeing whether this app can deliver what it promises.
Part 1: Intro to the Spyzie Tracking App
Spyzie is an app created specifically for parents to keep track of their kids or for employers who want to make sure work is being done. Spyzie has been around for quite some time, and anyone who has been on the hunt for a good monitoring app might have seen Spyzie on the list.
Spyzie aims to help parents protect their children from cyberbullying and online abuse. This is done by monitoring the child's device and being on the lookout for anything suspicious. This may seem a little invasive, but it helps protect children when they most need their parents but cannot explain to them the situation they are in.
Besides, Spyzie can be a great help to employers who just want to make sure that work is being done on company-owned devices.
Moreover, it works similar to several other monitoring apps on the market as all it takes is a subscription and some time with the target device. Additionally, iOS devices don't need to be physically accessed as only the iCloud details are required.
Part 2: The Advanced Features of Spyzie
Spyzie presents almost everything you need from the monitored device in a nice, easy-to-understand online portal. Here are some of the functionalities Spyzie provides:
Every detail about all incoming, outgoing, canceled, and missed calls are presented to the user. These call logs are then sorted according to their time and date and will contain lots of information about the caller, such as name, call duration, etc.
A device's text message will be available for the user to read, and if the target device is an iPhone, then all iMessage information will also be displayed to the user. In addition, messages with media files such as photos will have the option to download the relevant media.
Real-time location updates will be given to the user, along with the complete route history. This helps parents make sure that their children are not visiting any dangerous locations.
All mainstream social media apps are supported, and the user will get the relevant updates that include not only chat but also all the media included in the chat, such as photos, videos, etc.
All the target phone's contact information is visible to the user, and these contacts with their names and numbers can easily be downloaded from the online portal.
Another feature highly beneficial for parents is the calendar event monitor, which allows users to view planned events and their designated locations.
Part 3: Spyzie's Compatibility
Spyzie works for Android devices powered by firmware version 4 and up, while iOS devices are supported from iOS 8.0 and up. No root or jailbreak is required for any of the services Spyzie has to offer. If you find a problem installing it for your particular device, you always contact Spyzie's customer support.
Part 4: Customer Reviews about Spyzie
Despite being a famous name in the phone monitoring business, Spyzie has surprisingly negative ratings on various customer review forums.
| | | |
| --- | --- | --- |
| Great | | Bad |
| 16.79% | 12.98% | 70.23% | "Top phone monitoring tool to track all the cell phone activities. Monitor varied phone data such as GPS, SMS, calls, photos, browsing history, videos, WhatsApp, etc."
Read More >> "I purchased this year's premium pack to monitor my daughter's iPhone. Could never even load the software due to 2 step Verification. Tried emailing Spyzie 4 times. There is only..."
Read More >>
Good Reviews Highlight
Avoids Cyberbullying. Spyzie is the best option if you're worried that your partner is not honest or afraid that your child would be exposed to cyberbullying and cyber fraud.
Easy to Use. Anyone can use Spyzie. This is due to its easy-to-follow setup and installation. It doesn't require any technical knowledge, and you don't have to be a techy person to use the app. Within minutes you can set it up and start reading your target's messages.
Parental Tracking. With all of Spyzie's basic features, it is a convenient tool, which allows parents to monitor kids' activity.
All Features Available With No Rooting. There is no rooting required to enable the tracking functions offered by Spyzie on the target device.
Bad Reviews Highlight
Lack of Promised Features. Despite advertising the video preview features, some users have claimed that video previews cannot be viewed.
Waste of Money. After buying Spyzie, it does not work, and there is no support team to help. Even after requesting a refund, there was no response from Spyzie, which was quite unprofessional.
How Good Is Their Customer Support?
Not Good!
Customer service does not exist!
Part 5: What are the Pricing Plans of the Spyzie Spy App?
Spyzie offers slightly different packages to track Android and iOS devices. The subscription plans are as follows:
For Android Devices

| Basic | Premium | Family |
| --- | --- | --- |
| 1-Month License $39.99 | 1-Month License $49.99 | 1-Month License $69.99 |
| 3-Month License $59.99 | 3-Month License $69.99 | 3-Month License $99.99 |
| 12-Month License $99.99 | 12-Month License $119.99 | 12-Month License $199.99 |
For iOS devices

| Basic | Premium | Family |
| --- | --- | --- |
| 1-Month License $99.99 | 1-Month License $49.99 | 1-Month License $399.99 |
| 3-Month License $199.99 | 3-Month License $79.99 | 3-Month License $699.99 |
| 12-MonthLicense $399.99 | 12-Month License $129.99 | 12-Month License $999.99 |
Part 6: Pros and Cons - Spyzie
If you do not have much time to go through all the contents of the Spyzie review, then check out this pros and cons list. It will enable you to decide whether this app is the right choice for you or not.
Pros:
Installation is simple.
The live location provides the entire route the target device has taken.
The dashboard provides all the information in a completely user-friendly format.
A 7-day money-back guarantee ensures that hard-earned cash is not wasted.
Cons:
Customer support is not as competitive as one could hope.
Many important features are missing from the basic plan.
No free trial to test out the app before making a purchase.
Part 7: Spyzie Installation Guide
Spyzie offers a hassle-free installation process that can be completed in only a couple of steps. Android devices will require physical access to the device, whereas IOS devices will require their relevant iCloud details.
Follow these steps to get Spyzie set up on your target device in no time:
Step 1 Registration on Spyzie
First and foremost, a subscription will be needed to access Spyzie and its services. Next, head over to the official website and sign up for an account. Once you have your account created, you will have to decide if the device you wish to monitor is an iOS or an Android one and then pick a plan accordingly.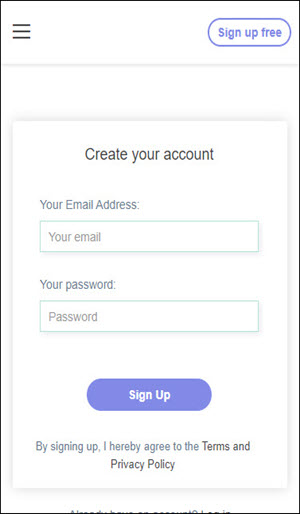 Step 2 Installation on the Target Device
This process differs according to the firmware version of the target device.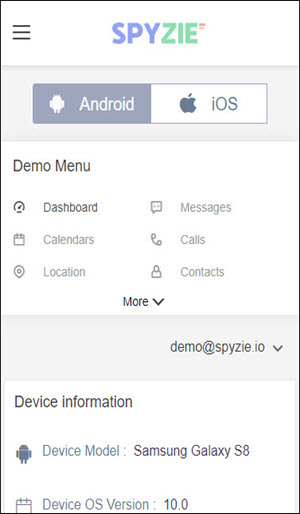 Android:

On the Android device, you will need physical access to install an APK file provided by Spyzie. If you face an alert stating that you need to permit installation from unknown sources, go ahead and grant the permission. After installing the app, proceed with the onscreen instructions and complete the setup.
iOS

On an iOS device, all you need is to provide Spyzie with the iCloud credentials, and you can start monitoring the device through Spyzie.
Step 3 Usage of Control Panel
Log in to your Spyzie account, and you will be presented with a neat dashboard that has the various features listed according to your subscription. All data of the target device can now be monitored through this dashboard.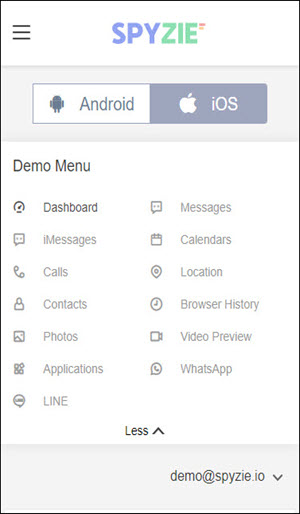 Part 8: Spyzie VS Spylix
Spylix is a competitive alternative to Spyzie as it is easy to use and offers a wide variety of features. We have compiled the similarities and major differences between the two apps in this section of the Spyzie review.
The Similarity:
Location tracking and updates according to the target device's current location
All sorts of call logs are available to the user, along with the call duration and caller names
Entire text message conversations are there, along with the relevant media
Monitor social media apps, including Whatsapp
Every kind of media is saved in the targeted device, including video, audio, and photos.
Allows to restrict usage limits for different applications
Users can operate the targeted device in stealth mode
The Difference:
Spylix uses keystrokes features for figuring out the most used keywords and passwords
Spylix can easily track down over 40 different data types, whereas Spyzie can only monitor 20
The Spylix app has all its options available on its comprehensive dashboard, while Spyzie has a control panel that gives you the right to avail the features
Only with Spyzie you can record the ongoing calls on the targeted device.
Why Is Spylix a Better Option Than Spyzie?
Spylix can be considered a better option due to the broad spectrum of functionalities that can range up to 42+ features. Whereas, Spyzie only has 30 features that give the lead to Spylix.
Spyzie offers you only to view the last text message or call that has been sent or received by the targeted smartphone. Spylix allows you to view the top 5 most dialed numbers with complete information about the contact, the entire conversation, and whether it is done via iMessage or text message.
Spylix has lower prices than Spyzie, which charges bigger numbers but offers lesser features than it.
Most people have problems with Spyzie due to its slow responses by customer support, but if you have Spylix, it means that you'll be satisfied with the help desk. In addition, it provides its users with 24/7 customer support through calls and email.
Tracking not only the most used social apps by teens, including Snapchat, WhatsApp, and Instagram, but also rare apps like Viber, Skype, etc.
Unlike Spyzie, Spylix has an extensive feature-rich explicit content detection system. Whenever something explicit crosses the target device's screen, parents are sent relevant alerts.
However, when it comes to using any spying platform, it is up to the requirements and needs of the person using the app. If you're still confused about choosing between the two, then you can always look into the details.
How to use Spylix?
3 Easy Steps to Use Spylix

Step 1
Sign up
---

Step 2
Set up Spylix
---

Step 3
Start Tracking
Part 9: The FAQs on Spyzie
Can I Spy on an iPhone using Spyzie without jailbreaking?

Yes, you can access every feature available in the Spyzie Online Control Panel library without having to jailbreak the target iPhone. The same goes for Android as there is no need to root the device to track all the on-phone activities.

Is Spyzie a legit app?

Yes, Spyzie is a legitimate application, and it's very easy to download the Spyzie app on the official website after creating a new account.

However, the app is not available in the App Store or on Google Play due to the fact that these stores don't support spying apps. Nevertheless, downloading is still safe and there are no issues related to this matter.

Is Spyzie free?

Creating a new account on Spyzie is free, but you need to subscribe to one of its pricing plans to enable the spying features on the target phone.

Can I install Spyzie remotely?

You need to physically access the target Android phone to install Spyzie. Otherwise, it is impossible to enable the app on it. However, for iPhone, it is a touch different as knowledge of the target user's iCloud account details is required to add Spyzie remotely.

Does Spyzie have a free trial or demo version?

Unfortunately, Spyzie does not offer any sort of trial or a demo run of the application, so there's no way to test the app other than subscribing to the basic plan. Whereas, Spylix provides a 7-day trial with which you can determine if it is suitable for you or not.

How does Spyzie remain undetectable?

Once the Spyzie app is installed on the Android device, Stealth Mode is automatically triggered, which hides the application from the user. Moreover, the 2MB app size makes it virtually impossible to detect on the phone.
Spyzie Reviews - Conclusion
We have compiled this detailed Spyzie Reviews to let you know all about its performance and applications for people in need of a reliable spying platform. Tech knowledge is not a must with Spyzie as anyone, even those without a tech background can set up Spyzie in seconds.
However, you should be aware of the lacking customer support and slow responses by the help desk. Suppose you can afford the subscription plans offered by Spyzie, and you can give it a go without having a trial run. In that case, it can be a good option for your monitoring needs.