Today everything is digitalized, and you can do almost everything with the help of technology, you can find any person or you can trace any cell phone also you can track and monitor the other person's cell phone.
Parents do not have enough time to spend with their children and children are busy with different activities. Parents are just neglecting, they do not know how many cell phones their child is using or which person they are texting or calling most of the time.
So to solve the issue there are too many spy apps on the internet that will help parents to monitor or trace their children. Check this Copy9 review to know more details.
Part 1: What is Copy9?
Copy9 app is the app to monitor and check the activities, especially for children to their parents and also for employees. It is the best solution to check and locate the activities of doing through a mobile phone. Users can monitor text, calls, whats, GPS locations, and other things like this.
With the help of the copy9 app, parents can check their children and monitor their activities performed by cell phone in the recent digital world, Parents are busy in their own lives and do have not so much time for their children, so with this parents can see what type of app their children are using, calls, text, location and also other activities.
Furthermore, with this Copy9 app, you will locate your employee also, you can easily check their real-time location, and they will also check the calls, text, and use other apps by the employee on their phones. To use this App Copy9.com login and monitor the target.
Copy9 app comes with paid and free versions also, it focuses on basics, in the free version you can check the GPS location, and you can also download the software and data reports. Copy9 app is an Android-supported App but Copy9 for iPhone is not supported.
Part 2: Features of the Copy9 Application
Following are some features of the versatile copy9 app.
Call recordings
The Copy9 app can record the incoming and outgoing calls, you will check all the received and dialed call data as a report and send it to any server. Parents are listening remotely to all ongoing and outgoing calls of their child.
Text message tracking
To track the Text Message, with this app, children use text message chat and do unethical chats, for parents, it is a vital matter to know which type of text their child is sending to another friend or anyone else. With this copy9 app, parents can easily monitor the text activity of their child.
Record the surrounding environment
While your child is sitting with their friend's circle with the help of a surrounding recorder, parents are also able to know the company of their child, or where they are sitting in any cafe or club or any other place, you can easily check the target place with this feature of Copy9.
Auto receiving Calls
Copy9 app gives you the features that you can auto receive calls without knowing the target, you can listen to both sides' conversations.
App Monitoring
With app monitoring, parents know which app is used by their child because there are so many apps that are inappropriate such as dating apps, gambling apps, and others, so parents are very conscious about the activity or use of their child.
GPS locator
Copy9 app allows you to track the location of your target and you can trace the daily routine track of your target.
Part 3: Compatibility of Copy9
The Copy9 app is compatible with android and you have to physically connect the android device of the user for installation. Moreover, if you want to monitor the target then you will have to root it first. It has a control panel and gives a comprehensive report.
It will also give access to see the bookmarks website and also can check the blocked website by the target.
Part 4: What Is the Customer Saying about Copy9 App
Copy9 has gained an average rating of 3.8 and the percentage of good and bad reviews is almost the same. To know more about what the customers say about this product read the given section completely.
| | | |
| --- | --- | --- |
| Great | | Bad |
| 37.00% | 25.00% | 38.00% | "So happy with this software! The only reason I'd stay away from it for this long is that I thought it would be another scam. But then the parental app I used on my kids wasn't working anymore (I think the makers had technical issues) so I switched to Copy9. Super satisfied because it came with tons more features than my old software anyway, so I'm a happy momma!"
Read More >> "Don't waste your time and money using this app. Most of the features aren't working and is also detectable and removable by anti-virus. They also didn't give me my money back since I'm unsatisfied with the service."
Read More >>
Good Reviews Highlight
Parental control. It offers efficient features which are very helpful for the worried parents who always need software to keep an eye on their kids and to know what they are doing on their mobile phones.
Calls monitoring. It offers you to collect the call history of your target person even if you are allowed to set a specific amount of calls to be recorded and then from specific numbers you can easily listen to the calls by using your computer without knowing the target person.
Bad Reviews Highlight
Detectable. When we use any monitoring app then it is our first priority that it works hiddenly and does not be detectable but in the case of copy 9, it has been observed that it is detectable and most of the spyware can easily detect it.
Doesn't work as advertised. It doesn't work in the way it has been advertised. Some of its features don't work, especially the premium one.
Don't refund. It has complained that if the customer requested a refund they did not respond to this request and never gave the money back.
How Good Is Their Customer Support?
Bad!
Its customer support does not reply to the queries asked by the users. They do not respond to the refund request even if you contact them many times. It is reported by some customers that if they try to send mail to the provided email address then it shows you cant send to this address.
Part 5: Subscription Plans and Packages of Copy9 App
For Android Devices

It offers you three types of different plans and you can choose between them easily according to your choice.
| | Standard Plan | Premium Plan | Gold Plan |
| --- | --- | --- | --- |
| 01-Month | $21.6 | $25.9 | $30.2 |
| 03- Month | $55 | $66 | $77 |
| 06- Month | $88 | $105.6 | $123.2 |
| 12-Month | $132 | $158.4 | $184.8 |
Comments on Copy9 Price
Relatively expensive
Its costs a lot, especially its 12 month packages . The prices are expensive when we compare them to the other spy apps.
Part 6: Pros and Cons of Copy9 App
Pros of Copy9:
Copy9 has a lot of advanced features for its android users that can help the user to monitor the target.
It provides quality support to its users with their best reviews, people are more reliant on this app.
It suits all kinds of needs as it comes up with three versions. That is the best part of this app.
Copy9 software is safe to use for its users.
Cons of Copy9:
Copy9 has needed physical access to install the app on the target device.
Remote installation might be possible but it has limited functions.
Copy9 is not compatible with iPhones.
It does not offer to work with Snapchat.
Part 7: How to use Copy9?
Copy9 is simple to install as you can install it just like other spy apps install. You can install it in a very easy and simple way. Following are the step-by-step methods on how you can install the Copy9 App.
Step 1
pick up your target device, go to the browser and type the URL of Copy9, choose the version that is compatible with the android version and Tap to "Download"
Step 2
Go to the Setting and Allow the installation from an unknown source. Now install the APK file from the device.
Step 3
Install the copy9 app and configure it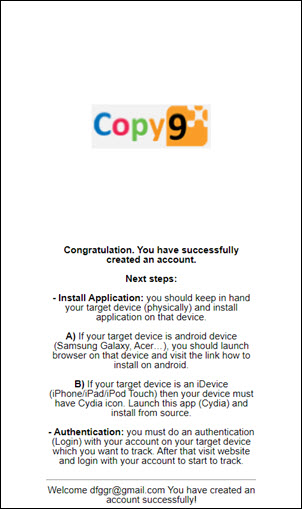 Step 4
Sign up Copy 9 Account and register the target device.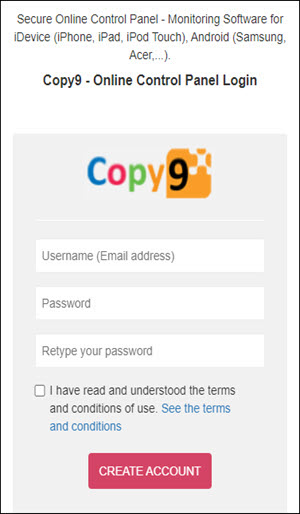 Step 5
Open Copy9 on your phone and now you can start monitoring the target.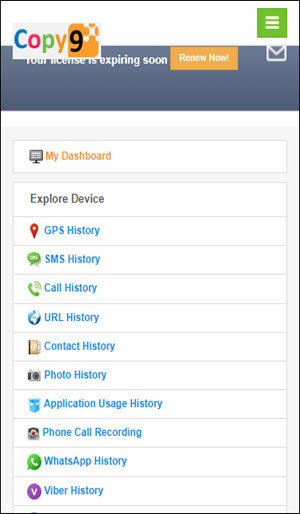 You must have physical access to the target device for the installation of Copy9, Copy9 also requires you to root the target device. When you start to install you must be sure that the target device has internet access. Using all these simple and easy steps you can start monitoring the target app.
Customers are always finding those applications that are easy to use and processes to install also easy, so Copy9 provides you an easy method to install and after that start checking and tracking your target.
Part 8: Comparison Between Copy9 and Spylix
1. The Common between Copy 9 and Spylix:
Both applications Copy9 and Spylix are operated remotely, you will not need to touch physically or near your target device.
Splix and copy9 have the same feature that they will work invisible.
Both Applications are in Stealth mode operated.
Both devices are compatible with android devices.
2. The Difference between Copy9 and Spylix:
Copy9 is a less expensive app but also the features are less as compared to Spylix, although the price is more, the features are very amazing.
Splix has provided more access to things as compared to Copy9 as you can not watch the deleted things in the copy9 app but the Splix has this service.
3. Why is Spylix a better option than Copy9
When this question comes into mind about why Spylix is better than Copy9 then you will find the reasons from the following features.
More Features

Spylix provides more features to the user as compared to the Copy9 app, it has almost 42 amazing features that are not provided by the Copy9, as you can not watch the deleted data through the copy9 app, but Splix provides these features to its users.

Advanced

Spylix provide more advanced features to their user and users are like those applications which are giving you the most advanced features, so you can easily pick the Spylix app as it has access to delete media as well as wifi access and other valuable features of mobile that will make it valuable appl.

Support customer Service

We have to find different types of spy apps in the market. Spylix is one of the best that will provide complete service to their user, as it will provide in time help to their use if you find the reviews that customer supports this app to say about the good customer support.

Budget-Friendly

Spylix is a budget-friendly app. If you see its package and compare it to its features, you will find it the most budget-friendly application. Spylix provides amazing features to the customers and customers are satisfied with this.

Safe and secure

When using the spying app there is always a fear of your data being stolen but the Spylix app gives you 100% surety that they will not disclose your data, so the customer is more reliant on this application due to its safe and secure feature.
4. How to use Spylix?
3 Easy Steps to Use Spylix

Step 1
Sign up
---

Step 2
Set up Spylix
---

Step 3
Start Tracking
Part 9: FAQs About Copy9
Is Copy9 legal?
Although this software developer has good attention, the law varies from state to state. If you can monitor your child's activities then tier is no issue, is Copy9 legit the answer is yes depending on its uses.
Is Copy9 safe?
Copy9 is a legal app so you are safe and secure when you use it for monitoring and tracking the target, there is no security issue with this application.
Does the Copy9 App work?
The answer is yes the copy9 application works because its customer provides the best reviews about the application and customers are satisfied with this app.
How long does it take to get the software?
Please keep in mind that the Copy9 software is not provided. You will receive an email containing your license for the program as soon as your payment is confirmed.
After your order is verified and your payment is processed, you will receive an email containing your license, software, and installation instructions.
Is Copy9 App easy to use?
Don't worry if you're not tech-savvy Copy9's spying tools are simple to use. With only a few simple clicks, you can learn about your child's hidden digital existence. Copy9 is general-purpose Android spyware.
Sum Up on Copy9
In this digital era, parents are more conscious about their children as they do not have so much time to sit and spend quality time with the children but they can keep an eye on their children's activities and their friend's company.
Parents know what their child does on the mobile phone whom they call, from which friends they text, or what stuff they gossip about, with the help of the Copy9 app parents monitor their child's activities without knowing the child. It is the best app for parents.