Living in the era of ever-evolving technology, with smartphones becoming a necessity, we have completely free access to all kinds of information due to the internet. In particular, children are exposed to both useful and harmful stuff.
While parents know the struggle of keeping their child away from these smart devices, doing that can also have some adverse impacts, including inferiority complex. The only reliable way of keeping them safe from online threats is to opt for a parental control app.
Among all the different types of tracking tools available online, Qustodio is quite popular, especially for beginners. In this Qustodio Review, we have mentioned everything you need to know about the app.
Part 1: What Is Qustodio?
Do you sense resentment from your child whenever you ask about their location? Do you feel that your children 's online friends aren 't reliable? If the answer to all the above questions is a YES, then don 't wait to try out the Qustodio app.
Qustodio is a renowned phone monitoring application letting its user track all the different types of activities on any targeted device. There are many prominent features that make Qustodio stand out, including browsing through search history, navigating social accounts, checking call logs, messages, and much more.
The application is recommended and trusted by millions of users for either limiting usage or monitoring your kids, checking up on your employees, and tracking your spouse 's online activities.
Part 2: The Top Functions Available with Qustodio
Qustodio is listed amongst the most used tools in the market due to its distinctive features helping you to stay updated with every online activity of your loved one.
Some of the features are mentioned as follows:
With many different apps being introduced in the market every day, it is hard to know about them all. Qustodio helps in restricting all types of inappropriate applications and games from the target phone by setting age or content limits.
Social media falls under the umbrella of necessity these days, being a great source of communication. Qustodio helps to make it children-friendly by tracking status and photos followed by them.
Qustodio lets you track your child 's or employee 's real-time location using GPS with exact coordinates. This mobile tracker feature comes in handy for protecting your loved ones, especially children.
The app also allows its users to view complete call logs, showing incoming, outgoing, and missed calls. In addition, side by side, you can look through the entire Text Message or iMessage conversation through Qustodio.
It is crucial for parents to limit their screen usage to protect their child 's eyesight and sensory receptors. Qustodio automatically locks the device after reaching the set deadline and sends you a notification.
You can even block and filter different types of content within a website or software. There are more than 30 categories to restrict, even in the private or incognito mode.
Part 3: Qustodio's Compatibility
Qustodio can be termed a well-built app with cross-platform compatibility among Android, iOS, and Windows. So, whether you have an Android device and the targeted device is an iPhone, or even both of them are the same, the working won 't be affected in any way.
When it comes to version compatibility, Android 6 and iOS 12 or higher are recommended for smooth usage. There isn 't any need for a jailbreak or rooting device as it won 't make any difference in performance. One thing to note is that the app may work differently with different operating systems.
Part 4: Customer Reviews of Qustodio
Customers have been saying positive things about the Qustodio app with a 105 positive responses(4.77 average rating) out of 137. In this section, we will share what specific things the user is praising and showing concerns about regarding this app.
| | | |
| --- | --- | --- |
| Great | | Bad |
| 55.05% | 4.20% | 40.75% | "Must have an app for every parent who has kids under 16 years of age. Saves you a lot of headache and trouble.. you can track any and all online traffic & the exact sites your kids have been visiting. Simply superb!"
Read More >> "I believe this website used to be used by a company that used to send generic medications from India. However, it has been taken over by scammers who will take your order and just reply a few days later with..."
Read More >>
Good Reviews Highlight
Safe Search. You can use this app for safe search and screen time management. This can help kids to become better at time management in this digital world!
Set Time Schedules. It is easy to use. You can set time schedules, control apps, games, set content filtering. Activity timeline is great, and it shows the location of the child too.
Blocks Internet Access. This app is possibly the best tool to secure any and all internet access from your children.
Robust Free Version. The free version seems to do the trick for some. If you are not very keen to pay for any softwares or applications, the free version is quite helpful.
Amazing Compatibility. Qustodio is a great way to monitor and control the little ones ' screen time! It has a nice set of parental control features, was very easy to set up and now works on all our kids devices (laptops and Samsung phones). Overall excellent app.
Bad Reviews Highlight
False Sense of Security. If you use Qustodio to monitor your child 's internet browsing to ensure they don't view unsuitable websites. However, it is found that there were just too many ways an intelligent user could circumvent qustodio, and view unsuitable material without qustodio being aware or notifying you.
Can Be Disabled. The tech savvy children can disable it easily.
Possibly Buggy. The location tracking is completely flaky and unreliable and cannot be relied upon to track your kids.
How Good Is Their Customer Support?
Good but frustrating at times!
When you are trying to unsubscribe, you have to contact customer support, but their slow response time can get frustrating.
Part 5: Is Qustodio Worth The Money?
| | | | |
| --- | --- | --- | --- |
| | Small | Medium | Large |
| Monthly | $4.58 | $8.08 | $11.5 |
| Annually | $54.95 | $96.95 | $137.95 |
When it comes to pricing plans, Qustodio is on the pricier side than other tracking apps. However, the features and functions offered by the app are also much broader than others. Moreover, the Small plan lets you track 5 devices at once. Furthermore, with the Large package, you can easily monitor 15 devices. The Medium option offers 10 device monitoring.
Therefore, we suggest using the free version to understand the usage and mechanics before purchasing any subscription. Moreover, there is a similar plan for all operating systems so that you won 't be confused about the charges.
Part 6: Qustodio Pros and Cons
Pros:
Qustodio offers easy to install applications
It is supported by a user-friendly interface.
It allows detailed monitoring features.
You can manage and monitor several devices at a time, which is best for employee management.
Supports many additional features, including a GPS tracker, panic button, filtering, etc.
Cons:
Qustodio has a strict uninstalling policy and doesn 't provide any uninstall protection.
The app doesn 't have a tamper alert to notify you when the child tries to mess with the settings
Several compatibility issues with older operating systems.
The application isn 't supported by antivirus software.
Part 7: How to Use Qustodio?
Qustodio app only takes a couple of steps to install, as mentioned below:
It is recommended to install the application on your phone first before going for the targeted phone.
Step 1 Registration
Initially, you have to create an account by navigating to Qustodio's official website and registering with a valid email address. After creating the account, you can choose any subscription plan depending on your need. Lastly, you have to pick the operating system that you may be targeting.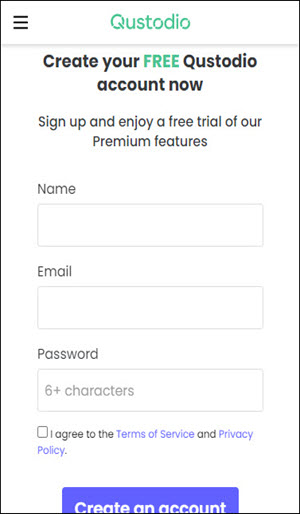 Step 2 Download the app
Next, Start tart by downloading the Qustodio application on the targeted device. After that, you can click on the installer to complete the installation process.
Once the app is installed, it may ask you about the existing account. Click Yes and proceed by typing the email address and password that you used earlier for registration.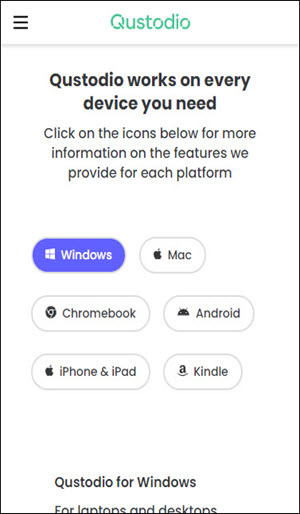 Step 3 Find the Device
Next, you should give a name to your device so in case you register another device, this one can be found easily. Then, choose the targeted user and read the instructions for configuration. Now, you can finally monitor this device from your phone.
Qustodio is relatively easier to install on both devices, having a user-friendly interface. You will need physical access to install the app on targeted phones. The app doesn 't take much time to install or even to load the feature-rich dashboard
Part 8: Qustodio VS Spylix
Check out this section to how well Qustodio competes with it competitors, such as Spylix:
1. The Similarity:
Both Qustodio and Spylix offer social media monitoring that gives you every detail about the activities on targeted phones, including Snapchat, Instagram, Facebook, Whatsapp, etc.
You can easily filter out certain content elements from any app, game, or website through web filtering options with Spylix as well as Qustodio.
Both apps allow monitoring calls and text messages, whether it is received or sent from cellular data or the internet.
Tracking location has also become easy with Spylix and Qustodio, as you 'll be given the exact place where the device is currently located.
You can also restrict screen time and usage of different applications with both apps.
2. The Difference:
Spylix offers stealth mode where you can monitor all the activities within the targeted phone remotely. However, Qustodio can 't remain hidden on the targeted device.
Qustodio provides you with a permanently free option where you can access certain features without any charges. In contrast, Spylix doesn 't offer paid subscriptions only.
While Spylix is compatible with all the different operating systems regardless of the version, Qustodio isn 't compatible with older devices.
3. Why Is Spylix a Better Option Than Qustodio?
Better Features

When compared in terms of features, Spylix definitely stands out by providing 42 functions within the app, whereas Qustodio only delivers not more than 15 features that mainly revolve around child monitoring.

Detail-Oriented

With Spylix, you can also see different elements of the content in much more detail compared to the Qustodio, which only allows you to see the last message of any conversation or the last call on a targeted device. Whereas, Spylix shows the entire conversation and calls upfront.

Cost Effective

Spylix is much cheaper compared to Qustodio, which is clearly a prominent factor for most users.

Excellent Customer Support

Spylix is known for its responsive customer care unit. Every customer service representative working with them is prompt and clear with the instructions. Meanwhile, Qustodio 's help desk lacks a bit and isn 't as responsive.

Undetectable

Nobody likes to be caught in the middle of monitoring or tracking someone 's activity, and Spylix understands it. It offers complete stealth mode by even hiding the app icon on the app palette of the device. Moreover, every action or navigation is entirely anonymous. However, Qustodio doesn 't offer any such features letting the targeted user know about monitoring.

Accurate

Spylix provides you with twice as accurate location tracking than Qustodio for better tracking without even letting them know.
4. How to use Spylix?
3 Easy Steps to Use Spylix

Step 1
Sign up
---

Step 2
Set up Spylix
---

Step 3
Start Tracking
Part 9: FAQs on Qustodio
Can my child Turn off Qustodio?

Yes, the child can turn off Qustodio on their devices, as the application is still detectable due to specific technical limitations.

Can Qustodio monitor Snapchat?

Yes, much like all popular social media applications, Qustodio can track all activities performed on the target user 's Snapchat account.

What can Qustodio see?

Qustodio can access the target user 's call log, messages, social media activities, and real-time location.

Why does it say my child is offline on Qustodio?

It points to the fact that the child might have disconnected their phone from the internet. Once they connect to mobile data or any WiFi network, Qustodio will work again.

When should you use Qustodio?

Qustodio is best used by parents to monitor the phone activities of children from age 13 and up.

What happens if you delete Qustodio?

All the data associated with your Qustodio account that is accessible on the Control Panel will get deleted, and you cannot retrieve it.
Qustodio Review Conclusion
In this detailed Qustodio review, we tried to incorporate every element and feature offered by the app. Therefore, most of the features a parent may need are included in the app. Yet, the prices are a little to the higher side, so be sure to try out other cost-effective options, such as Spylix.