If your child or spouse guards their cell phones with their lives or their cell phone is password protected or they are defensive if you go near it? These questions can be easily answered by using an efficient Spy app.
This Easy Spy review will explain all about this easy and simple monitoring app including the positive and the negative points. This article also contains authentic Easy Spy users' reviews on its features and working which is very helpful in making your decision.
Part 1: What Is Easy Spy?
Easy Spy is a great choice for monitoring mobile phones, iPads, and tablets. It offers easy tracking of messages, calls, location, and much other content. It is considered the safest cell full monitoring app for parents as well as employers.
It collects all the data of the target person and then sends it to your online account which is very secure and efficient. You just have to log in to your account by using your mobile phone or computer and then you are ready to view all the data.
Easy Spy is compatible with many types of mobile phones including iPhone, and Android devices (Samsung, LG, Motorola, and many more). It is upgrading all the time to provide you with the latest features and all the upgrades are free for a lifetime so you do not have to worry to pay more.
This program is not available in stores so you have to buy it from the respective site. It offers unlimited customer support and does not require any additional cost or monthly fee from the users.
Part 2: What are the Features of Easy Spy?
Easy Spy is an efficient monitoring app that is specially designed to monitor all types of portable devices. It offers a lot of advanced features for its uses which make it the best choice for the parents. Below some of its profound features are described:
Monitoring messages - You are allowed to view all the messages that your target person is receiving or sending by using his or her phone even the messages that have been deleted.
Monitoring calls - It also offers to monitor call logs where all the calls that are made or received from the person will be logged and transferred to your online control panel.
Remote camera spying - It works remotely and gives you access to the target phone camera so you can view all the surroundings. It is the best available easy-to-use spy camera.
Browser history - It will provide you with a complete list of all the web pages that your target person has visited.
Tracking location - It also offers you a GPS tracking feature where you can track the target cell phone within 50 feet of range of its actual location.
Social media monitoring - Easy Spy offers you monitoring of many social media accounts of your spouse or children. You can monitor Facebook, Skype, Twitter, and many other social apps installed on social media apps.
Part 3: Easy Spy's Compatibility
Easy Spy is compatible with Android and iOS devices but it does not support other mobile phones including Windows or Mac-based.
It supports iOS and Android devices but it requires jailbreaking of the iPhone which is against its warranty terms of Apple.
Same for the Android devices you need to root your device to access the function.
Part 4: What Do Easy Spy Reviews Say?
This section provides information about the good and bad reviews of Easy Spy. This section describes what are the complaints or the difficulties from the customer's side.
| | | |
| --- | --- | --- |
| Great | | Bad |
| 25.45% | 4.22% | 70.33% | "Compared to other family trackers I tried before, I like that with this one, you can set up notifications for special situations like when your kid leaves school or arrives home."
Read More >> " No support, false advertising. I want a refund urgently. The cost is ridiculous. It's one price before purchase and a huge amount after. "
Read More >>
Good Reviews Highlight
Easy installation. It is easy to install and anyone can install the application on the target device without needing any help from outside.
Remote working. It works well from a remote location. It is the best choice for people who need updates from a remote location without getting access to the target device.
Efficient control. It offers easy and efficient control over the target phone which is very helpful for the parents who are worried about their kids and want to know what they do on their mobile.
Bad Reviews Highlight
Refunding. It has been found that they do not refund if they are requested to. They don't respond to the request or make lame excuses to avoid the situation.
Compatibility issues. Compatibility issues have been observed especially for windows and Symbian-based mobile phones. They advertise that the product is compatible with all the versions but actually it is not.
How Good Is Their Customer Support?
Bad!
Their customer support service is very bad as it shows unprofessional and unkind behavior. Whenever an issue occurs or simply the customer wants to refund they never refunded and actually refuse it totally.
Part 5: Is Easy Spy Worth The Money?
| For Android | For iPhone | For iPad | For tablet |
| --- | --- | --- | --- |
| $69.99 | $69.99 | $69.99 | $69.99 |
Comments on Easy Spy Price
Expensive
Easy Spy is not an efficient option if you are looking for a monitoring app that provides a flexible pricing policy and budget-friendly packages. It does not offer many subscription plans like Spylix.
For all the devices there is only one plan for which you have to pay for installation. But it offers other additional features to buy including a support package, download warranty, and updates.
Part 6: Pros and Cons of Easy Spy
Pros:
Reliable and smooth working
The powerful and advanced monitoring feature
Work in stealth mode
Easy to install and setup
Provide 24/5 customer care service
Cons:
Relatively expensive subscription plan
Rigid monthly subscription plan
Require rooting or jailbreaking Android and iOS devices
Does not support Windows Mac or Symbian based mobile phone
Part 7: How to Get Easy Spy?
Easy Spy is very easy to install and use. It is designed for general people and offers a simple installation process that anyone can perform without having special skills and previous experience. The app is compatible with iOS and Android devices so you can easily install it on these.
Easy Spy claims that its application only takes 2 minutes to install any type of device and it does not drain the battery of the target device. Below 3 easy steps are provided by using which you can easily use the Easy Spy app:
Step 1 Register an Account
Navigate to the official website of Easy Spy and choose the buy now option to purchase it. You have to provide credentials to confirm the payment process and then you will get an email with everything guided.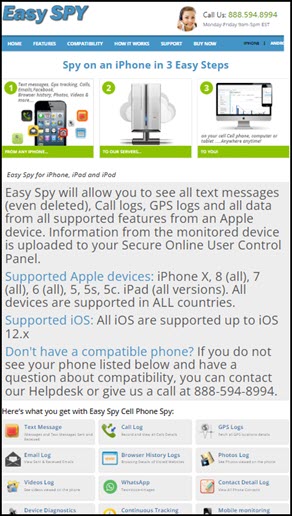 Step 2 Set up the Tool
Download and install the Easy Spy application on your target device by using the link provided in the email.
Step 3 Access Online Dashboard
Log in to your control panel and start the monitoring process.
After following the above steps you will be able to monitor all the features on your phone or computer all you need is to just log in to the sign-up account.
Comments on User Experience
Easy
Easy Spy is very easy to install and use. It is designed for general people and offers a simple installation process that anyone can perform without having special skills and previous experience. The app is compatible with iOS and Android devices so you can easily install it on these.
Part 8: Easy Spy VS Spylix
1. The Similarity:
Following similarities are present between Easy Spy and Spylix:
Easy Spy and Spylix both are compatible with Android and iOS devices
Both applications are easy to operate and install on the target device.
Both applications work in stealth mode so the target person will not find out that you are spying on them.
2. The Difference:
The following differences are present between Easy Spy and Spylix:
Easy Spy doesn't offer a lot of monitoring features as Spylix is offering such as geofencing.
In the case of Spylix, you don't need to root or jailbreak your target device but you have to do it for Easy Spy.
Spylix subscription plans are quite cheaper than Easy Spy.
3. Why Is Spylix Better Than Easy Spy?
Easy Spy is an ordinary application that provides limited features. For instance, it does not provide a keylogger or screen recording feature while Spylix is providing. Whenever you are concerned to find out How easy I spy pictures and a lot of content on target devices then Spylix is the option on which you can rely. Following are the reasons why Spylix should be preferred over Easy Spy:
Spylix offers 40 and 18 monitoring features in the case of Android and IOS devices respectively but by using Easy Spy you can only enjoy 21 and 8 monitoring features for Android and IOS respectively which are very less compared to Spylix.
Spylix provides additional associated information along with the general type of information such as if you are monitoring messages then you can get to know about sending and receiving time and other associated information.
By using Easy Spy you can track the location of your target person but by using Spylix you can also enjoy the geofencing feature where you can set specific regions and whenever the target person leaves or enter that area you will be notified.
Jailbreaking or rooting is not desirable for any type of device as it can damage the target mobile phone. Easy Spy needs to jailbreak or root your target device but Spylix does not require rooting or jailbreaking which makes the process easy and safe.
When it comes to price Spylix subscription plans are very cheap and budget-friendly as compared to Easy Spy. Spylix offers a lot of subscription plans and you can choose the one according to your choice. Additionally, Spylix subscription plans are not rigid like Easy Spy. You can go with 12 months, 3 months, or 1-month subscription plan depending upon your need but in the case of Easy Spy, you are bound to use monthly plan subscriptions.
How to use Spylix?
3 Easy Steps to Use Spylix

Step 1
Sign up
---

Step 2
Set up Spylix
---

Step 3
Start Tracking
Part 9: FAQs about Easy Spy
Is there a free trial for the Easy Spy app?
Unfortunately, Easy Spy doesn't offer any free trial facility to its users. But it provides a refund policy according to which you can get back your money within 10 days of purchase. Spylix offers you a free sign-up option through which you can easily register yourself. You are also allowed to get back your money within 30 days.
How does Easy Spy work?
Easy Spy collects all the digital information about the target device without physically accessing it. Then all the data is accessible through the OTA method and displayed on your PC or mobile phone screen. All you need is to connect to the internet and log in to your control panel. In the same way, Spylix collects all the monitoring information of the target device remotely and displayed it on your online dashboard which you can easily access.
Is Easy Spy Legit?
Using any type of Spy app for violating someone's privacy is illegal and you have to contact your legal lawyer. It is important to go through your local laws, in some countries people are allowed to use the spy app for their kids monitoring or for their own personal devices. Easy Spy is legal to use if you are using it for general monitoring without harming someone's privacy.
Is Easy Spy Truly Hidden?
Yes, Easy Spy collects all the information and transfers it to your online dashboard while working in stealth mode. It works smoothly and anonymously in the background mode, it doesn't affect the performance of the target mobile phone in any way so the target person will never find out that you are spying on them. Spylix also works in the background mode. It does not send any type of notification and takes only 2MB of space in the storage of the target mobile so you will never be caught.
How good is Easy Spy customer service?
Easy Spy offers good customer service and it has been observed that it responds quickly whenever a person wants to reach them out and provides all the required guidelines in no time. In the same way, Spylix's customer service is also remarkably efficient. It is working 24/7 for its users.
Which Devices Can You Use Easy Spy with?
Easy Spy is compatible with almost all types of devices. It has been found that it supports all the major network carriers and operating system versions regardless of the mobile phone model.
A spying app is an answer to questions like How to make spy gadgets at home easy. Easy Spy is a safe and easy-to-use monitoring app for parents or employers. This Easy Spy review is covering all about this spying application and how it can be helpful for you.
Thanks to its easy interface a layman can use it without having special skills. It works remotely and is invisible, so your kids or employees will never find out that you are spying on them.