We are more focused on privacy these days, and that's why spying apps are welcomed with fingers crossed. There is, however, a rising need to ensure that those close to us are as safe as they say. That's why FoneMonitor reviews exist, among others, telling you why you should pick a particular spying application.
FoneMonitor has been around for some time, and it has been helping many. We will shed light on what it entails, how it simplifies phone spying, and compare it and a significant competitor.
Part 1: What is FoneMonitor?
FoneMonitor is a monitoring application that allows you to remotely access a phone's information. As we will see, it has several features, and they all aim to get the details and show them to you remotely.
There is a dashboard in use, and you can access it via your online account. Availing a phone's information while away from the phone has made the FoneMonitor a favorite among parents and employers.
It claims to show you the data regardless of where you are. That's great since all you need is a superb internet connection. You can use FoneMonitor if you have kids using smartphones. It's also applicable in work environments if you are an employer who needs to keep tabs on employees' phone activities.
If you are in a relationship and need to monitor your partner, FoneMonitor can help you out. It can hide while spying on the activities, and you only need your account to view what's happening in real-time.
Part 2: What Can I Do with FoneMonitor?
FoneMonitor has plenty of features that work on both Android and iOS. You, however, get more on the Android version. The common features include
GPS Phone Tracker: FoneMonitor will show you where the target phone is in real-time and the past locations too. The Geofencing feature also allows you to set up restricted zones and get a notification if a line is crossed.
Text Message Spy: You can remotely retrieve all the sent and received messages from a phone. You will also get the timestamps here and the delivery status information. In iPhones, it will recover the deleted iMessages too.
Calls and contacts: FoneMonitor will get you the whole call history, including the timestamps and whether a call was outgoing, incoming, or missed. Under contacts, the app fetches all the numbers from the phonebook.
Social media activities: You will see all the conversations on Facebook, WhatsApp, Instagram, Tinder, etc. More social activities are visible on the Android end. In iOS, you only get Line and WhatsApp. You can, however, view more via the installed apps specification.
Emails: Still on Android phones, you can view the email activities. FoneMonitor will show you more details about the subject, recipients, and the time and date. This feature is not on the iPhone version, though.
Browser history: You can check the URLs visited via the culprit's phone browser.
Media files: FoneMonitor can show you all the saved photos and videos on the phone you are monitoring. If you need to store some of them, it's possible to download them.
More features here include SIM Card tracking and the keylogger. You can visit the main website to see what's available via the features page or the demo.
Part 3: Is Rooting or Jailbreaking Necessary Before Using FoneMonitor?
FoneMonitor does not require any rooting or jailbreaking techniques. You can only do it if you want to, and in that case, there will be more information on your dashboard. This is an app with cutting-edge technologies that don't require such practices to show you the data you need remotely.
Part 4: Customer Reviews about FoneMonitor
FoneMonitor customers do not say much about the application. Those who have left a review have praised the advantages and raised concerns about some of the things advertised by the application's website.
There are 19 reviews, and two of them do not settle well with the application. With an average rate of 2.5, FoneMonitor needs to pull up the socks since that shows some issues need to be addressed on the application.
| | | |
| --- | --- | --- |
| Great | | Bad |
| 25% | 25% | 25% |
Good Reviews Highlight
Light application: FoneMonitor does not consume a lot of space on the targeted phone. It's hard to recognize that a considerable amount of space is gone, yet it fetches huge amounts of data to reveal it remotely on your dashboard.
Stealth mode: We love FoneMonitor because it does not show on the targeted phone after installation. That makes it easy to spy on troublesome kids who are clever enough to uninstall any applications they don't recognize on the phone.
Works globally: You can monitor a phone remotely using FoneMonitor regardless of where you are. I travel overseas mostly, and I can keep tabs on my wife and kids. Knowing that they are safe while I'm away giving me peace of mind. I thank FoneMonitor for that.
Bad Reviews Highlight
Features Not Working: Most of the advertised features do not work, which is quite disappointing. The real dashboard does not have what you see on the demo page. If you want more features, especially on the social media niche, it's much better to try the competitors.
How Good Is Their Customer Support?
It's okay.
If you have any problem, the FoneMonitor support team will always respond and ensure that the app is working as it should be on your end.
Part 5: How Much Does FoneMonitor Cost?
The table below shows you the FoneMonitor cost for Android and iOS subscriptions.
Android Plans:

| | | | |
| --- | --- | --- | --- |
| | Basic (One Device) | Premium (One Device) | Family (Three Devices) |
| 1 Month | $39.99 | $49.99 | $69.99 |
| 3 Months | $59.99 | $69.99 | $99.99 |
| 12 Months | $99.99 | $119.99 | $199.99 |
FoneMonitor iOS Plans:

| | | | |
| --- | --- | --- | --- |
| | Family (Five Devices) | Premium (One Device) | Business (25 Devices) |
| 1 Month | $99.99 | $49.99 | $399.99 |
| 3 Months | $199.99 | $79.99 | $699.99 |
| 12 Months | $399.99 | $129.99 | $999.99 |
FoneMonitor price depends on the package you pick and the number of devices you want to monitor remotely. It's quite costly, but you may get offers once in a while on the premium versions.
Part 6: FoneMonitor Pros and Cons
Pros:
It's a light app that doesn't consume too much space
The UI on the dashboard is user-friendly
Covers Android and iOS platforms
Cons:
The app is quite expensive
No advanced features such as call and surround recordings
Part 7: How to Install FoneMonitor
Step 1 Register an Account
Sign up on the FoneMonitor website, choose the targeted phone's OS and pick a package.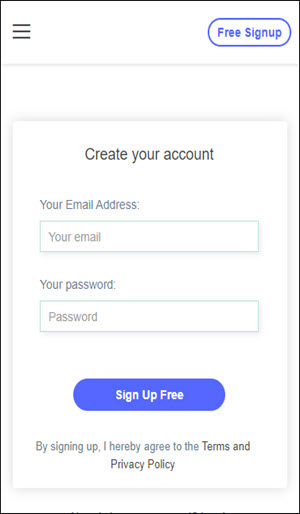 Step 2 Set up the Tool
You will receive a confirmation email with instructions. Follow them to install on Android. In iOS, use the Apple credentials to verify on the website.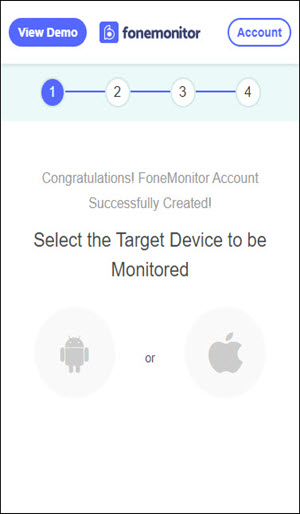 Step 3 Access Online Dashboard
Log into your FoneMonitor account and proceed to the dashboard. Use the menu on the left to navigate and view the fetched data.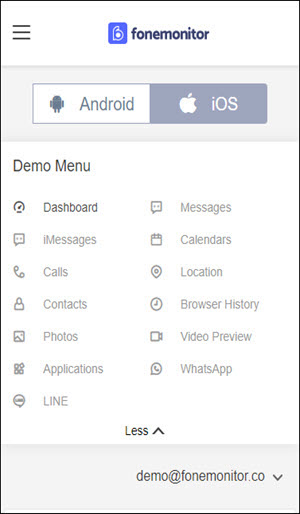 The installation procedure is relatively straightforward. There are no complications such as rooting or jailbreaking, making the setup easy for many who may want the services but are not tech-savvy.
Part 8: FoneMonitor vs. Spylix
The Similarity:
They both have a user-friendly UI
You get the data in real-time via your account
They are both compatible with Android and iOS
The Difference:
Spylix is cheaper than FoneMonitor when you compare the prices for one device
There are more features on Spylix
Why is Spylix A Better Option than FoneMonitor?
After comparing the two applications, Spylix gets to the top due to a few things that make it better. Here is what makes FoneMonitor be in the second-best position:
There are more features on Spylix. It has 42 functions that work without rooting or jailbreaking the targeted phone.
Spylix is cheaper. FoneMonitor tries to counter by adding more devices at high prices, but you will still spend less when you pick Spylix.
Spylix shows you data in real-time, and it fetches everything it targets from the phone being monitored.
There are fewer social media features on the FoneMonitor iOS version. Spylix reaches more social activities on both Android and iOS platforms.
FoneMonitor does not have a remote uninstallation alert. So, to get rid of it, you have to access the targeted phone physically. Spylix has a remote uninstallation button.
How to use Spylix?
3 Easy Steps to Use Spylix

Step 1
Sign up
---

Step 2
Set up Spylix
---

Step 3
Start Tracking
Part 9: FAQs about FoneMonitor
Can I use FoneMonitor anywhere?
FoneMonitor claims to work anywhere. You need an internet connection and an updated browser after setting it up on the target phone. Spylix is also accessible worldwide, and you can use it to monitor phones regardless of where you are.
Which OS platforms are compatible with FoneMonitor?
FoneMonitor and Spylix are compatible with Android and iOS platforms. Spylix is compatible with all versions, while FoneMontor works with Android 4.0+ and iOS 7.0+. If you have a phone to monitor with an earlier OS version, Spylix will suit you.
Does FoneMonitor have a stealth mode?
You can hide FoneMonitor after installation on Android, but you have to select the hidden mode as you install. In iOS, it's not visible since the setup happens online. Like Spylix, the targeted phone's user will never know what's happening.
Can I install FoneMonitor remotely?
In iOS, it's possible since FoneMonitor works with iCloud. In Android, you have to access the phone for a one-time installation. Spylix also works the same way.
Is there a FoneMonitor free version?
FoneMonitor doesn't have a free version or a trial period. You need to subscribe to a plan before the setup process. Spylix also has the same approach. The advantage is that it's cheaper than FoneMonitor.
How many devices can you monitor using FoneMonitor?
It depends on the subscription you get. There are plans for one device and others for up to 25 devices. Like Spylix, the subscription you get is what determines the number of devices you can monitor.
FoneMonitor Review Conclusion
The FoneMonitor review above shows you how to simplify the monitoring process by getting an easy application. The main flaw with FoneMonitor is that you don't get a lot of features, and it's pretty pricey.
If you need more features at a lesser cost without compromising the targeted phone, then Spylix is for you.