We use smartphones every day to communicate and also browse, among other things. These handy gadgets, however, need monitoring when the right need arises. There are many apps for that, and that's why they deserve reviewing.
Here is a Spymaster Pro review to tell you what the app contains and what you should expect after choosing it for monitoring purposes. We will also look at how it fairs when compared with robust applications such as Spylix.
Part 1: What is Spymaster Pro?
It's simply a monitoring application that allows you to fetch information from a phone and view it remotely. The idea here is not to get the target phone every time you want to see the ongoing activities.
Spymaster Pro suits parents who want to know what their kids are doing on their devices. If you are a busy parent or guardian who leaves the kids with phones to get in touch, this app will help you know what they are up to at all times.
It also suits employers who would like to keep track of their employees and ensure that their energy is dedicated to tasks during work time. If you are also in a relationship and would like to know if your spouse is doing something fishy, Spymaster Pro will help you determine that.
The application needs to access your phone, and there are various ways to do it. After that, it's all about accessing an online account to view the details.
Part 2: What Can Spymaster Pro Show You?
Spymaster Pro has some valuable features in its sleeves. Here is a highlight of what you can view:
SMSs: This is where you get all the received and sent messages. They will also contain the phone numbers and timestamps.
Call log: Do you wonder whom your target is calling? Spymaster Pro will find that for you and list all the incoming and outgoing calls. The associated names will be there if the number is saved together with the timestamps.
Social media: You can get all the Facebook, Instagram, Viber, Snapchat, and Kik activities on the online dashboard. They will also contain information that will help you verify.
GPS Location: Where did the target tell you they are? Verify that using Spymaster Pro's locations feature. It updates the locations, coordinates, and timestamps.
Installed applications: You can also view any third-party installed applications. If you tap on the icons, you will see all the available details.
Media files: Spymaster Pro will also reveal the stored photos and videos.
Browser history: You can check on the online activity using this feature and get the URLs to find out more. They will also contain timestamps.
Sensitive information alert: If you monitor kids or employees, you can know when they visit inappropriate content on the internet.
Part 3: Spymaster Pro's Compatibility
The application works exclusively on Android and iOS platforms. It supports Android 4.4 and above and iOS 9.0 to 14. You don't need any rooting or jailbreaking techniques to use it. It's therefore relatively easy to use since there is no need for complicated skills.
Part 4: What Do Customers Say about Spymaster Pro?
Spymaster Pro has positive and negative reviews, which gives the spy app a 2.84 average rating from 77 collected reviews. The information below summarizes what people have to say about the application. "I purchased one month's service from spymaster… it turned out to be the best investment of my life. I followed the steps and was able to see all the logs on the dashboard. The support team is cooperative too."
Read More >> "I bought it, and it couldn't access an iPhone I had temporary access to since it has two-factor authentication. I told them, and they sent me another link that would work. Indeed, I started a "session," and it connected to the phone's iCloud ..."
Read More >>
Good Reviews Highlight
Excellent support: The support team is very cooperative, and they will assist you with everything, including installation. I purchased a three months plan, and it works without any issues.
Works as advertised: All the features advertised on the Spymaster Pro website are available on the dashboard. The dashboard is also interactive, and you don't miss anything from the targeted phone.
Bad Reviews Highlight
Two-factor verification in iPhones: You cannot use Spymaster Pro on an iPhone with two-step verification. You have to access the phone physically to disable the feature. If the phone is far away, there is no way to use Spymaster Pro.
No refund: I tried to get my money back after a failed attempt to set up the application on a targeted iPhone. The support team said I could only cancel the subscription or renew it. A refund was simply not possible.
How Good Is Their Customer Support?
It's okay.
You can contact the Spymaster Pro support team at any time, and they are more than ready to help. The only issue you may not agree with is the refund since they persuade you to renew or cancel.
Part 5: How Much Does Spymaster Pro Cost?
For Android:

| | Android Basic | Android Premium | iPhone |
| --- | --- | --- | --- |
| 1 Month | $28.03 | $38.05 | $38.05 |
| 3 Months | $38.05 | $48.06 | $60.08 |
| 12 Months | $68.10 | $90.13 | $90.13 |
The prices are pretty high compared to other apps, but it gets better when you pick the 12 months plan. The drawing line is whether your device is compatible with Spymaster Pro.
We find the prices expensive because regardless of what you pay, you can only monitor one device.
Part 6: Pros and Cons
Pros:
The app is compatible with Android and iOS versions
It has a demo to show you how the dashboard works
It contains valuable features
The app works in stealth mode. The targeted device user is never notified
Cons:
It's pretty pricey
There is no plan to monitor more than one device
The features are still few when compared to other competitive apps
Part 7: How to Install Spymaster Pro
Step 1
Visit the Spymaster Pro website, click on the 'Buy Now' button and purchase a suitable plan.
Step 2
Next, follow the instructions given to set up. In Android, install the application once on the target phone. In iOS, use the iPhone's iCloud credentials on the website.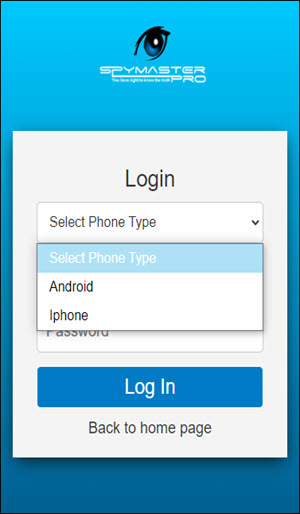 Step 3
Log into your account and monitor the phone while away.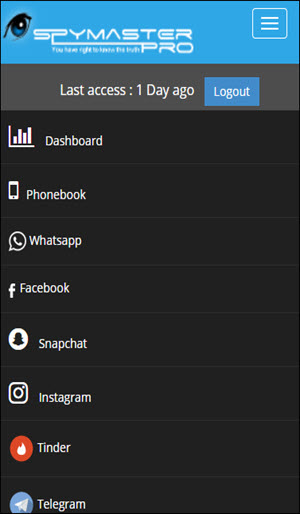 The procedure is relatively straightforward, and there are instructions to get you through the process. It's admirable on the iOS side since there is no installation required. Regardless of the operating system, you don't require rooting and jailbreaking techniques.
What Spymaster Pro can improve on is the dashboard UI. It just displays information, but when compared to others, it needs to be livelier.
Part 8: Spymaster Pro vs. Spylix
The Similarity:
Both operate in the Android and iOS realms
They have the stealth mode feature
You get the targeted phone results remotely
The Difference :
Spylix has more features than Spymaster Pro
Spylix is compatible with iOS 7.0 and above. Spymaster Pro accepts iOS 9 as the earliest version
Spymaster Pro has no keylogger feature. You will, however, find it on Spylix
Why is Spylix a Better Option than Spymaster Pro?
You may want to choose Spylix over Spymaster Pro because:
Spylix has more than forty functions. That places it as one of the top-notch monitoring applications available.
Spylix is compatible with more iOS versions when compared to Spymaster Pro.
The Spymaster Pro monthly prices are pretty expensive compared with what Spylix gives you on the yearly plan
Spylix has a plan that can monitor more than one device. You don't get that in Spymaster Pro.
Spylix has an interactive and user-friendly dashboard that seems nourished with features. Spymaster Pro looks empty and dull, even with some of the best features you can find in a spying application.
How to use Spylix?
3 Easy Steps to Use Spylix

Step 1
Sign up
---

Step 2
Set up Spylix
---

Step 3
Start Tracking
Part 9: What You Should Know about Spymaster Pro
Does Spymaster Pro work?
Spymaster Pro works on Android 4.0+ and iOS 9.0 and above. As long as the device is within the specified parameters, the app will fetch the data and display it remotely. Spylix works with Android 4.0 and above and iOS 7.0 or later.
Does Spymaster Pro work worldwide?
Spymaster Pro claims to work anywhere in the world apart from continental China. Spylix has no restrictions in any country, meaning you can use it anywhere with an internet connection.
Will the target user be aware of Spymaster Pro installation on the phone?
Spymaster Pro operates in stealth mode. Therefore, like Spylix, the targeted user will never know about the installation. The icon disappears after installation once you specify the option during installation.
Can I change iPhone credentials on Spymaster Pro?
N, you can't. If you would like to use a different iCloud ID, you need to purchase a new subscription. Spylix will allow you to add another Apple ID if you have a subscription that supports monitoring more than one device.
Can Spymaster Pro monitor more than one device?
You cannot monitor more than one device using Spymaster Pro unless you buy a separate subscription. In Spylix, some plans permit monitoring multiple devices.
Does Spymaster offer a trial version?
Spymaster Pro and Spylix solutions do not offer free trials. You, however, have a chance to explore what the dashboard will be like once you set up the applications.
Spymaster Pro Review Conclusion
You now have an idea of what Spymaster Pro is and what it can do regarding phone monitoring. It's a superb app to monitor everyday phone activities and what's happening online, especially on social media.
However, the app lacks crucial features like the keylogger, and it's not compatible with a variety of iOS phones. If you would like a monitoring app with more features and compatible with a wider variety of mobile devices, select Spylix as the best alternative.