We would like to keep our kids safe. The modern world is faced with all kinds of threats, and a parent has to protect their kids from them. One way to do it is by using a monitoring application on their phone.
We have the Tispy review, which will tell you if it's a worthy app or not when it comes to kids' protection. You will learn what it's all about, the features you get, pricing, pros, cons and how it fairs when compared with a competitive app like Spylix.
Part 1: Tispy Defined
Tispy is a phone and computer monitoring application that helps parents know what kids are doing with their devices. You can get the information remotely since it contains an online dashboard.
It has helped thousands of parents solve the 'what are my kids doing on their phone' nightmare. You can use it to know the usual phone activities and more on the online end. The best use case here is to know when your kid views and uses adult content.
Kids always want to know more, even when the information seems to threaten. With Tispy, you can know when they stumble on such content and take the appropriate measures. At this point, we know you would like to know what else Tispy can uncover remotely.
It's an app that can monitor everything from the battery level to the last URL visited via the browser. There are many features to explore here, and you can check out the demo page to know what you should expect.
Part 2: Tispy's Features
Tispy has valuable monitoring features. Once you install it on the target device, you will view
Calls and Contacts: The calls tracker feature will show all the outgoing and incoming calls. You will also know the names of those involved, the timestamps and the call duration. Under the contacts, you will get everything saved in the phonebook.
Locations and Geofencing: The locations tracker feature lets you know where the kids are. The location is updated in real-time, and you can use Geofencing to know when they reach or leave particular places.
Text messages: You will get every sent or received text. More information will include the phone numbers involved and timestamps.
Multimedia files and phone storage: Tispy will get hold of every image stored on the phone even after deletion. More to that includes accessing what is stored on the phone or computer.
Social media activities: You can also learn what the kids are doing on Facebook, Viber, WhatsApp, Skype, Tinder and more. All you need is to click on the appropriate icon at the top of the dashboard to retrieve the messages and supporting details.
Installed apps and programs: Tispy will spy on all the apps installed on the monitored device. That's how you know if your kid is using the right apps for their age. The best part is that you can use Tispy to uninstall the app you don't need remotely.
Internet usage: What is your kid doing online? You will view all the URLs via the online dashboard and get an adult alert if the content visited is inappropriate for the kid.
Scheduler: You can schedule Tispy to take a photo randomly or at a pre-planned time. Tispy will take a picture or a screenshot when the time reaches, depending on what you need.
There is more to explore on Tispy when you install it. You can visit the features page on the main website to see what else it possesses.
Part 3: Tispy's Compatibility
Tispy works with Android, Windows, and macOS. It does not require any rooting or jailbreaking techniques. So, if you are a parent who is not tech-savvy, you don't need to worry much apart from following the instructions given.
You just need to download the app and configure it.
Part 4: What the Customers Say about Tispy
Customers have positive things about Tispy due to what it has delivered. It's still not easy to evaluate where people place the application since there is not much about negative reviews.
With an average rate of 3.8, it fairs well, and we hope that it continues to deliver what it promises. Here are some of the highlights we got from the collected customer reviews.
The Reviews Are About
Suits the modern world: This is the application we need to monitor teens in today's smartphone and computer world. It will be much better if they can release an iPhone version since it already monitors macOS.
Great support: The support team is always there to answer any questions. It's like a family assistant who is there to fix everything messy.
Great for the kids: Kids often fall into the wrong company, and it may be too late the moment a parent notices. Tispy will tell you where the children are and what they are up to.
No rooting: Tispy is loaded with excellent features, and you don't need to root a phone to get complete information. If this app had a hiding feature, it would be best to monitor the Android environment.
How Good Is the Customer Support?
Great!
There is a live chat on their website, and you can use it to get instant feedback. They are also timely in their responses if you use other means to contact them. Apart from the fast response, they are also very friendly.
Part 5: Tispy Pricing and Subscription Plans
| Period | Standard | Premium | Advanced |
| --- | --- | --- | --- |
| 1 Month | $11.73 | $6.74 | $8.70 |
| 3 Months | $35.20 | N/A | N/A |
| 6 Months | N/A | N/A | $52.80 |
| 12 Months | N/A | $81.95 | N/A |
The prices are quite fair and they get better when you subscribe to the plans with more features. The premium plan is the most suitable for parents since the monthly fee is the lowest.
The only flaw here is that the plans are only for one device. There is no way to monitor multiple devices using one subscription.
Part 6: Pros and Cons of Tispy
Pros:
It's compatible with Android and computer platforms
It has many features to explore
It has an interactive dashboard
It's pretty cheap compared to other spying applications
Cons:
It cannot monitor iOS devices
It does not have stealth/hidden mode. That's why it suits the kids
Part 7: How to Install Tispy
Step 1 Register an Account
Create an account on the Tispy website and then download the app using the given guidelines.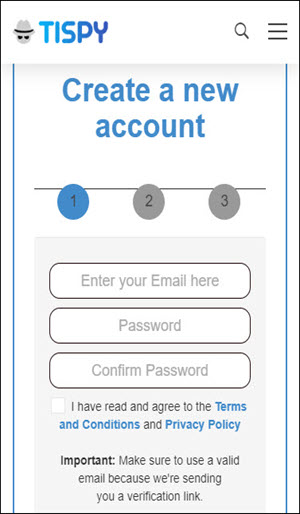 Step 2 Set up the Tool
Follow the installation guide to install the application on the targeted device.
Step 3 Access Online Dashboard
Access your account remotely and check what the dashboard contains. Use the icons at the top to monitor more information.
The procedure seems easy, but you must allow third-party permissions and other limitations when installing on the Android end. It, therefore, gets a bit hectic if you want it on the child's phone.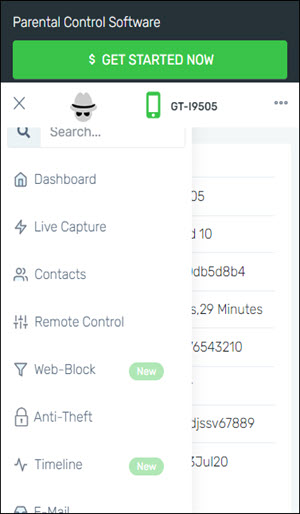 Part 8: Tispy vs. Spylix
The Similarity:
They are both compatible with different operating systems
They both have numerous monitoring features
They have an interactive dashboard UI
The Difference:
Spylix operates in stealth mode. Tispy does not have the hiding feature.
Spylix is compatible with Android and iOS. Tispy works with Android, Windows, and macOS
You have to install Tispy regardless of the device's operating system. For Spylix, it does not require installation in iOS.
Why is Spylix a Better Option than Tispy?
Here are the qualities that make Spylix the better alternative:
Spylix has 42 functions, and that places it at the front when compared to other competitors
Spylix will show you all the content details. That means getting the complete information and its supporting pieces.
Spylix has no hidden installation complications. Everything is elaborate and easy to follow.
With Spylix, you can spy without your target knowing, thanks to the stealth mode. Tispy is always visible, and that is why it suits the kids. It's hard to monitor an adult using an application they can access and delete.
Spylix has a remote uninstallation button which means you can get rid of it remotely. For Tispy, you have to access the monitored device for physical removal.
How to use Spylix?
3 Easy Steps to Use Spylix

Step 1
Sign up
---

Step 2
Set up Spylix
---

Step 3
Start Tracking
Part 9: FAQs about Tispy
What is Tispy?
Tispy is monitoring software that you can use to keep your children safe from online harm and check their phone activities. Like Spylix, you can use it to monitor calls, SMSs, location, social media, and media files, among other things.
Can I Install on uninstall Tispy remotely?
No, you can't. Tispy requires you to access the targeted device for a one-time installation. Spylix requires installation on Android only. In iOS, you can monitor the device using its iCloud ID.
Can Tispy monitor more than one device?
You can use Tispy to watch only one device. If you want to track another one, you can transfer the subscription using your account's email and password. Spylix allows you to monitor more than one device if you pick the plan that supports multiple devices.
Does Tispy have a trial version or demo?
You can try Tispy for free. You can also check the demo page to see how the dashboard works. Spylix does not have a trial version, but a demo page shows you how things work.
Is Tispy compatible with iOS?
Tispy does not work with iOS devices. It, however, works on macOS, Windows, and Android. Spylix is compatible with Android and iOS devices.
Will Tispy work anywhere in the world?
Tispy claims to work anywhere since you need an internet connection and an updated browser to view the fetched information. Spylix is also worldwide, meaning you can use it overseas to monitor the targeted device.
Tispy Review Conclusion
After reading the Tispy reviews, you know what to expect from the application. It fits watching the kids' phone activities due to the numerous features and lack of a hidden mode. You may not want to use it on a device where the owner can spot a foreign app and get rid of it.
If you wish to operate stealthily while monitoring individuals, Spylix is the way out here. It will never be visible, and you can uninstall it remotely.