Nowadays, trusting people isn't easy as society is filled with negative elements. Even the internet isn't safe from such aspects, so you have to ensure that you and your family are protected from them.
Although you can find several tracking and parental control applications online, SpyHuman stands out due to its extensive features and characteristics.
We have compiled a detailed SpyHuman Review to help you better your outlook on the app!
Part 1: Intro to SpyHuman
Do you feel that your child has bad company? Do you think they're being bullied? Are you afraid they're sneaking into sketchy areas of the town? If any of these questions are currently bugging you, it's time to take some action and go for SpyHuman!
It is an Android monitoring application that can help you track online and offline activities. The application is easy to install on any Android device and easier to use, giving every detail about the tracked device. You don't need to make any single change in your smartphone to get it working.
Besides, you can check emails, texts, and social media accounts without knowing. Moreover, you can also navigate to their current location and browse their search history. However, its functionalities aren't only restricted to children. You can also monitor your employees and spouse, with this application being the best.
Part 2: SpyHuman's Features
SpyHuman has many features that make it stand out among all the other applications under the same category. With its smooth interface and different monitoring options, you can have peace of mind that your loved ones are safe.
It offers a mobile tracker for protecting your loved ones, especially children, from any online threat, including cyberattacks, bullying, etc.
The app also provides you with an extremely secured server on which you can upload and backup every type of data in real-time.
You are also given encouraging customer support 24/7 through calls and email.
It also offers a stealth mode that can let you track targeted devices without letting the owner know.
You can also implement restrictions to use specific applications, type certain words, and go to certain websites on the target device.
Part 3: SpyHuman's Compatibility
Other tracking and monitoring applications need you to make changes to your phone by either jailbreaking or rooting it so that you can have access to all the features without any restrictions. However, it sounds skeptical as no authentic app needs any of such changes.
Thus, SpyHuman is compatible with pretty much every Android device with version 6.0 or newer to let you experience the top features. All you have to do is install the app right away and use all its features!
Part 4: Customer Reviews on SpyHuman
SpyHuman isn't much popular among the common users, with an average rating of just 3.57 out of 29 reviews. Here, we will share why this is the case!
| | | |
| --- | --- | --- |
| Great | | Bad |
| 27.78% | 27.78% | 44.44% | "I really found browsing details feature of the software quite impressive as it helps keep track of my son's browsing habits. Moreover, one cannot change or hide the search history that helps me see the exact browsing history of my son with complete transparency. "
Read More >> "Worst app and customer service I have been their client for almost 8-9 months; pls don't download or subscribe to this site in starting they provide you good services, but when they see as a permanent type client, they start creating a problem in ..."
Read More >>
Good Reviews Highlight
Parental Control. This app has parental controls that help protect kids from online dangers and unwanted interactions.
Anti Theft. What is amazing with the app is that it offers the anti-theft feature that makes it possible to get an instant notification if a kid's phone is lost or stolen.
Bad Reviews Highlight
Does Not Display Call Logs and Messages. This app is a waste of money and the call logs are not updated in the dashboard.
No Dollar Value. They have poor service whenever you enquire that you are receiving call logs but not receiving calls recordings, they always advise you to fix the target device, but the target device has been configured as per their advice but for sure they don't synchronize the whole scenario properly.
Easily Tracked. It's worthless! It keeps showing in the open background apps and displays a weird mark when a call is being made, making it not invisible at all. It also is easily tracked and can be removed by any mobile phone expert.
How Good Is Their Customer Support?
Not Good!
There is no live chat available. Moreover, the email support accessible is time-consuming and, most of the time does not offer the required solution.
Part 5: Subscription Plans of SpyHuman
For Android devices:

| Trial | Premium |
| --- | --- |
| Free 7 Days/one device | $14.99 Per Month/per device |
The subscription plan seems to be quite cheap for one month compared to other applications offering similar services. They even give you the premium plan at such low rates, making it accessible for everyone.
The best part is that you can also test out their services using a 7-day free trial to track only a single device
Part 6: Pros and Cons of SpyHuman
Like every app, SpyHuman has some benefits and drawbacks that are listed down below:
Pros:
SpyHuman is an easy-to-use and simple application designed for people with no technical knowledge.
The functionalities aren't only restricted monitoring, making it easier to download on other people's phones.
Can track the top 10 most dialed phone numbers with complete information about the call log.
Offer real-time location even if the other phone has low signals
Cons:
Initially, the trial version enables limited features, so you can't test all of them before actually buying it.
You can't uninstall it from the targeted devices if you haven't installed it from your device first.
Part 7: How to Install SpyHuman?
Step 1 Creating Account
Before using, there are some simple prerequisites that you have to follow for proper installation. First, you have to create a SpyHuman account that can be easily made free of cost from the official website using an active email address.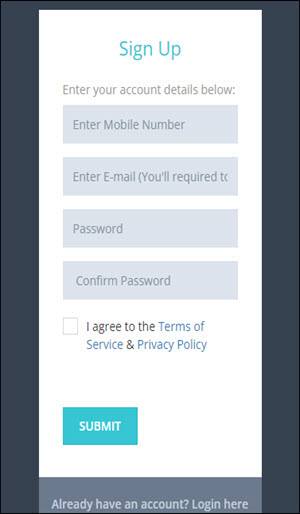 Step 2 Get Access to Targeted Phone
After that, you must get the target phone or ask permission from the owner to install the application.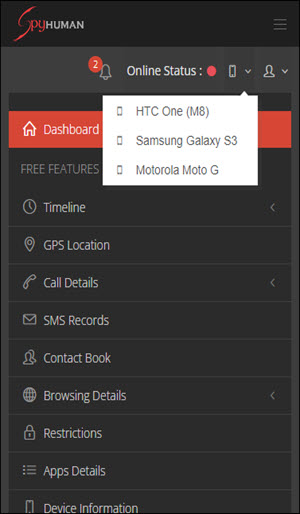 Step 3 Enable Unknown Sources Download
For installation, you have to switch on the option for downloading from unknown sources for both devices. The latest Android OS has extra security features that don't let you download the application from anywhere other than Google Play. But as we have to install it from the official website you have to turn the option on.
Step 4 Disable Play Protect
With this added security, there might be a chance that SpyHuman's android application will be detected as a threat to your phone. To avoid that, you have to disable Google Play Protect and all the notifications you can get through the app.
Step 5 Downloading & Installing
Now it's time to install the application. Just tap on the install button and state the reason for installation. Now, it is going to seek permission for using certain features of your phone tap on the allow to get started with the application.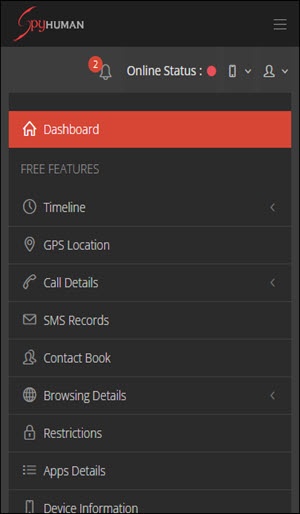 Thoughts on user experience
Even after providing several different features and functionalities, SpyHuman still maintains its user experience with its simple interface. From installation to monitoring, every procedure is easy to use and suited for people without having any technical knowledge.
After personally using and experiencing the application interface, we can say that it delivers a faster response without delay in location tracking or media loading. So, even if you have low bandwidth, it can offer exceptional results without getting frustrated.
Part 8: SpyHuman VS Spylix
Spylix is a useful alternative to SpyHuman. In this section, we will be comparing various aspects of the apps, allowing you to decide which one better fits your needs.
1. The Similarity:
GPS Tracking
Call log
SMS tracking
Social App
Media Tracking
Restrict App
Stealth mode
2. The Difference:
Spylix uses a keylogger for the user to figure out passwords for future access
It monitors more than 40 data types
Spylix has a comprehensive dashboard letting you do many tasks at once
it enables you to record the calls being made on the targeted device
Spylix is operable on Android and iOS devices, while SpyHuman only works for Android devices.
3. Why Is Spylix a Better Option Than SpyHuman?
More and Effective Features
Spylix can be considered a better option due to the broad spectrum of functionalities that can range up to 42 different usages. Whereas SpyHuman only delivers 20 features, making Spylix the most functional spy product, far more than competitors
With Spylix, you can view different aspects of content in detail. For instance, it can let you see the topmost dialed numbers with complete information about the contact the entire conversation, whether via iMessages or text message. However, the competitors can only let you see the last call or last messages from the targeted phone.
Cost-Effective
Spylix has low prices compared to most monitoring and tracking applications. They offer more features than any other application that make it stand out.
Excellent Customer Support
Having Spylix means having good customer support, which is very important to increase customer usage nowadays. It offers 24/7 customer support with additional follow-up for your query via call and email.
Android and iOS Supported
Most competitors only have support for Android devices, whereas Spylix is compatible with both Android and iOS-powered devices. This makes sure that the large percentage of people who want to track an iOS device are not cut off from using spying apps.
Accurate
Spylix provides you with 60% more accurate location tracking to track down your child to the exact location without them knowing. It also offers more monitoring tools than any other application that can increase its usability and accessibility.
Parental Control and Data Backup
If you want to restrain the screen usage limit for your children, then it is the best due to its authentic-time tracking feature. Spylix also offers a data backup feature to help you get all your files and documents under the same platform with reliability and security.
4. How to use Spylix?
3 Easy Steps to Use Spylix

Step 1
Sign up
---

Step 2
Set up Spylix
---

Step 3
Start Tracking
Part 9: What Should You Know about SpyHuman?
Is SpyHuman a Scam?

No, SpyHuman is entirely authentic and safe to use application which you can determine from its official website. It also offers a free trial making it free from all scams.

Does SpyHuman have a free trial or demo version?

Yes, SpyHuman offers a free trial that you can use for about a week. It enables you some limited features, but you can still analyze and test the application mechanics. At the same time, Spylix doesn't offer any free trial, just monthly, quarterly, and annual subscription plans.

Is SpyHuman Compatible with iPhones & Androids?

SpyHuman is compatible with only Android devices, and it can work on all the devices having OS above Android 3.0, while Spylix can provide you with its exclusive features on both Android as well as iPhone devices.

Will SpyHuman Work Anywhere in the World?

Yes, SpyHuman can be easily used worldwide. However, it mainly relies on the internet. Therefore, it doesn't ultimately work with the physical location so that it can be used without any geographical limitations.

Can SpyHumanx Monitor Multiple Devices?

No, SpyHuman has a premium subscription plan that enables you to manage only a single device per month. If you want to monitor multiple devices, you can try Splix to offer more than one device.

How Often Is the Data in My Dashboard Updated?

In SpyHuman, the data in your dashboard gets an update after every month with many additional features in box

Which Devices Can You Use SpyHuman with?

SpyHuman works accurately with all the Android devices having Android 3.0 or updated versions, including Huawei, Oppo, Xiaomi, Vivo, Sony, Samsung, etc.
SpyHuman Review Conclusion
After this detailed analysis and comparison, it is safe to say that SpyHuman has many different aspects where it shines from its features to its compatibility. It is completely authentic and easy to use, and you can rely on it anytime, depending on your requirements and considerations.
You'll find many promising characteristics of this application, including GPS tracking, limited screen time, detection of suspicious media, alerts on explicit content, etc. All of this is for keeping your loved ones safe from threats roaming around the internet.