I want to know what happened to Hoverwatch? I am an old subscriber, who wanted to enable the service again. However, now I can not even access its website.
Hoverwatch is a phone tracking service offering efficient features to learn about the target user's activities without them knowing.
Recently, many customers have raised an issue that the official website was unavailable.
If you are one of such users, then read this Hoverwatch review for answers.

Part 1: What Happened to Hoverwatch?
Here is why Hoverwatch might be unavailable to you:
● It is Geo-restricted
The Hoverwatch website is still active, but if you are still unable to access it, there is a valid reason!
The site owners have limited the access to the official Hoverwatch site for users outside North America and Europe.
Even though one can enable the site via a VPN, it isn't worth the trouble of purchasing, as you can't then access the online control panel instantly, resulting in sluggish phone tracking updates.
It is better to opt for another service.
● Issues with the Refund Process
Old customers have raised an issue that they had faced setbacks while claiming the money-back guarantee on several public software review sites.
The customer service does offer a complete refund and only half of the amount is given back.
● False Claims
Customers have also highlighted the Hoverwatch service isn't as advertised. Contrary to their claims, the customer service is virtually non-existent, and response time is too long.
Part 2: How Does Hoverwatch Work?
Hoverwatch offers all the basic features to efficiently track another user's phone. The functions include the call and SMS tracker, location spy, and browser history checker.
Advanced features, such as social media monitoring across platforms like WhatsApp, Skype, Messenger, Telegram, Viber, etc, are also available.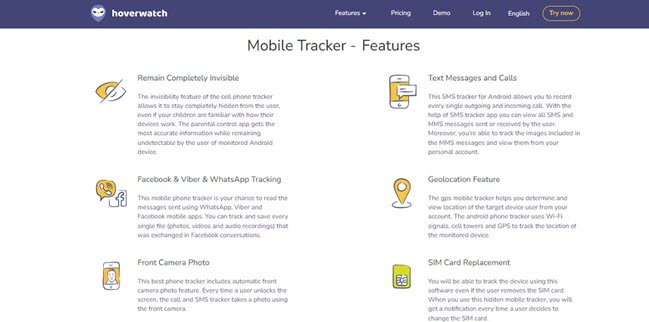 Details on the user's browser history and bookmarks are also accessible on the online control panel. Not only that, but you can also view the media files on the target phone and export them to your device.
Here is how you can enable the Hoverwatch tracker on the target iOS or Android phone:
Sign up for free by entering your email address and setting a unique password.
If the target device is Android, follow the instructions to download/install the app. For iPhone, share the other user's iCloud account information to enable the tracker.
Now, launch the Hoverwatch dashboard via a web browser to use the available features.
Part 3: Pros & Cons of Hoverwatch You Cannot Miss
Pros and cons are an essential part of any review article.
So, it was necessary for us to highlight some in our Hoverwatch app review blog.
Pros of Hoverwatch:
Easy to Install

The installation process is fast and quite simple to understand. You do not need any new technical skill to enable the Hoverwatch app.

Simple Dashboard

The Hoverwatch dashboard offers an intuitive interface, with each feature at arm's reach. The details of the target user's activities are detailed and easy to follow.
Cons of Hoverwatch:
Non-Existent Customer Support

As discussed earlier, the help center is non-responsive and doesn't reply for days or weeks. The claims of 24/7 availability seem incorrect.

Limited Features for iOS

Compared to Android tracking, there are not only a handful of phone monitoring features you can activate to monitor the iPhone or iPad activities.

Expensive Plans

Hoverwatch isn't a cost-effective solution to track Android devices or iPhones. With one account, you can only monitor a single device.

Geo-Restrictions

The website is restricted in some regions of the world.

Though you can still purchase the service using the VPN, it would be quite difficult for you to navigate the Hoverwatch dashboard smoothly.
Part 4: FAQs about Hoverwatch
In this section, we have discussed the ins and outs of Hoverwatch, including the safety and legitimacy of the service.
Read on!
4.1 Is Hoverwatch safe?
There have been issues related to safety of user data with the Hoverwatch platform. Despite the claims for secrecy and data protection, you must be vigilant in safeguarding your information.
4.2 Is Hoverwatch legit?
Yes, the service is legit. Even though there are concerns with the refund policy and the inadequacy of the customer support service, the features work and the control panel is easy to manage.
4.3 Is Hoverwatch worth it?
Hoverwatch is an expensive service that is also geo-restricted in some areas of the world. So, it might not be worth the trouble or money.
4.4 How much does Hoverwatch cost?
Hoverwatch currently offers three different subscription packages for businesses and individual users.
Follow the table below for details on all plans.
| Plan | 1 Month | 3 Months | 12 Months |
| --- | --- | --- | --- |
| Personal | $24.95 | $59.95 | $99.95 |
| Professional | $49.95 | $99.95 | $199.95 |
| Business | $149.95 | $299.95 | $499.95 |
4.5 How long is the Hoverwatch free trial?
Hoverwatch currently offers a 3-day free trial.
Part 5: The Best Alternative for Hoverwatch - Spylix Mobile Tracker
If you are looking for a cost-effective service that isn't geo-restricted, then opt for Spylix, a user-friendly phone tracker accessible on all Android and iOS devices.
Moreover, it offers the same features no matter which phone or device you intend to track.
The dashboard is available without the need for a VPN, and the details on the user activities are updated in real-time with complete accuracy.
Key Features of Spylix Mobile Tracker
Here are the best features available with the Spylix app to effectively track someone else's phone without them knowing!
Location Tracker
Keylogger
Browser History and Bookmarks Tracker
Call and SMS Monitoring Tool
Social media Spy
Email Tracker
Screen Recorded
How to Track Someone's Mobile with Ease?
You can easily enable the Spylix app on the target Android or iOS device in under a few minutes.
Easily Track an iPhone
You do not have to enable any app for iOS tracking.
Follow the steps for details.
Step 1: Sign up for Free
Make a free account by on the Spylix site using just your email address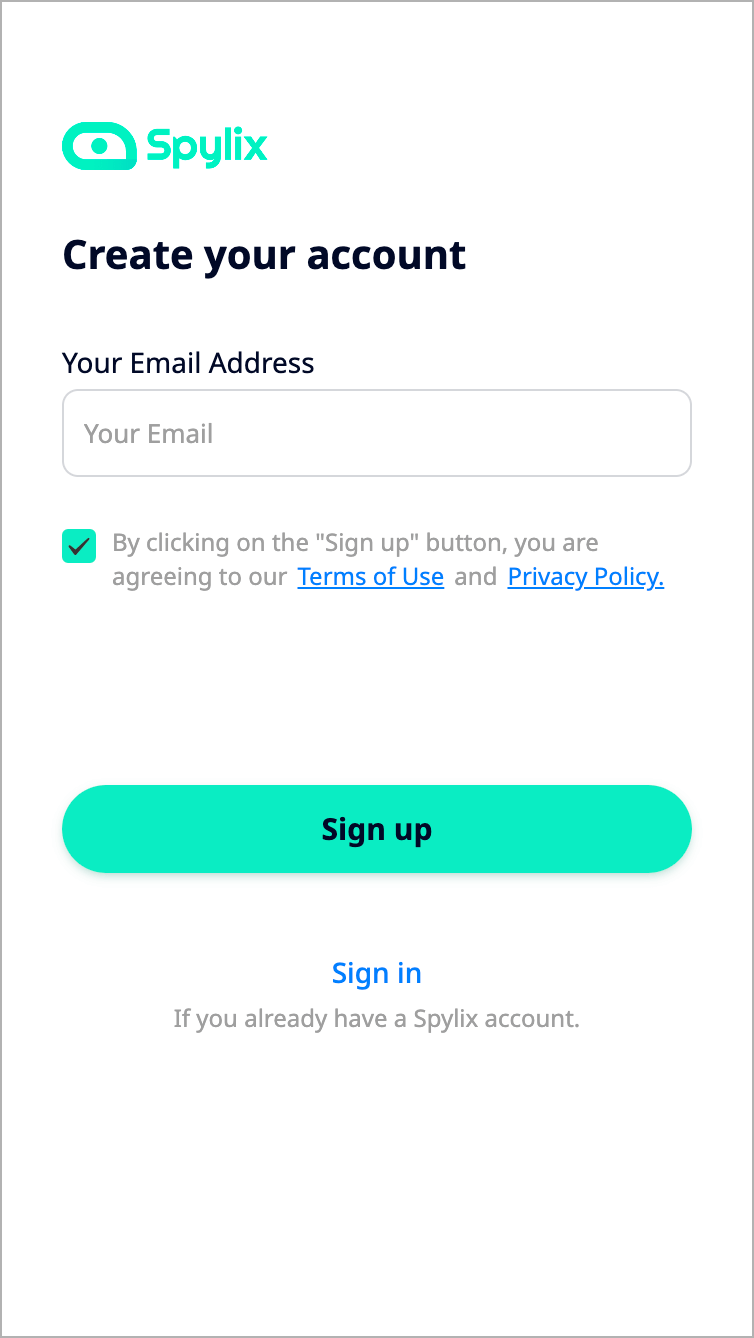 Step 2: Share The iCloud Login Details
Enter the target user's iCloud credentials to verify their iOS device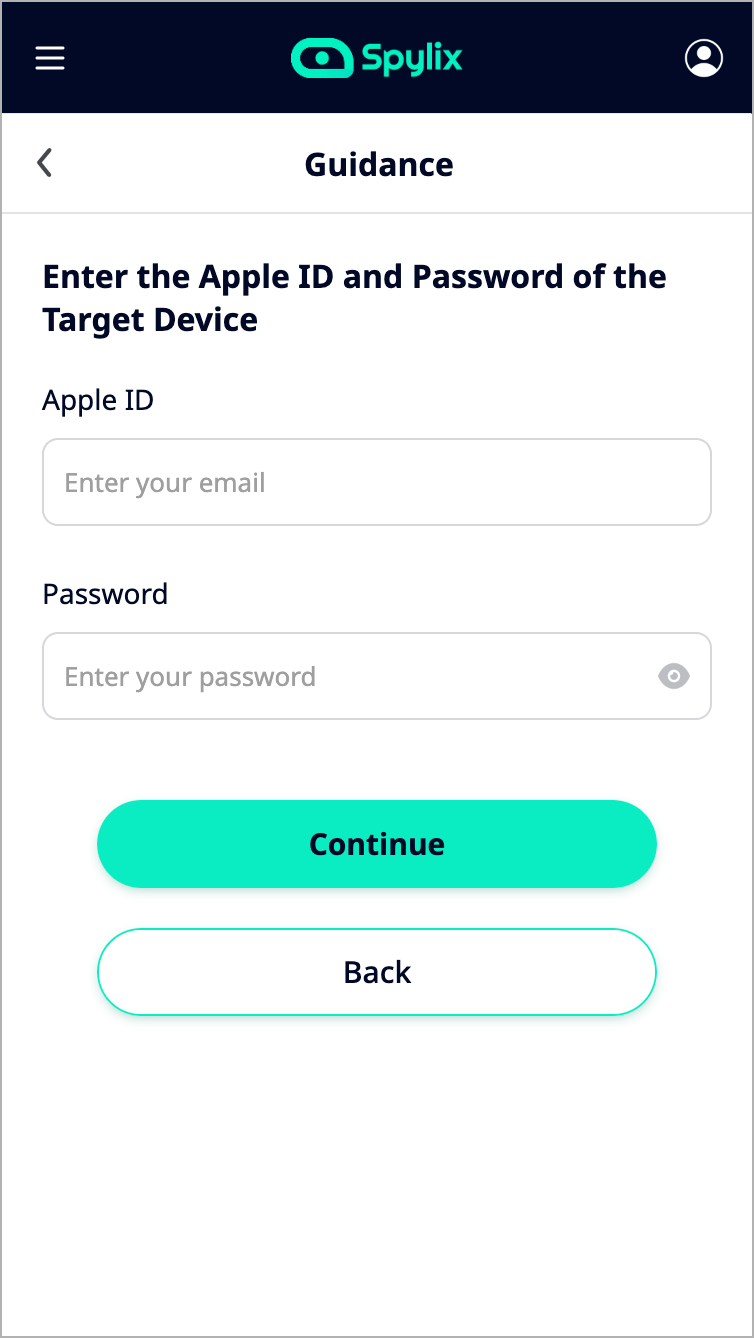 Step 3: Track The iPhone
Launch the online control panel and click any feature for details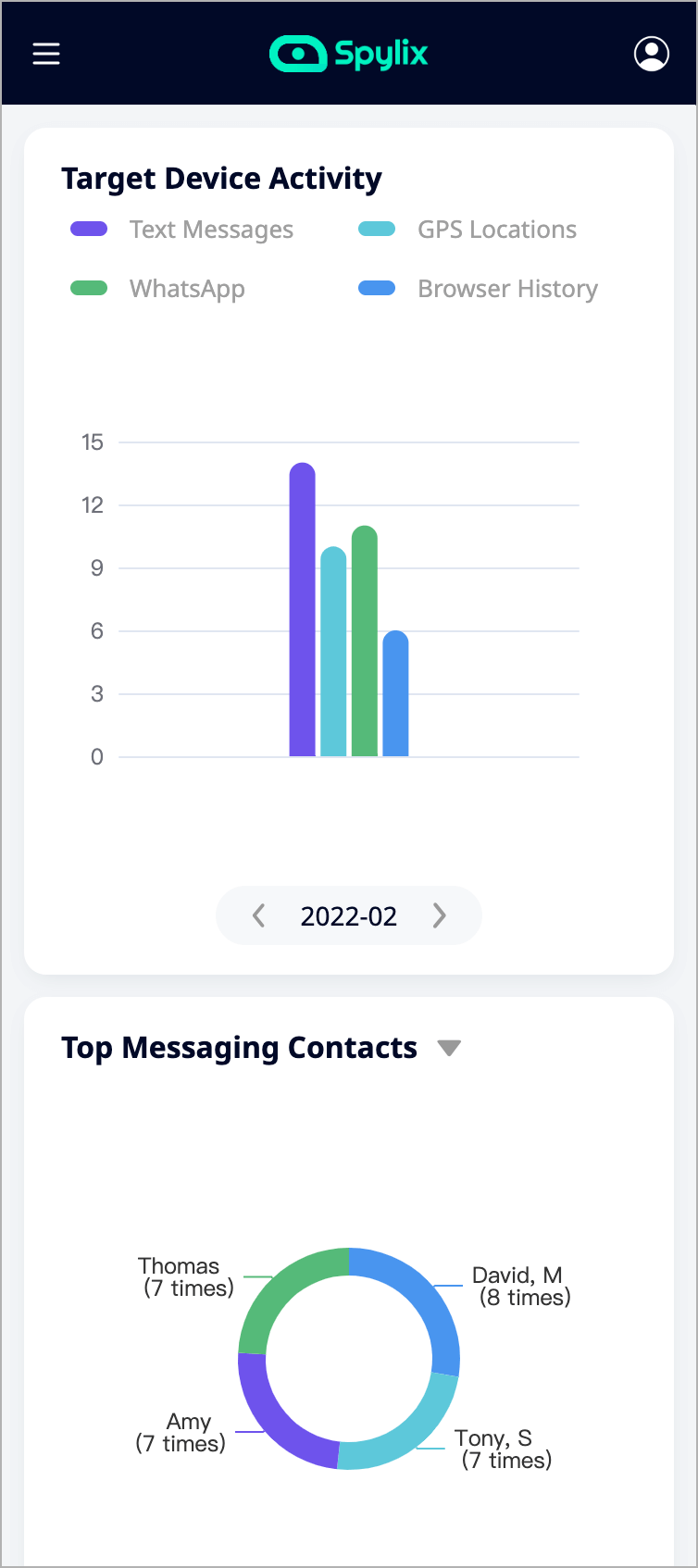 Easily Track an Android Device
Although app installation is needed for Android tracking, the entire process is incredibly stealthy and fast.
Check out the steps below:
Step 1: Create an Account
Set up a free Spylix account with just your email address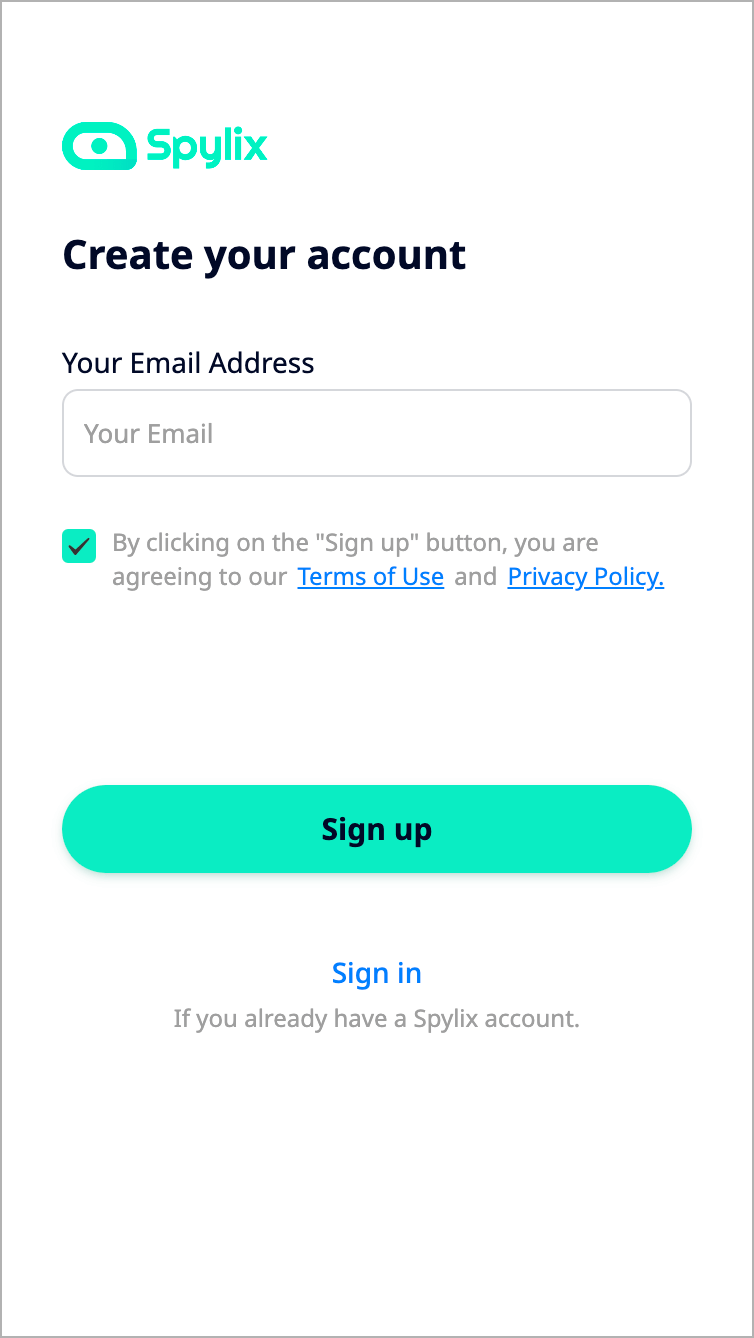 Step 2: Set up The Tracker
Install the Android app on the target phone by following the instructions onscreen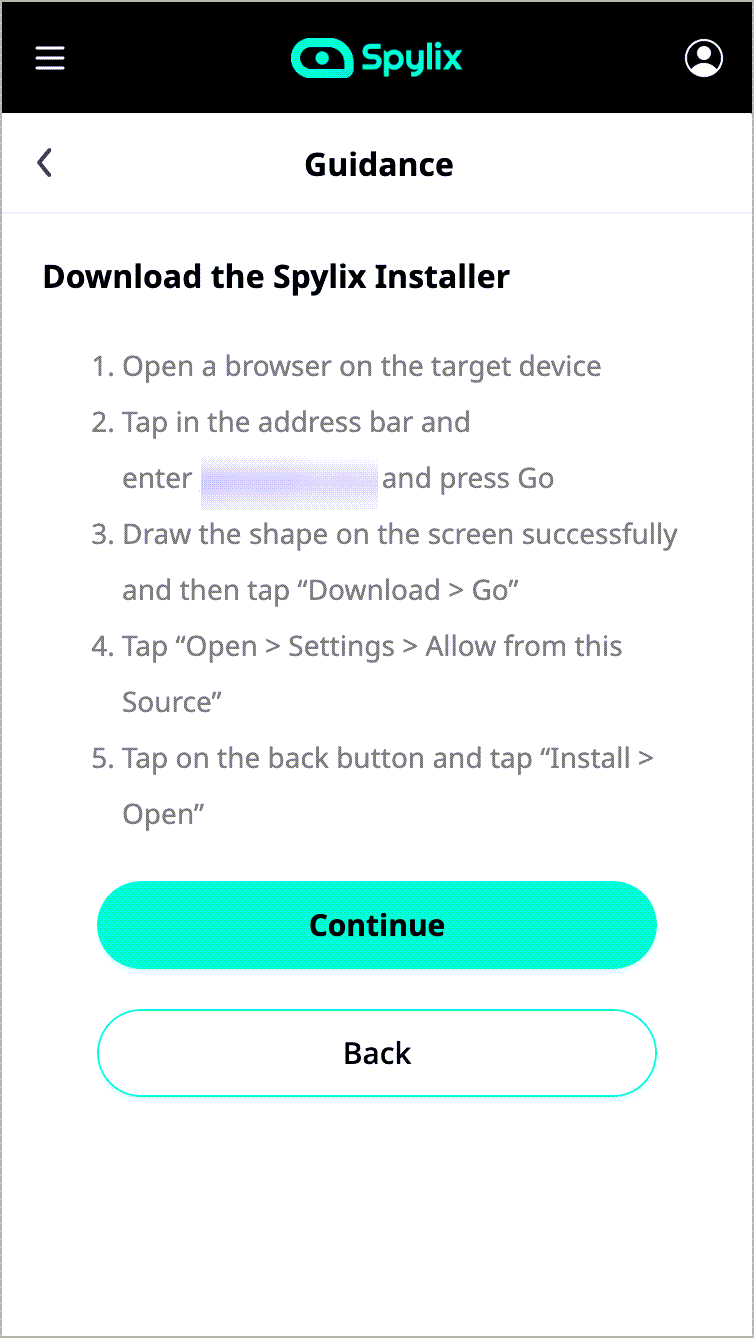 Step 3: Track The Android Device
Visit the control panel and select the available features to view the user's activities in real-time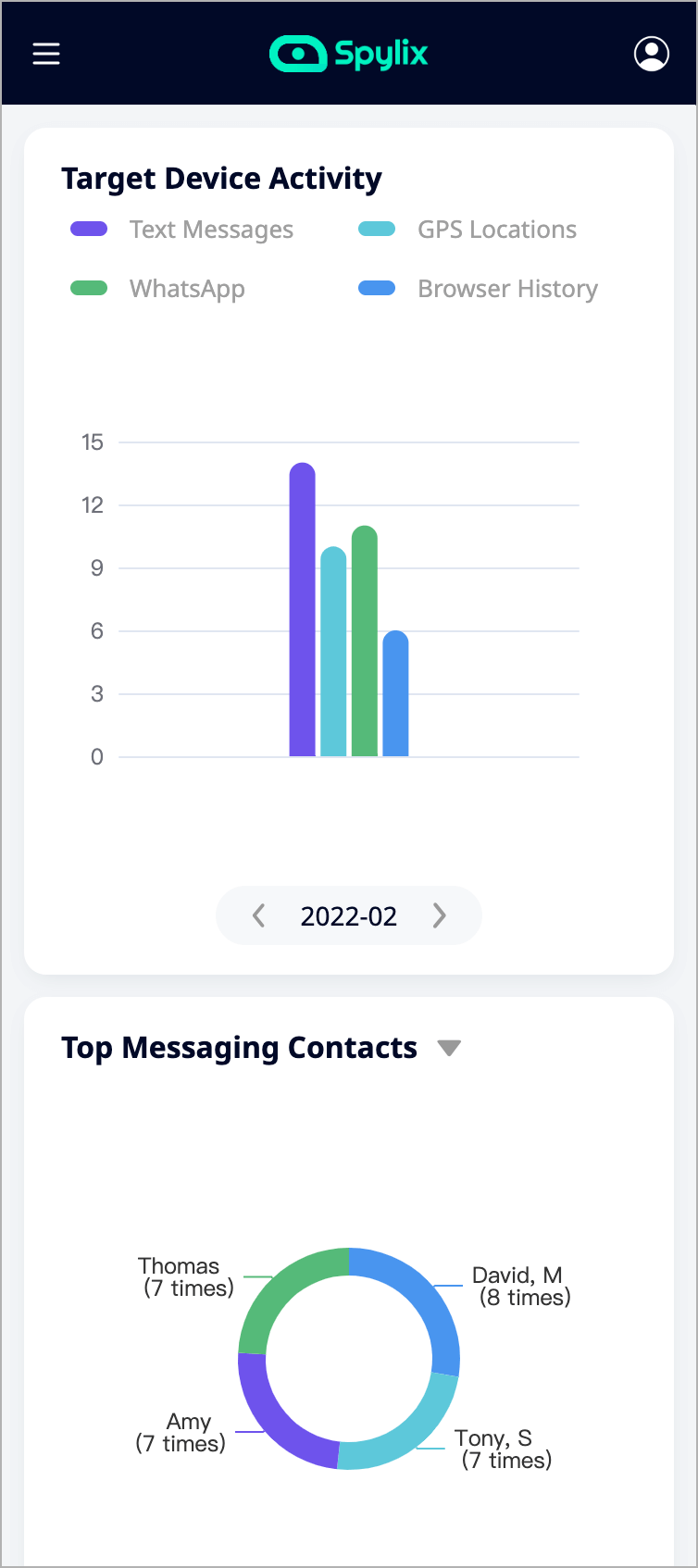 What Else Can Spylix Do?
You can view and download the photos and videos stored on the target phone's gallery. Also, Spylix lets you view the installed apps and block them on the spot. URL and WiFi blocker is available as well.
The keyword alert feature notifies you if a sensitive or specific word is entered on the device. It is a useful parental control function.
Spylix is a valid option for those who want a user-friendly and highly advanced phone tracker under a budget.
Customer service is always responsive and available 24/7. Do not bother rooting or jailbreaking the device, as all features are available from the very beginning. In addition, Spylix is compatible with all Android and iOS devices.
Part 6: Hoverwatch vs Spylix
Still a bit confused about which service to pick?
This comparison table will help!
| Feature | Hoverwatch | Spylix |
| --- | --- | --- |
| Customer Service | Non-existent | Responsive and available 24/7 |
| Geo-restriction | Accessible only in limited regions | No geo-restrictions and available worldwide |
| Ease of Use | Easy installation but requires VPN for some regions | Easy installation without the need for VPN |
| Accessibility | Limited features for iOS | Comprehensive features for both Android and iOS |
There is a vast difference in feature availability, customer service, and accessibility between Spylix and Hoverwatch, making the former a much more reliable option.
Conclusion
This ends our discussion on what happened to Hoverwatch!
It is still working, but unavailable in some regions due to restrictions placed by the owners themselves.
However, if you employ a VPN, you can access the site and even purchase the service. Still you might face issues regarding the slowness of the control panel
For fast and accurate results, without worrying about geo-restrictions, we recommend Spylix.