As a parent, you want to protect your child from online dangers such as inappropriate content and online predators.
But before you can do that, you need to block those websites.
There are a lot of URL blockers out there, but there are 5 best URL blockers that you can use to reject the websites you don't want your child to visit.
This blog reviews the top 5 URL blockers with instructions on how to use them on mobile devices.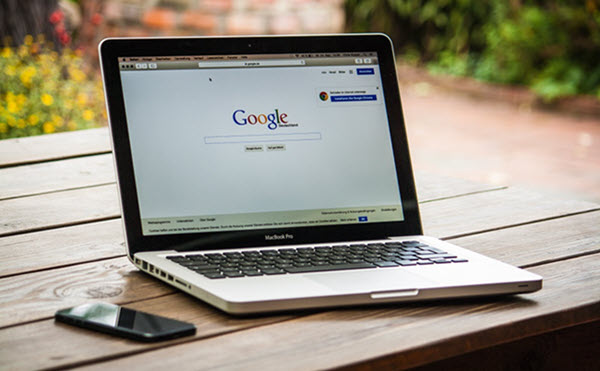 What Is URL Blocker and What Does URL Blocked Mean?
URL blocker is used to block certain URLs from your computer or mobile phone. When you are surfing the internet, you may come across some web pages that may contain offensive content or links to malicious software.
Sometimes, you may also want to block your kids or employees' access to certain websites. You can set a URL blocker(software or browser extension) to reject requests to a specific URL, or you can block specific URLs by entering them in the browser's address bar.
Also, if you do not want to install any software on your computer, you can always block a website using your HOST file.
Your HOST file is a computer file that is responsible for bringing the web pages in front of your eyes. If you block a website using your HOST file, you will still be able to access the blocked website.
Use the Best URL Blockers to Block Websites Online
A parental control application like Spylix is perhaps the best way to block websites on the target iPhone and Android.
Unlike manually adding a specific website to a conventional URL blocker on the child's device, you can perform all such actions remotely using your own mobile or computer.
Besides blocking websites, Spylix offers so much more, which includes letting you restrict inappropriate apps, viewing the entire SMS and social media chat history, and checking the call log.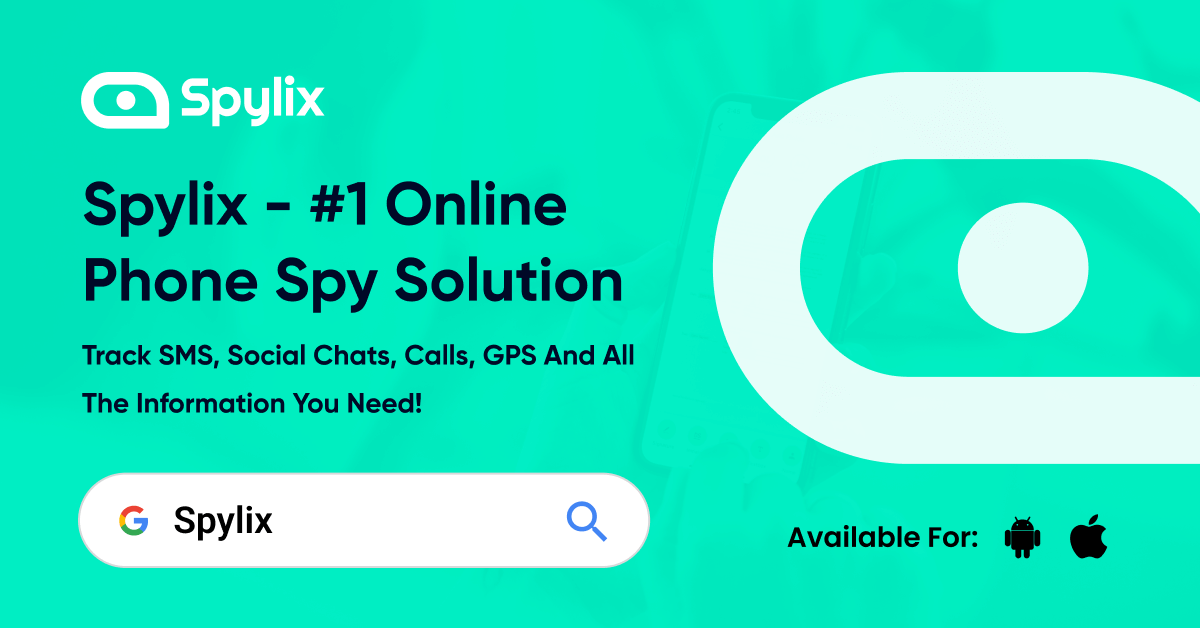 Also, you can access your kid's browsing history and verify whether they are visiting explicit sites or not. If they are, you can add those URLs to the blocked list without them knowing. Moreover, there is no such need to jailbreak or root their smartphones to activate any feature(40+) offered by Spylix.
Simple URL Blocker
Simple Blocker is a Google Chrome extension that allows you to easily block a number of websites of your choosing and boost productivity in the process.
Besides, it has a user interface that offers more options than some more popular extensions and is completely free!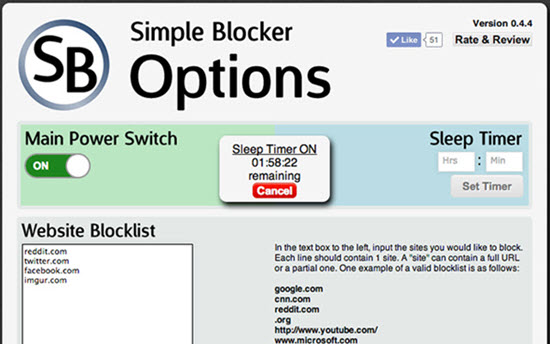 The steps to install this URL blocker are as follows:
Go to the Chrome Web Store and add this extension to the browser.
Once installed, click on its icon, and type the URL of the site you wish to block on your child's device.
Save the blocklist and set a password(preventing anyone from removing the URL).
Pros:
Cons:
Only available for the Chrome Desktop version
Can be easily bypassed.
URL Blocker on Chrome
The URL Blocker is another popular browser extension that offers to block any website you do not want your child viewing. It is available for free from the Chrome App Store.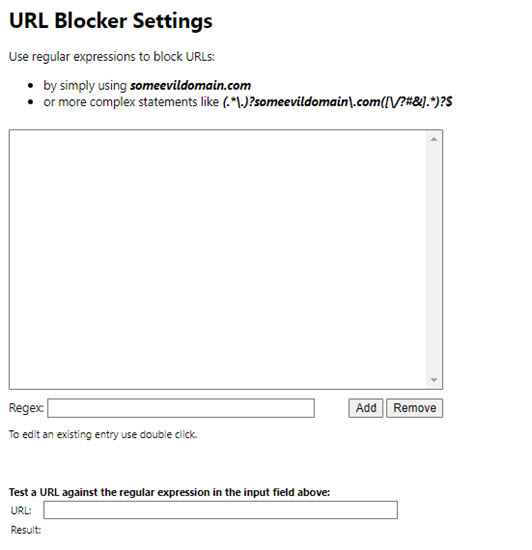 Check out the following instructions on how to use this URL blocker on Chrome:
Add the extension to the Google Chrome browser.
Now, open it, and add the simple URL to the interface.
Next, click on Add to finish the process.
Finally, you can check whether the URL opens on the browser or not using the Test feature.
Pros:
Easy to configure/lightweight
Safe
Cons:
It shows usability concerns
The extension does not work as advertised
Stay Focused: Block Site & App on Google Play
Now, let us focus on how to block URLs on your child's Android device.
For that, you can head over to the Google Play Store and install an impactful application called Stay Focused: Block Site & App.
As the name suggests, this app not only offers to block specific harmful websites, but it can detect explicit apps and instantly stop them from working on the smartphone. Also, you can set usage reminders for yourself and your child to increase productivity.

The guide to using this app on the target Android is listed here:
Install the app from the Google Play Store and launch it.
Next, tap on the Add Apps/Websites option from the interface, and add the URL.
That's it!
Pros:
Effective and does not impact the phone battery
Clean and straightforward functionality
Cons:
Unresponsive customer service
The free version does not offer much(limited features)
AppCrypt - URL Blocked for Apple Devices
This app is dedicated to those parents who have children using Apple devices and want to keep them safe from harmful websites.
So basically, AppCrypt is an encryption app for your kid's Apple device. It can help you block access to distracting or inappropriate websites and domains, helping you reduce your child's usage of these activities while improving their productivity.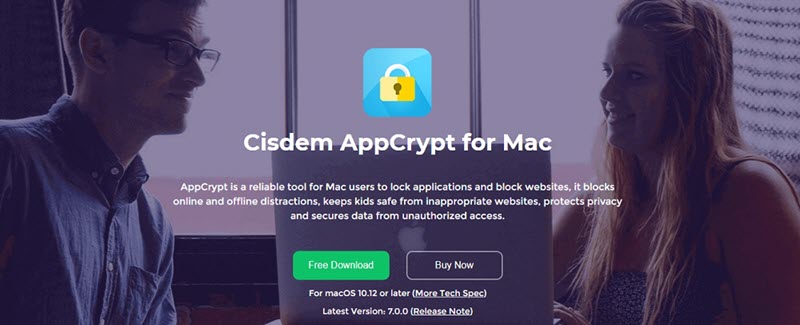 You can check out the guide below to learn how to use this URL blocker:
Install the service on the Mac, and set an impenetrable password.
Click on the Web Block tab from the interface.
Enter the URL you want to restrict and click on Add.
Now, your child can not access that site on their device anymore.
Pros:
Password protected
Easy to navigate
Cons:
Paid service
Only available for Mac users
How to Block URL Online?
Wondering how to install this simple Spylix URL blocker? Well, the easy-to-apply instructions for both Android and iOS are mentioned below.
So, check them out:
Android Installation
First, we will explain how to install Spylix on the target Android phone. You are required to add the APK app manually(just once) to block websites(explicit ones).
Step 1: Create A Free Account
Share your email address and set a password to make a new Spylix account for free.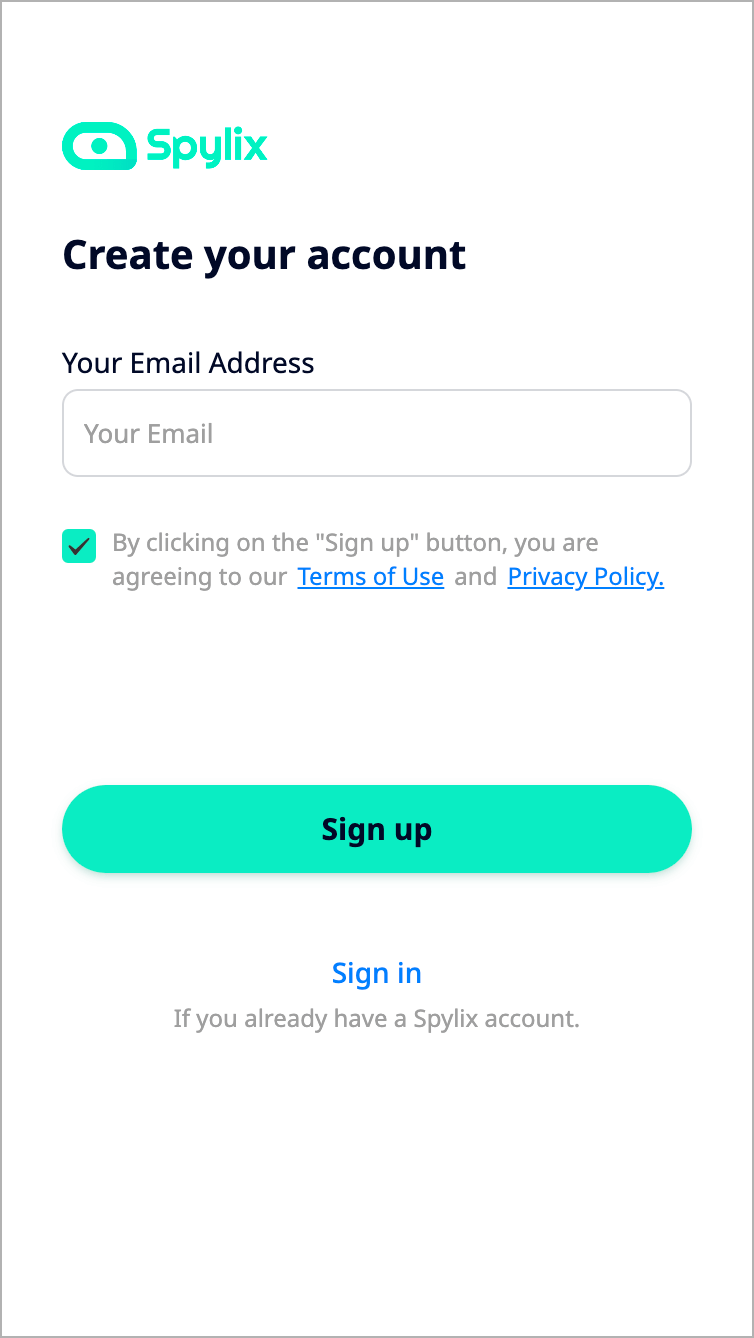 Step 2: Add the App to Android
Now, apply the instructions onscreen to quickly download and install the Spylix app to the target Android phone.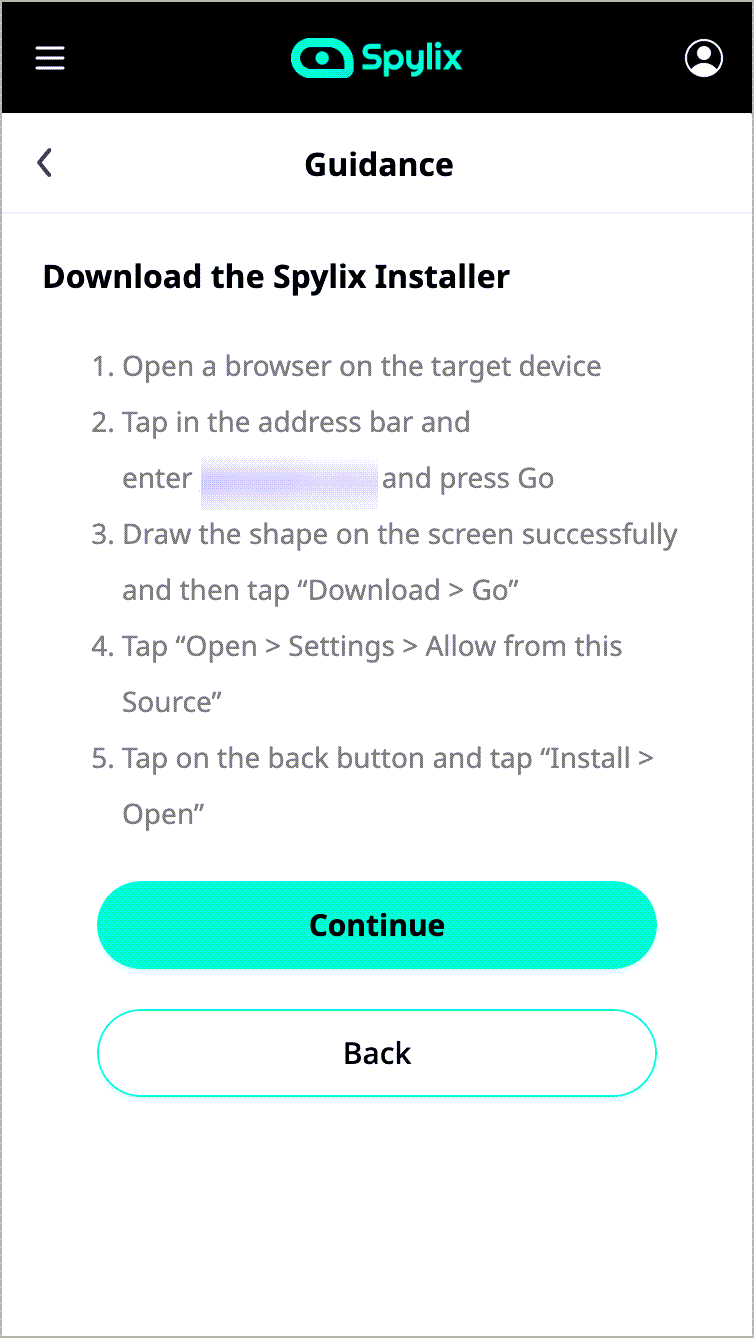 Step 3 Start Blocking Sites
Access your Spylix account to open the online dashboard where you can block or unblock any website you want without the other person finding out.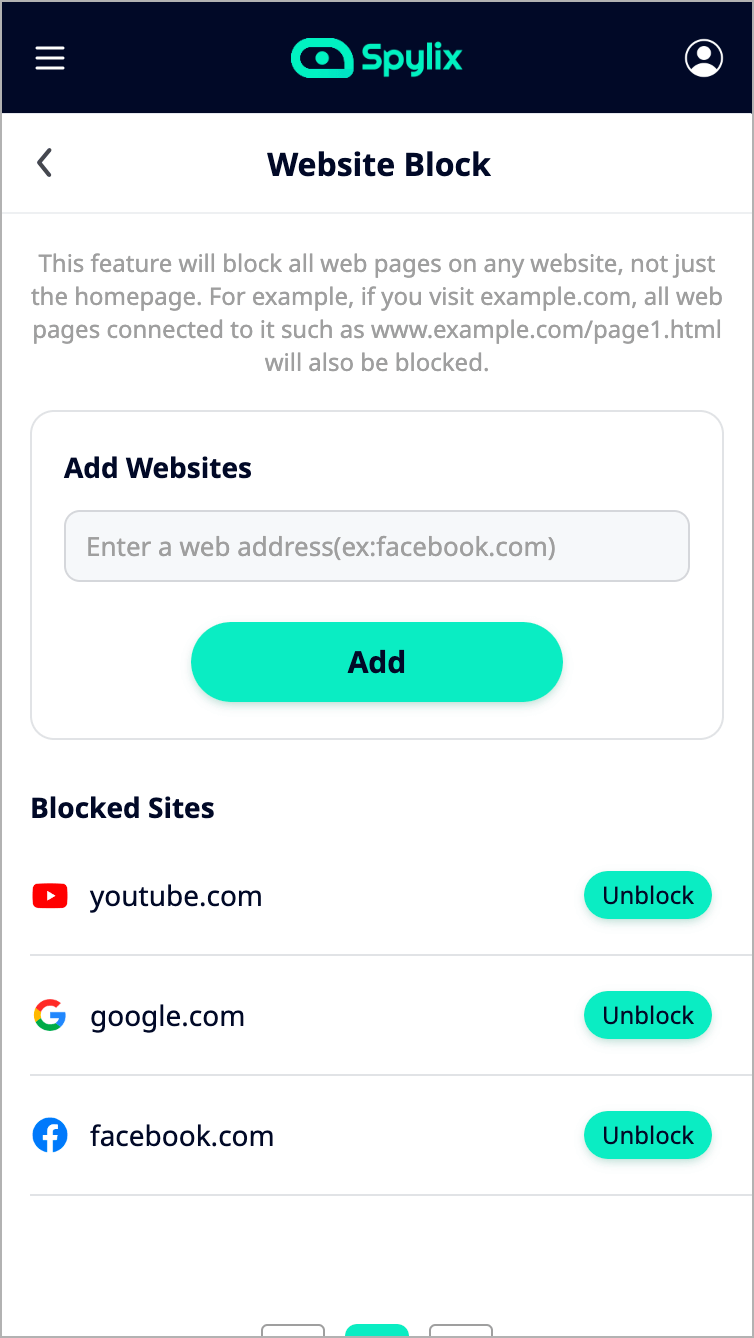 iOS Installation
Unlike installing Spylix on Android, you can enable the parental control app without ever touching your child's iPhone.
Here is how you can enable the URL blocker:
Step 1: Create an Account
Use your email address to sign up on Spylix for free.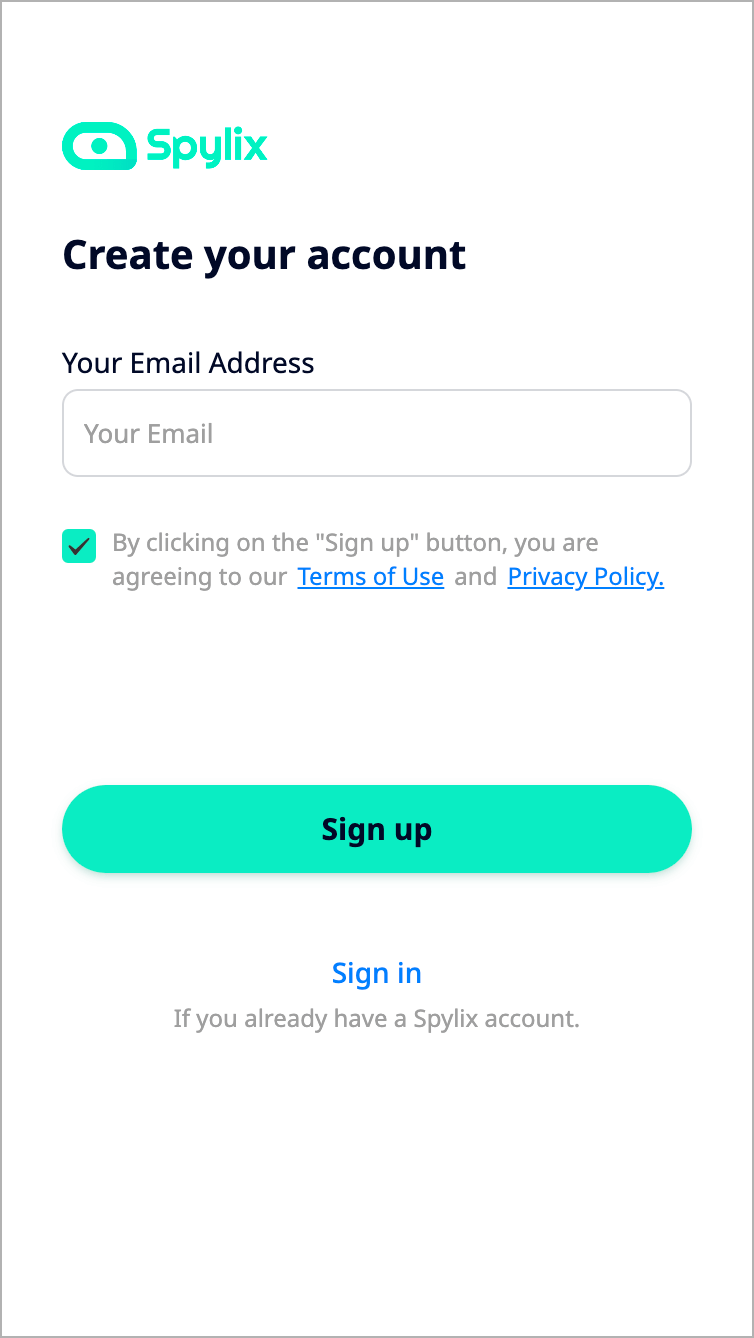 Step 2: Enter iCloud Credentials
Provide your kid's Apple ID and Password(iCloud Credentials) to verify the iPhone/iPad.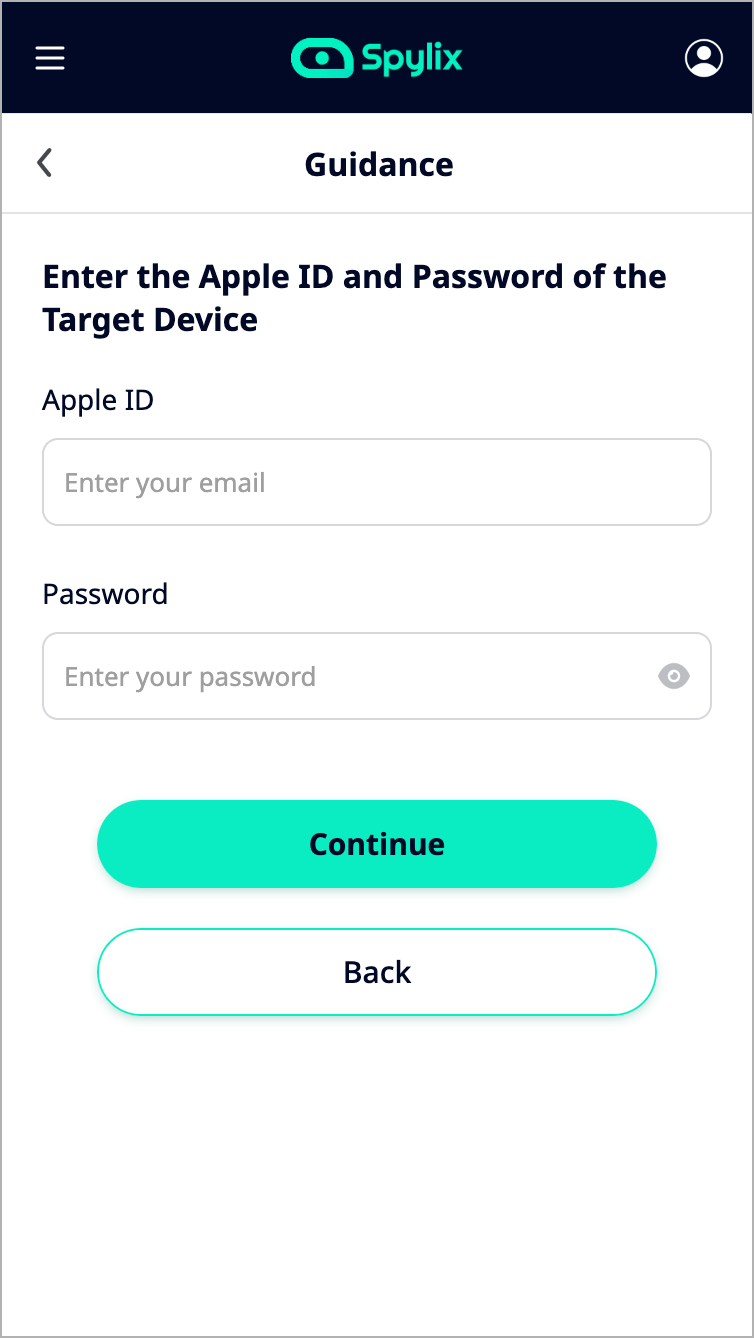 Step 3 Access the Control Panel
Now you can readily open the dashboard from any browser to block certain websites.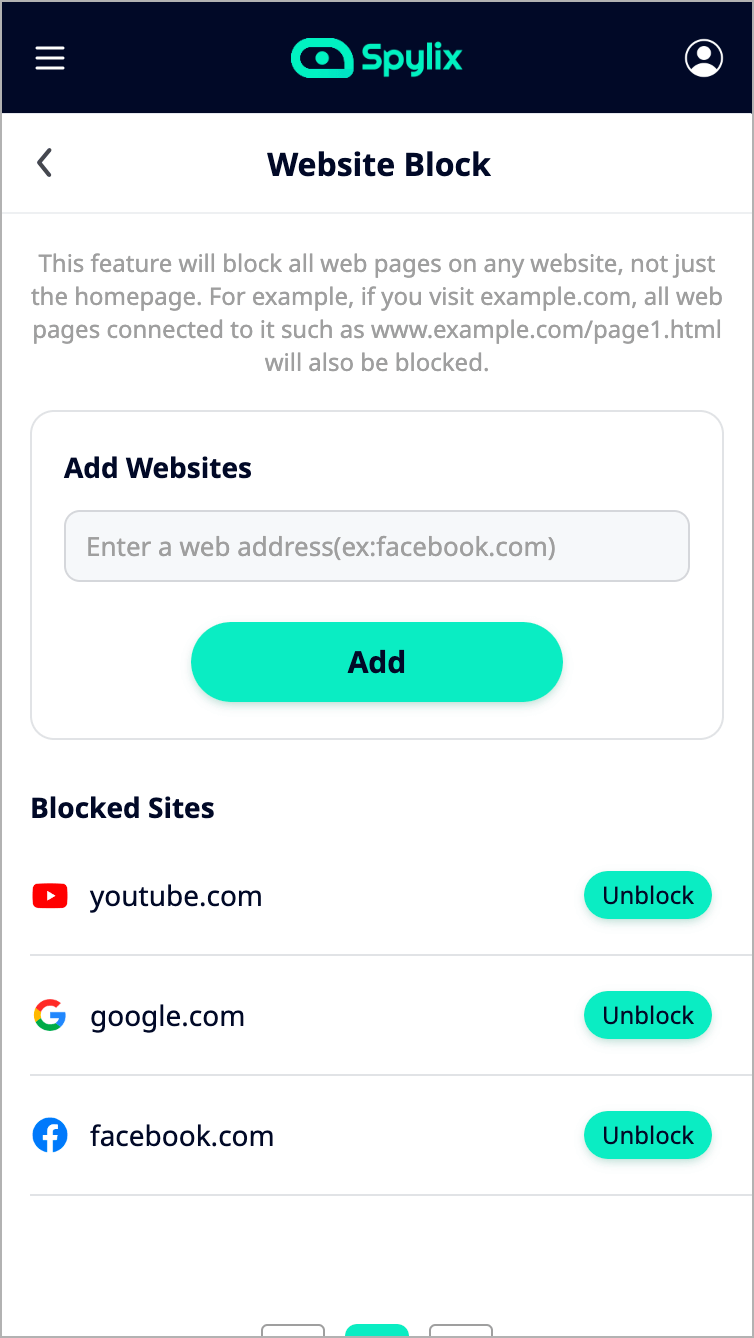 Which URLs Can You Block via Spylix?
If you are blocking a website for your child, then we suggest adding any URL to the Spylix block list containing pornographic and violent content.
Also, even if the site contains semi-explicit pictures or videos, it is best to restrict it as exposure to such material can cause long-lasting consequences.
Moreover, it is best to limit sites promoting piracy(Torrent Sites) and containing pornographic files(available for free). You should also add gambling and dating sites (like Ashley Madison) as such platforms are inappropriate for kids, and they should not be visiting them.
Once added, this URL blocker will prevent the browser from opening the site.
FAQs on URL Blocker
How do I restrict URLs in Chrome?

You can either install a dedicated Chrome URL blocker extension to the browser(manually) or install Spylix to reject any site you want(remotely).

Can I block websites on Chrome?

Yes, once you add the extension to the browser or Spylix app to the device, you only need to enter the specific website to block it. Once this action is complete, no one can access that URL.

How to Uninstall a URL Blocker?

In case your URL blocker is a browser extension on Chrome, then simply right-click on its icon and select the Remove from Chrome option. However, if you have installed a custom software, you have to manually uninstall it from the computer.
Conclusion
In today's digital world, it is vital to keep your child away from distractions or inappropriate content available on the internet that can ruin their focus and growth.
After reading about the top 5 URL blockers in this post, we hope you know now which service is best suited for you.
Still, if you're looking for a little bit extra in terms of parental control, then Spylix is the best choice.