Misplacing your Samsung phone can be a stressful experience, especially when you have important data and contacts stored on it.
Moreover, losing your device is not only inconvenient but can also be costly to replace.
Similarly, not knowing where your loved one is during the odd hours of the day can also be quite taxing!
However, the good news is that there are multiple ways to track your or your loved one's Samsung phone.
In this article, we will show you how to track a Samsung phone using four innovative ways so you can rest easy knowing that everything is secure.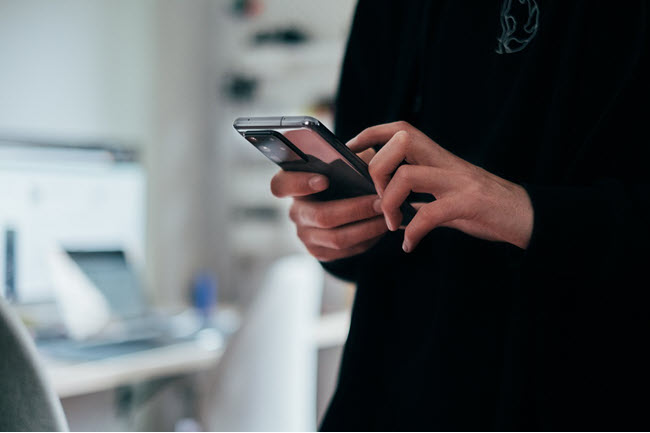 Part 1: Does Samsung Have A Location Tracker?
Yes, Samsung offers a location tracking service called Find My Mobile. This service is designed to help Samsung users locate their lost or stolen devices quickly and easily.
Find My Mobile is a built-in feature on Samsung smartphones that can be accessed through a Samsung account.
On the other hand, you can also enable third-party platforms to locate the Samsung device instantly.
Part 2: 4 Ways on How to Track A Samsung Phone
Let's dive into four different ways to learn how to track your Samsung phone for free!
2.1 Spylix Samsung Tracker
Spylix is the first trusted option to find someone's Samsung phone fast and wholly hidden.
With its intuitive dashboard, you can access not only the current position of the device on the map but also the entire history of places where it had been.
In terms of compatibility, this app runs readily on all Samsung Android-based phones.
Key Features of Spylix Samsung Tracker
The following are the high-quality features available with Spylix phone tracker:
Check out the list below:
Complete details of locations visited by the phone owner, including date/time and address details.
See a map of the current and real-time location of the device.
How to Track A Samsung Phone?
You'll be required to install the Spylix app on the Samsung phone, which is a fast and easy process to enable the stealth mode and flawless phone tracking.
Here is the step-by-step guide to understanding how to track down a Samsung phone:
Step 1: Create an Account
Visit the Spylix website and click the Sign Up Free button. Next, enter the email address to create an account. This is entirely free!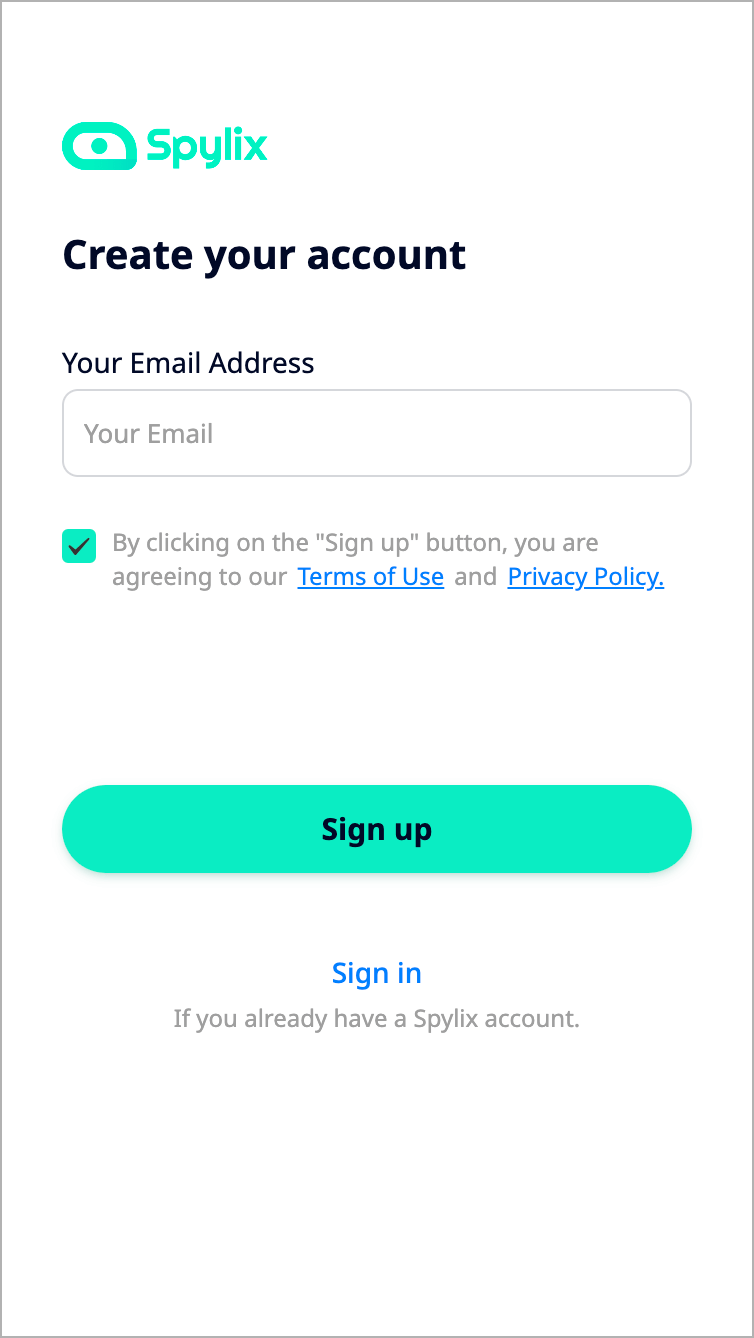 Step 2: Set Up the Spylix Android App
Follow the instructions on your new Spylix account to install the spy app on the device.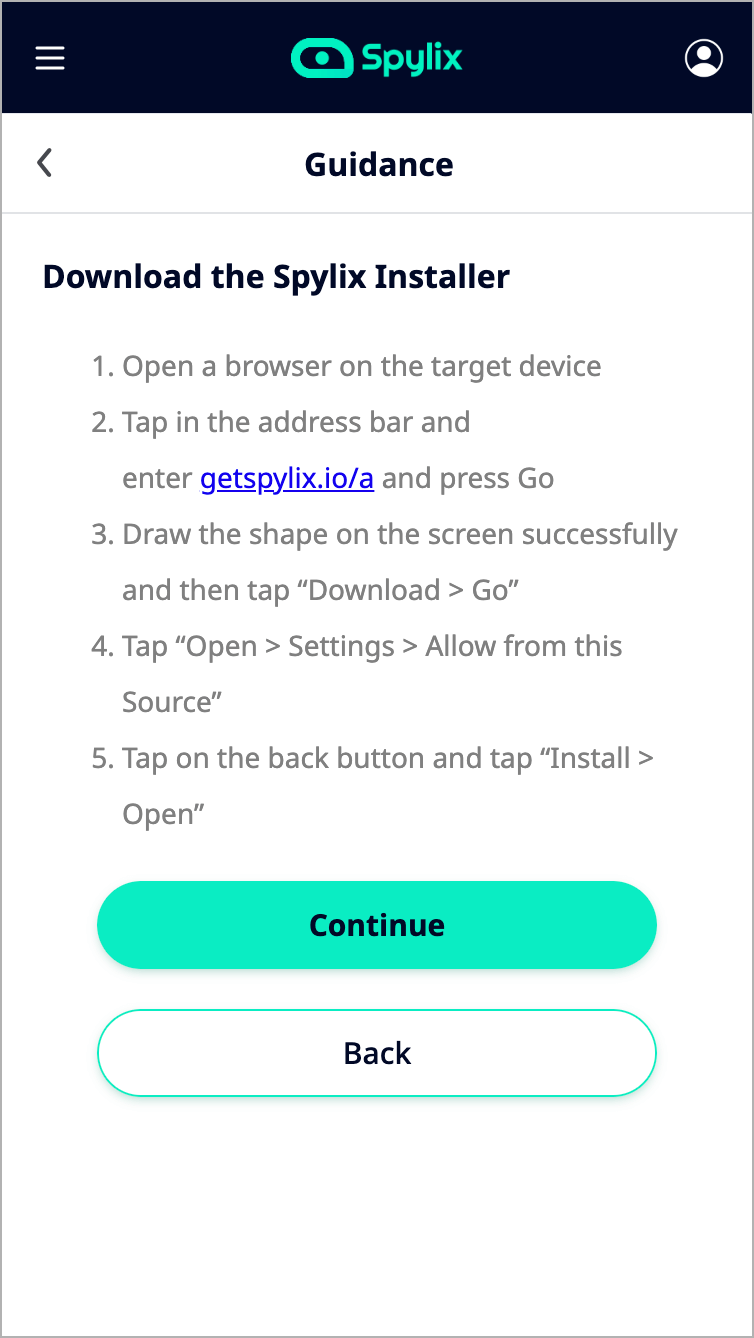 Step 3: Track the Samsung Phone's Location
Access the Spylix control panel using your Spylix credentials. Click GPS Locations to view the Samsung device's whereabouts.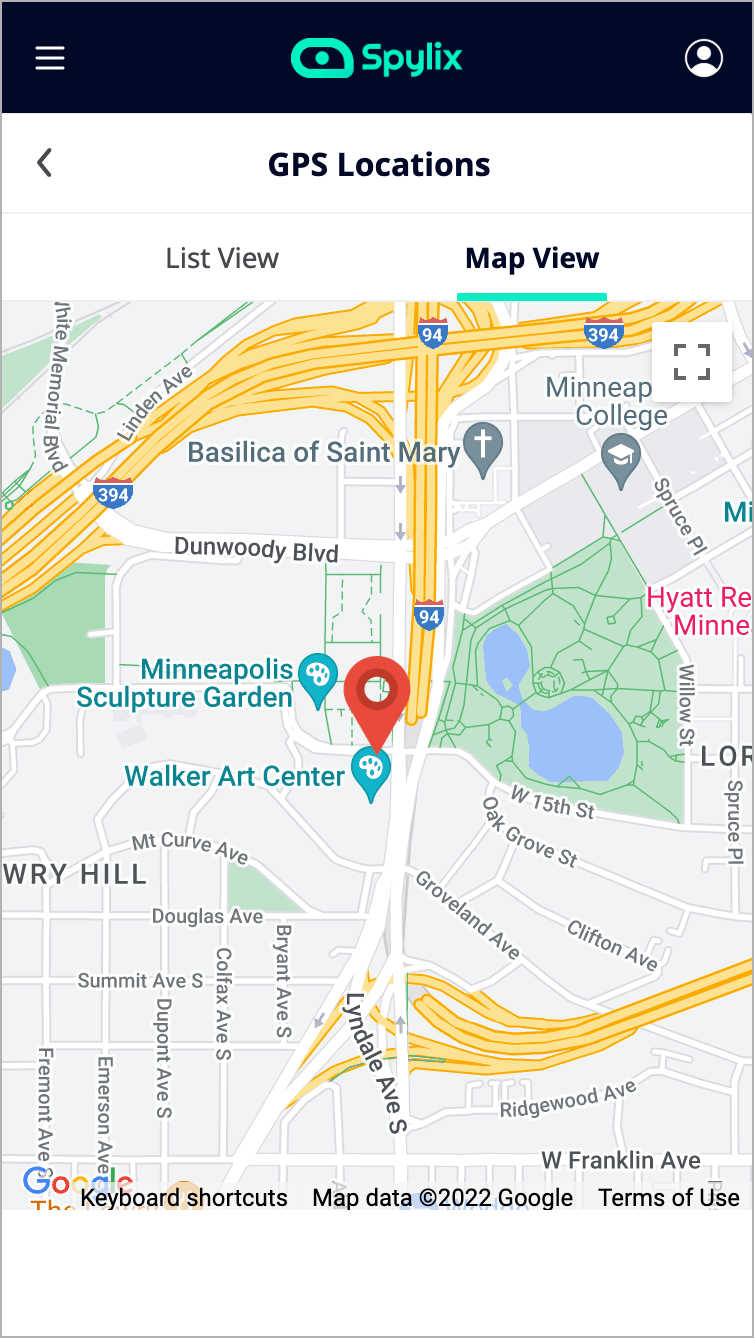 What Else Can Spylix Do?
If you thought Samsung location tracking was impressive, wait until you hear about Spylix's features!
Here are just a few things you can do with Spylix:
Access deleted text messages and WhatsApp/Snapchat/Instagram/Facebook Messenger/Telegram/More chats history on the target phone.
Access all the data on the target phone, including installed apps, notes, calendars, and contact lists.
View browsing history to see what websites the user has visited.
Block apps on the target phone remotely.
Track media files, such as videos and images.
Why Choose Spylix as The Best Samsung Tracker?
There are several reasons why Spylix is the ideal choice for Samsung tracking:
It is compatible with both Android and iOS devices
It offers a user-friendly interface and easy installation process.
It has competent customer support and is available to help with any questions or issues.
The app provides high-level security, ensuring that your data remains safe.
2.2 Find My Mobile
Misplacing your Samsung gadget can be quite stressful.
Luckily, the device comes with an inbuilt tracking feature called "Find My Mobile" that can help you find it in case of such mishaps.
Best of all, this service is entirely free and available through your Samsung account.
Here's a straightforward guide on how to track your Samsung device using Find My Mobile:
Launch a web browser on a computer or another device and visit the Samsung Find My Mobile website.
Log in to your Samsung account using your registered email address and password.
Once logged in, a map will appear displaying your device's location.
To update the information, click the "Locate my device" button.
It is that simple!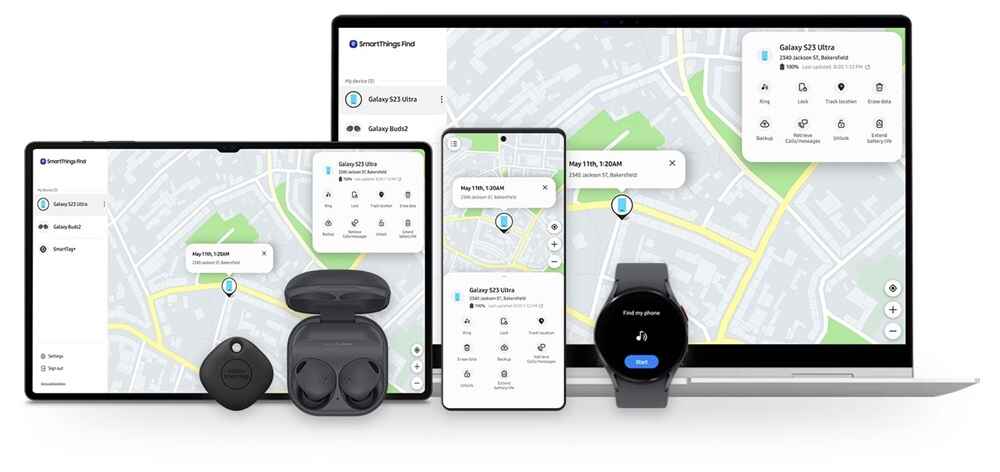 Pros:
It's a free service
It provides accurate location tracking in real-time
Cons:
This method requires you to have a Samsung account
It doesn't work under weak GPS signals or network connectivity issues.
2.3 Find My Device
Almost every Samsung user owns a Google Account, and since these devices are Android-based, you can easily access Google's Find My Device app to locate the lost Samsung device.
The steps are as follows:
Launch the Find My Device app or visit the website.
Log in using the Samsung phone owner's Google Account credentials.
The app interface will share the device's real-time or last known location via map view.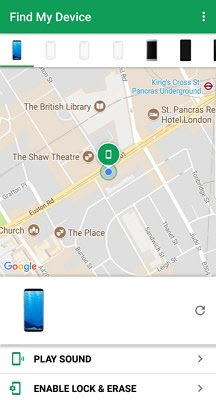 Pros:
Free service
Reliable source
Cons:
Find My Device relies heavily on a strong network connection.
The app requires the device to have location services enabled to work properly.
2.4 Google Maps
Google Maps is more than just a tool for navigating the roads. It can also help you keep track of someone's Samsung phone location.
Follow the steps below and learn how to track a Samsung phone for free:
Open the Google Maps app on the Samsung device.
On the top-right corner, tap the account holder's profile picture.
From the menu list, select "Location Sharing".
Choose your contact and send the location-sharing request.
Once you accept the request on your phone, you can see their location on the map in real-time.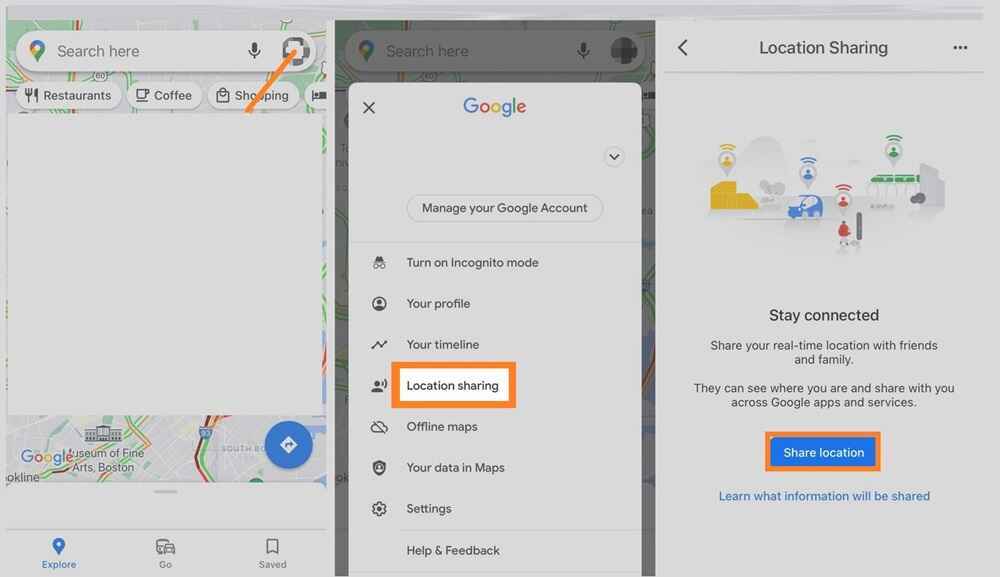 Pros:
Reliable
The method applies to tracking iOS devices as well
Cons:
It doesn't work with a Google Account.
Accepting the location-sharing request is a must.
Part 3: Reviews on The Above 4 Ways
| Method | Reliability | Compatibility | Variety of Tracking Features |
| --- | --- | --- | --- |
| Spylix Samsung Tracker | Highly reliable | Compatible with all Android-based phones and iOS devices | ● Provides a comprehensive summary of visited locations. ● Allows access to the longitude and latitude of the Samsungth phone's location. ● Offers real-time location tracking. |
| Find My Mobile | Moderately reliable | Only on Samsung phones | ● Only offers real-time location tracking. |
| Find My Device | Moderately reliable | Compatible with Android devices. | ● Only offers real-time location tracking. |
| Google Maps | Moderately reliable | Compatible with Android and iOS devices. | ● Only offers real-time location tracking. |
While each of the four presented methods has its own pros and cons, Spylix stands out as the most reliable and feature-rich option.
Part 4: When Will You Need to Track A Samsung Phone
Tracking a Samsung phone becomes necessary if you accidentally misplaced it or somebody stole it from you. Additionally, you can resort to such a method to track your children or spouse in real time.
This way, you can ensure they are safe from harm and not visiting a dangerous neighborhood. If there is any trouble, you can quickly alert the authorities or call your loved ones requesting they move to safety.
Part 5: FAQs about Samsung Tracking
Follow these tips to find answers to any remaining queries related to Samsung tracking!
5.1 How do I activate Find My Mobile?
To enable Find My Mobile, access the Settings app on the Samsung device, navigate to Biometrics and security, select Find My Mobile, and toggle the switch. Complete activation by signing in to the Samsung account.
5.2 Can I track a Samsung phone for free?
Yes, free tracking options include Find My Mobile, Find My Device, Google Maps, and third-party applications such as Spylix Samsung Tracker.
5.3 How do I track a family member's Samsung phone?
Utilize Find My Mobile with their Samsung account or employ a third-party application like Spylix Samsung Tracker to track the device.
5.4 Can I track my wife's Samsung phone?
With Spylix, it is quite simple to track the wife's Samsung phone undetected!
5.5 How can I track someone's location on Samsung without them knowing?
If you aim to track someone's location on Samsung without them knowing, you can use a stealth mode tracking app like Spylix Samsung Tracker.
Conclusion
We have shown you how to track a Samsung phone in this article.
If you have any issue related to the functioning of each solution, then check out the comparison table to learn their advantages and disadvantages.
To conclude, we suggest opting for Spylix, as it is a much more effective option to keep tabs on someone else's device undetected.