How to Record Screen in 3 Easy Steps

Step 1
Sign Up
---

Step 2
Set Up Spylix
---

Step 3
Start Screen Recording
What You Can Record with the Best Screen Recorder
This screen recorder will give you access to the target device's screen, allowing you to record whatever is on the device's screen at the moment. This means that you can capture messages (incoming or outgoing) from the Messages app or social media apps, calls, emails, and more data. It will also record the phone's current location via GPS or using the SIM card location.
All of this information will be available to you on your control panel, without needing physical access to the device. Once the app is set up on the target device, you will be able to track all data from a separate device. And you don't even need to jailbreak or root the target device to monitor it.
Instructions and Help About Screen Recording
To start recording the screen on any Android or iOS device, you will need to first of all set up the Screen recording app. The process is very simple, just follow these steps;
How to Record Screen on Android
Step 1: Create an Account
On the Screen Recorder's main website, enter your email address and click on "Sign Up" to create your account.
This is the account that you will use to record the screen and monitor the device.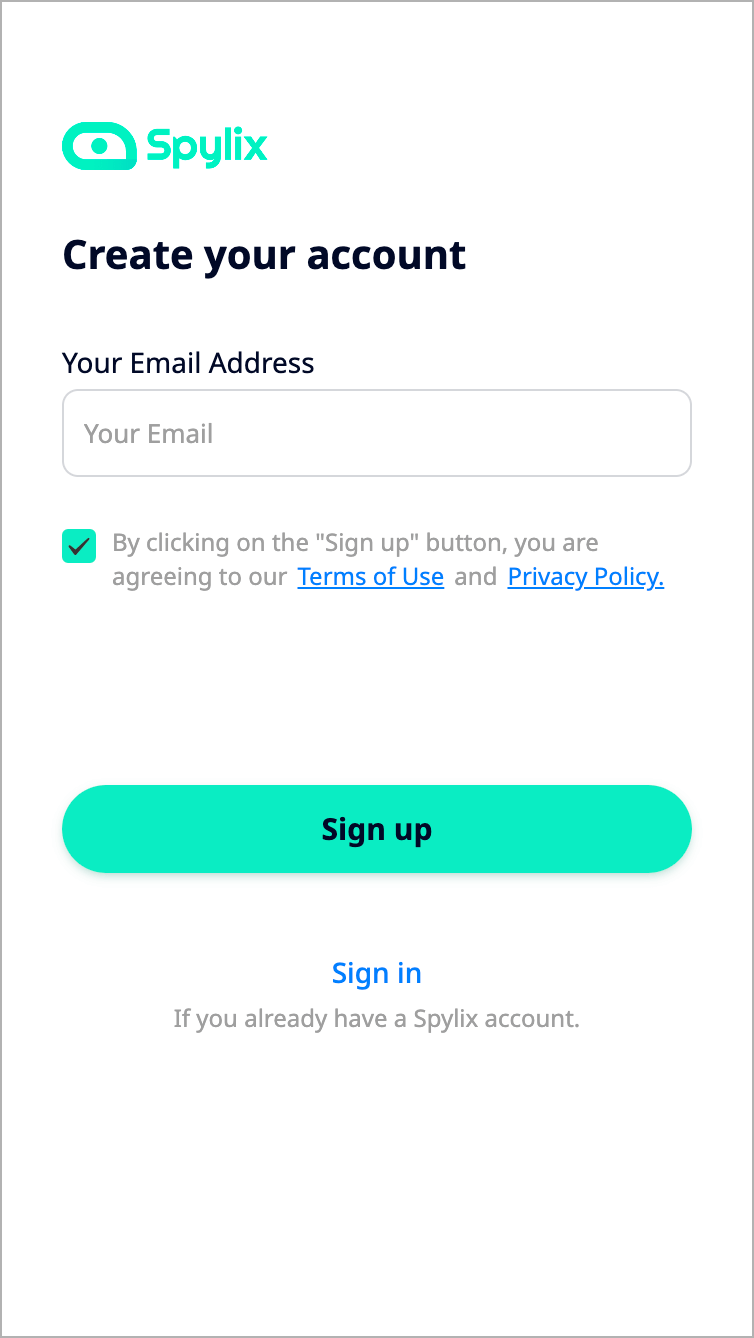 Step 2: Set Up Spylix
You will get instructions to complete the setup process on the app.
Follow the instructions as described and then click on "Continue."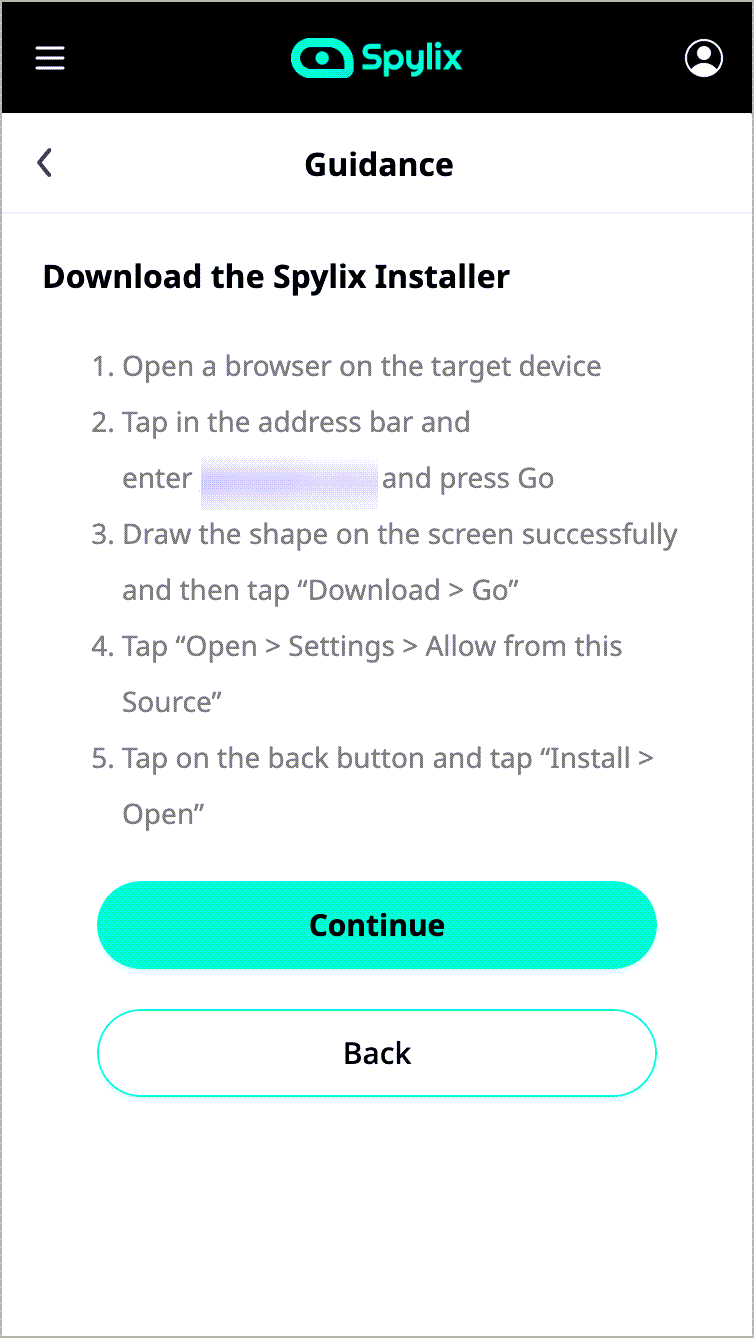 Step 3: Start Screen Recording
Now simply go to your control panel on any device and click on the "Screen Recordings" under the "Screen Recordings" section.
Choose an app from the "App Name" drop-down menu to see the recordings.
You can then click on each image to download it to your computer.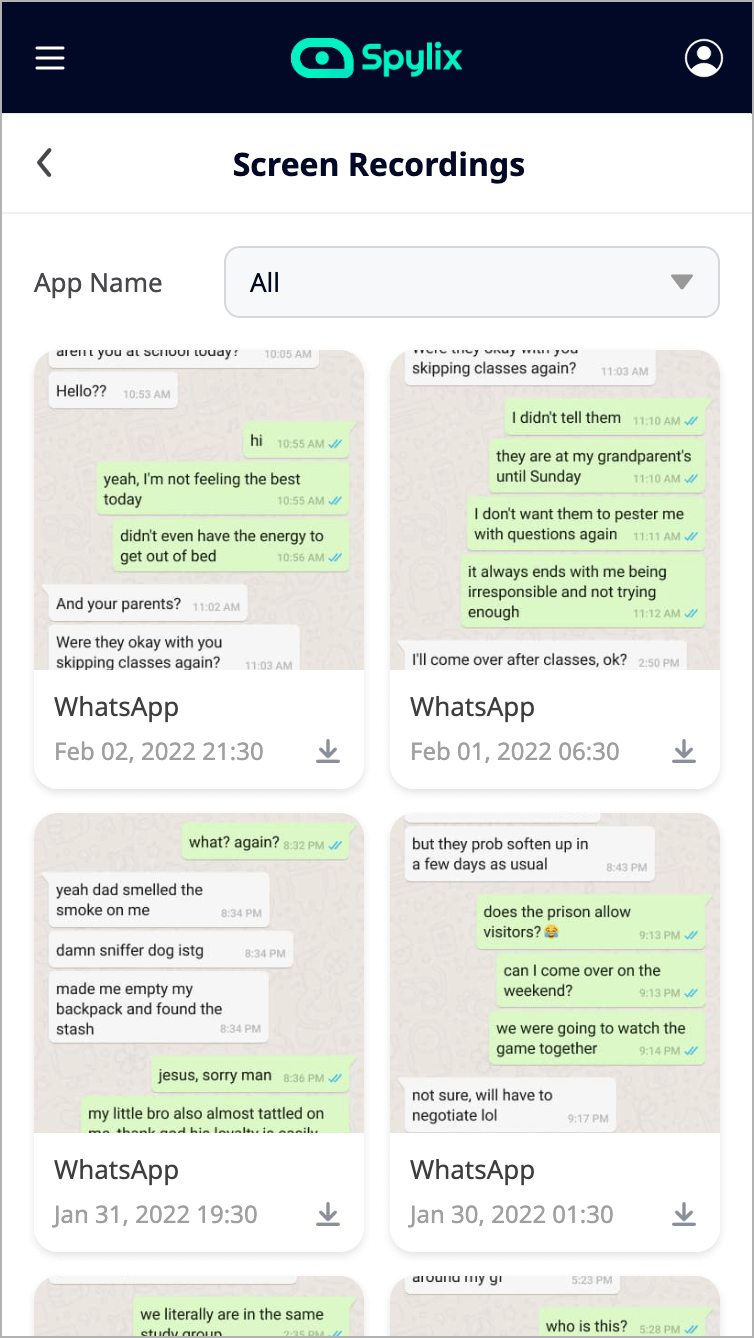 Why Do You Need a Screen Recorder?
A screen recorder can be useful if you want to capture what is happening on the target device's screen for future playback. Spylix allows you to easily access these screen recordings and even download them to your computer or any other device.
Can I Record Someone Else's Phone?
Yes. But we must emphasize that this solution should only be used for legal purposes. For example, as a parent, you may record your child's screen to keep track of the messages they send and receive on a particular social media app.
How Can I Record Someone's Phone without Them Knowing?
Spylix's Screen Recorder feature can be used to access the target device's screen recordings without the knowledge of the device's owner. You just need to set it up to run in the background.
What is the Best Screen Recorder?
Spylix is the best way to record the screen on a target device when you don't have access to the device. It allows you to see and download all screen recordings on any other device. You can access recordings from nearly all apps on the target device.
Do I Need to Root or Jailbreak the Device to Enable Screen Recording?
No. Spylix doesn't require you to root or jailbreak the target device to enable screen recording. The app will not even change the device in any way; you just set it up and then easily access the screen recordings on any other device.