As important as our mobile phones have become in this day and age, it has also made us vulnerable to a lot of online and offline evils. Now as someone who had grown up with and without such technology, we have a slight idea of what we're getting ourselves into, but what about the kids of the newer generations who don't know much better?
Although this might sound like an invasion of privacy, sometimes you need to record phone calls on an iPhone without them knowing and without an app to ensure they aren't getting involved with something or someone that might be harmful to them. This is why I have spent weeks scouring the internet for the top 5 ways of recording a phone call on an iPhone without the owner finding out. So without further ado, move the worrying to the back of your head, and let's get right into it.
Why Would You Want to Record Calls?
Recording phone calls may not be as bad as it sounds. Sometimes you need to keep evidence to provide proof for things, and most of the time, you just need to have a backup in case you forget something mentioned on the call. Let's look at the most common reasons for recording phone calls on iPhone:
For Legal Issues:

There are many legal issues where the first line of defense is recorded phone calls that support your claims. For some businesses, customers who go over the line tend to find your personal number and harass you. Having the option to record phone calls comes in handy.

For Personal Reasons:

In some circumstances, you may feel that someone is misbehaving with you, threatening you, or exhibiting any sort of behavior that warrants precaution. So, to be on the safe side, you might want to record calls just to have evidence of that behavior.

To Remember Details:

In all honesty, we all are a bit forgetful at times. If you had a long conversation with your best friend and completely forgot what she told you to pick up from the store, a recorded conversation would let you jog your memory. It also helps when someone is explaining recipes or procedures on call.
How to Record Phone Calls on iPhone without App
Many people find apps confusing, especially when they are trying to do something secretive. There are just way too many steps involved. So, if you want to record calls and conversations on an iPhone without an app, I've got just the hack for you.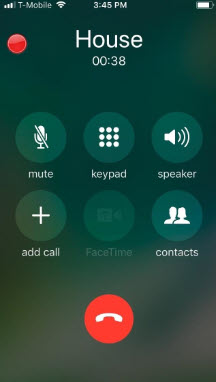 To be frank, you can only record calls on an iPhone without an app through the screen record feature. The only issue is that the call is saved as a video recording instead of audio. Here's how to go about it:
Once you are on call, swipe down on your screen to access the Control Center.
Find the record button and press and hold onto it. A new window will appear where you're supposed to turn the mic on.
Press the 'start recording' button to start recording your call. Once you're done, press the icon again to stop recording.
Once your recording is saved, you can find it in the Photos app on your phone.
How to Record Phone Calls on iPhone with Call Recorder App
As discussed in the method above, recording calls on an iPhone with an app is possible, but it doesn't leave much room for discretion. The other party will eventually come to know that you are recording them. This issue, however, can be fixed with call recorder apps that won't indicate to the other person that they're being recorded. Such apps are more suited for situations that demand secrecy.
1. Rev Call Recorder
Rev Call Recorder is an app that lets you record both incoming and outgoing calls on your iPhone. The app has no limitation to how long the recordings can be, and it ensures the other person doesn't find out. Here's how to use it:
Open the app and click the green 'start recorded call' button.
Select whether the call is outgoing or incoming.
Enter the number and press on call when given the prompt.
Merge the two calls to start recording.
Price: Free
Now, you can record conversations on an iPhone without anyone knowing. If you want to find the recordings, look into the app since that's where they are stored.
Pros:
It is a free app
Doesn't have a hard-to-use interface
Easy to install and setup
Cons:
Charges for transcribing audio
Isn't very instant in function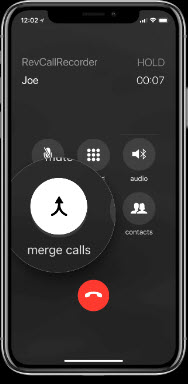 2. TapeACall
If you're looking for a tool that has almost worldwide usage, then the TapeACall app is for you. It has a user base of over 4 million due to its great features. You can record incoming and outgoing calls and store and convert them according to your needs. Let's check out to use it:
Download and install the app.
When you're about to make a call or receive one, open the app and press Record.
Now answer the call and merge the call to the TapeACall servers.
Press the red button to stop recording when the call is over.
Price: Free
To find your recorded audio, search the app's recordings sections. You can share these audio and convert them to any format you need. Moreover, you can also edit them as needed.
Pros:
Let's you record Zoom calls
Supports voice-to-text translation
Lets you schedule calls
Cons:
Doesn't have great quality audio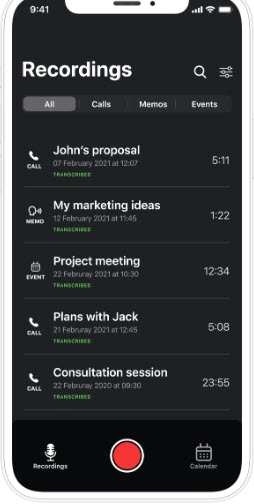 3. Cube ACR
The Cube ACR app lets you record incoming calls, and make notes out of them or transcribe them whenever needed. It has a lot of advanced features which is surprising as it's a free app. It's especially good if you want to be discreet about your recording. Here's how it works:
Acquire the Cube ACR app and install it so it can run.
Agree to the overlay request and get on a call.
Click on the recording button to start recording.
Click on it again to stop recording.
Price: Free
You can store the recordings on your cloud storage or in the app. Once the recording is made, you can edit it, export it or do practically anything.
Pros:
It has on-demand recordings
Let you store recordings on your phone
Has an archiving and retention feature
Cons:
Does not have an automatic call distribution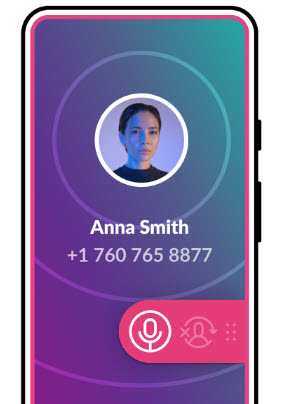 4. Call Recorder iCal‪l
Another fairly simple yet popular app is the Call Recorder iCall. It's different from all the rest since the call is a three-way one where their server is intercepting it. To top it off, it also has a very easy-to-follow interface that doesn't require you to be a tech expert. Follow these simple steps to record your next call:
Download the app and tap on the record button.
Engage on a call and click on the merge button to make it a three-way.
Now the recorder will record the conversation as long as you keep going.
Once the call ends, the recording ends on its own and is stored.
Price: Free (includes priced packages once the trial is over)
You can easily find all your records on the app, sorted by the name of the caller and when the call was made. This makes it easier to stream through the recordings to find the one you need.
Pros:
Has a good storage system
Doesn't involve a lot of steps
Easy-to-use interface for the app
Cons:
Only free for the trial period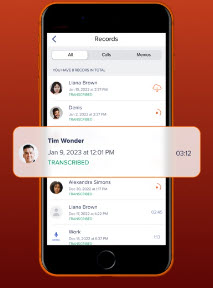 5. Automatic Call Recorder
The last app on our list is the Automatic Call Recorder. This tool is perfect for anyone who wants a crisp audio in their recordings with maximum clarity. You can even use it for prerecorded calls in these steps:
Get the app for your iPhone and install it.
Click the call button when you are on call.
The call will start recording and be saved once it ends.
Price: Free
That's it. In just three steps you can get the audio you need. You just need to make sure your recorder is on, and you're all set to go. If you need the recordings, they'll be in the app. It doesn't get easier than this.
Pros:
It works without an internet connection
Can edit voice recordings
Lets you transcribe your calls
Cons:
You have to manually merge calls before calling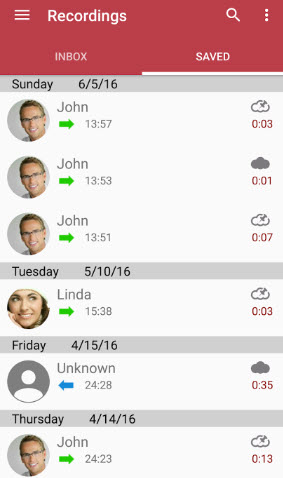 How to Record Conversation on iPhone with Google Voice
Since calling apps have become so popular, most people use them instead of carriers. One such platform is Google Voice, Although it's exclusive to the US and Canada, it has a big audience. Let's take a look at how to record conversations on an iPhone with it:
Download the Google Voice app and use your Google account to sign in.
Add a phone number to your account to complete the setup. Keep clicking Next until it lets you enter the number.
Use the verification code to verify your account and then go to the Google Voice website.
Click the gear icon on the side to open up settings for you.
Now select Calls on the tab on the left side of your screen.
Click on Enable Incoming Calls, and your account is ready.
When you get a call, press the 4 on your keypad, and it will automatically start recording.
Wasn't that just a piece of cake? The best part is that the recording stops automatically when you're done with the call. You must be wondering, 'Where do I find my recorded files?' They'll be in the voicemail tab of your app.
A word of caution: Google Voice alerts all parties of the call that it is being recorded. Hence it is not the most discrete option out there.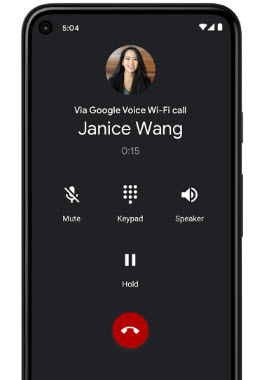 How to Record Phone Conversation on iPhone using Voice Memos
If you have another device on hand, then you can easily record a conversation on your iPhone using the voice memos app. It's mostly pre-installed on most iPhones and is very easy to use. This guide will teach you how close to keep it to the phone on call and how to avoid losing quality. Here's what you need:
Make sure you have two iOS devices. You will get the call on one and use the Voice Memos app on the other.
The first thing you need to do is check the recording quality. So open the app and try talking from a distance that imitates the audio from the other phone.
You can now make adjustments to ensure the sound is good enough for a recording.
Get on call and click the speaker icon. Press the red button on the second device and start recording.
Once the call is over, click the red button again to stop recording.
You can find all of your previous recordings in the Voice Memos app. Click on the three dots next to each recording, and you can export it to your desired locations. Although this method is a bit of a hassle, it still works.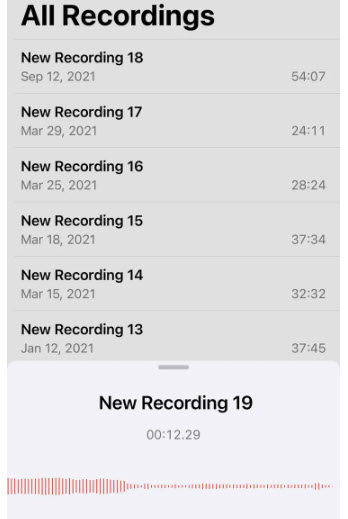 How to Track Phone Calls on iPhone without Them Knowing
Sometimes, recording isn't enough. If you find yourself in a situation where you have to track phone calls on an iPhone secretly, then I have just the app for you!
Spylix call tracker is a unique call-tracking app that lets you keep complete track of communications on another device. Here's what the main call-tracking features on the app look like
See incoming, outgoing, missed, and canceled calls on the target device.
Find caller ID, number, name, email, and any other info.
Check the time and duration of the call.
If all that sounds like just what you need, here's how you can use the Spylix app:
Step 1: Go to the Spylix main website and create an account with your email. You will need this account later to track the target device's history.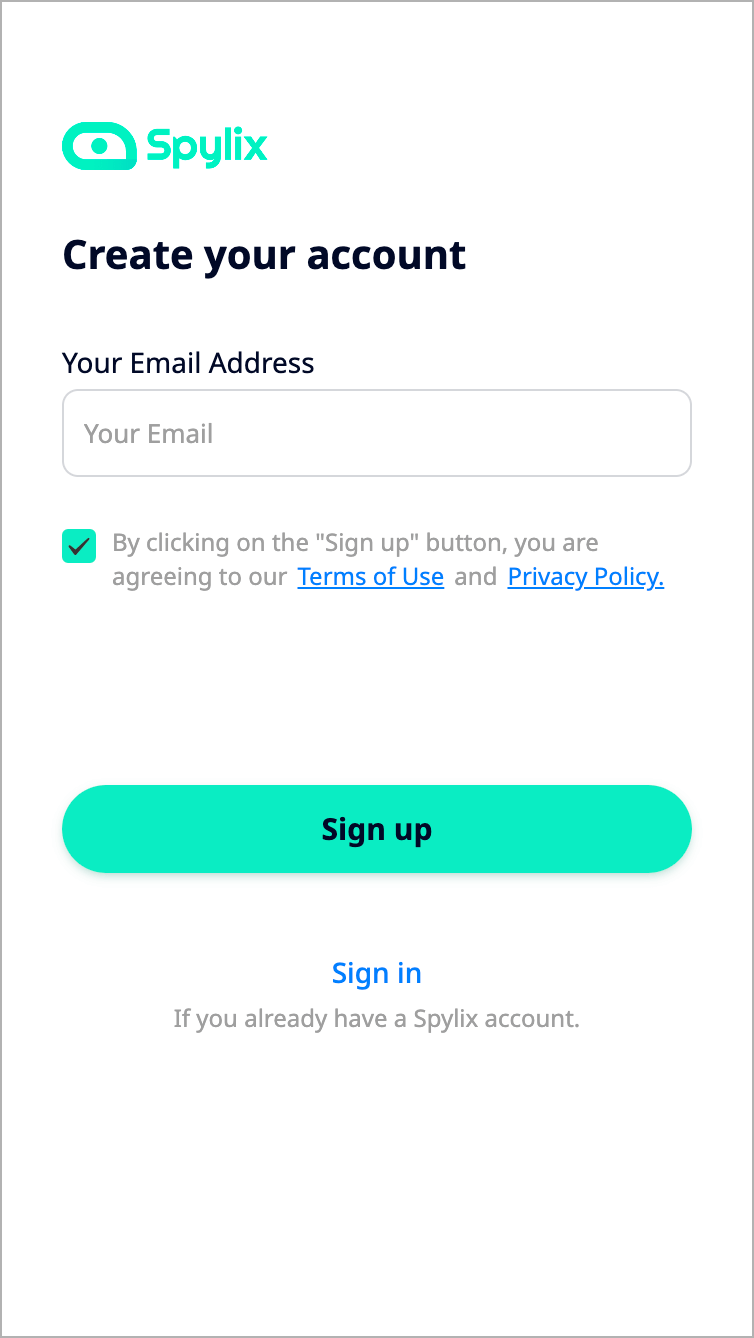 Step 2: Now add the Apple ID login of the phone that you want to track. Then click on continue.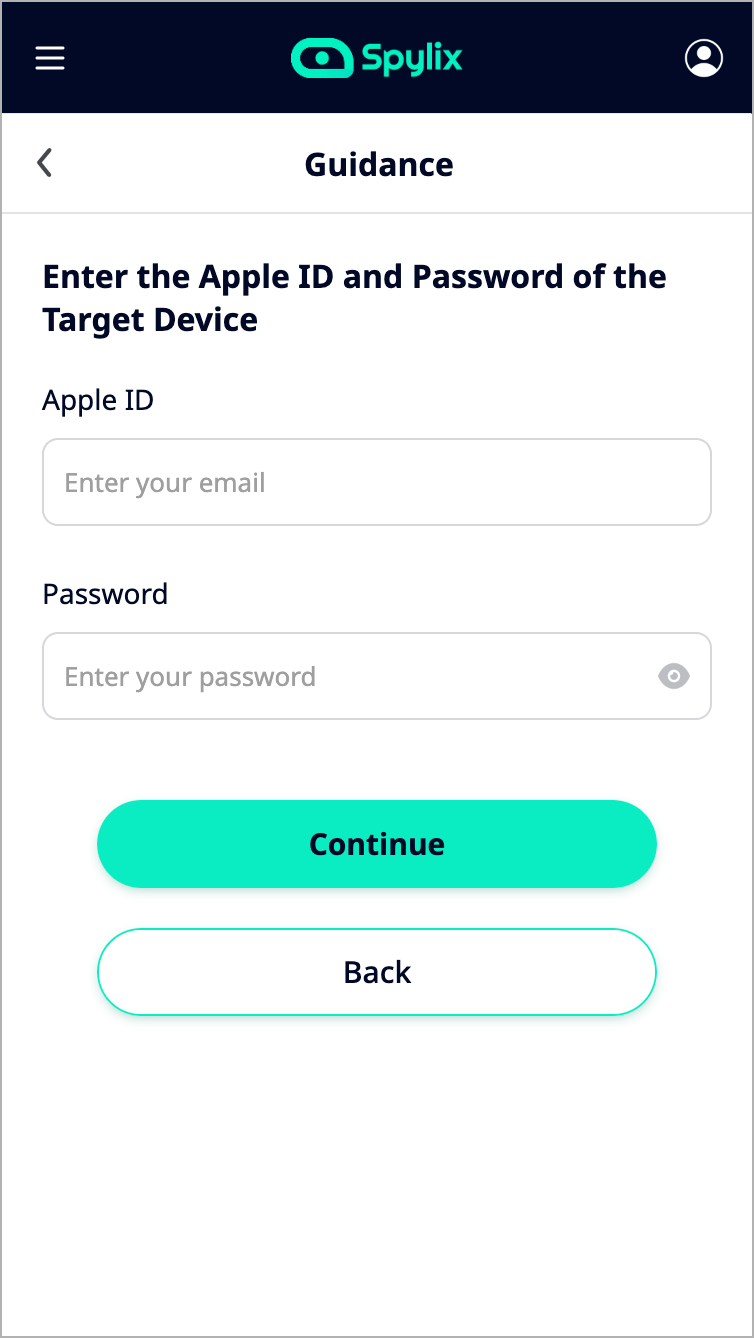 Step 3: You can now start monitoring. Go to the Key Features on the platform and move toward the section that says Calls. It will automatically show you the call log.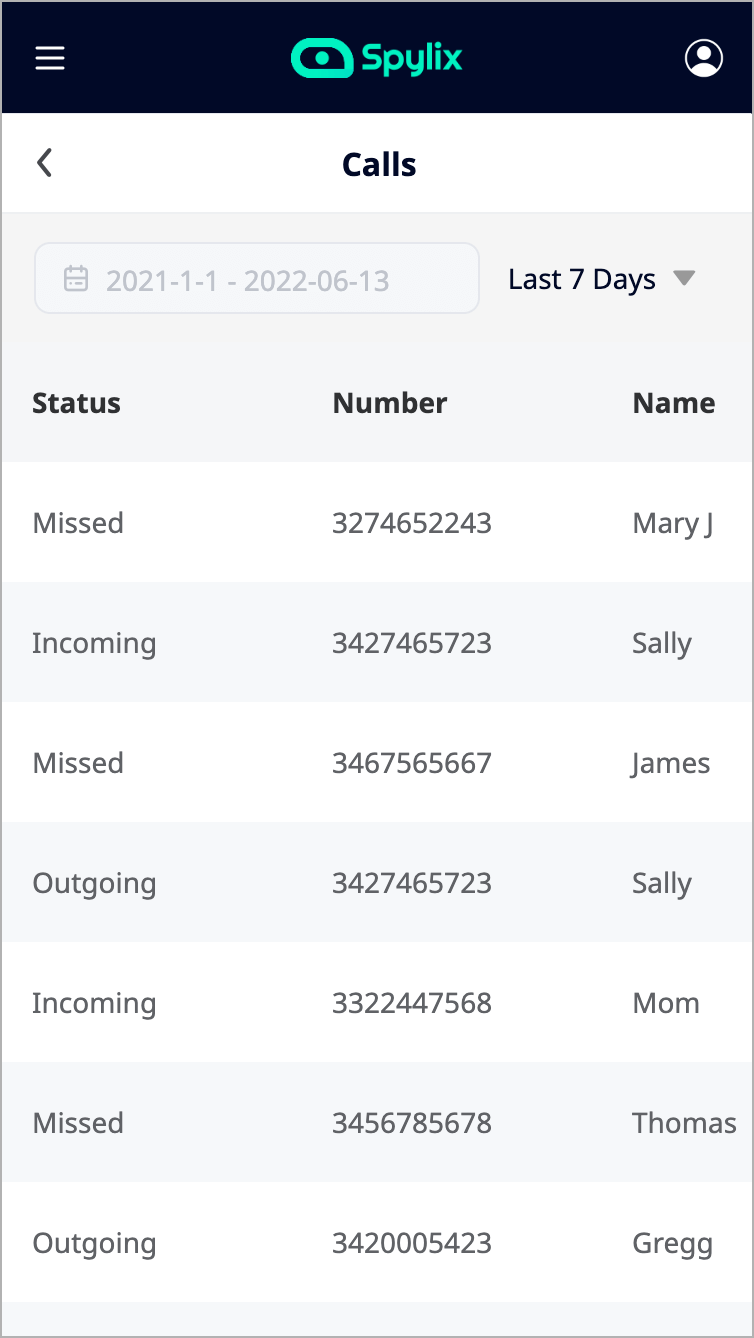 Other Amazing Features of Spylix
Apart from tracking calls on iPhone, Spylix is also great at other tracking requests. Here are a few of its other features:
Text Message Spy

With text message spy, you can see the sent, received, and drafted texts on the target phone. This information comes with the sender ID, timestamp, and more.

Social App Spy

The social app spy lets you check what social media was used recently on the target phone, how long it was used for, and any accompanying details.

Keylogger

Keylogger is a feature that saves all of the passwords on the target phone and lets you access them remotely.

GPS Phone Tracker

You can use the GPS phone tracker to find the exact location of the target phone, see when locations were turned off, or if they made any out-of-normal movements.
Frequently Asked Questions
Can you record a phone call without the other person knowing?
Recording a call without the other person knowing is very easy. You can either do it by physically recording the call using a secondary device or by using a call recording app on your own. There are other ways as well but they aren't as effective in the long run.
Is it legal to record iPhone phone calls?
Recording phone calls can be illegal depending on whatever state you're in. The general rule of thumb is to let the other person know before recording so you have their consent. However, the laws vary from state to state and country to country. So be sure to read up on them before proceeding further.
How can I record a phone call without it showing?
If you have invested in the right apps then you'll be able to record a phone call without it showing. Many of the apps mentioned in this guide can secretively get the job done.
Conclusion
Well, that's it. Now you know all the different ways to record conversations on an iPhone. As discussed before, sometimes recording calls can be necessary so there's no harm in knowing how to do it. Of all the methods mentioned, recording through voice memos and Google Voice is the most taxing as one requires two devices and the other alerts participants.
If you're wondering how to record phone calls on an iPhone without them knowing and without an app, the screen recorder is your best shot. For all other purposes, voice recording apps work just fine.
But, if you want more control to track all communication-related activities on a target device, then Spylix is the perfect app for you. Download it today and put an end to your curiosity!