Sudden abnormal behavior can indicate that your partner may be cheating on you. However, they are hard to notice.
Unfortunately, many cheaters are skilled at hiding their tracks, making it tough to uncover the truth.
From using secret messaging apps to deleting text messages and emails, cheaters go to great lengths to cover their tracks.
But don't worry; in this article, we'll reveal the sneaky tactics cheaters use and provide expert tips on catching them in the act.
So, if you want to know how cheaters hide their tracks and how to spot the signs, read on.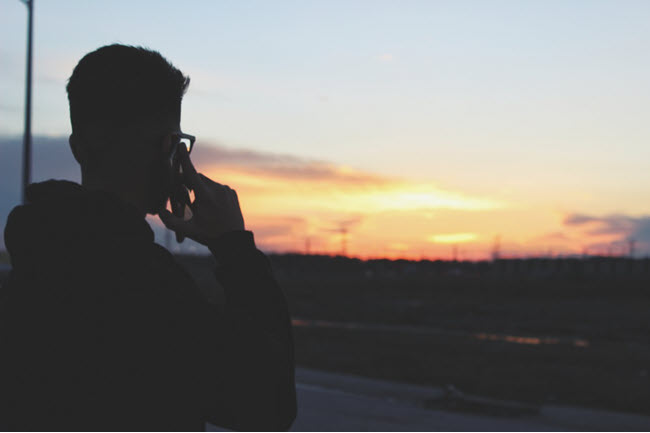 Part 1: How Do Cheaters Hide Their Tracks?
Cheating is a painful reality that many couples face. However, what's even more devastating is the sneaky and deceptive tactics cheaters use to hide their tracks.
Here, we'll explore the most common methods cheaters use to cover their tracks and provide you with expert tips on how to catch them.
From secret messaging apps to hiding things in plain sight, we'll investigate where do cheaters hide things.
So, if you're ready to uncover the truth, keep reading!
1.1 Where Do Cheaters Hide Things?
Cheaters can be masters at hiding things in plain sight. Some common places cheaters hide things include their car, office, and home.
In their car, they might stash items in the glove compartment, trunk, or under the seats. At the office, they might keep items in their desk or file cabinets.
At home, they might hide things in the closet, under the bed, or in a spare room. Keep an eye out for any unusual behavior, such as sudden cleaning or rearranging, as it might indicate that your partner is trying to hide something.
1.2 How Do Cheaters Hide Stuff on Their Phones?
One of the most common ways cheaters hide their tracks is by manipulating their phones. They might delete text messages, call logs, and emails or hide apps or photos in hidden folders or cloud storage.
They might also use coded language or nicknames in their contacts list. Another tactic is to set a passcode or fingerprint lock on their phone to prevent the spouse or partner from accessing it.
If you suspect your partner is hiding something on their phone, consider using a spy app to monitor their activity.
1.3 How Do Cheaters Secretly Communicate?
Cheaters often use various forms of communication to keep their affairs a secret.
They might use messaging apps like WhatsApp, Telegram, or Signal, which offer end-to-end encryption and allow them to delete messages. They might also use social media platforms like Instagram or Facebook to communicate through DMs or secret groups.
In addition, they might use burner phones or email addresses to avoid detection.
Notice that your partner spends an unusual amount of time on their phone or has multiple phone numbers or email addresses. It could be a sign that they are communicating with someone in secret.
1.4 What Secret Apps Do Cheaters Use?
There are several secret app that cheaters use to keep their affairs hidden.
These apps include Vaulty Stocks, Calculator%, and Hide It Pro, which allow users to store photos, videos, and messages in hidden folders or disguised as other apps.
Other popular, secret apps include Tiger Text, Hushed, and CoverMe, which provide private calling, texting, and messaging services.
Part 2: How Do You Tell If Your Partner Is Hiding Something on Their Phone?
In this digital age, it's common for people to store sensitive information on their phones.
However, it may be a red flag if your partner is being secretive about their device or acting suspiciously.
Signs that your partner is hiding something on their phone include
Constantly guarding their phone
Deleting their browsing history,
Being overly protective of their messages and calls
You may also notice changes in their behavior, such as withdrawing from conversations or becoming defensive when you ask about their phone. If you suspect something is amiss, having an open and honest conversation with your partner may be worth it.
Part 3: Is There A Way That You Can See Everything The Cheaters Do on Their Phones?
Yes!
Using a spy app enables you to keep track of your spouse or partner's phone activities, allowing you to collect proof if they show any signs of infidelity.
Such an app lets you track the device privately without the target person finding out.
Part 4: What to Check on the Phone If Someone Is Cheating?
If you're worried that your partner may cheat, Spylix is one of the most popular spy apps to help you uncover the truth.
With its extensive range of features, the app allows you to track your partner's messages, social media updates, call logs, media files, and locations, giving you complete access to their phone.
Using this cheaters look up app, you can monitor your spouse's activities and determine whether they're communicating with someone you disapprove of or engaging in suspicious behavior.
Now, you can catch cheaters and keep your relationship safe.
Key Features of Spylix Cheaters Spy App
Here the some key Spylix features you can use to see if your partner or spouse is hiding an affair or not:
View their text messages
Read their social media chats
Track their location in real-time
Monitor all keystrokes on the phone using the keylogger
Keep track of the call log and contact list
How to Spy on Cheaters on the Phone?
Follow the installation steps of Spylix to quickly learn how to catch a cheater on social media:
Spy on iPhone
Step 1: Sign Up For Free
Visit the Spylix site before entering your email address to set up a new/free account.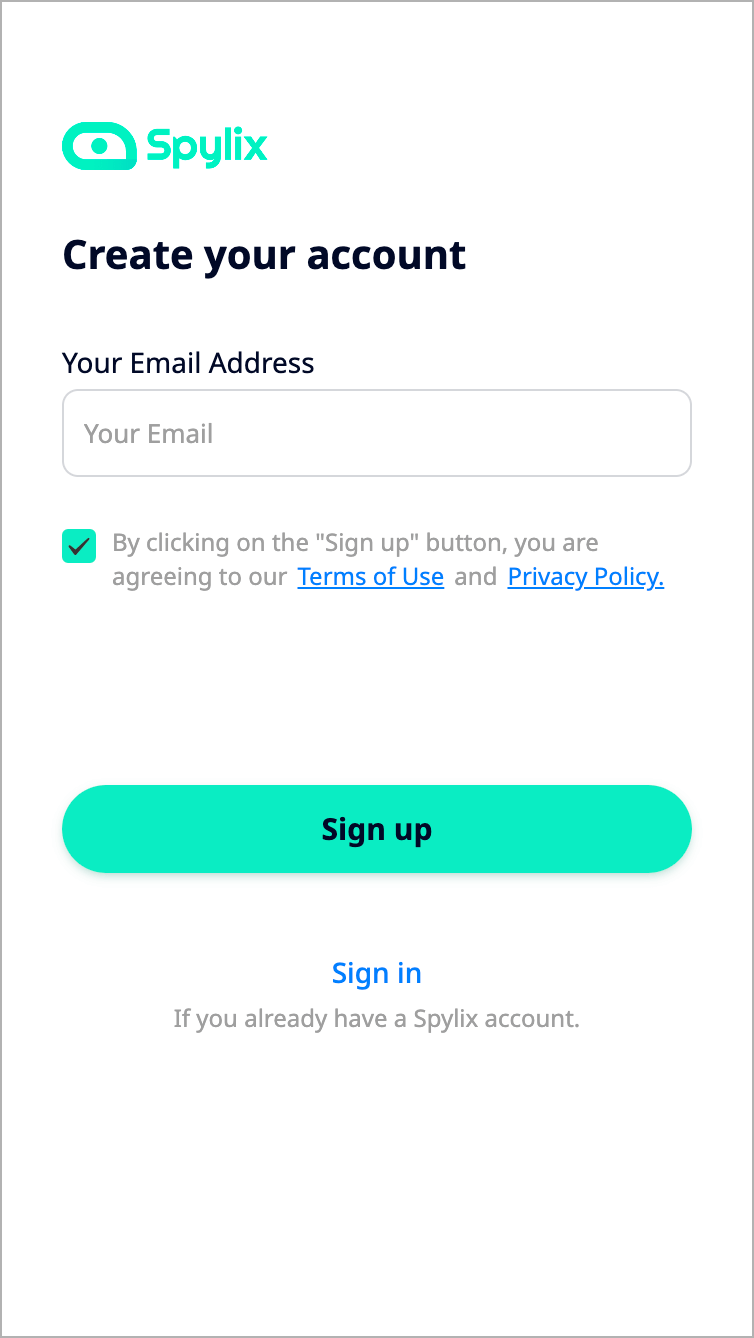 Step 2: Enter the iCloud Credentials
Next, share your partner's iCloud account information for device verification.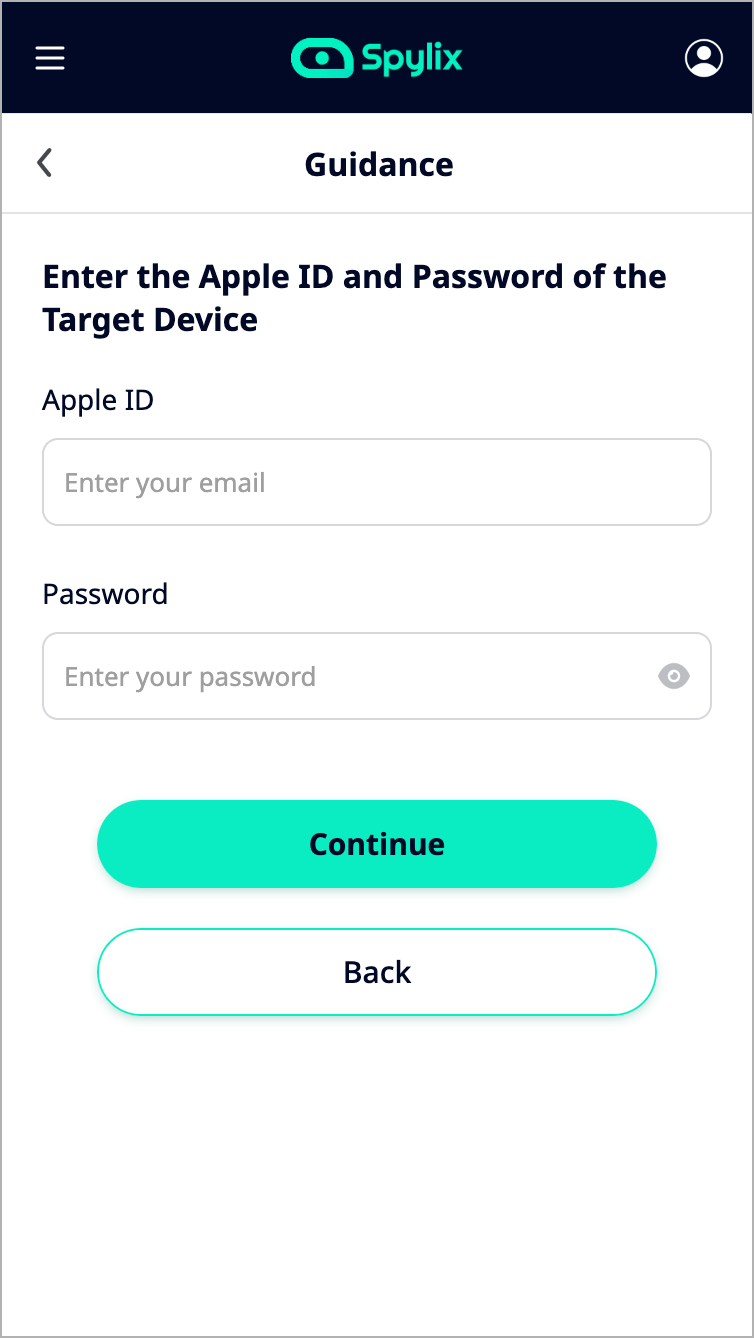 Step 3: Track the Cheater
Launch the control panel via any browser to track the cheater in real-time.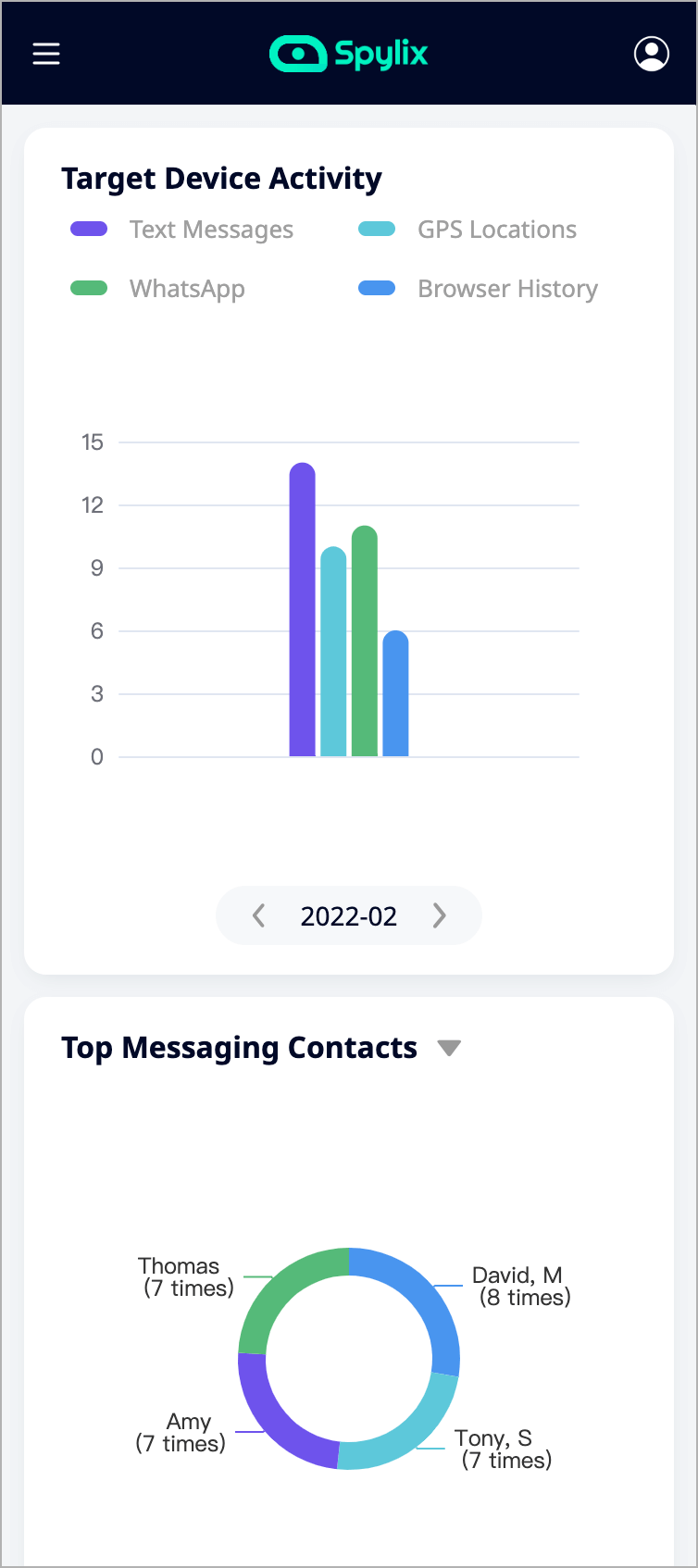 Spy on Android
For Android Users
Step 1: Sign Up on Spylix
Visit the Spylix app's official website and tap the Sign Up button before entering your email address to create a new account.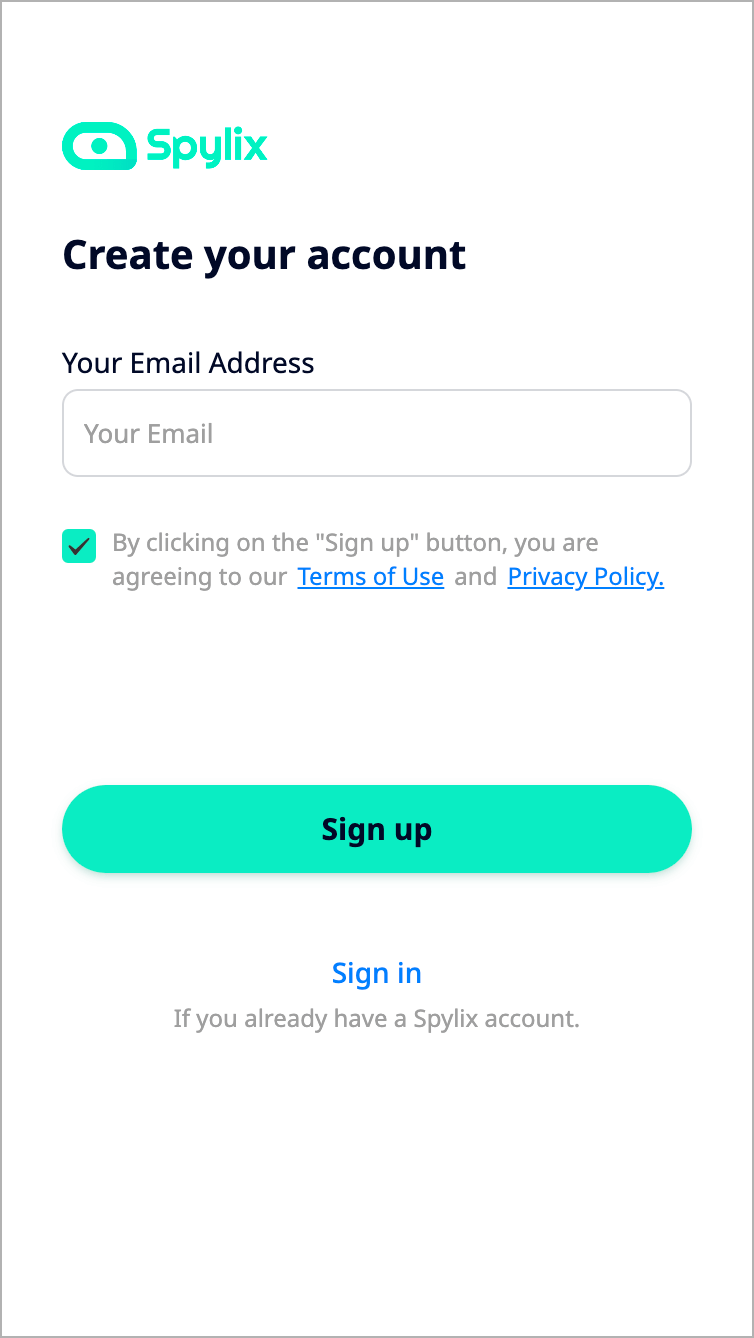 Step 2: Install the App
Simply go through the guidelines on your account to learn how to install the Android app on the target device.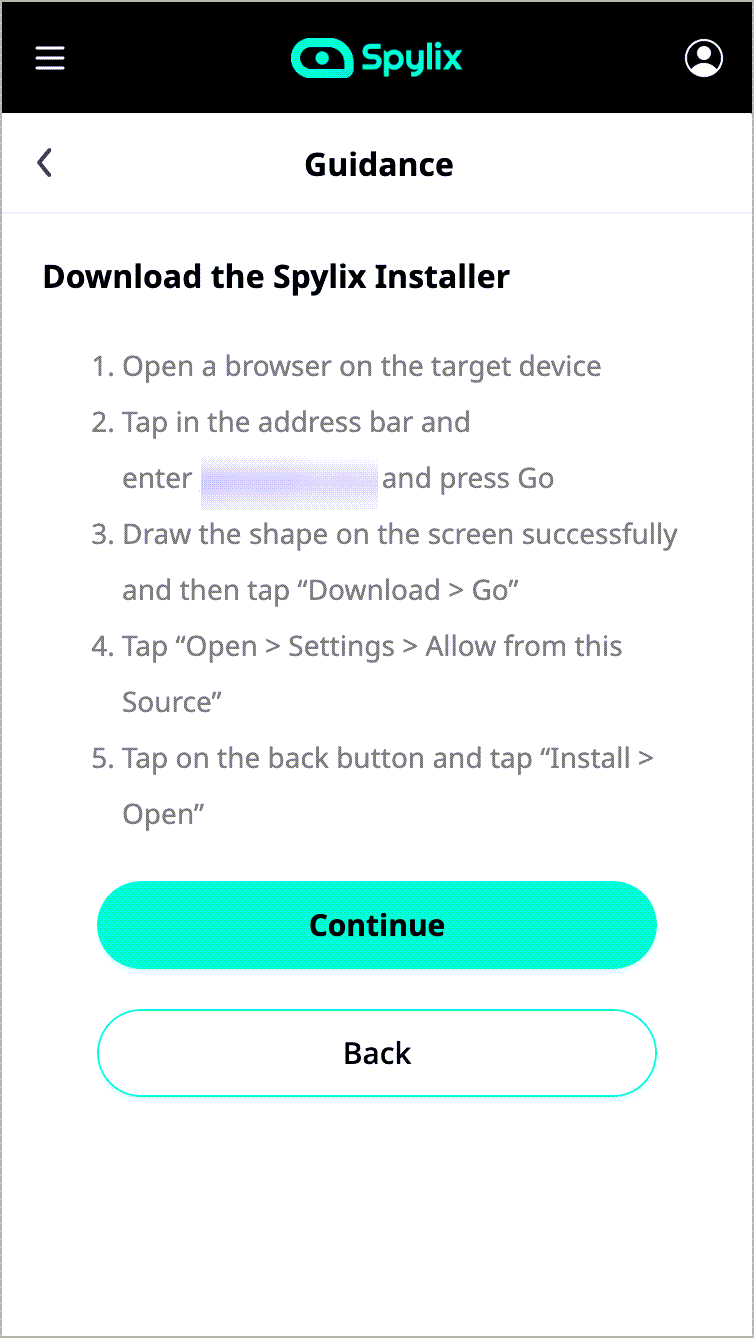 Step 3: Track the Cheater
Visit the dashboard using any browser, and click on the features available to learn about the cheater's phone activities.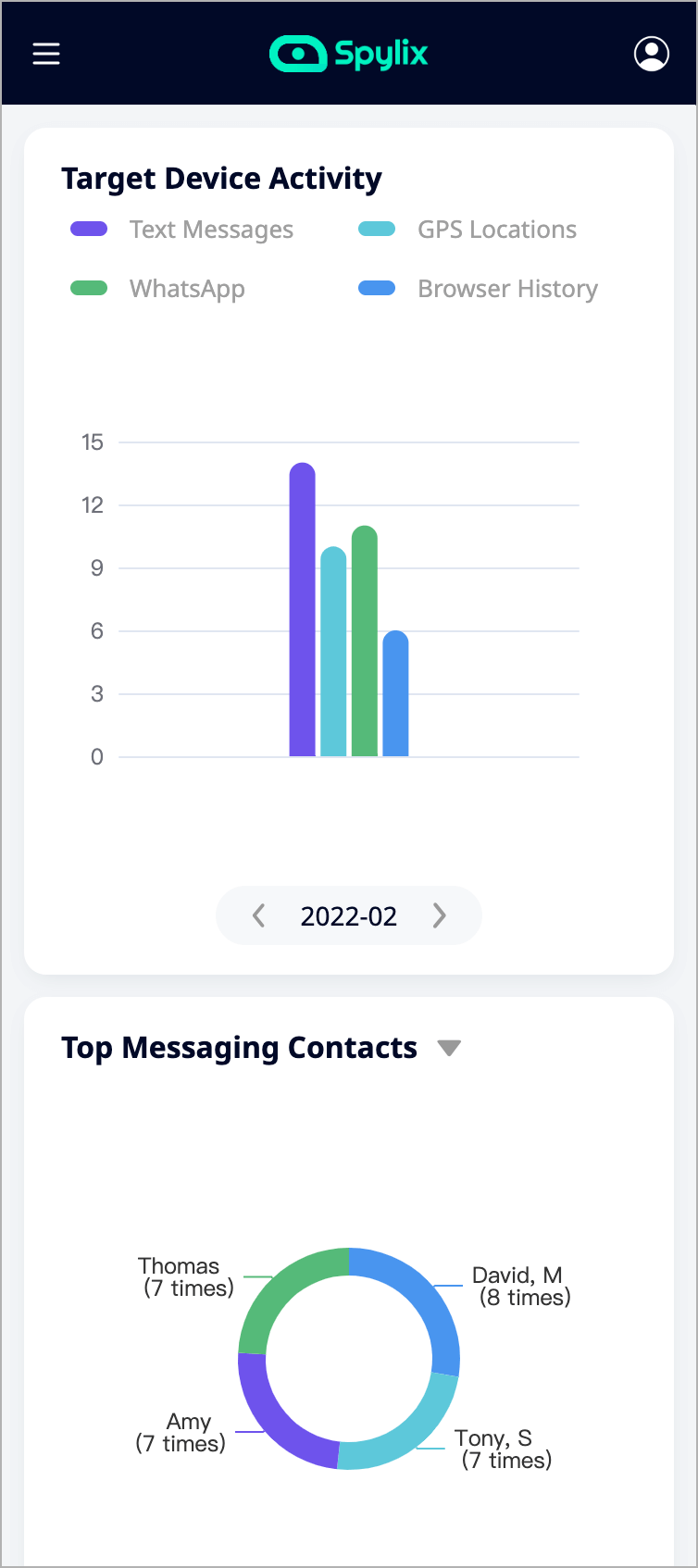 What Else Can Spylix Do?
Besides tracking your partner's location and confirming infidelity, Spylix can be a useful parental control tool by monitoring the child's browsing history and installed apps.
Also, you can block specific URLs and apps if you find them inappropriate.
Why Choose Spylix as The Best Cheaters Spy App?
In addition to being affordable, Spylix is a secure and reliable app that doesn't take up unnecessary storage space, making it less likely to be detected by the target user.
You don't need to jailbreak or root the target device to use its core features, and its stealth mode ensures that your partner won't know they're being monitored. With Spylix, spying on cheaters has never been easier.
Part 5: FAQs about Cheating
For those who want to know more about cheating, here are some frequently asked questions and their answers.
5.1 How can you tell if someone is lying about cheating?
It's challenging to identify if someone is lying about cheating, but some telltale signs may indicate that they're not being honest. They may become defensive or avoidant, suddenly lose interest in intimacy, or try to justify their behavior excessively.
5.2 How do cheaters view themselves?
The view that cheaters have of themselves varies from person to person. Some cheaters feel guilty and try to change their ways, while others continue to deceive and manipulate their partners.
Cheaters may also have difficulty trusting others or feeling secure in their relationships due to the guilt and shame associated with their actions.
Ultimately, how a cheater views is a complex issue that depends on the individual's values and beliefs.
Conclusion
Learning how cheaters hide their tracks is the first step to catching them in the act. By reading this article, we hope you know the telltale signs your partner/spouse could be showing if they are unfaithful.
With Spylix, you can easily gain proof of infidelity without the cheater ever noticing.