Sometimes even a slight suspicion can lead to drastic actions, and overthinking such actions is completely genuine when your partner isn't paying enough attention to you. There may be a chance that they're using secret cheating apps.
So, if you think of your partner's actions as unfaithful, don't spare a minute to clarify your doubt.
Luckily, there are some apps that can help you discover the truth. In this blog, we'll be discussing more free secret cheating apps.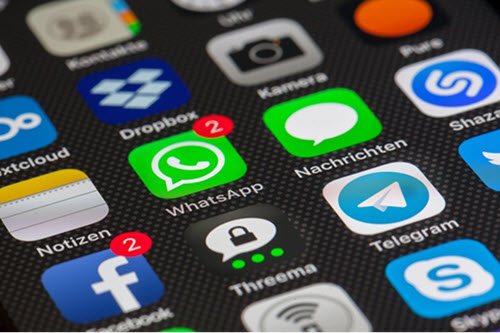 Part 1: What is The Number One Cheating App?
There can be a billion reasons for cheating on your spouse, but nothing justifies the heartbreak they go through.
Cheaters are divided into two types; serial cheaters and occasional cheaters.
For serial cheaters, secret chat apps for cheating work the best as they often get caught by their partner.
However, since none can suspect occasional cheaters doing the act, they stick to the disappearing chats of standard messaging apps to get involved with other partners.
Part 2: What Characteristics Do the Secret Apps for Cheating Have in Common?
Different cheating applications have other characteristics that make each standout, leading them to become the top choice.
However, certain features are the same in every app that, includes:
Every other cheating app has a functionality called disappearing chat that either makes your chat vanish instantly after the receiver sees it or removes it automatically after 24 hours of delivery.
The main purpose of cheating apps is to make sure that the user doesn't get caught. These apps disguise themselves as other mandatory apps like a calculator or gallery to decrease the chances of break-ins.
Cheating apps also ensure that all the media users send/receive is private and unavailable in the system gallery for everyone to see. There are different locks and passwords to access the media.
Part 3: Top 20 Secret Cheating Apps for Android and iPhone
If you want to catch your cheating spouse red-handed, you must know all about secret apps for cheating.
Following are some of the main apps used by cheaters to manage extra-marital affairs:
Tinder: One of the most used dating applications, so if your partner has an account on this app, then it is alarming
WhatsApp: Although it is just a casual messaging app, people take advantage of its disappearing chat to engage in unethical conversation
Viber: It seems to be a harmless messaging app, but most cheaters use it for its hidden chats to avoid getting caught or for secret conversations that automatically delete after a set interval.
Bumble: Like Tinder, it is also a dating app for women to make the first move. If your wife or girlfriend is on Bumble, it is a visible red flag for you
Calculator Pro+: This app looks like an advanced calculator but is a fully functional messaging app used to send and receive chats and media privately.
Private Message Box: To keep your conversations out of your telephone bill, try a private message box and even purchase virtual numbers to be used within the app.
FortKnoxster Crypto suite: It may be a finance or crypto app, but it is a secured chat app that helps you manage affairs without getting caught.
Snapchat: It is available on Android and iOS devices through which you can send a snap or chat to a person who can be seen only once.
Private SMS & Call: Although it gives away the usage, it creates a personal space to chat with anyone you want.
iMessage: Some occasional cheaters don't care to disguise their affairs, but they prefer using iMessage instead of normal text for added privacy
Instagram Direct Message: Since Instagram is the home of beautiful people, your partner may have slipped and cheated on you using vanishing direct messaging.
Ashley Madison: The app slogan says life is short, have an affair which is an open invite for committed people to start the act. Most people looking for mutually agreed extra-marital affairs meet there.
Vaulty Stocks: It is a secret communication app for cheaters to get connected with their other partners without getting caught.
Date Mate: It is a location-based dating application where people from nearby geographical ranges engage in relationships with each other.
Line: It is a casual messaging app that is used by cheaters due to its vanishing chat features and won't be easily suspected
Kik: Giving the image of a casual messaging app, Kik is often used by cheating partners to talk to strangers and engage in live video chats
Stealth Chat: It is a dedicated cheating app giving an assumption of a game while being a chatting app in disguise. It doesn't save any data; you can share any media privately.
Facebook/Facebook Messenger: Facebook and its Messenger can be a prominent place where your spouse would've met another partner due to the abundance of people available.
Wickr Me: It is a messenger having extra security where users can chat and send voice messages quite easily. It doesn't allow you to video call other users.
Signal: It is also a secret messaging application that can automatically erase all your chats. You can set a specific time for your messages to disappear.
Part 4: What is The Secret Behind Cheating Apps? 5 Recommended Apps for You
Once you discover the secret apps for cheating on your partner's phone, you have to proceed the next time to figure out the secret behind the cheating apps. Our top 5 reliable cheating apps recommendations are as follows:
4.1 Spylix
Spylix is one of the well-known spying applications mainly centered on tracking your spouse's activities and checking whether or not they're engaging with anyone else, especially people you disapprove of.
It offers a large variety of features when it comes to monitoring, giving its users complete access to the target phone's messages, social media updates, call logs, media files, and even live locations.
Key Features of Spylix Phone Tracker
There are some of the key characteristics that make Spylix stand out. Some of them are mentioned as follows:
Call tracking: Monitor all incoming and outgoing calls on the targeted phone. You can even check the call duration, date, time, and other details about the calls.
Text monitoring: Another feature is message monitoring, where you can read the entire conversation. Moreover, you can track the deleted message without any restrictions
Keylogger: Extract your spouse's passwords or pins to privately log in to their social media accounts or keep a check on their bank statements
Contact logs: Get complete contact information about any certain person from the targeted phone.
How to Catch Cheatings on Android and iPhone?
There are two basic methods that you can try using Spylix:
For Android Users
Step 1: Sign Up on Spylix
Go to the Spylix website and sign up to create a new account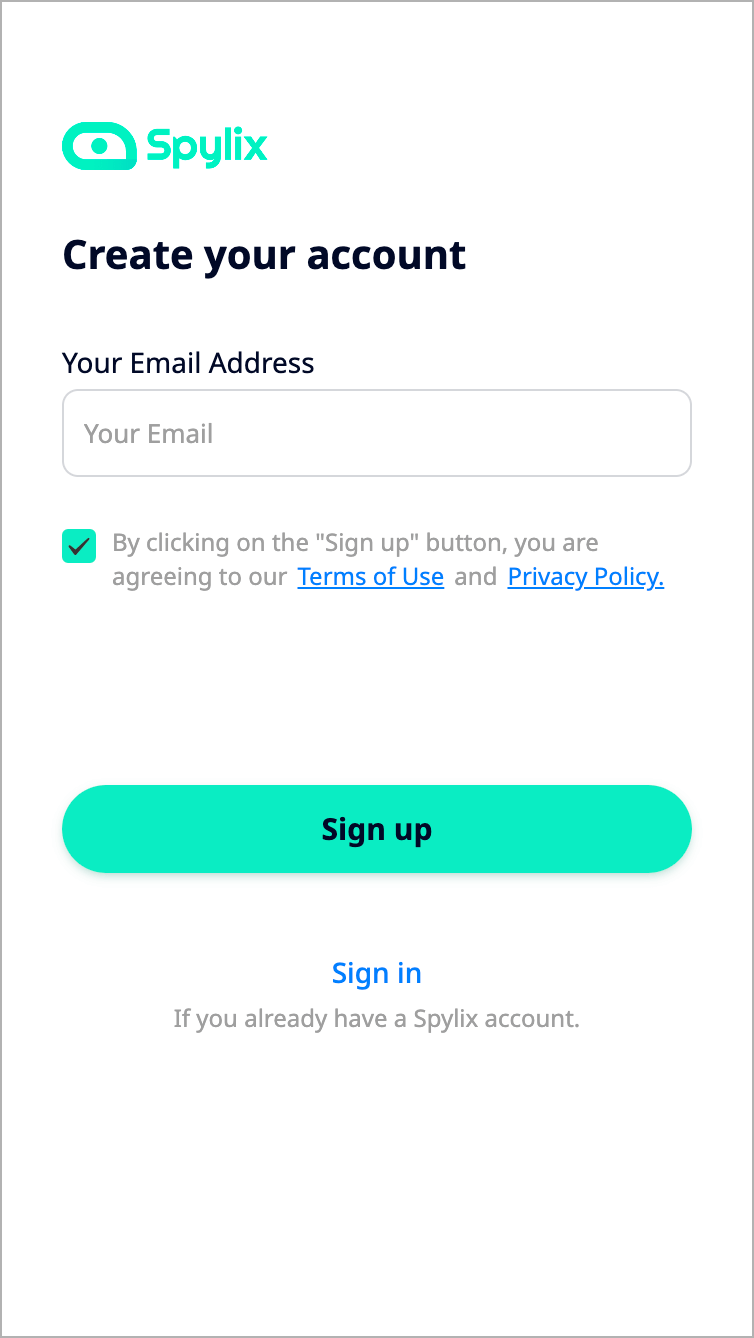 Step 2: Install The App
Use the instructions on-screen to set up your new Spylix app on the target device.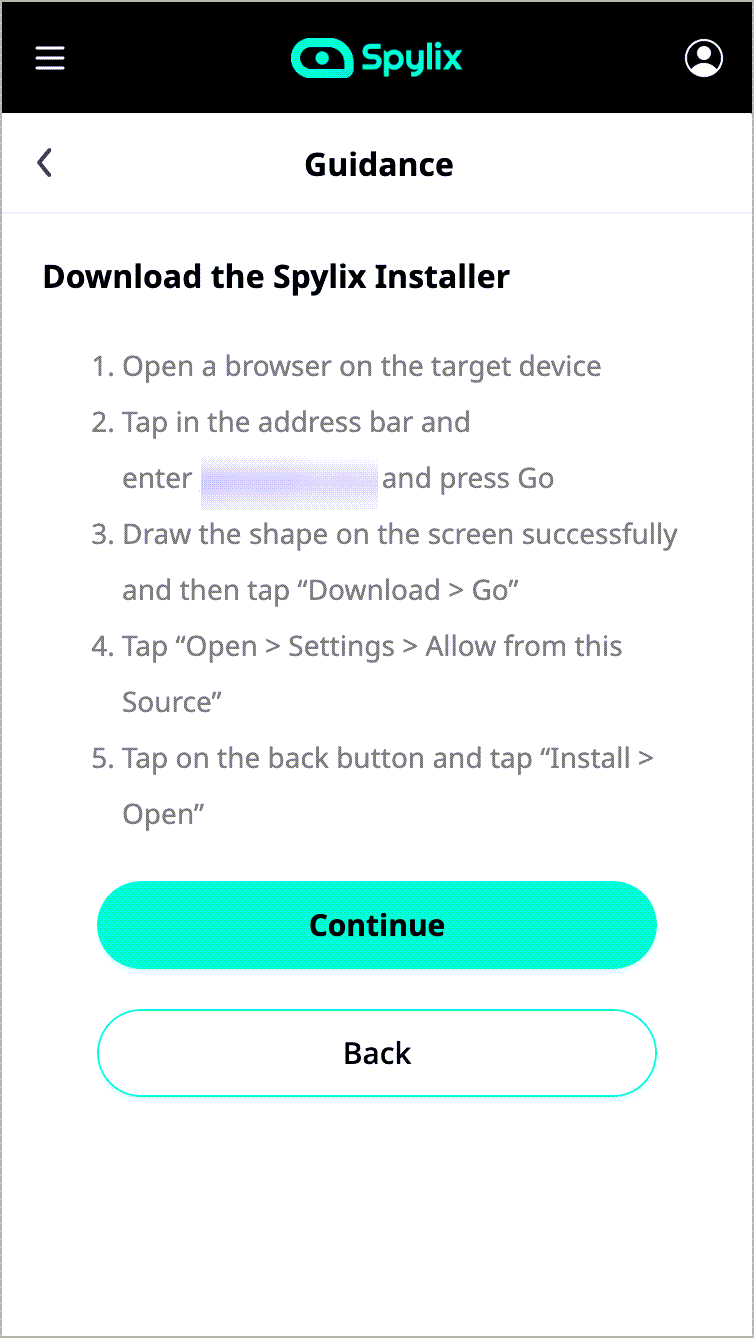 Step 3: Learn about The Secret Cheating Apps
Now, access the Control Panel and check the secret message hidden cheating apps for Android using Spylix.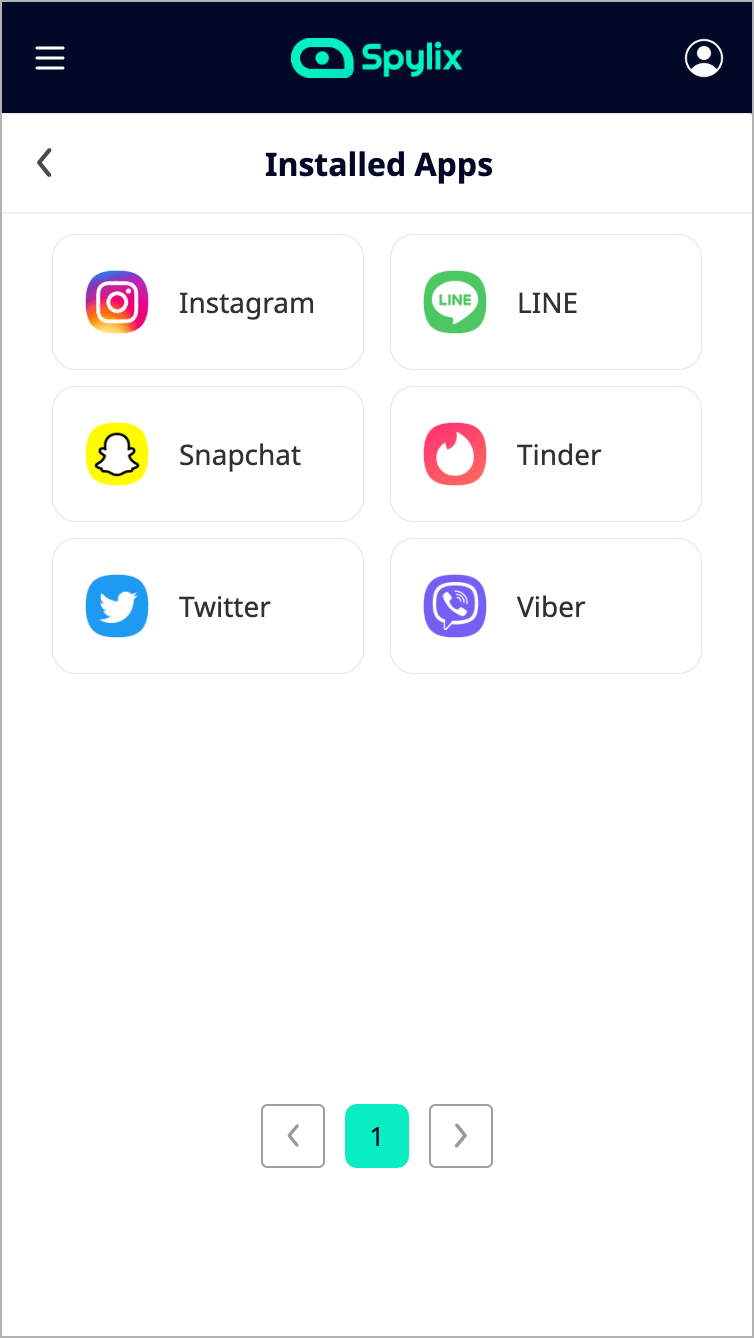 For iPhone Users
Step 1: Sign Up on Spylix
Browse the Spylix website to sign up for the app with your new account.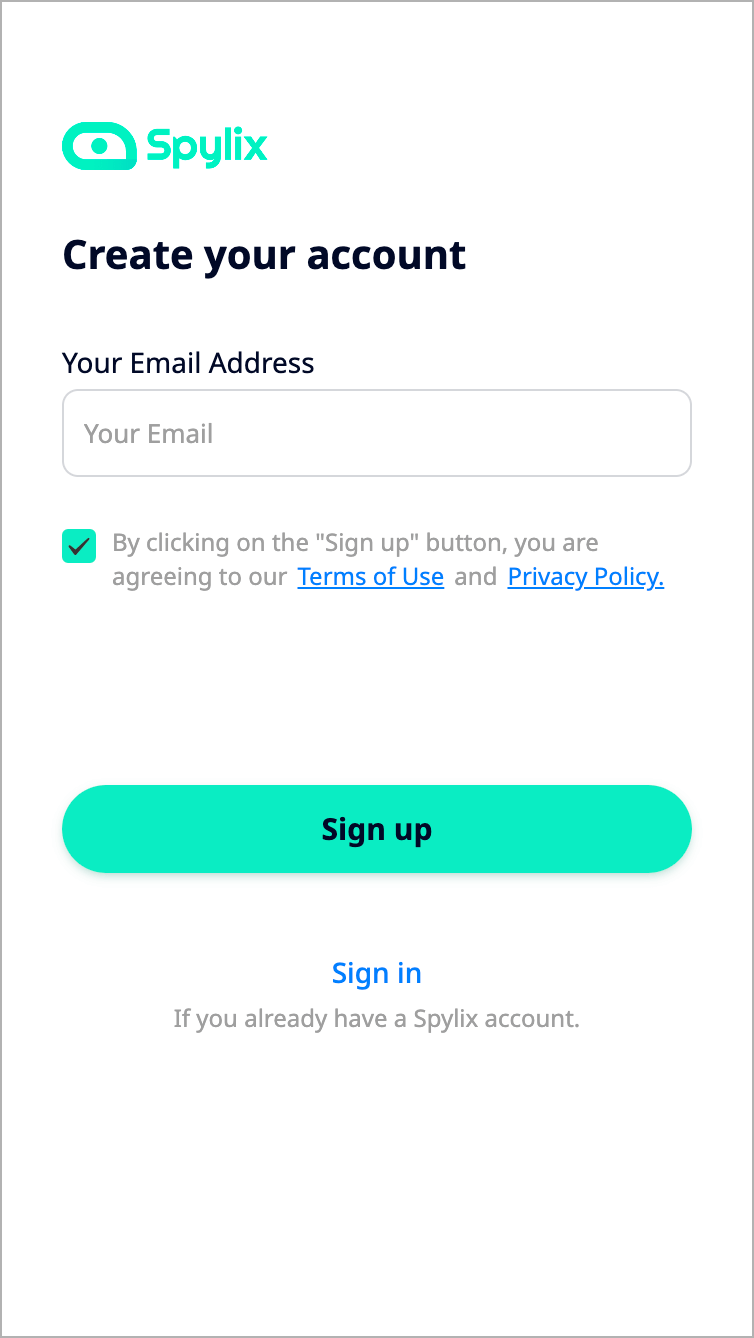 Step 2: Add the iCloud Credentials
Continue by entering the iCloud details of the target device.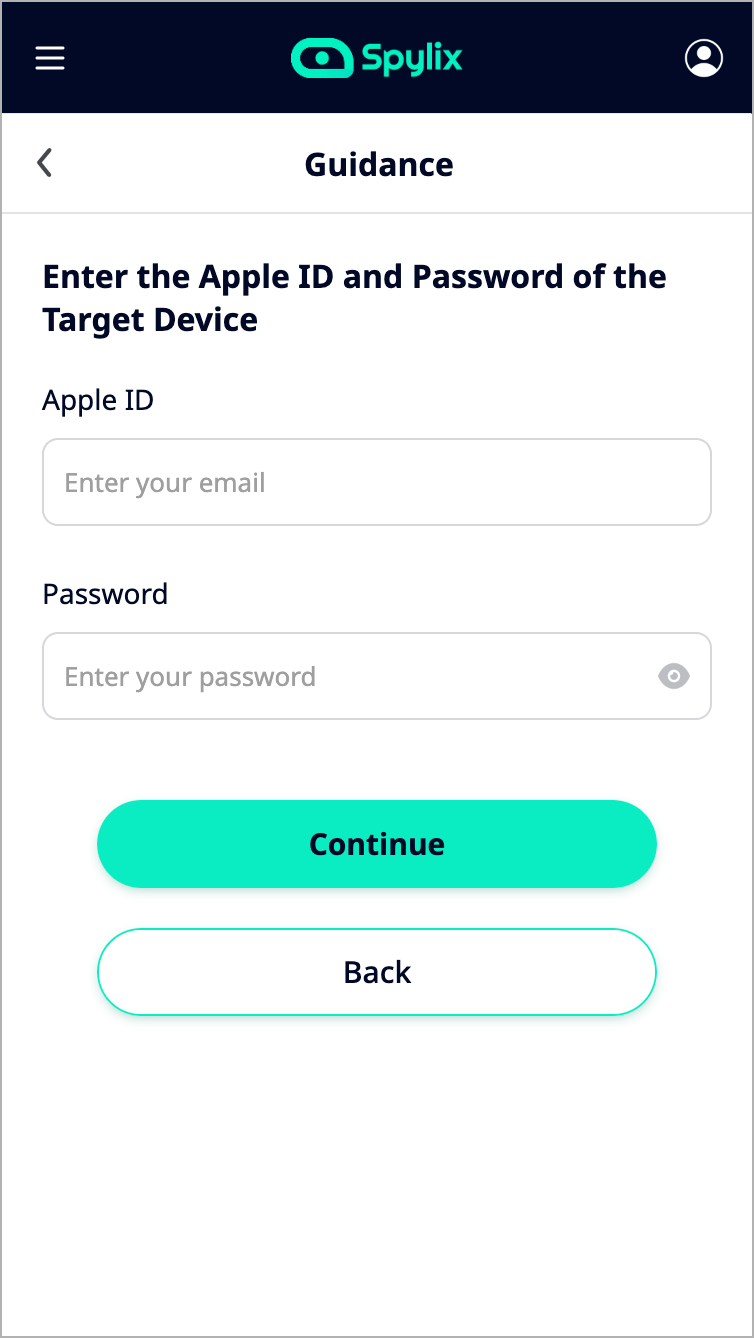 Step 3: Detect The Cheating Apps
Now, access the installed apps section on the Control Panel to verify the cheating apps.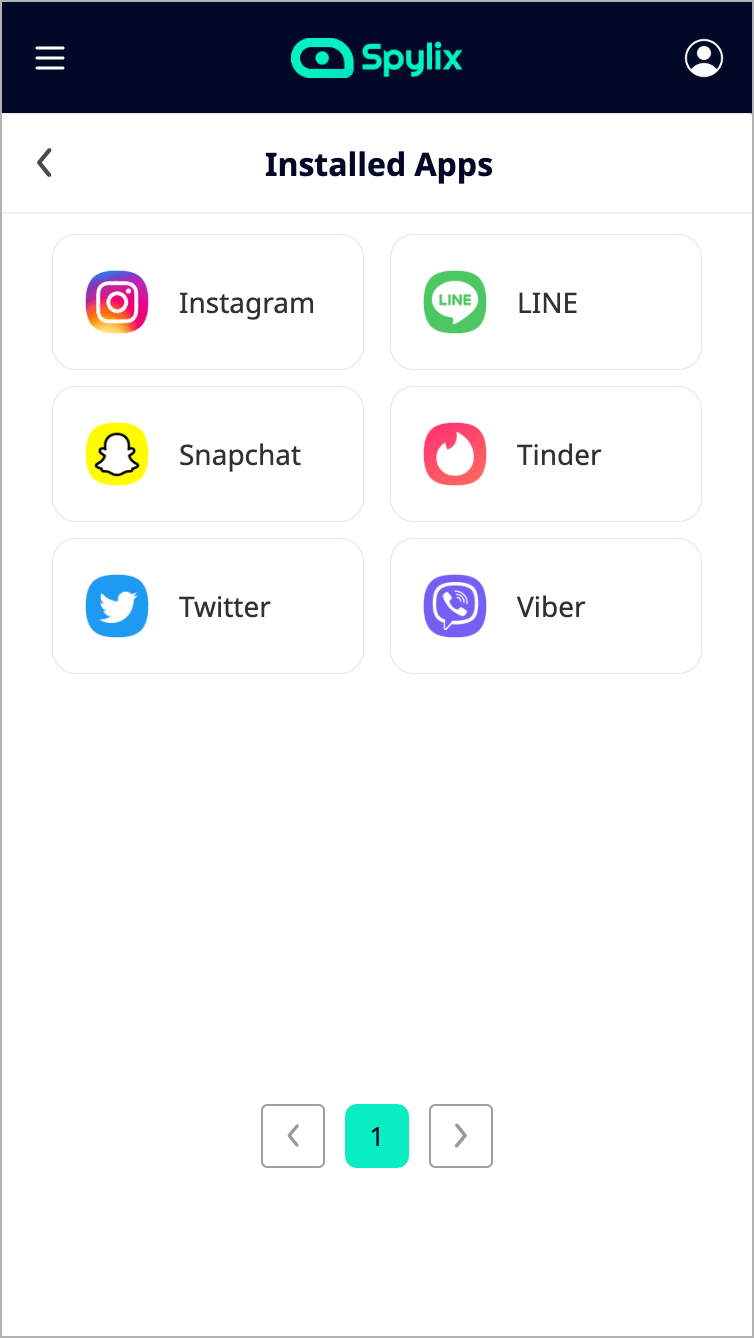 What Else Can Spylix do?
Spylix can help you keep an eye on your partner's informal activities by tracking their location and navigating them till they safely reach home from work.
You can even change the settings of your spouse's device or even change passwords without letting them know.
Moreover, whether you have a question related to the feature or queries related to an update, Spylix customer support is available 24/7.
Why Choose Spylix as The Best Spy App?
One of the most promising things about Spylix is its affordability. This tracking app is exceptionally light to your pocket and completely secure.
Most apps take up unnecessary storage revealing their presence to the targeted user.
However, thanks to Spylix's low storage capacity, it stays anonymous and keeps running in the background without getting detected. Moreover, you don't need to jailbreak or root to use Spylix's core features.
4.2 Spyine
If you're looking for a platform to detect secret cheating apps on your partner's phone using a PC, then Spyine works the best. You can install it on any device without needing root or jailbreak.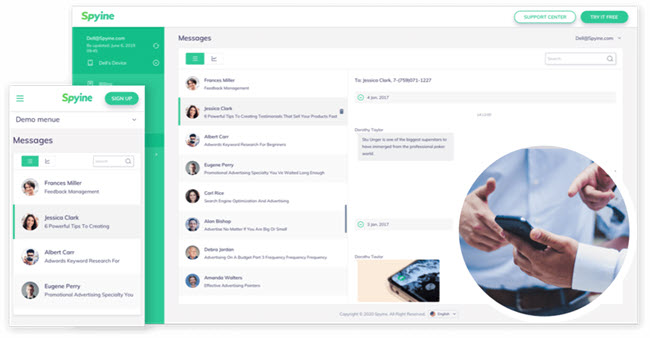 The app gives real-time information about the targeted device to the users. It helps you keep track of their text messages, social media accounts, calls, and other phone-based activity. With its geo-location feature, you can monitor their live location.
Features:
Track incoming, outgoing, received, or missed calls
Read text conversation
Check browser history
Geofencing
Pros:
Stealth mode for both Android and iOS devices
User-friendly interface
Cons:
4.3 Spyic
Spyic is similar to most popular spying applications, where you can monitor any targeted phone messages or calls without hassle.
Besides, you can keep track of every incoming and outgoing update to catch any suspicious activity. The app is prominently meant for chat-based apps like Viber, Telegram, WhatsApp, etc.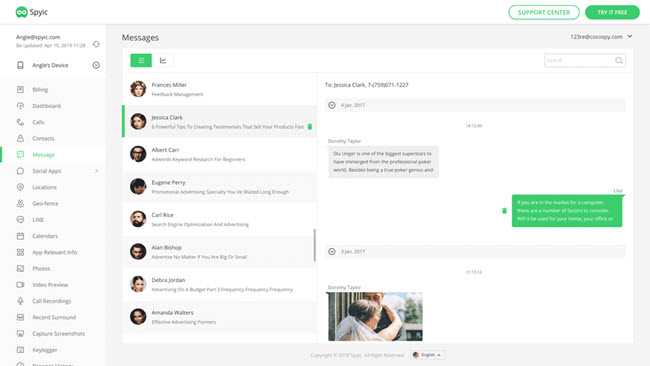 Also, you can keep a strict eye on every action, from audio, videos, and photos in the gallery to the current location.
Moreover, you can even set a no-go zone on the map where your spouse can't enter. Once the device goes near that zone, the app will send you an alert.
Features:
Call details tracking
Text messages monitoring
Hidden mode
Geo-fencing set up
Navigate browser history
Pros:
Set up geo-fencing details easily
Check the number of times the targeted user visited any particular site
Cons:
Expensive iOS version
Unresponsive customer support
4.4 Eyezy
If you're searching for a futuristic spying app, then Eyezy is an ideal app that incorporates artificial intelligence on the targeted device.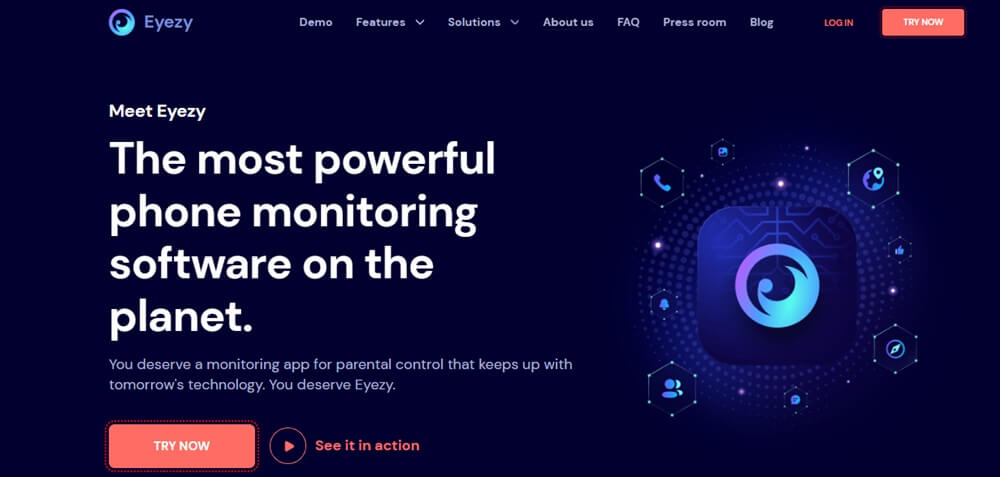 Moreover, you can monitor your spouse's activities with the help of this distinctive app, especially about the information sent or received to any specific user.
Furthermore, the app even lets you scan social media platforms and messaging apps giving you the entire conversation on any app.
Features:
Track GPS location and location history
Block any app within seconds
Discover social calendar
Monitor different social media apps
Pros:
Discover any confidential chat, videos, audio, or photos.
Previously saved WiFi networks
Authentic keyword tracking
Cons:
Inconsistency in customer support
4.5 Spyzzz
For those who want to scrutinize every app on the targeted phone to catch every piece of evidence to confront their cheating partner, Spyzzz works wonders.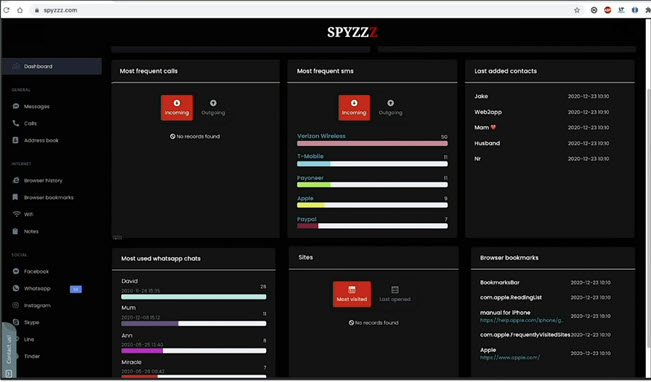 It enables its users to sneak into their conversations or go through their social media platforms discreetly. You can discover every tiny detail they may hide on their phone with a vast range of features.
Features:
Track social media apps
Go through the contacts
Monitor call logs and text conversations
Uncover your spouse's photo gallery
Pros:
Flexible dashboard
Responsive customer support
No restrictions
Cons:
Unclear subscription pricing
Geo-restricted
Conclusion
Catching a cheating spouse is undoubtedly quite a big deal. However, you don't have to conclude immediately after finding only a dime of information.
You must need solid proof to confront them regarding their act so they won't have anywhere to hide. There are some secret cheating apps that your spouse may be used to get in touch with their other partners. So, try platforms like Spylix to detect them on their phone.