With over 2.93 billion active users, Facebook remains one of the most popular social networks in the world.
Adults and children use Facebook and it is a popular platform where people connect with family, friends, and customers by going into Facebook messages to start conversations.
It is also a great platform to stay up to date with the latest trends and news. A lot of unpleasant things happen on Facebook, including cyberbullying, cheating escapades, and a lot more.
Many people are looking for ways to protect their loved ones from the dark side of this platform. The good news is that it is possible to log into the Facebook messenger of someone without them knowing.
In this post, we will look at how possible this is and how you can do it. Let's get started with the details.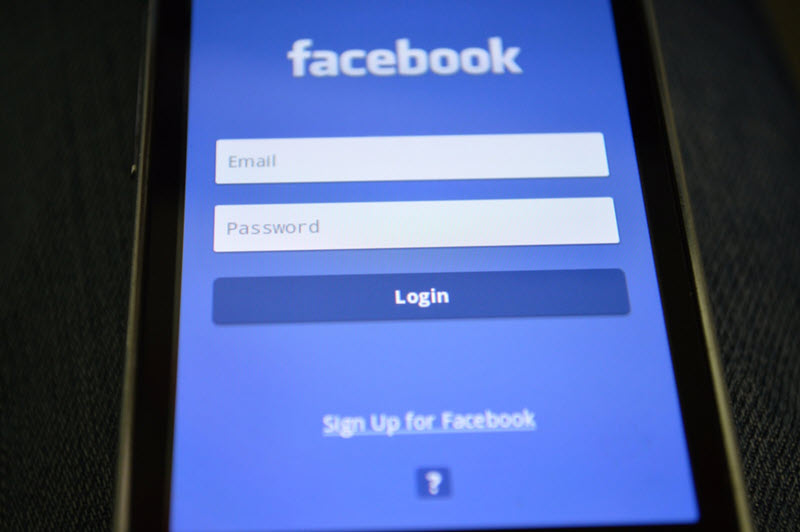 Is it Possible to Log Into Someone's Facebook Messenger?
The simple answer is yes. It is possible to sign in to the messenger of someone discreetly without them knowing.
Although Facebook Messenger has security measures in place to protect the personal data of its users, news of Facebook accounts getting hacked is paramount these days.
That means it is possible to log into someone's account without them knowing. All you need is the right tools and you can get started right away.
While it may not be possible to function as a professional hacker, technology has made it possible to use a spy app for Facebook login messenger.
If you suspect that your kids are keeping bad friends on Facebook or accessing age-inappropriate content on the social network, it may be time to gain access to their accounts to see what they do online.
If you are worried that your spouse is cheating and chatting with their accomplice on Facebook messenger, it may be the best time to track their chats.
If you are wondering about how to log into someone's Facebook messenger without them getting a notification, you are reading the right article.
We will guide you through the step-by-step process of logging into someone's messenger remotely and discreetly.
How to Log Into Someone's Facebook Messenger Without Them Getting a Notification
Do you want to know what your kids or spouse do on Facebook Messenger without them getting a notification? The best way to go is to use a spy app with a Keylogger feature.
Of course, there are dozens of phone monitoring apps on the market but they are not all the same. Some are more effective than others.
We have tried several of these apps for spying purposes and only a handful deliver up to expectation. One of such apps is the Spylix app.
Spylix is a reliable and highly effective tool that you can use to log in to Facebook Messenger discreetly and remotely.
Spylix - 2023 Best Keylogger to Spy Facebook Messenger
You may have tried other Spy apps but Spylix stands out in its class. It offers the best Keylogger feature that lets you spy on a target phone's Facebook messenger.
If you are wondering about how to see someone's private messages on Facebook for free, this is the app to use.
It's compatible with Android and iOS devices, which means it can spy on any device. It works in stealth mode and can't be detected.
When you install it on an Android device, it goes into stealth mode and disappears from the app list on the target device. For the iOS version, you don't need to install the app.
All you need is the iCloud credentials of the target device and you are ready to put the Keylogger features of Spylix to work.
It discreetly collects the keystrokes used on the target device on Facebook messenger and stores it in an organized manner in your control panel. You can log in to Spylix and view the data directly on the platform.
Step-by-Step Guide to Log in to Someone's Facebook Messenger
Facebook messenger log-in is very easy with Spylix. You do not need to physically check the device to sign in to the messenger account. You can do that remotely. Here is how:
2.1. For iPhone Users
Step 1: Sign up for an account using your email ID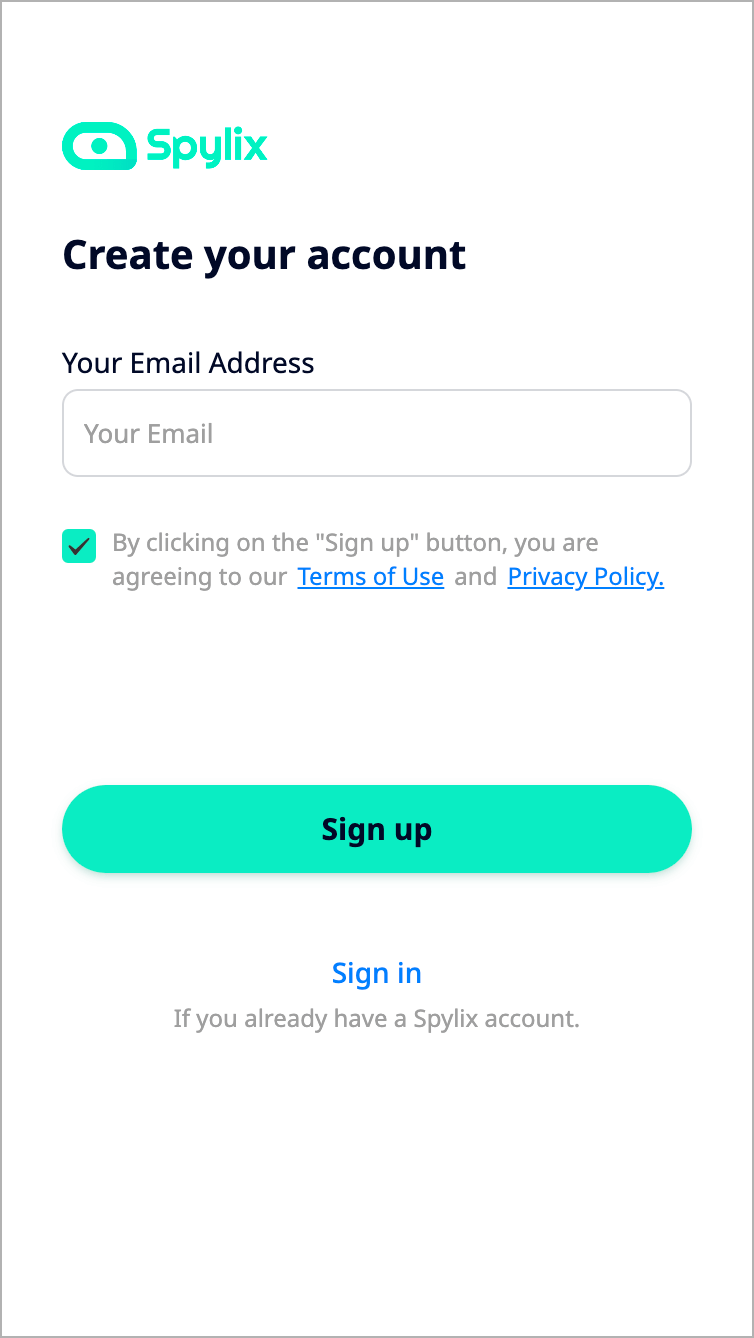 Step 2: Enter iCloud Credentials to set up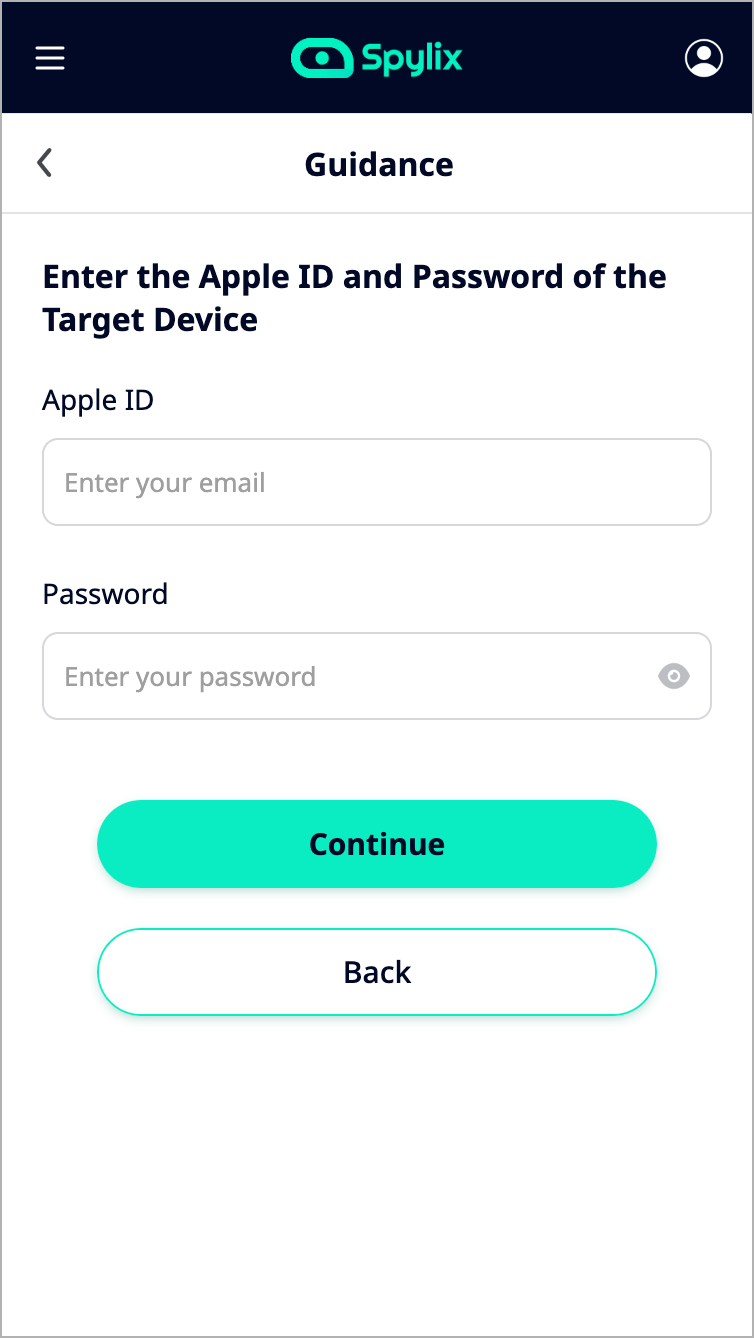 Step 3: Log in to your Spylix control pane to monitor Facebook Messenger right away.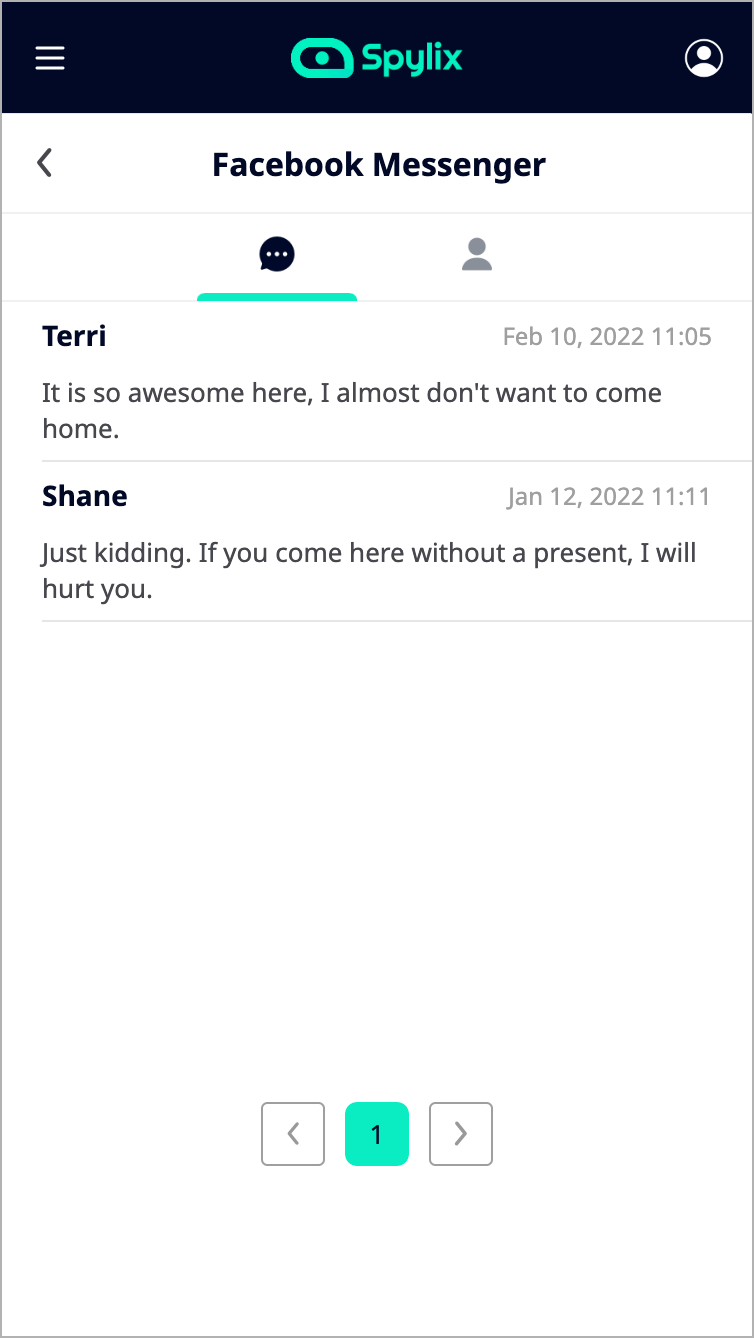 2.2. For Android Users
Step 1: Create an account with your email address
Step 2: Install and set up Spylix on your target Android device
Step 3: Log in to your Spylix control panel and start monitoring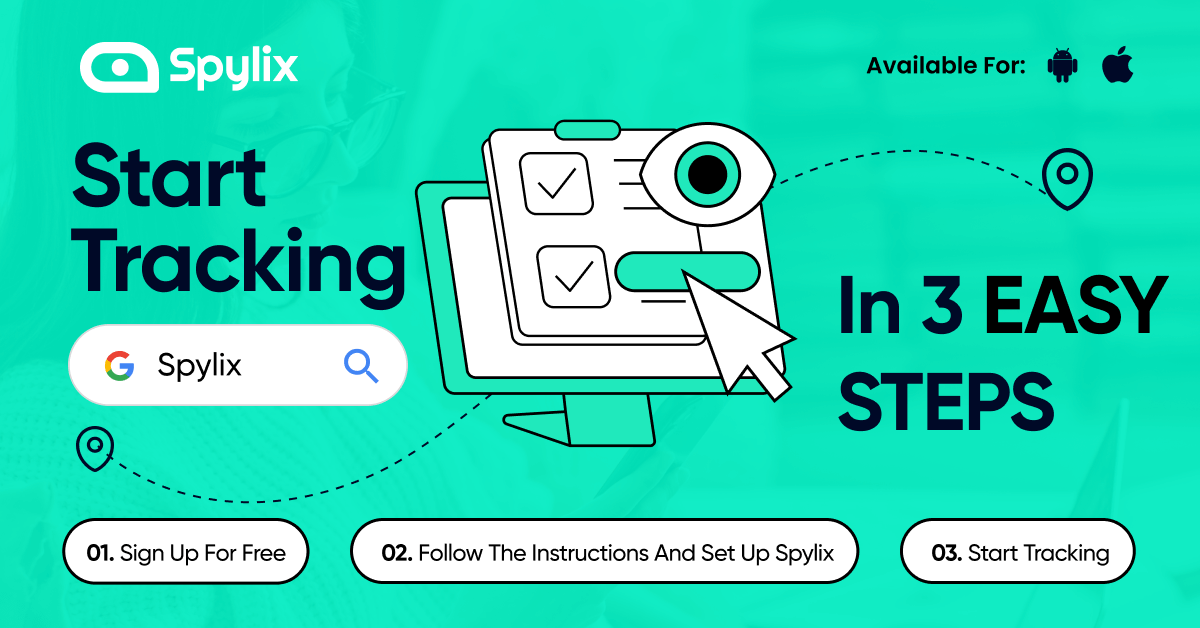 Why Choose Spylix Keylogger
No jailbreak or rooting required
It takes less than ten minutes to download and install the app on the target device
It works in stealth mode and runs in the background without affecting the smooth running of the target device.
Spylix is 100% secure and reliable as your control panel is encrypted and accessible to only you.
It delivers up-to-date, real-time data from the target device
It is available at an affordable price, allowing you to track a device for just $1 per day.
Exceptional 24/7 customer support from the Spylix team.
What Can You Get from Someone's Facebook Messenger?
Apart from knowing how to log into someone else's Facebook without them knowing, you should also know the type of data you can get from their messenger.
So, what information can you get when you discreetly log into someone's account?
Track their Facebook Messenger Activities

When you log into messenger online to access someone's Facebook account, you can track everything they do on Messenger.

You can check all their incoming and outgoing chats, and view all videos, stickers, emojis, and videos they exchange with their contacts.

You will also see all their contacts and their profile pictures remotely and without touching their device.

See the Date and Time Stamps of Each Chat

If you want to know how long your target has been chatting with a contact, Spylix lets you see it by providing you with the date and timestamps of each conversation.

You will see the exact date and time that each conversation takes place and the details of the discussion.

See all Data from Cloud

Even if you don't have access to your phone for some reason, you can still view the data from your target's Facebook messenger at a later date.

The data curated when you discreetly sign into Messenger with Spylix is saved in your cloud portal for a few months and you can access everything when you are back in your control panel.

View all Facebook Activities on Android Phones without Rooting

You don't have to root your target Android device to see its Facebook activities. The Spylix app offers root-free access and all you have to do is install a tiny app on the target device.

With this, you will have complete access to the Facebook account of your target and you don't even have to physically log in to messenger.
Alternative to Log into Facebook Messenger without Them Knowing
If you don't want to use a spy app, you can explore alternative methods for Facebook messenger login. Here are some options that you can explore:
Phishing
Phishing is the oldest and most likely the hardest method to hack someone's Facebook messenger. The process requires that you create a fake login page and then sent the link to your target through an email.
It looks like the real login page and once your target clicks on it to log in to their account, you will have access to their messenger. You need technical skills to do phishing.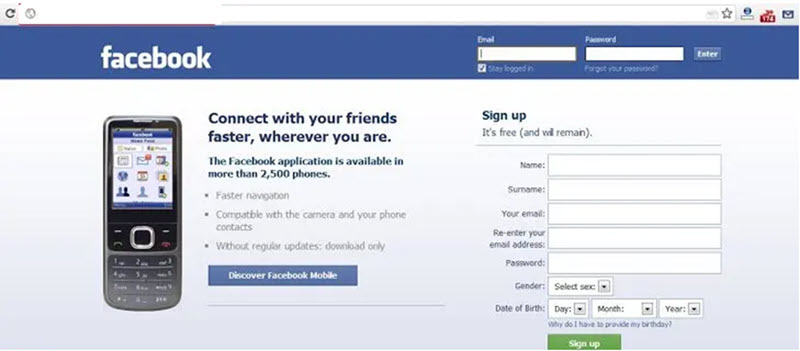 Reset the Password
This is the simplest way for Facebook messenger log in without permission. You simply need to gain access to the email address of your target and use their Facebook messenger account name to log in.
When prompted to supply the password, click the "Forgot your Password" button and select "Send code via Email" and click continue.
The downside to this is that your target will get an alert notifying them that someone is trying to access their account.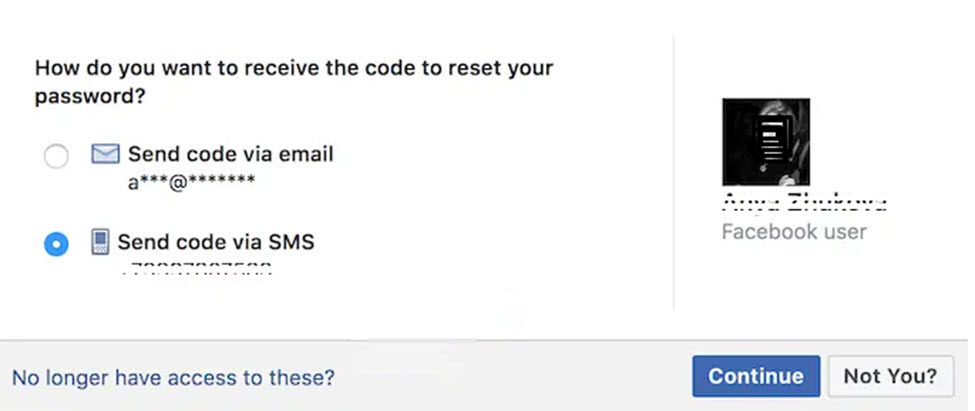 To boycott this problem, you can click "No longer have access to these". You will be prompted to provide another way that Facebook can reach you.
For this, type in your email address. Make sure it is not an email you use for another Facebook address.
To complete the process, you have to answer the secret question, which you can easily guess if the target is a family member.
If it is a total stranger, you would need to guess severally to get the answer. If you can successfully change the password, you will be able to access the messenger account after 24 hours.
Brute Force Attack
This method requires that you guess the password of your target. The downside to using this method is that it is time-consuming. It may even take months before you can successfully gain access.
Another disadvantage of using this method is that Facebook will block the account after five failed login attempts.
This method is generally not a practical option if you want to monitor someone's device in real-time. It may also deliver Facebook login alerts messenger to the target.
Login to Someone's Facebook Messenger Discreetly Now!
This post looks at different methods on how to secretly log into someone's messenger. The most efficient and reliable option is to use a spy app and we highly recommend the Spylix app for the job.
It works discreetly and does not require compromising the privacy of your target device by rooting or jailbreaking it.
We also looked at alternative methods to how do I sign into messenger? Using an app, such as Spylix is the best method to access a Facebook messenger remotely.