Exposure to harmful content on the internet to our kids is concerning and can even be dangerous at times.
For this purpose, parents need tools to help control their children's access, such as blocking site apps that limit explicit or adult content websites.
So today, we will be exploring a list of such internet blockers(top 8) and the various features they offer.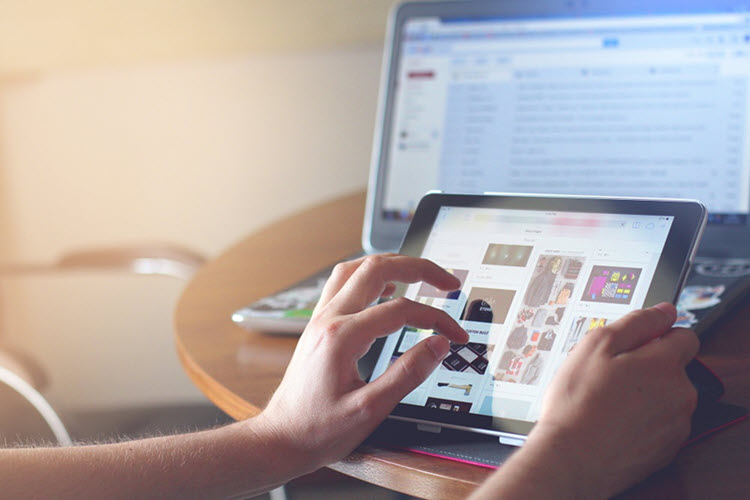 What Is an Internet Blocker App?
As the name suggests, internet blocker apps restrict access to the internet, or some sites on the internet, according to the user's preferences.
Such blocker apps can be used for a variety of reasons. Some use them to control their habit of internet wandering and focus on their work, while others, such as parents, use them to make sure their children stay safe on the internet.
Besides, there are many types of internet blocker apps, and the internet is full of them. These apps are easier to develop, so you'll find many low-quality ones online.
Also, the features offered differ from app to app, so you'll have to check your requirements to see which one suits you best.
8 Best Internet Blocker Apps
With the thousands of options online, it can be a little hard to choose which app to invest in.
Still, there's no need to worry as we have collected the best ones out there, so you can choose according to your requirements and desired platform.
Spylix: The Best Internet Block
Spylix is an internet blocker focused on giving parents peace of mind and access to their child's online activities.
You, as a parent, can easily block off any suspicious sites from the dedicated app or, if you want, cut off access to the internet entirely. Specific apps can also be blocked, or their content can be monitored.
Apart from internet blocking, you get complete control of your child's social media content, including photos and videos exchanged in chats.
Calls are also logged, and text messages can be read. Additionally, a geo-tracking feature alerts you on your child's location and sends a notification if they enter a specified potentially dangerous zone.
The installation process is also relatively straightforward, and the app can be installed on both iOS and Android devices(without jailbreak or rooting). You can obtain Spylix from their dedicated website.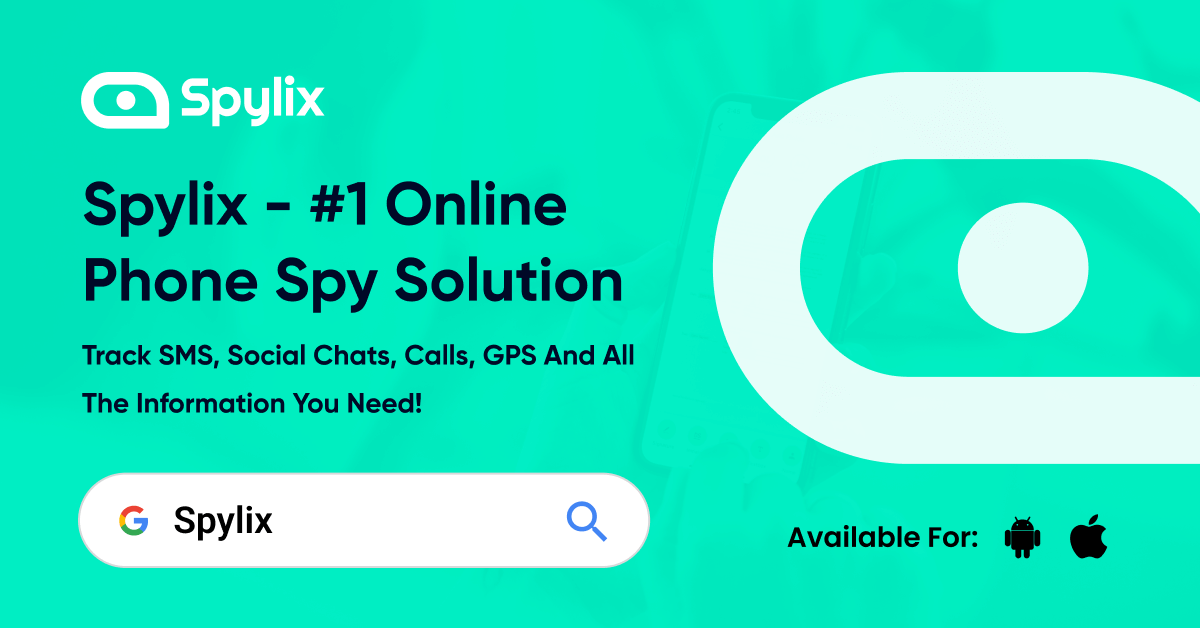 Freedom: Block Websites, Apps and the Internet
Created to increase a person's productivity and decrease distractions from the internet, Freedom can help parents keep their kids focused when it's work time.
This platform blocks apps and websites across multiple devices at the same time. So if your kid is working on the computer but decides to use their phone, it will also be locked down until the schedule period is over.
So a straightforward tap and all registered devices will have zero access to the target apps and websites.
Also, Freedom has a lockdown mode that ensures that once a session is going on, there is no way it can be deactivated. Along with restrictions on deactivation, apps and websites mentioned on the blocklist also cannot be edited out.
So, if your child is surrounded by sounds that keep distracting him from work, Freedom has an ambient background noise to keep them focused.
Moreover, it offers a limited trial and can be downloaded through its dedicated site for Windows and Mac. iOS and Android users can visit their respective stores.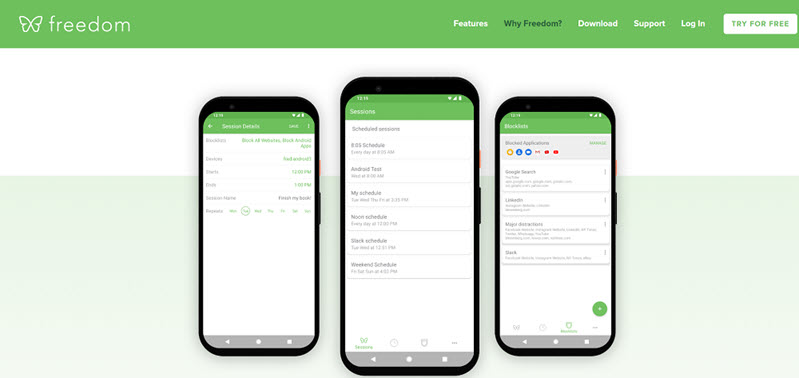 Internet Blocker for Apps on Google Play
For those looking for a simple app that simply denies access to the internet for certain apps, Internet Blocker for Apps can do the trick.
As the name literally says, it restricts internet connection to specified apps. The app is also surprisingly easy to use. A list of apps is presented to you when you first open the app, and you can select the ones you don't want to connect online.
You can restrict apps simply to reduce the amount of data they consume in the background for their uses. Switching off unwanted apps also helps save battery life. As a parent, It can also aid in stopping distracting messages from diverting your child's attention when they are working.
The app is only available for Android devices and can be downloaded through the Google Play Store.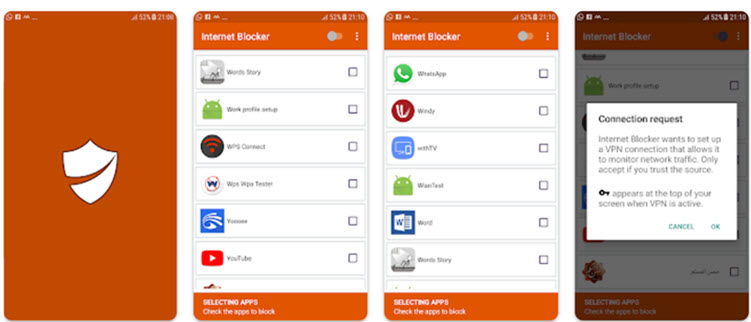 Cold Turkey: The Toughest Website Blocker
This is a powerful and customizable app for blocking internet access. Lists of websites or apps to block can be created, and then a schedule can be set according to which the blocking will occur.
This scheduling feature can help you automatically block apps when for example, it's homework time for the kids and lift the restriction when the time ends.
The option for manual blocking is also there, which can help when unplanned sessions take place.
Additionally, Cold Turkey is a system-wide app that gives it reasonable control over the target device. Unlike browser extensions, changing the browser will not affect the app's performance.
One particularly interesting feature of the app is Frozen Turkey, which completely cuts off access to the computer.
So if your child decides to open the system at 'Frozen Turkey' times, they will be greeted by a blank screen until the scheduled time is over.
The app is only available on PC and can be downloaded through their dedicated site.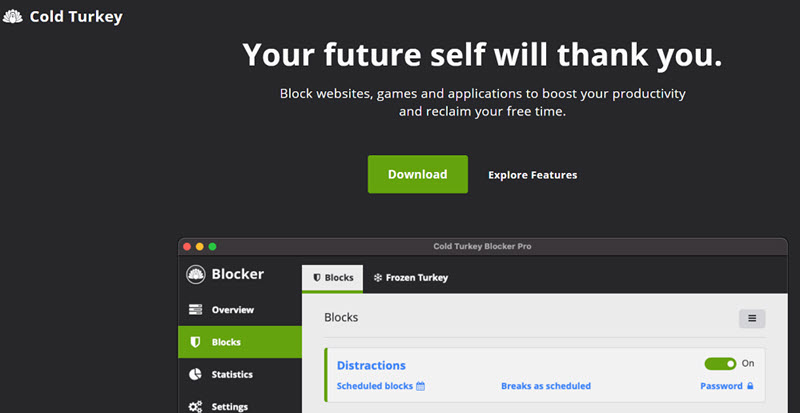 SurfBlocker: Restrict Internet Access
SurfBlocker acts as an internet access control software created to help people focus on their work, increasing productivity.
The ability to block apps and websites is there, so you as a parent can only allow work-related apps and websites to run while the rest are blocked from access.
The internet connection can also be entirely disabled after a specified time, or a special password can be set up so only those with a password can access it when needed.
You, as a parent, can also use their automatic blocking feature, which blocks off harmful, explicit, or inappropriate content from being accessed.
This internet blocker is not available for Android or iOS devices and works only on Windows. It can be downloaded through their dedicated website.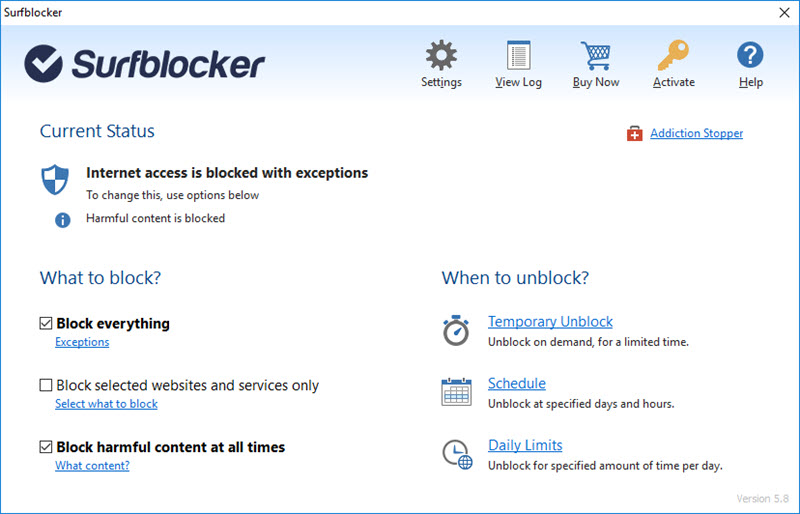 LeechBlock NG
For those looking for a powerful tool that works on most modern browsers and is also completely free, LeechBlock NG can be of help. There are several options to block out specific websites, and a lot of customizability is offered.
The usual blocking of apps and websites according to a schedule is there and can be set up right away. However, other options determine the way certain apps are accessed.
Specific rules can be set up, such as only 40 minutes of Facebook in a day or maybe 20 minutes of another app every hour. This can be perfect for parents who want to control their child's procrastinating habits and make them more productive.
These time limits can also be combined with a schedule. So if you are okay with unrestricted YouTube access during leisure times, but when homework time comes, say between 6 p.m to 8 p.m, you want no more than 10 minutes of YouTube access.
Also, the app is free and can be downloaded as an extension on all major browsers.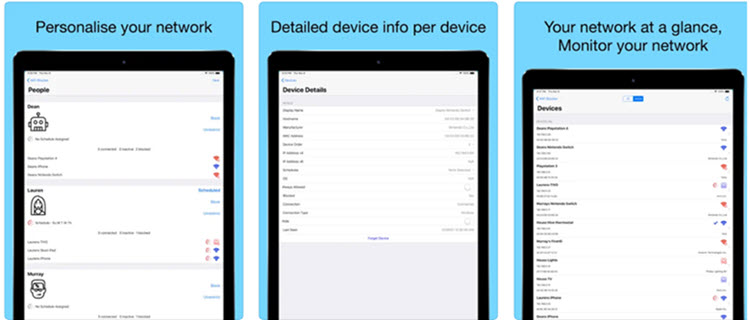 WiFi-Blocker
An internet blocking app that focuses on parents struggling with controlling their children's internet access, WiFi Blocker has a list of features that can help in that regard. Moreover, it can block websites and apps on specific devices.
However, it can also block the entire device from accessing the internet. Moreover, you can also group-specific devices and then, with a single tap, disable internet access on the whole group, which is useful for when your children have a lot of devices.
Furthermore, there's the option to schedule block times such as bed or homework times, and then these schedules can be applied to the devices grouped together under a single profile.
The app is available for Android and iOS devices and can be downloaded through their respective official stores.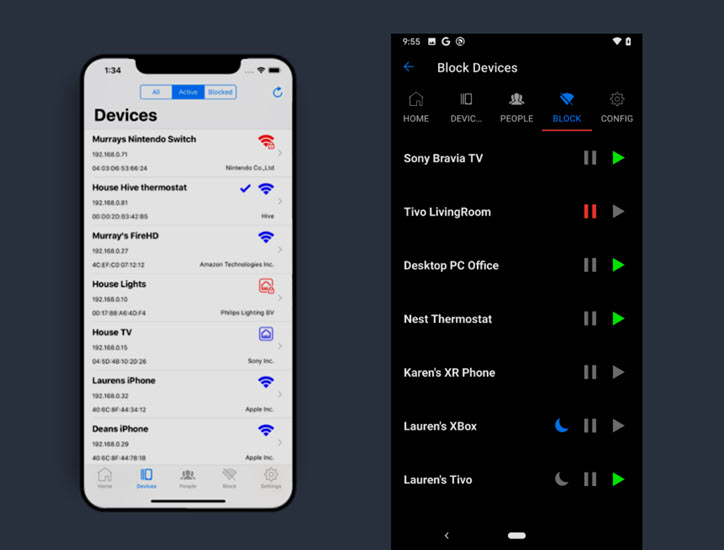 Serene: Get Your Focus Back
Instead of just blocking the distractions, Serene creates an entire environment of productivity that keeps on reminding you what you are really working for.
You can use this with your child if you don't like access taken away from them, as this block site app is all about productivity.
Although it still blocks apps and websites during work time, it takes the focus away from the blocking aspect.
Instead, it captivates the idea that you are working for your betterment. You should keep working until the specified time is over.
You can schedule an entire day plan through Serene such as entering the amount of work to be done and how long it can take. When the timer is started, concentration music is played, and access is restricted.
For now, Serene is available system-wide for Mac and through browser extensions on Windows.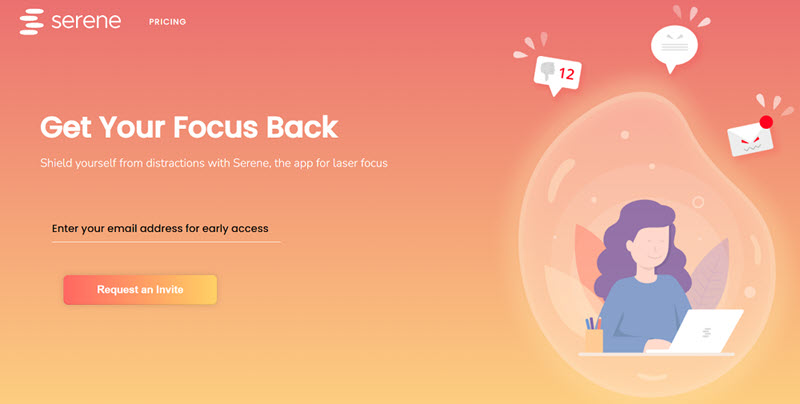 Why Should You Use an Internet Blocker?
After going through the entire article, one may think that is all of this really necessary?
Well, the answer is yes if you have kids that have an internet addiction.
Uncontrolled access to the internet can expose your child to harmful content. Still, they can also come in contact with potential child abusers that can have a significant impact on their lives.
Even if your child does know how to stay safe online, internet addictions can heavily affect their productivity which directly influences their academic performance or even social life.
Internet blockers counter this problem by acting as apps blocking websites while ensuring that internet access is not completely cut off from your child.
Most of these apps that block websites have a scheduling system that only restricts access when it's time to work or sleep, helping your child develop good habits that only will aid them presently but also in their future.
Conclusion
This concludes our article on the best website blocker apps out there, and we hope you have found your pick from the list.
As for all things involving your children, talk to them about these things first and communicate why taking such a step is necessary.
When the children understand why such measures are being taken, they comply with these site blocker apps, making your work easier.
However, if you want to know more about your child's phone activities, such as who is calling them and what type of chatting they are involved in on social media, then I suggest Spylix(a comprehensive solution).