Nowadays, almost every user stores all their personal data on the phone.
So, If you want to know what is happening in their lives, you may want to peek at their phone. Physical access is difficult and usually alerts the phone owner, making them extra cautious.
You may want to implement the phone mirroring technique to access the data from a distance.
But how do you mirror a phone?
We'll explore this topic in full detail here!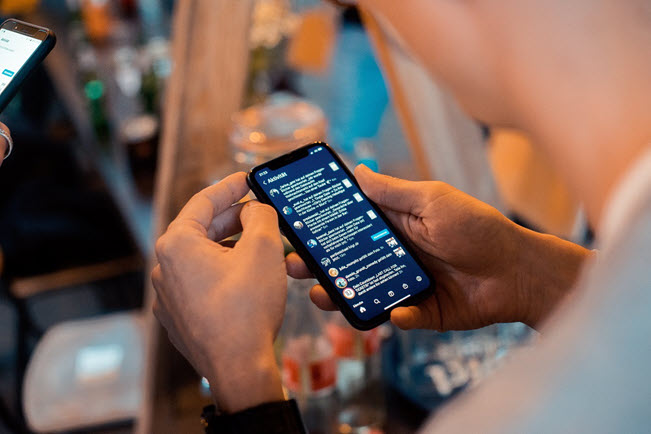 Part 1: Can I Mirror Someone Else's Phone?
It is possible to mirror someone's phone without them knowing!
It is an innocent practice, enabling users to share their phone screen with someone they trust to enjoy movies and tv shows.
Professionally, you can mirror a device to access meetings, lectures, and seminars together.
It may sound like a technical process, but it is quite simple to implement with the right tools at your disposal.
Continue reading this guide for more details!
Part 2: Reasons Why You Need to Mirror A Phone
You are responsible for their positive and negative actions as long as your children are under the legal adult age.
You should monitor your children's phone usage to ensure they stay safe from the dangers of the internet and avoid engaging in hazardous activities.
However, children often become overprotective of their devices, preventing even their parents from accessing their messages, call records, etc.
So, the only way to ensure all that is by enabling the mirroring or cloning technique to view the phone's contents remotely without them knowing!
Similarly, you can mirror your spouse's phone to verify whether they are involved in cheating.
Cloning isn't only about parental control or spying on someone else; you can apply this technique to watch movies together, share your screen for a group chat, and attend classes.
Follow the next section to learn how to mirror a phone quickly, undetected!
Part 3: 4 Ways on How to Mirror A Phone Without Them Knowing
There are 4 different ways you can learn how to clone someone's phone without them knowing for free!
We have highlighted them here, including how to apply them, their prerequisites, and their drawbacks.
Read on.
Way 1: Use AirPlay to Mirror An iPhone
Recommendation Index: 3/5
Prerequisites: Both devices should be connected to the same network/WiFi.
AirPlay is Apple's built-in mirroring tool that lets you share media content, such as music, photos, and videos, with other devices.
It also works as a parental control service to track your child's phone activities.
Follow these steps to understand how to mirror someone's iPhone using AirPlay.
After ensuring that both Apple devices are connected to the same network, pick up the target iPhone.
Access the Control Center and tap Airplay Mirroring.
Select your device to enable the mirroring.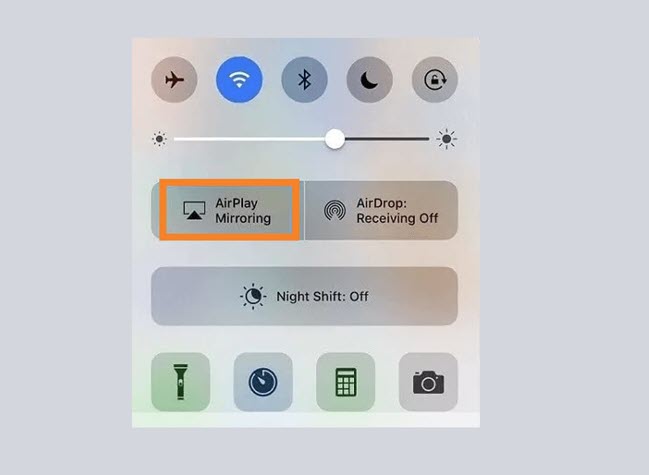 Pros:
Free
Accessible
Fast process
Cons:
Only works if devices are connected to the same network
Isn't steAlth
Way 2: Use Google Home to Mirror Android Phone
Recommendation Index: 3/5
Prerequisites: Make sure the devices are running Android 8.0 or later. Also, turn off the Battery Saver option on them.
Similar to the AirPlay feature, you can enable the Google Home app on someone else's phone to mirror it on yours.
Here are the steps:
Download and launch the Google Home app on the target device.
Tap your device's name, and press the Cast button.
Next, tap Cast Screen, which will make the mirrored content accessible on your Android device.
Pros:
Cons:
Only works for Android users
Can get detected while tracking
Way 3: Use Backup to Mirror A Phone
Recommendation Index: 3.5/5
Prerequisites: Ensure the phone owner has backup data stored on iCloud or Google Backup Services.
If you have access to the other user's iCloud or Google Account credentials, you can restore their backup files to your device to complete the phone mirroring.
Here's how:
Reset the device (for example, an iPhone), and connect to a WiFi network.
Now, on the Apps & Data screen, tap Restore from iCloud Backup.
Share the target user's iCloud credentials, and select the backup. That's it!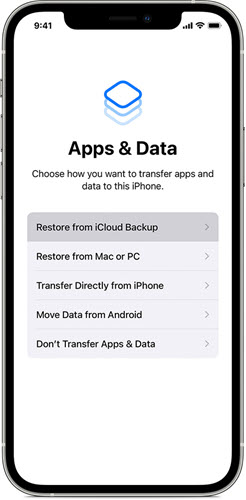 Pros:
Cons:
Time-consuming
Technical
Dependent on cloud account details
Way 4: Use A Phone Monitoring App to Mirror A Phone
We have saved the best one for last!
If you want to mirror another user's phone without them knowing and review the phone activities in real-time, use a third-party phone mirroring app called Spylix.
The application offers data on a remote control panel, compatible with any working browser.
The first two solutions work on one single platform, but this isn't the case with Spylix, as it is capable of mirroring all versions of Android and iOS without the need for rooting or jailbreak.
In addition, the Android app installation isn't like Google Home! It is incredibly fast and lets your identity remain hidden at all times.
Moreover, you do not need to install any app for iPhone mirroring. Only the user's iCloud credentials are enough.
Key Features of Spylix Phone Monitoring App
The phone mirroring app lets you access the photos and videos downloaded on the target device. You can also export the content undetected.
Furthermore, Spylix lets you view the SMS chats and call logs to understand what type of people your child or spouse communicates with.
The app also lets you check the installed apps and review the browsing history and emails.
Screen recording is another mirroring feature that is instantly available.
How to Mirror Your iPhone/Android?
Mirroring someone's phone is easy via Spylix. Here's how you can enable this app!
How to Mirror an iPhone?
Step 1: Create a New Spylix Account
Visit Spylix's official site, and enter your email address to set up a new account for free.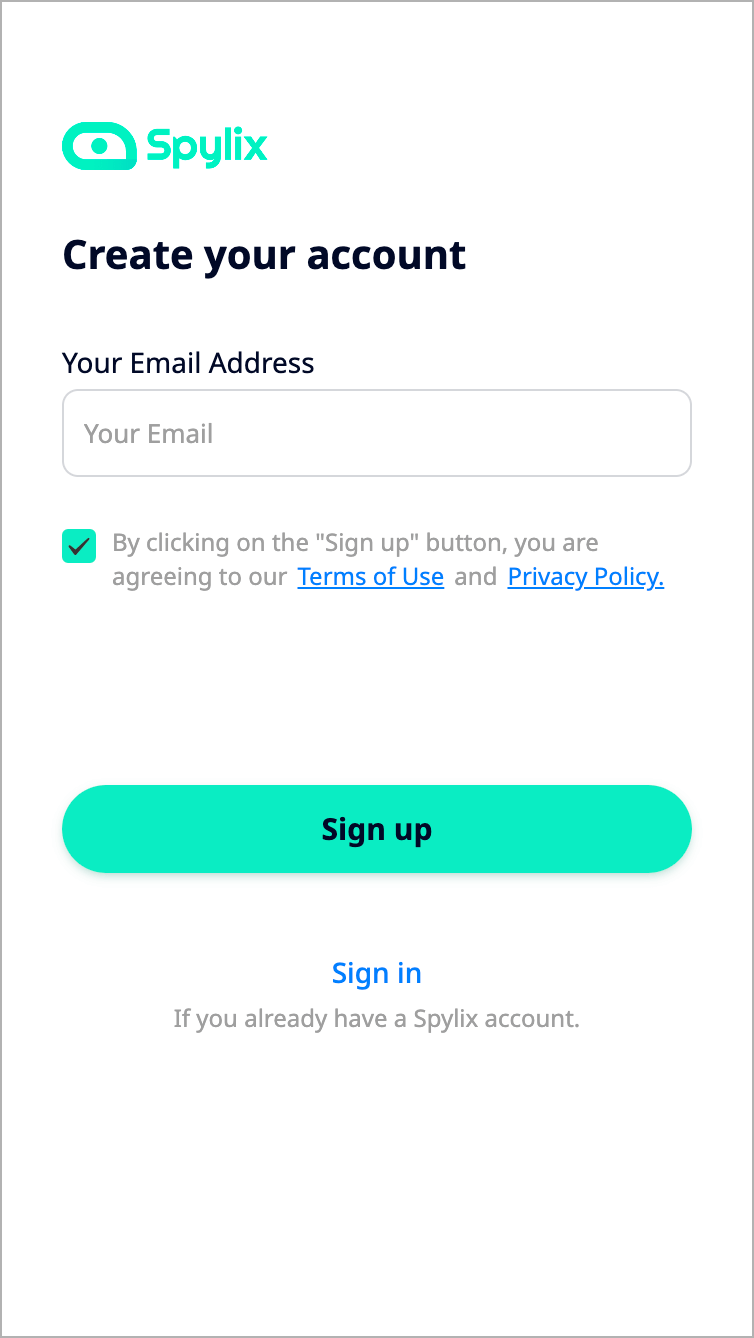 Step 2: Enter iCloud Account Details
Input the other user's iCloud credentials to complete the verification.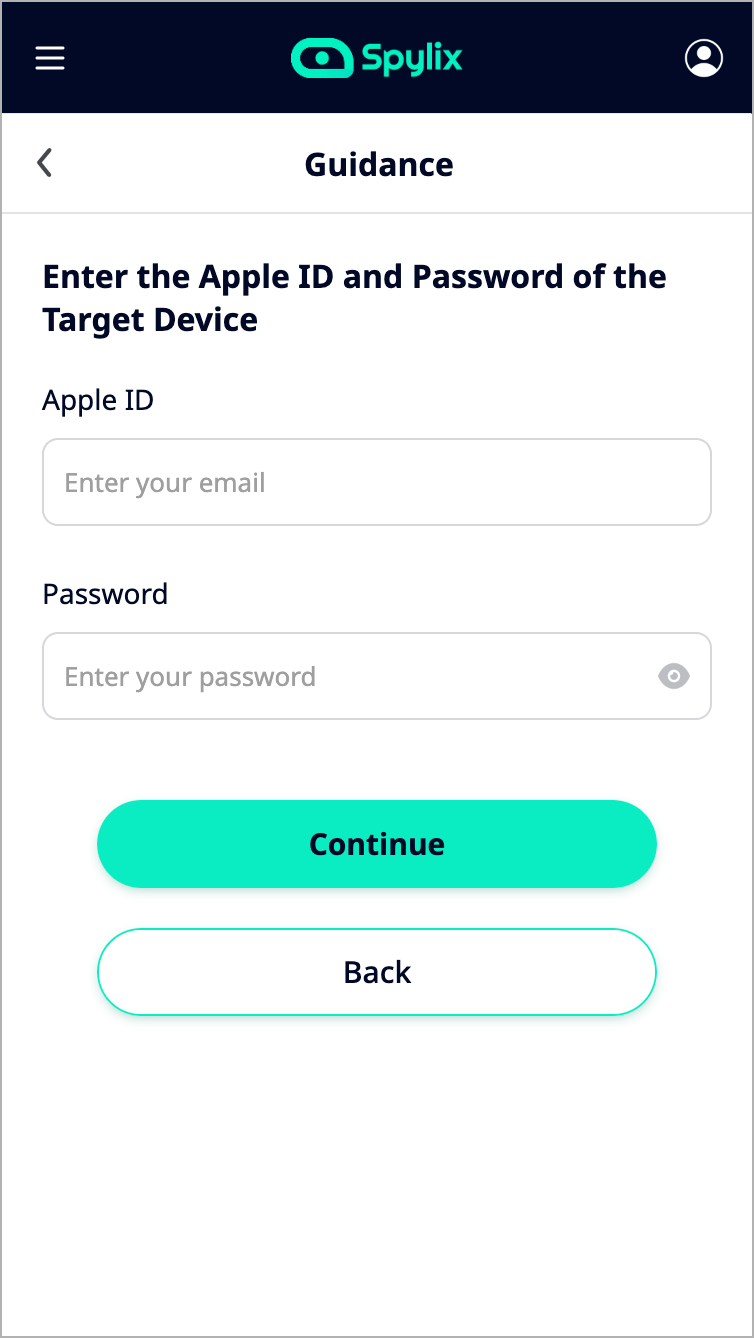 Step 3: Mirror an iPhone
Access the online dashboard via a browser. Tap any mirroring feature to check the information in real time.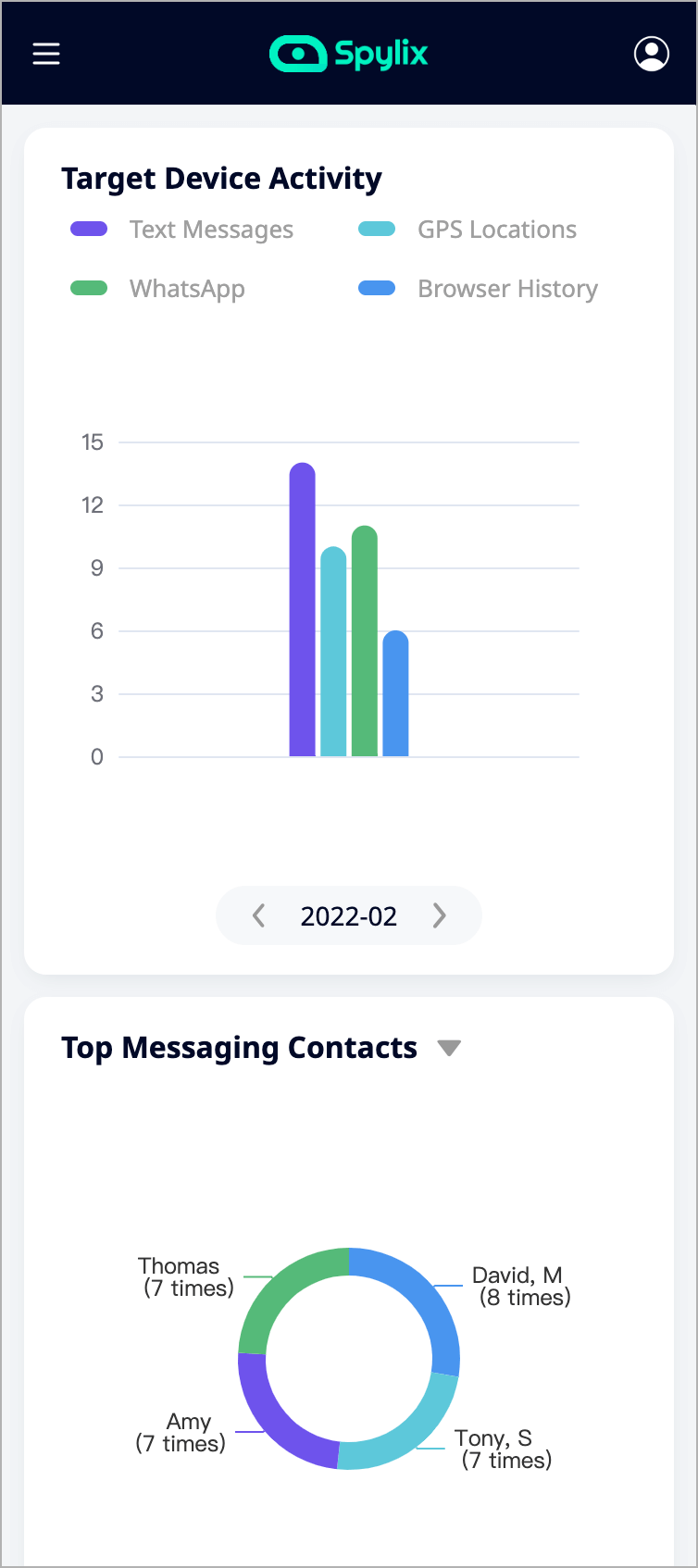 How to Mirror an Android Device?
Step 1: Create a Free Account
Click the Sign Up Free button on Spylix's site. Next, enter your email address to make a new account.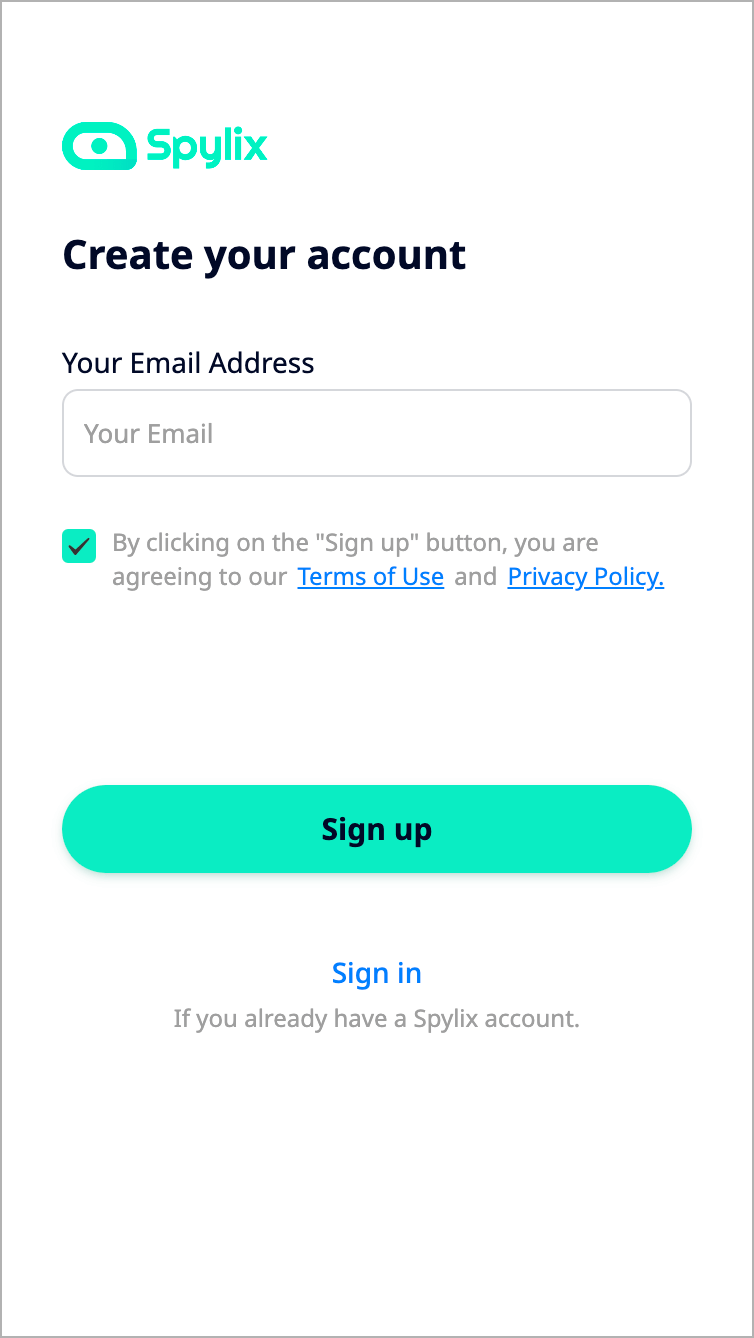 Step 2: Set up The Mirroring App
Apply the onscreen guidelines to quickly set up the Spylix mirroring application on the target Android device.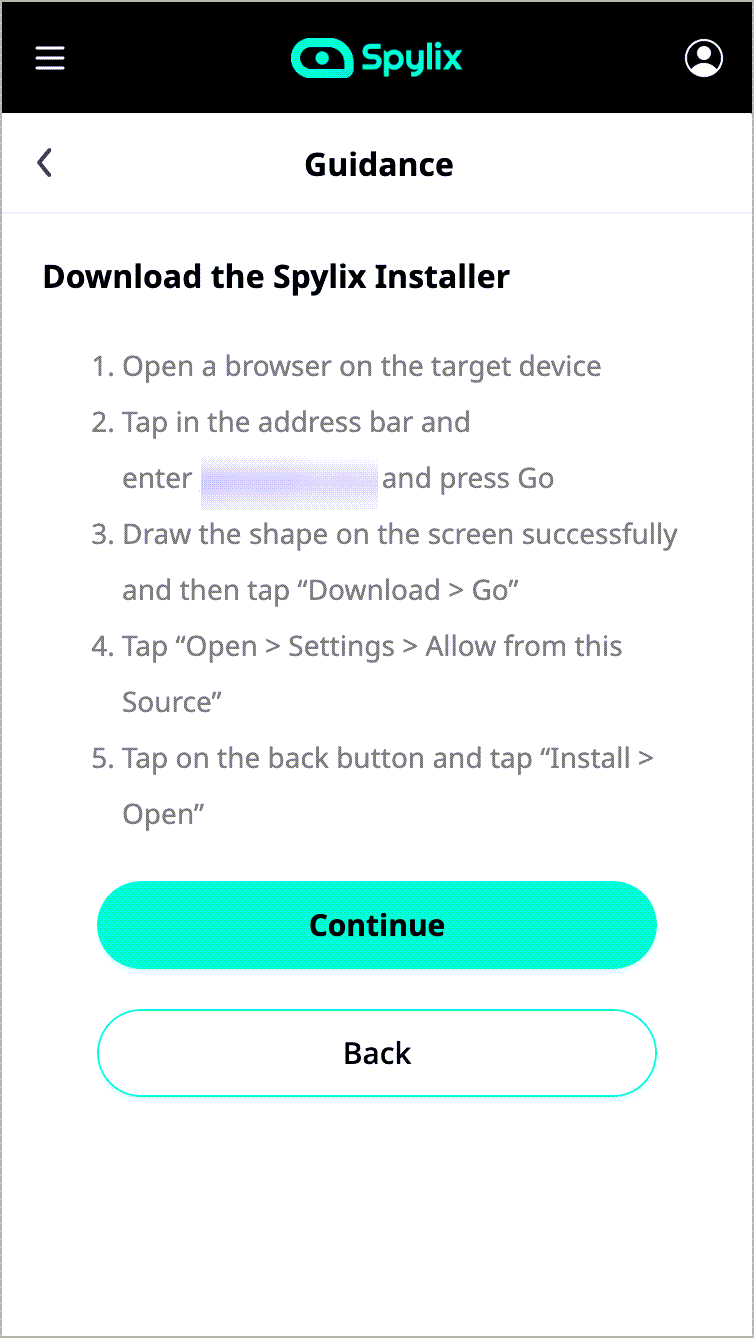 Step 3: Mirror an Android Device
Access the web-based control panel. Now, select any relevant mirroring utility, such as SMS tracker, photos spy, videos spy, etc., to keep tabs on the user activities in real-time.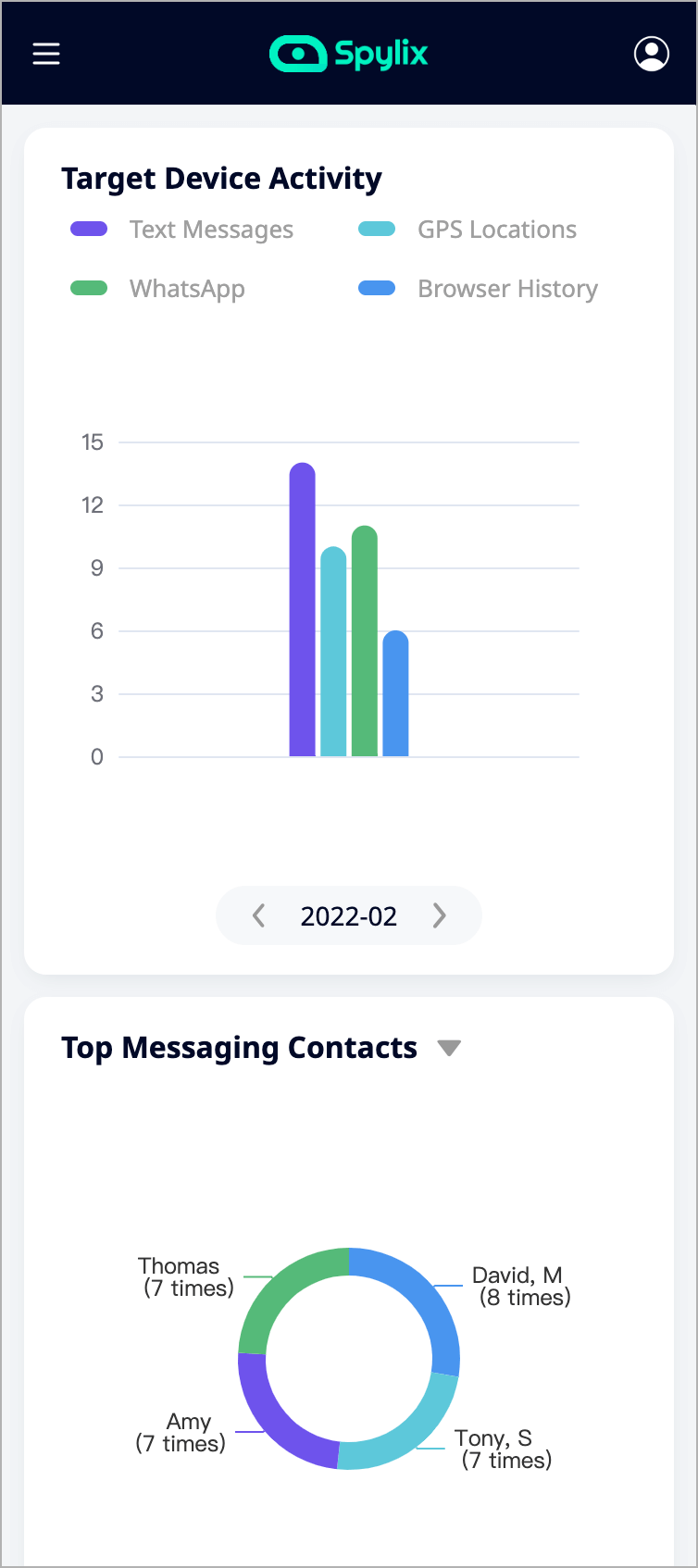 What Else Can Spylix Do?
You can also track the other user's location and set geofencing notifications if they visit a specific area that you consider dangerous for your loved ones.
Not only that, Spylix lets you track someone else's social media accounts, including WhatsApp, Snapchat, Kik, Telegram, Skype, Tinder, Instagram, and more.
Why Choose Spylix as The Best Phone Monitoring App?
Spylix is the best choice for several reasons. We have highlighted some of them here:
It is easy to use
It ensures your identity remains hidden
It requires no prerequisites
Its customer support is available around the clock
It offers accurate and fast details on the control panel
Part 4: Reviews of The Above 4 Methods
Follow this comparison table for a quick overview of the 4 solutions mentioned in this article. It'll help you decide why Spylix is the clear winner and why you should opt for it, especially when you wish to mirror someone else's phone undetected.
| Method | Compatibility | Risk of Getting Caught | Ease of Use |
| --- | --- | --- | --- |
| AirPlay | iPhone only | High | Easy |
| Google Home | Android 8.0 or later | High | Easy |
| Backup | iCloud or Google Backup Services | Medium | Moderate |
| Spylix Phone Monitoring | Android and iOS | Low | Easy |
Part 5: FAQs about Phone Mirroring
Want to know a bit more about phone mirroring and how to do it efficiently? Follow this section for details!
5.1 How do you mirror a phone to another phone?
Simply launch the Spylix control panel on your phone to mirror or clone the other person's device.
Similarly, if you opt for Google Home (for Android) or AirPlay (for iOS), then choose your cell phone from the list.
5.2 How do I turn on mirroring on my phone?
For Android, employ the Google Home app to enable mirroring on your phone. If you own an iPhone, simply head over to the Control Center to turn on AirPlay.
5.3 How do I mirror my phone wirelessly?
All solutions mentioned in this guide let you mirror your Android or iOS device wirelessly.
However, if you opt for the Google Home or AirPlay methods, then ensure that both devices are connected to the same network.
It is not the case with Spylix. You can mirror the target phone anywhere you want.
Conclusion
Using the methods above, you can quickly find the answer to: How do you mirror a phone?
If you want to avoid any prerequisites and detection while mirroring the target phone, then Spylix is an excellent choice.