Do you want to know where your child is at all times? There are various types of software that will help you out. You can use these apps to keep track of their whereabouts and make sure they're safe. The best part is that it doesn't matter if they have a smartphone or not – they work with any device!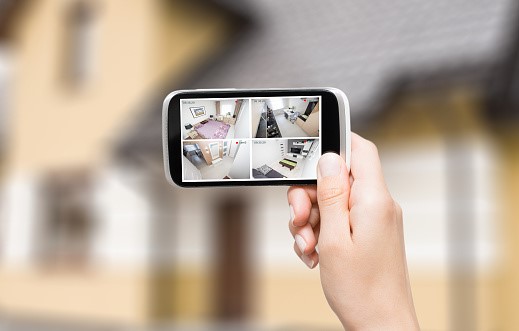 These third party apps even provide you with alerts when your loved one leaves or enters a certain area, so you always know what's going on. Plus, the GPS tracking feature allows you to see exactly where your child has been in the past 24 hours. It's like having eyes everywhere!
These apps come with many other features with ability to spy on text messages, emails, and call logs as well. They work in the background of your target device to track their movements stealthily without the users knowledge.
Part 1: How to Spy a Cell Phone Location Online Without Them Knowing
Spying a cell phone location online can be done using several ways. However, we need to have a look at the best app that provides this service which is Spylix. This is a well-recognized brand that comes highly recommended in the field of location tracking.
1.1 Spylix - A full-fledged location tracker checking current and past locations
The software is undetectable and easy to use. It's a great way for parents to keep tabs on their kids, spouses to monitor each other, and employers who need to make sure employees are where they say they are.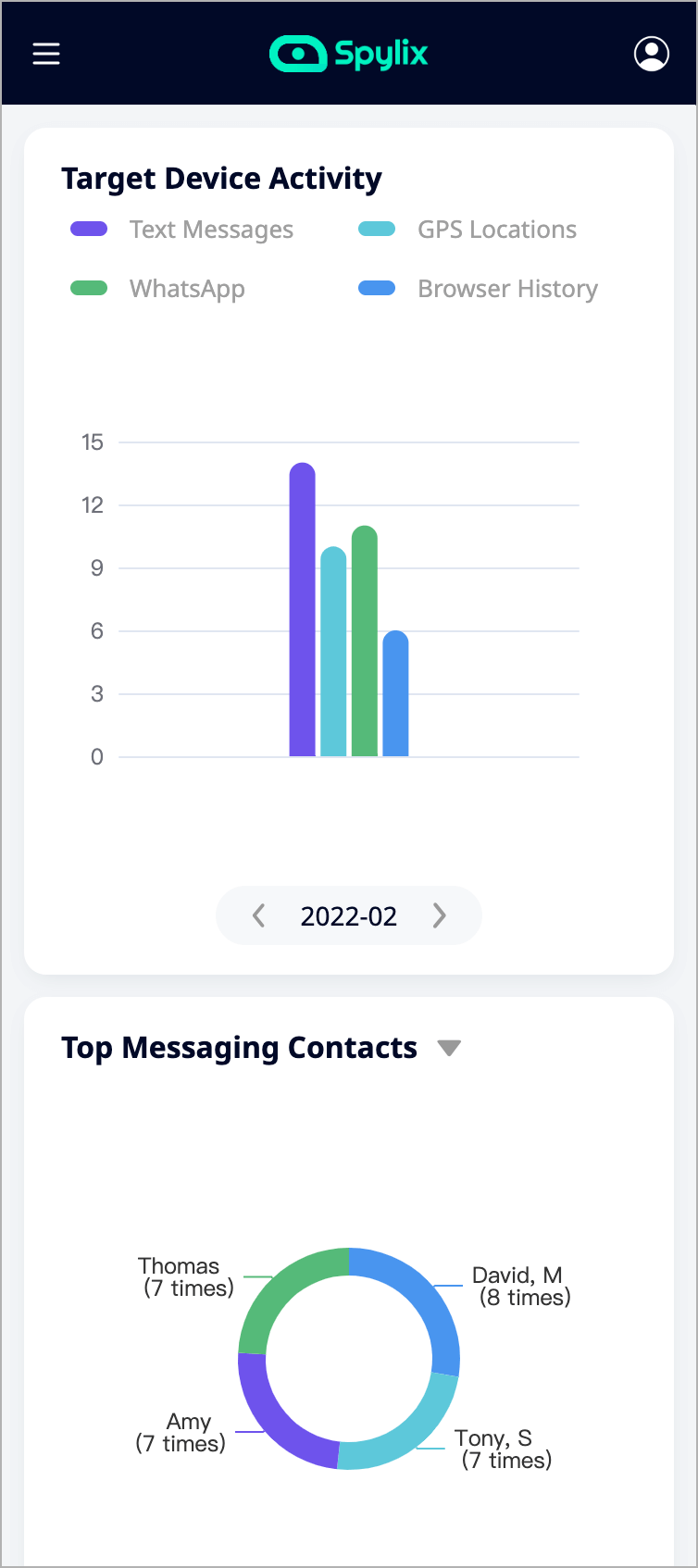 With Spylix, you can see exactly where someone is at any time – all from your computer or smartphone! It has an extensive list of features that will help you get the information you need quickly and easily.
You don't even need physical access to the target device in order for this app to work. All it takes is a few simple steps and the app does everything else for you. The best part? Your targets won't ever find out because the software runs invisibly in the background so they'll never suspect anything's going on until it's too late.
And if there's ever any doubt about whether or not someone has installed the program on their phone, just check out the detailed logs which show every single action taken with that device since the installation was completed.
Location Features:
It can find the GPS-based location of your target
Track GPS and Wi-Fi-based locations.
View addresses and geographical coordinates.
Spy location entry and exit times.
Spylix's secret GPS tracker
Spylix has an advanced location tracker that ensures that the owner of the phone doesn't know they are being tracked. Let's have a look at how this technology works on an Android phone, iPhone and without a target phone.
1.Tracking location without target phone
Tracking an iPhone can be done remotely without installing any app as the iOS operating system uses the iCloud features available, thus ensuring secrecy. Tracking can be done by logging into the Spylix website using the target person's iCloud ID. Once done, you can track the target phone.
Tracking an Android phone is slightly different as you'll need to install a spy app. You can install any spy app for your tracking needs but Spylix is the market leader. Spylix cannot be detected as the icon is automatically hidden.
With just one click, you can view all of this information from anywhere in the world through the easy-to-use web interface. And because no data is stored on the company servers, there's no way for anyone else to access it either - not even the company employees! That means total peace of mind as well as complete privacy for both parties involved.
2.You will receive a comprehensive report on the target's location
Spylix is the best spy app out there because it monitors the target's current location in real time due to its advanced features and gives a comprehensive report. It also tracks social apps like WhatsApp on the target's phone, as well as monitoring phone calls.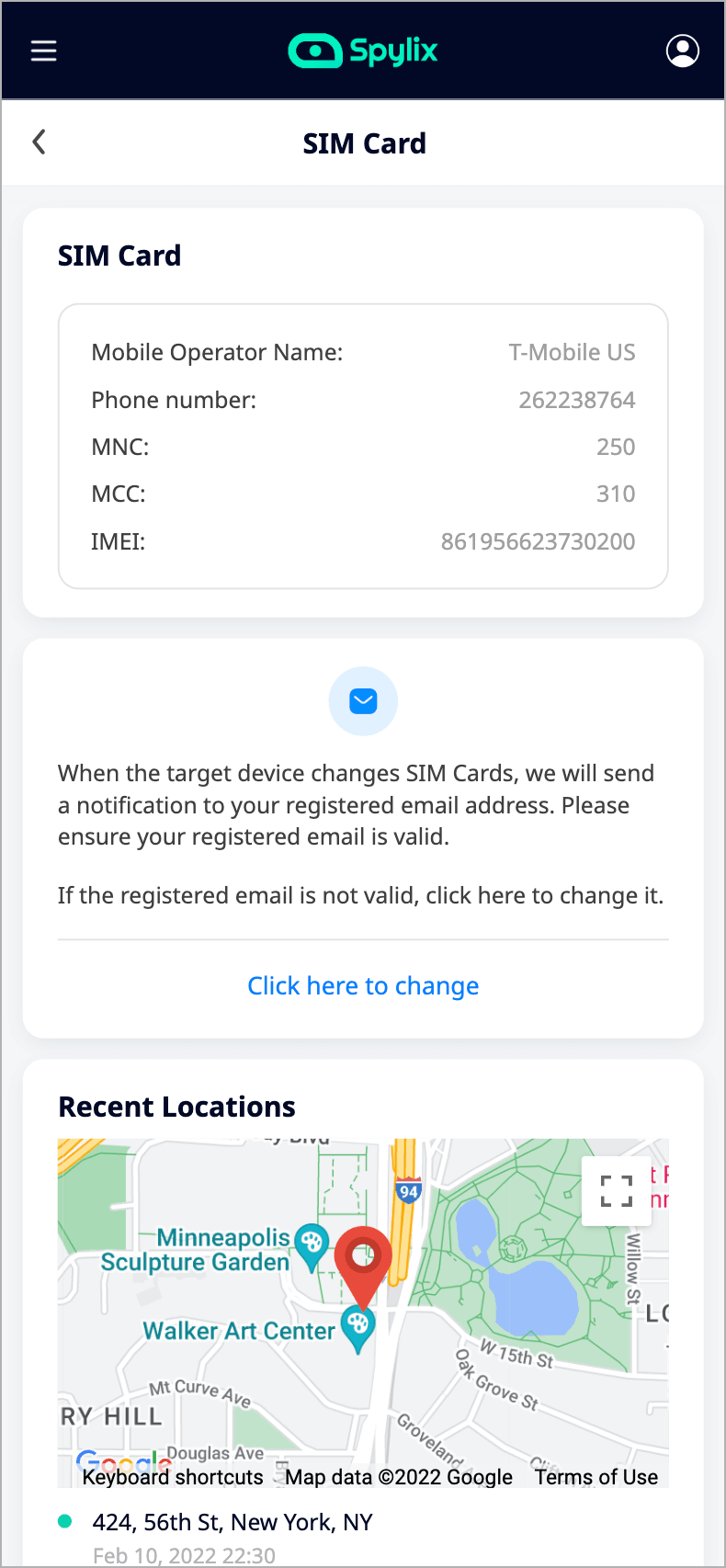 3.Monitor your target's live location in real time
Spylix can monitor your target's phone location in real time without the owner's knowledge using the app's silent mobile phone monitoring solution. It monitors an iPhone's location without you having to install any app, and an Android phone's location with it's tracking application whereby the icon is hidden.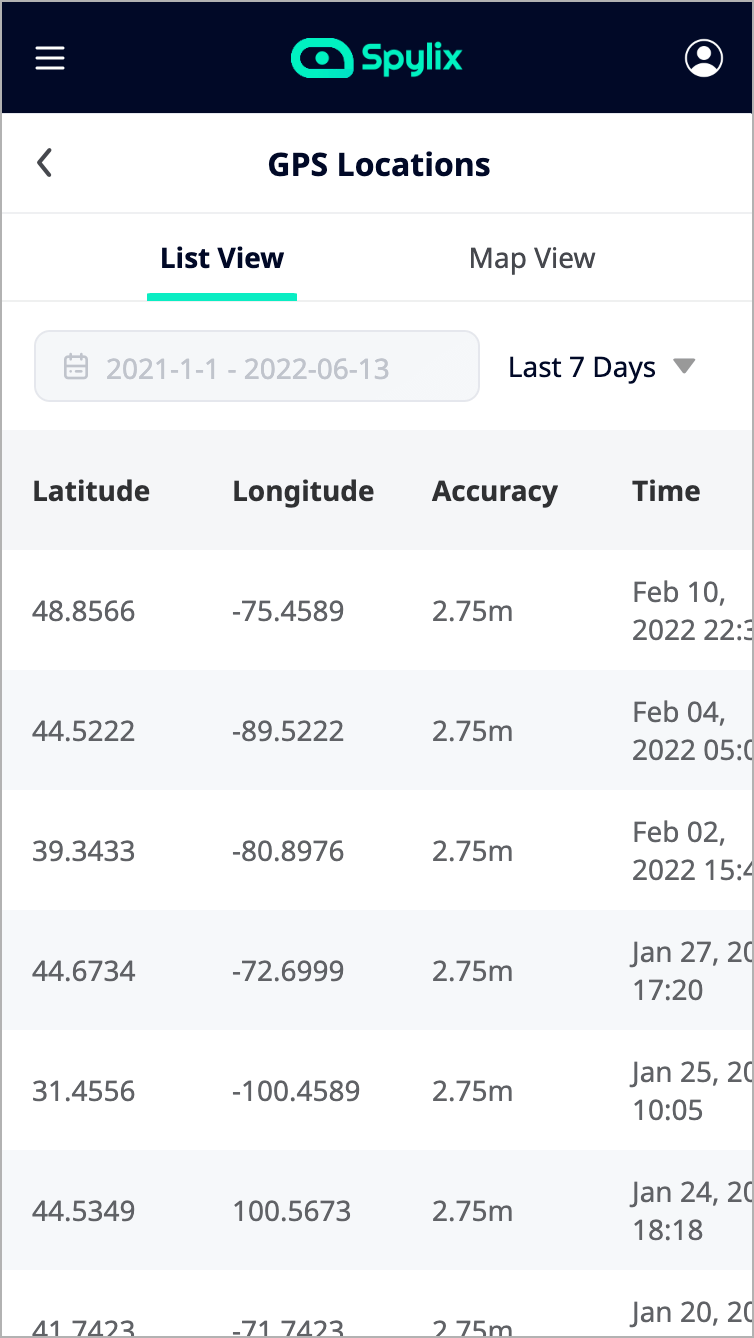 4.Location tracking without root or jailbreak
Other apps can track phone calls, but you'll have to root or jailbreak the target phones for them to work. Spylix doesn't need rooting or jailbreaking and can easily track your target's phone without the owner's knowledge.
Advanced Feature-Set:
It can support 40 different types of data:
Text Messages
WhatsApp
Tinder
Facebook
Spylix user reviews
Let's have a look at some reviews from people who have used this app before.
Rating: 5/5
I like this app. It is amazing. I've never used such software that makes it so easy to spy on someone's location before this one. Its simple operation and comprehensive precision performance are well matched. The most important reason why I recommend this product is that it has so many features. Not just location, it can monitor 40 kinds of data. I can spy on my husband's every activity with Spylix's dashboard, and can now know where he is and who he is with.
Linna, FR
Rating: 4.8/5
Unbelievably, I found the app called Spylix and then exposed the truth that my spouse had been cheating on me for a long time! I just paid a small monthly fee to use this amazing app to monitor my wife's location. The app was so discreet that my spouse didn't know what I did remotely. So, no doubt, I recommend Spylix, which is God's gift to us.
Natalia, US
Rating: 4.5/5
If you ask me, "What is the best spy app?" Of course, l'll pick Spylix. My friend recommended it to me last year, and I was a little skeptical, but when I used it, I was able to miraculously monitor all of my kids' data on their phones. With Spylix, I know what the kids are in danger of. Especially when it comes to tracking locations, Spylix uses Google Maps to effectively track all location movements.
Laurie, DE
How to Use Spylix as Mobile Location Tracker
By now Spylix should be looking very attractive to you after going through the information above. The process of setting up the Spylix app to keep track of your target's location is very simple and should take less than five minutes. Check out the steps below:
Step 1: Sign up for a new Spylix account.
Step 2: Follow the guide in the welcome email to setup Spylix.
Step 3: Log in to the Control Panel to start spy location.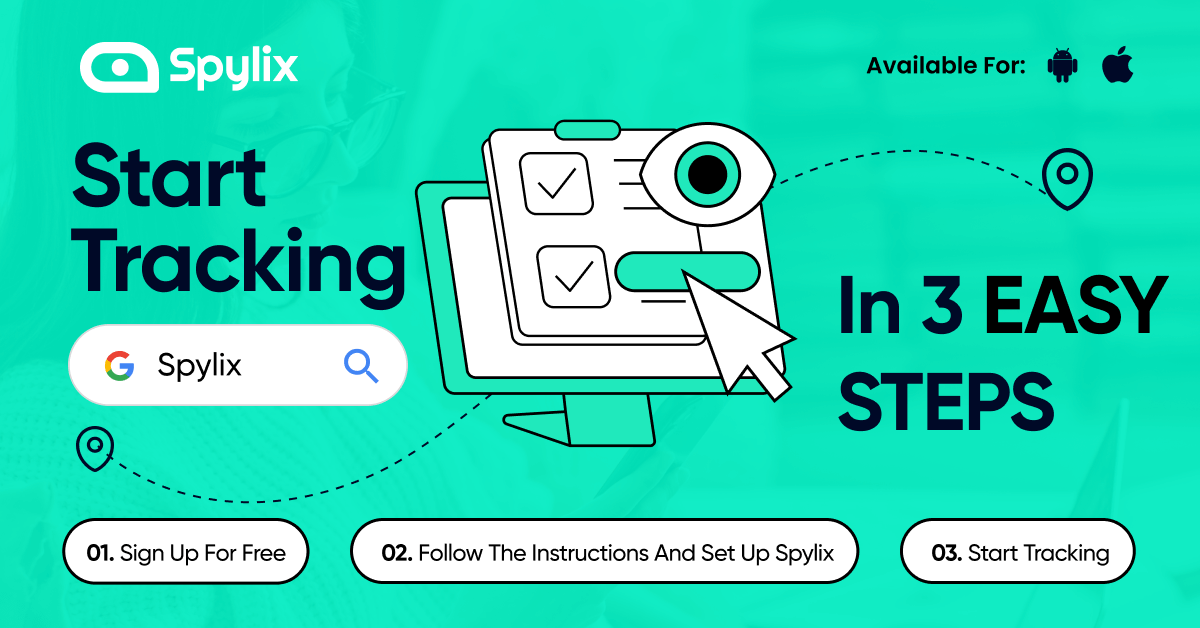 Verdict: If you want to know where your kids, workers, or spouses are at any given time, choose Spylix as your trusted mobile spying app.
1.2 Find My Device - Way to Spy location for Free (For Android)
You can also use the Google tracking service Find My Device app for Android to check your target's location. Just go to Settings Personal Content Location History and make sure the History is On.
The Find My Device app helps you locate the target device by using Google Maps to show its location on a map in real time. You can also use this app to make sure no one else has access to any information stored on the device by locking it remotely.
If someone tries to unlock the screen without permission, they won't be able to do so anyway because this feature allows you to set up a PIN code lock as well.
With all these features at your fingertips, there's nothing more important than monitoring your target's whereabouts using their phone – which means getting started right now with the Find My Device app for Android.
It only takes 5 minutes before you have everything set up properly.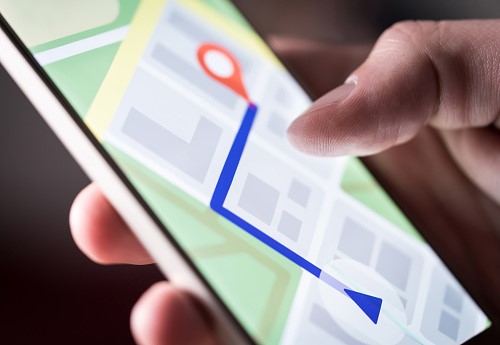 Pros
It lets you remotely track the target phone.
You can keep tabs on loved ones.
It allows emergency responders to find the target phone in case of an emergency.
Cons
Doesn't have many features.
It requires a Gmail ID to set up and use
Location information may be inaccurate
1.3 Find My iPhone - Way to Spy location for Free (For iOS)
There is an app that will help you track down your loved ones' phones if you can't get their location – Find My Device for iOS! To use it, go to Settings and click on your Apple profile on the top. The second step is you navigate to iCloud, 'Find My iPhone' and enable it. You are now ready to track your iPhone at any time.
With this app, you can locate their phones on a map or ring it so that it starts making noise even if the ringer switch is off. If the iPhone is lost or not in the owner's possession, and someone finds the phone but doesn't return it to its rightful owner, they won't be able to use any of its features without knowing the password first!
Get Find My Device today and never lose sight of your loved ones again. This free app works with iPhones running iOS 8 or later. Download now from the App Store for Apple devices and Google Play for Android devices. Don't wait another minute - get started tracking down your loved ones right away!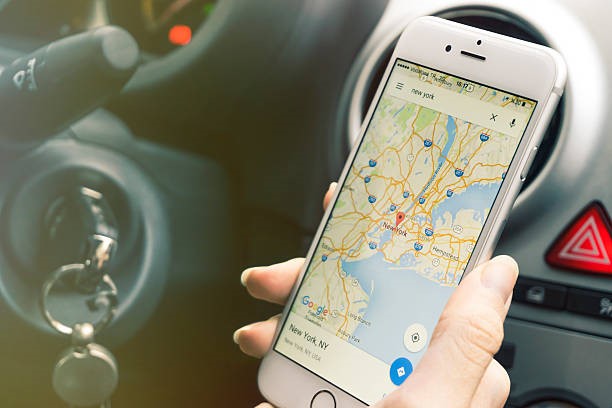 Pros
You can download it from the App store.
You can make the phone ring even when the ringer is off.
You can lock the phone remotely.
You can use the app to locate loved ones.
Cons
Location on the target phone has to be enabled.
This app does not have stealth mode
It is only available for ios.
Part 2: How to Locate A Cell Phone Position Frequently Online(for Android & iOS)
The information provided above shows you three different spy ways that you can track a target phone to know the whereabouts of someone. However, out of all three, Spylix still remains the best.
It is sometimes frustrating when you can't locate a loved one. It's not just the inconvenience of not knowing where they are, but also the worry that a spouse might be cheating or a child might be in danger. That's why Spylix was created – an app that lets you track down a smartphone in minutes.
You don't even have to touch the device! Using the GPS tracking technology, you can locate any mobile device from anywhere in the world with just a few taps on your browser. If someone tries to erase data from the phone before you get a chance to go through it, no problem! The remote wipe feature will protect all of the phone's information.
With Spylix, there are no monthly fees and no contracts required so you never have to pay for something you don't need or want again. Plus, since this is an app rather than a service like other apps out there today, your cheating spouse or your child that lies about their whereabouts cannot hide much from you.
The app tracks the location of your loved ones secretly, which makes it very attractive to users. The icon is automatically hidden in Android phones, while iPhones use the iCloud to remotely and covertly track a target phone.
The app makes sure every minute counts when trying to get a location on someone. Get started now by downloading the free trial version. Don't wait another day without knowing the whereabouts of your loved ones!
Part 3: Wrapping Up
The internet has a lot of information on different spy ways to track a target phone. However, this article has summarized the best methods to use when tracking target phones, with the number one app being Spylix.
This app gives you access to a time-stamped location history of your target, whereby you can see where he/she has been throughout the day. Spylix also supports geo-fencing and there is no need to jailbreak or root the target phone. Get Spylix today for your tracking needs.