Nearly 25% of marriages experience cheating once in their lifetime, showing how cheating has become the norm nowadays, and thanks to our advancements in technology, cheating on the phone is more common than ever.
Your partner may be right in your arms, yet they might be chatting with someone else.
So how do you catch someone in the act?
I've gathered some tips and tricks to help you out.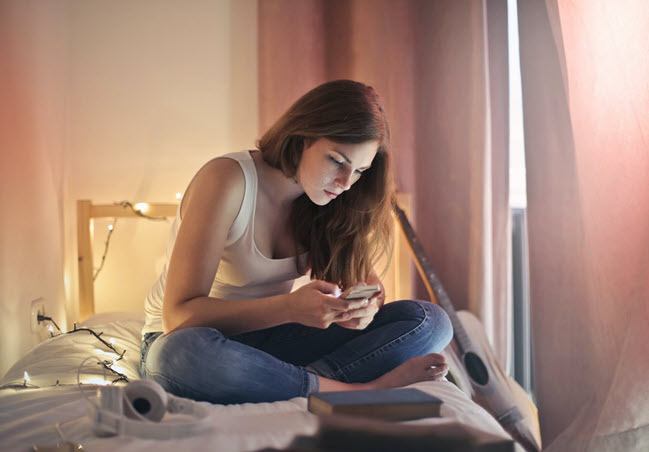 Part 1: What are the Warning Signs of Cheating on The Phone?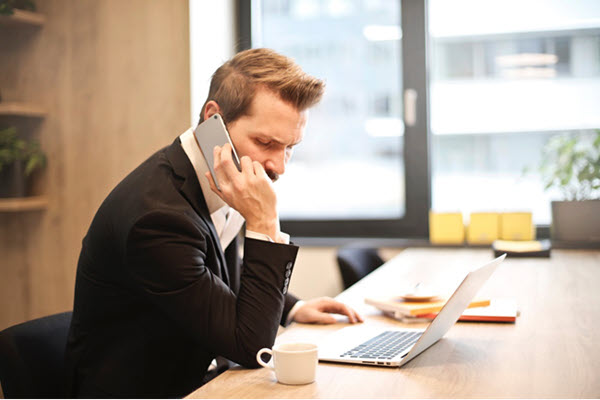 Most cheaters leave telltale signs of their infidelity; however, they can be a little hard to spot to the untrained eye. Here are some of the warning signs of cheating on the phone.
Your spouse constantly deletes their call logs and messages.
You find unknown names in your spouse's contact list or repeated calls from an unsaved number.
Your spouse doesn't answer his/her calls in front of you and sneaks off to answer them somewhere else.
Your spouse's fitness tracker may show exercise at irregular times, such as heavy activity at midnight.
Once a regular user, your spouse is no longer active on social media or started to restrict people from tagging him/her.
You can't reach your spouse in certain parts of the day, or they are always coming late.
Your spouse changed their phone's password and won't share it with you.
When you are together, your spouse suddenly starts to hide their phone screen from you.
Cloud sharing has been turned off on your devices.
Your spouse has stopped using shared devices or purchased a new phone altogether.
Part 2: Top 5 Apps to Catch Cheating on The Phone
It's hard to judge whether a person has been cheating in a relationship simply by looking at some warning signs.
You need more substantial evidence before you confront your partner; this is where you can take the help of dedicated apps to catch someone cheating on the phone.
2.1 Spylix
Spylix is an all-in-one cheater-catching app that not only gives you one but a whole list of methods on how to catch your unfaithful spouse.
Moreover, you can monitor your spouse's phone messages, locations, gallery, and more. The app also requires no root or jailbreak and is easy to set up, even for the simplest users.
Key Features of Spylix Phone Tracker
Messages tracker - See each and every message that is sent and received on your spouse's phone.
Media files - All sorts of images, videos, and other forms of media will be available to you, even the ones shared in social media chats.
Keylogger - Keep track of every word your spouse types on his/her phone.
Stealth mode - No need to jailbreak or root; the app hides once installed on the target device.
How to Catch Cheating on The Phone?
For Android Users
Step 1: Make an Account
Create a Spylix account through your email address.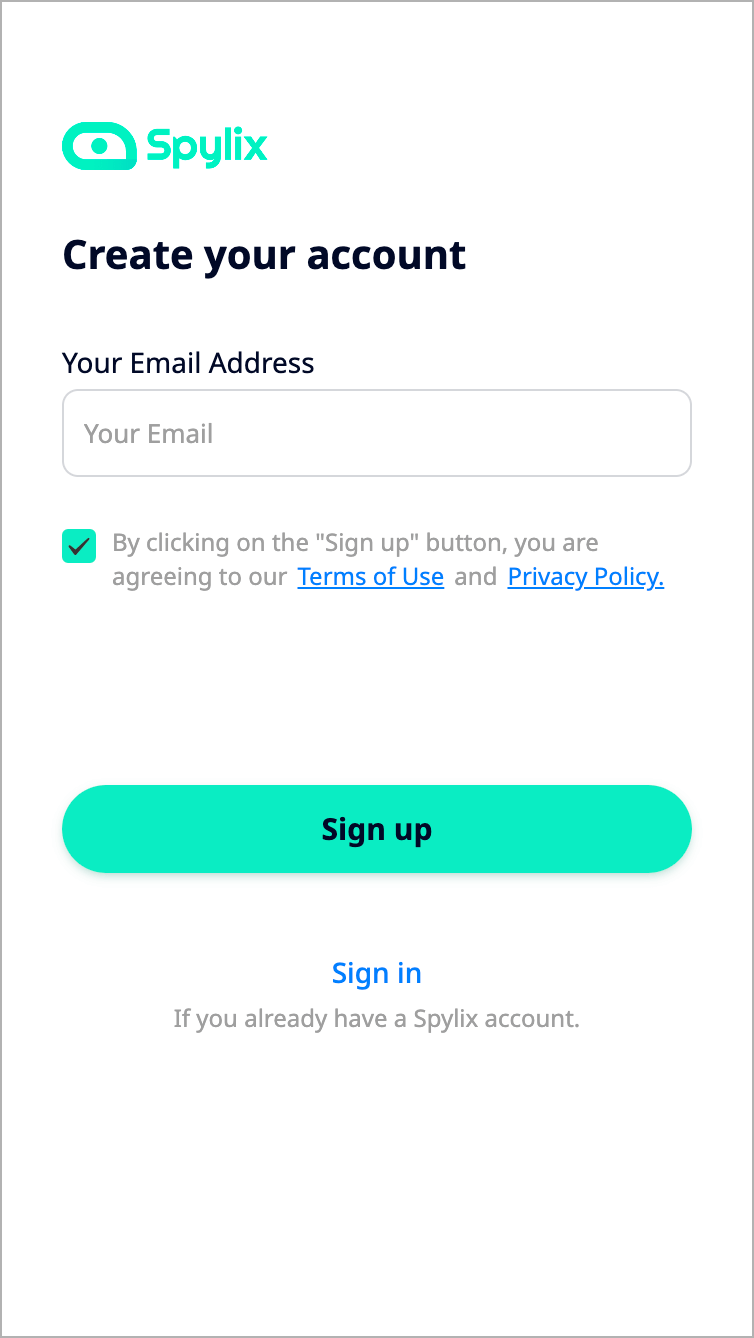 Step 2: Install Android App
Follow the onscreen steps to install and set up the Android app.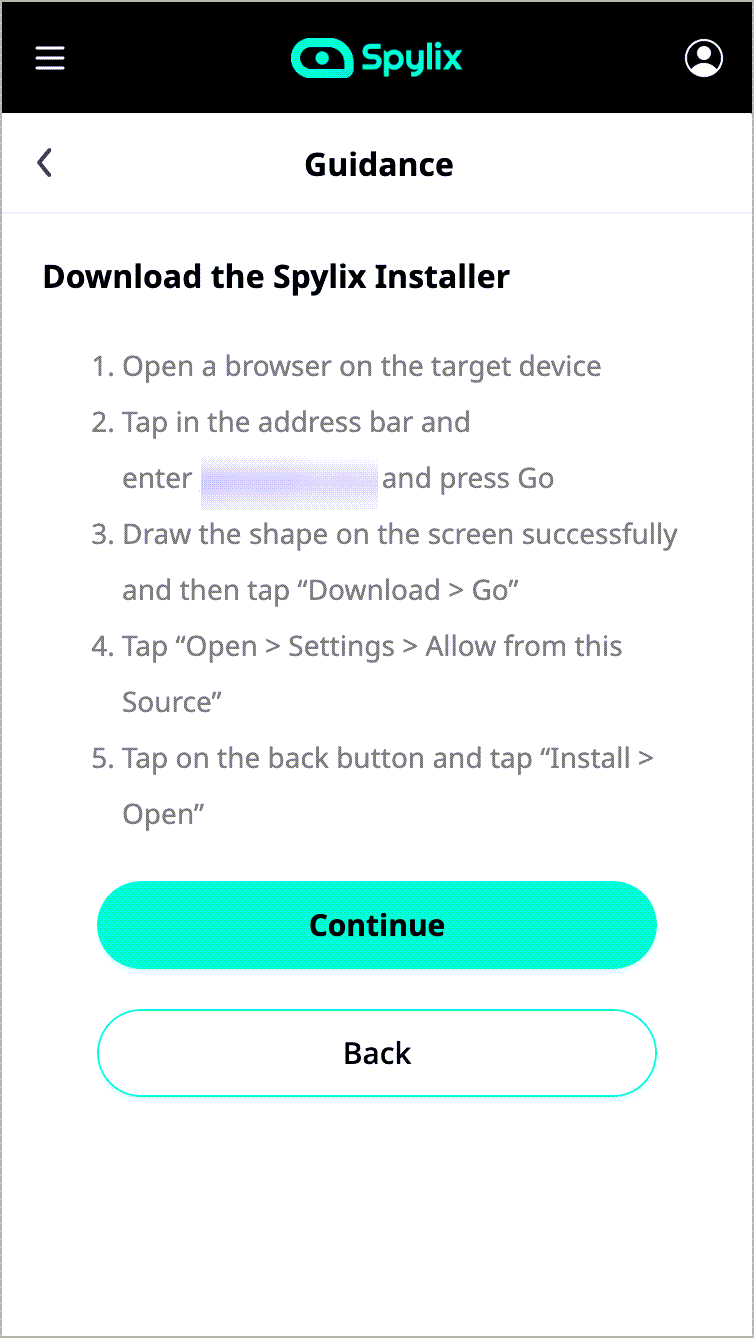 Step 3: Catch the Cheater on the Phone
Once installed, head over to the control panel and choose "Social Networks".
From here, you can pick "WhatsApp" and start all incoming and outgoing messages. You can also check their location and other activities.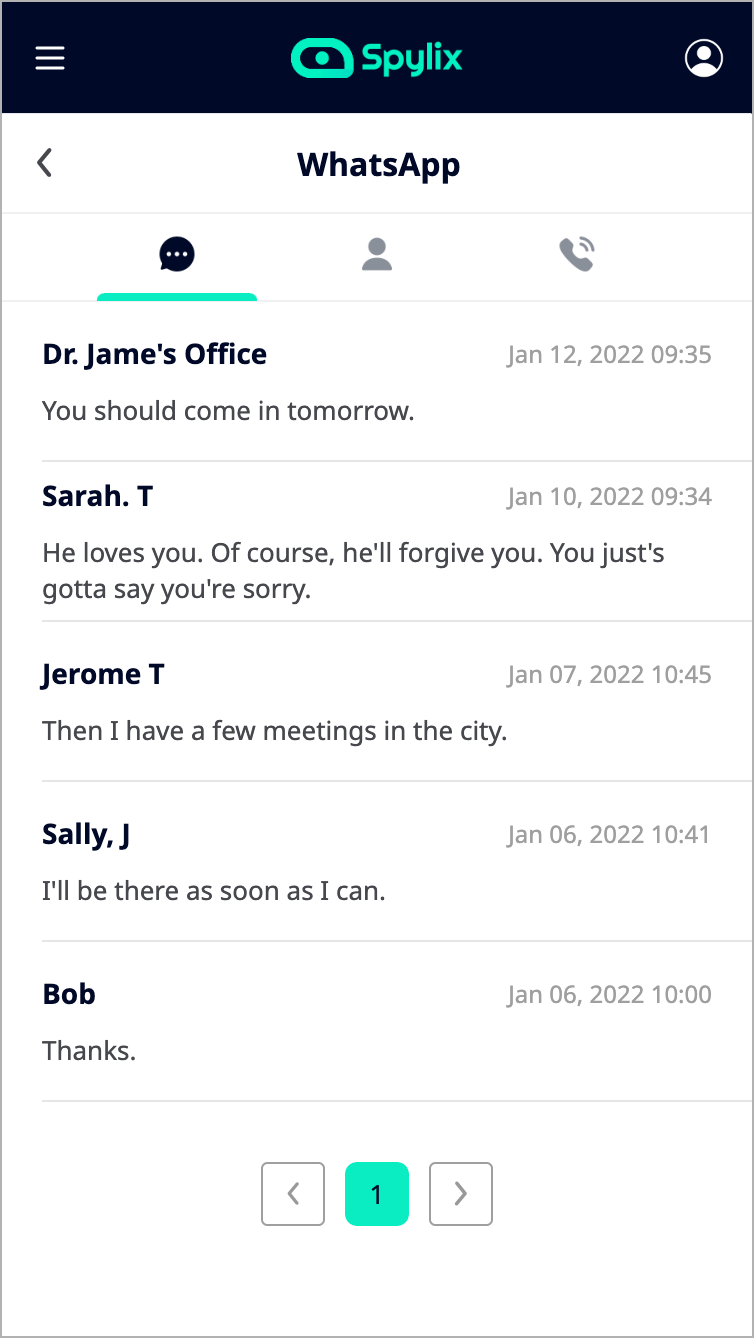 For iOS Users
Step 1: Create a Spylix account and choose iOS as your target device after entering your email address.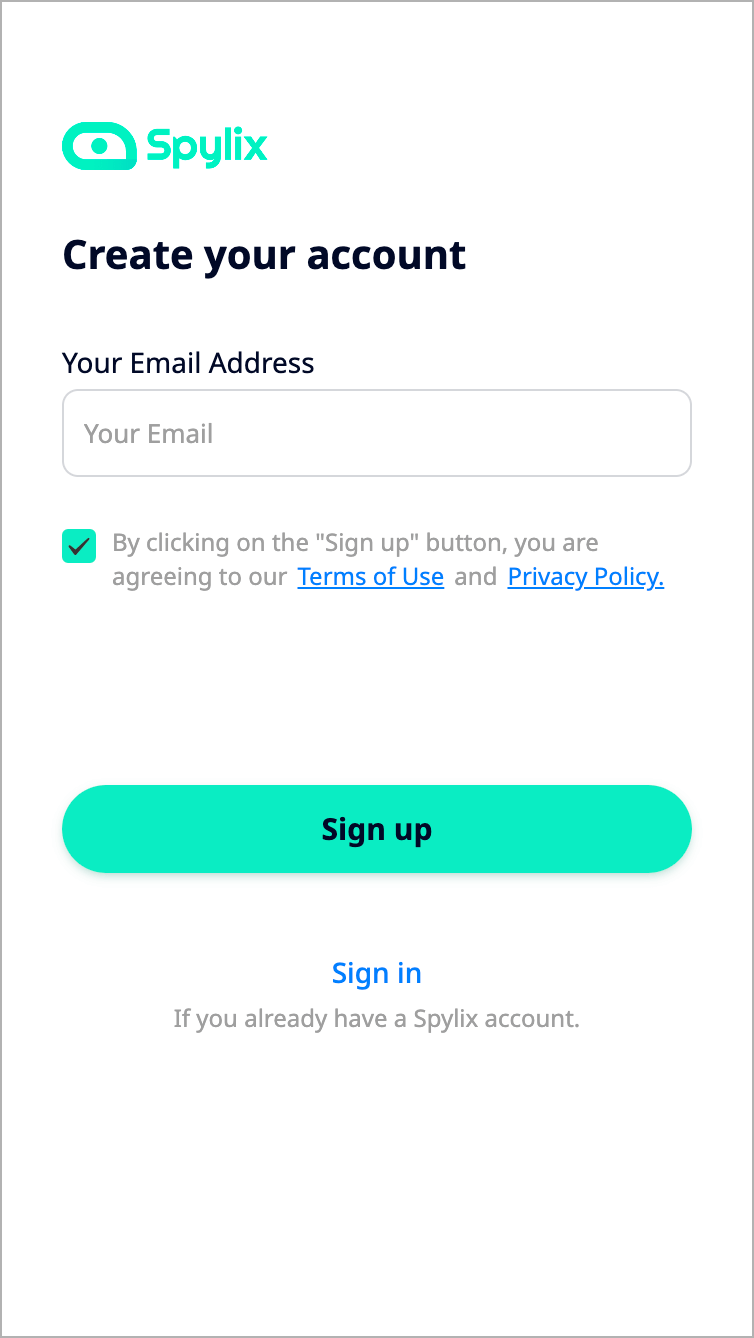 Step 2: Enter your target device's iCloud details and press 'Continue'.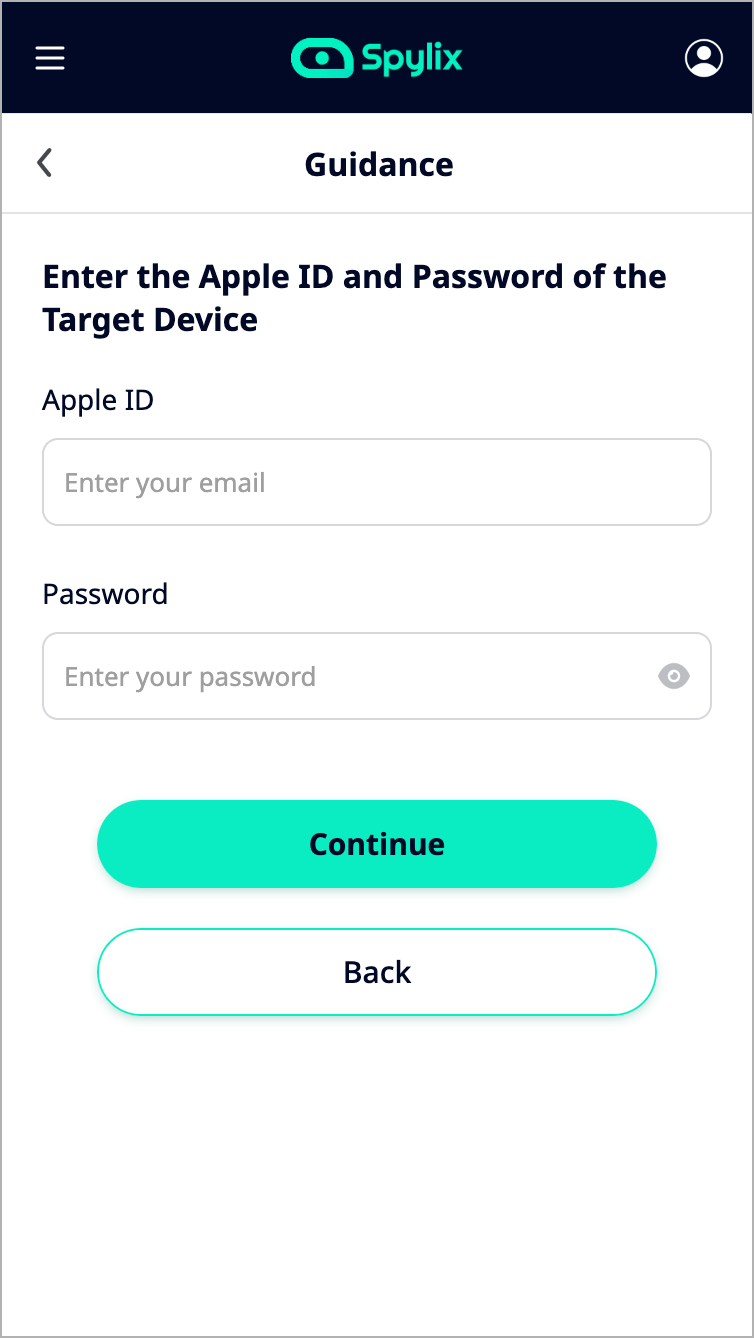 Step 3: After logging in, head over to the control panel and choose 'Social Networks". From here, you have a variety of apps to track.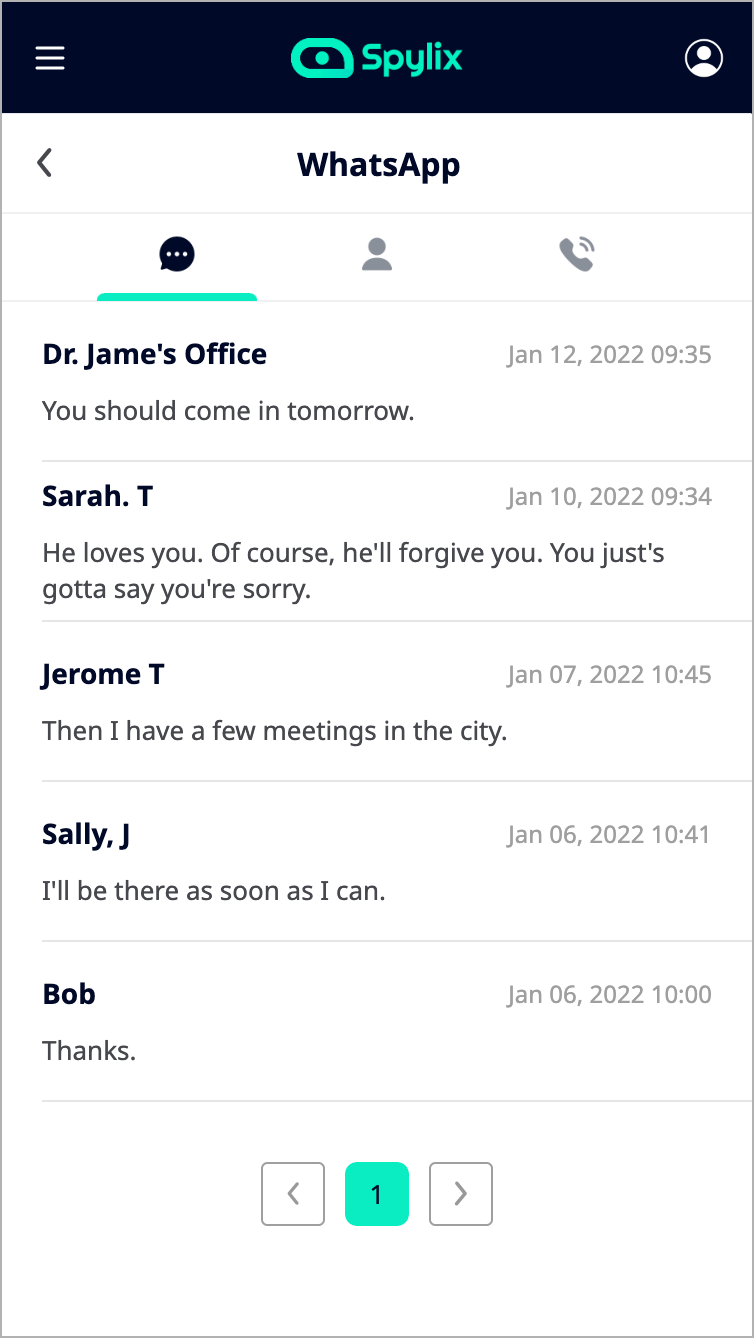 What Else Can Spylix do?
Spylix can do a whole lot more than track social media messages. You get access to the target device's location and their past visited locations and even get to implement geo-fencing.
Then there is support for accessing all kinds of data, media on the gallery, call logs, notes, emails, and even WiFi connection history.
Why Choose Spylix as The Best Spy App?
You are saving yourself from the hassle of buying multiple apps as Spylix bundles all the features you need into a single, easy-to-use application.
2.2 SpyBubble
A mobile app that allows you to catch a person cheating while on the phone, TheSpyBubble comes with all the generic features of a spy app.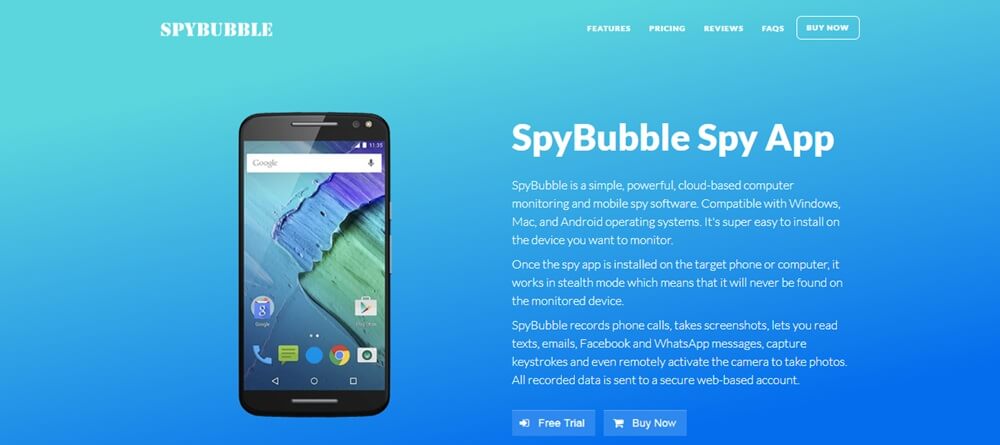 Moreover, you get the option to track social media messages, visited locations, geo-fencing, call logs, etc. Furthermore, the app will require iOS credentials to install on an iOS device and an APK to be installed on an Android device.
Pros
Root/jailbreak not compulsory
Clean and user-friendly UI
Full access to Instagram and Facebook
Cons
Some features only work on an iOS device
2.3 XNSPY
It is a cell phone monitoring software that allows you to track your children, employees or loved ones to ensure they stay out of harm's way. They don't advertise themselves as a spying app and have tailored their features accordingly.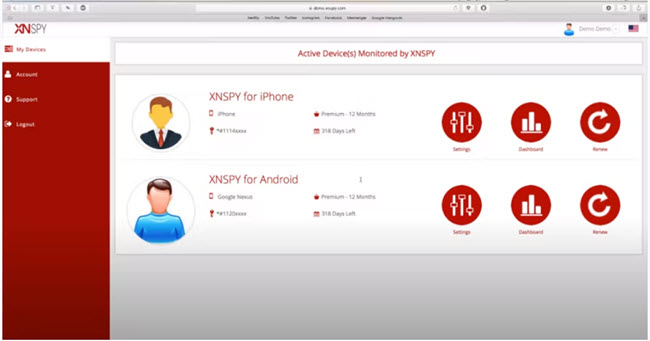 Besides, the key features include social media app recording, phone call recording, and monitoring social media apps and locations. The app also has a dedicated dashboard that presents data in an analytical format.
Pros
Available in multiple languages
Dashboard with analytics
Cons
Problems with refunds
Complaints on customer support
No free trial
2.4 uMobix
Advertising itself as a parental control app, uMobix allows parents to keep a watchful eye over their children. uMobix must be installed on the target device, and parents can keep track using the dedicated dashboard.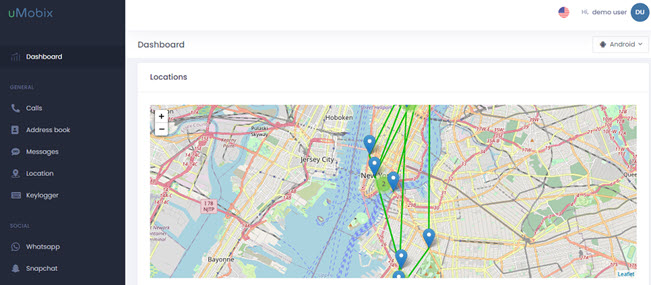 The key features include keeping track of incoming and outgoing calls, monitoring messages sent and received, keeping track of photos and videos, and a dedicated keylogger for monitoring keystrokes. The app also has a dedicated demo on its website.
Pros
Simple dashboard
Click-to-block feature
Cons
Heavy battery consumption
Some functions work better on Android
2.5 CocoSpy
Another app that advertises itself to parents looking to keep an eye on their children, CocoSpy, has been in the industry for a long time. You get all the basic features you can expect from a spy app, such as tracking social media messages, SMS, GPS locations, etc.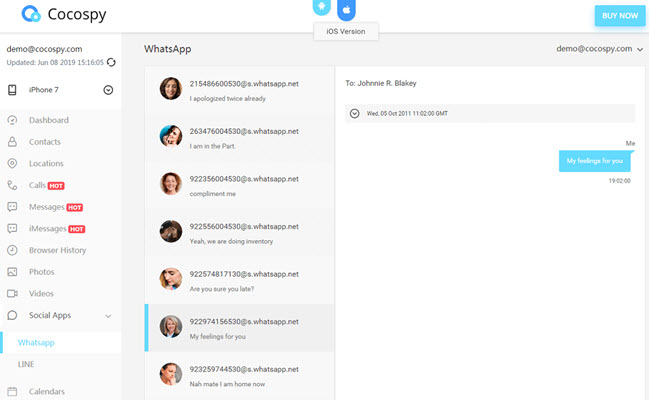 They have a demo on their website for you to try but offer no free trial to their users. It also had problems in the past with their payment procedures, where some users were charged double.
Pros
Easy to Use
Stealth Mode
No Jailbreak/Root
Cons
No free trial
Android/iOS has certain exclusive features
Part 3: Other Possible Ways to Know If Someone's Cheating on The Phone
If you can't use a spying app now, why not try other ways you can catch a person cheating on the phone?
3.1 Mac Spoofing Your Cheating Partner's Messages
This technical workaround will require some hard work and effort on your part. You will need to install a MAC spoofing app on the cheating person's phone.
It is a unique physical address made up of 12 hexadecimal numbers.
Steps
Uninstall WhatsApp on your phone.
Get access to the target device and get hold of the MAC address. It also differs from device to device.
For iPhone users, go to Settings, then General, and then About.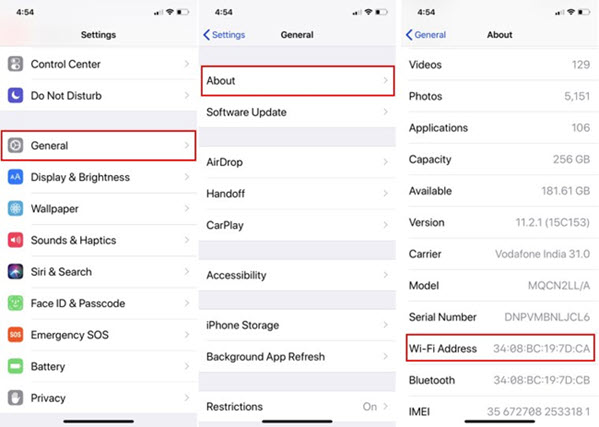 For Android users, go to Settings, About, and then Status.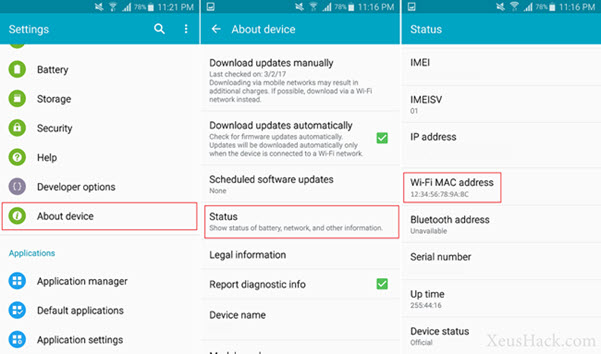 Now also note down your own WiFi/MAC address.
After having both devices' MAC addresses, install a MAC spoofing app on your phone.
Change the MAC address of your device with the one you got from the target device.
Install WhatsApp again on your device and then get the verification code from the target device.
You can now easily send and receive messages on this device while not disrupting WhatsApp usage on the target device.
Shortcomings
You can't use your own personal WhatsApp account on your device without completely installing and reinstalling WhatsApp
Not beginner friendly
3.2 Use Touch ID to Catch Cheating on The Phone
If you know the passcode of your spouse's phone, you can register a Touch ID for yourself. This will allow unrestricted access to your spouse's phone without remembering their password.
Steps
Enter the password to unlock the device.
Register yourself as a Touch ID by navigating to Settings, Touch ID, and Passcode.
Unlock the phone through Touch ID even if you forget the password.
Shortcomings
You will need to know the phone's password when you set Touch ID for the first time.
3.3 Check Cloud Storage on The Phone
If you have iCloud credentials of your spouse, you can catch them cheating while on the phone. This will, however, require your spouse to have enabled iCloud, allowing their data to be shared on the cloud.
Steps
Visit iCloud.com.
Enter your spouse's credentials.
Access their data through the dedicated control panel.
Shortcomings
This only works on an iOS device.
Part 4: FAQs about Cheating on The Phone
There are some general questions most people would have after reading this guide, have a look at them below to clear your doubts.
4.1 How do cheaters hide stuff on their phones?
Most of the time, cheaters take access away from you by changing their passwords.
They may also stop sharing the device and be protective of it at all times, which is one of the signs of cheating on the phone. Also, they may save their secret love mate's contact with a fake name.
4.2 What to look for when cheating on the phone?
Messages and media will be your first indicator of infidelity. Most messages' meanings are apparent, but if you find nothing, look for any suspicious messages mentioning meeting somewhere.
An abnormal number of selfies exchanged between the contacts is also cause for concern.
Conclusion
Now you may have a good idea of how to catch a cheater without their phone.
Once you learn that they have been cheating on the phone, make sure not to take any rash steps.
In addition, if you have kids and want to keep custody, the first thing you want to do is not leave the house and only contact your lawyer. Consider getting therapy afterward, as dealing with infidelity can be a traumatizing experience.