The digital era of social media and technology is with us. Our kids, partners, and even ourselves spend most of our time glued to our phones. Whatever happens behind the phone's screen remains untold to other parties. Moreover, 65% of the world's population relies on sending and receiving text messages as a means of communication.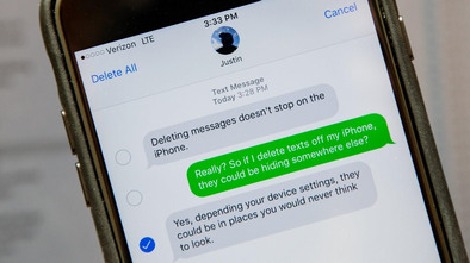 However, at times we may want to intercept messages on another phone. To do so without sounding like you are spying someone, you can use a spy app. This article will guide you on how to intercept text messages on your target phone online for free. You will be introduced to Spylix, the most recommended spy app that gives you control over your target phone easily and instantly. Whether you want to spy on an Android phone or it's an iOS device, the article got you covered. So, please stick around and learn how to do it.
Part 1: Use iCloud to intercept Text Messages Online for Free for iOS
If you are an Apple user, you can intercept text messages for free online without involving the target phone via iCloud. All you need to use this method is to ensure iCloud message syncing on the target phone is enabled. This will ensure that any text messages sent or received by the target device will be upload to iCloud.
This method is economical as you can then access the text messages from iCloud. To use iCloud to intercept text messages for free on your target phone online, follow the steps below.
Step 1: On your phone, open Settings, then click iCloud. Navigate and enable the option for Messages.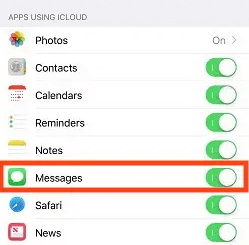 Step 2: Using your Apple account credentials, log in to your iCloud account using your Mac.
Step 3: Open your messaging app, then check the preference for enabling messaging in iCloud. Click the option for Sync Now if you want to start intercepting and reading the messages instantly.
Using iCloud to intercept text messages online for free may seem effective, but in a real sense, it's not. The article examined the effectiveness of using iCloud and discovered the various limitations of using iCloud, as shown below.
Apple has good security over its services, such as iCloud. Thus, users of the target phone can detect iCloud backups quickly, and once they do, you won't be in a position to intercept messages undetected.
To use iCloud, you require the Apple ID and password, and acquiring this from the target owner is difficult as it will raise suspicions.
Using iCloud doesn't guarantee long-term monitoring of the device as you are likely to be discovered.
The bottom line is that, although we may want for whatever reason to use iCloud to intercept text messages, the limitations stated above make it not be the most effective method to use. Alternatively, this article comes in handy to fix this shortcoming of using iCloud by introducing a new and better alternative, Spylix.
With Spylix, you will achieve more than monitoring the target phone. The advantages of using Spylix include:
Spylix is secure – Once you setup it, you only need to hide the app on the target phone for the case of Android. For iOS, an Apple ID of the target device is needed Furthermore, the company protects your information as a user.
Spylix is multifunctional – you get to monitor 18 kinds of data for a target iOS phone and 40 for an Android target phone.
Timely – Spylix gives you real-time updates of received or deleted text messages.
Part 2: Use Spylix to intercept Text Messages Online for Free for iOS and Android
Research on the existing more than 40 spy apps in the market, none matches with Spylix in intercepting text messages online for free. Spylix is an application compatible with iOS and Android phones and monitors a target phone with ease and efficiency. If you are looking for an application to help you monitor your kids or even your partner, Spylix is the app you need.
Spylix is a product of a company aimed at developing parental spy apps. The product has a vast range of features and benefits, and the fact that it can monitor target devices, whether it's an iPhone or Android, makes it the most recommended spy app to use.
Spylix has vast features to guarantee you complete monitoring control over your target phone. These features include:
Text Messages – Spylix can intercept sent and received text messages on your target phone even when they are deleted. It sounds incredible, right? Yeah, because it is.

Call Logs – do you want to monitor all calls, durations, and even timestamps of the target phone? Try Spylix. It will do all that.
Social Media – with Spylix, you get to monitor conversations on social media apps like WhatsApp and Telegram.
Web History – at times, you may want to check the sites and browsing history of the target phone. You can achieve this using Spylix, even incognito mode searches.
GPS Tracking – in the case of kids, you may want to know their current location using their phone. Spylix will handle that for you.

Phone Control – Spylix enables you to gain control over the target phone from which you can then restrict services, block Wi-Fi, and even restrict access to specific websites.
Media Files – you may want to monitor the media files that the target phone sends and receives, such as videos and photos; this is easily achieved using Spylix.
Having seen a snapshot of all the power and features that you get by using this monitoring tool, Spylix, it's time you learned how to use Spylix to intercept text messages without a target phone online easily. The steps below will guide you.
Step 1: Enter your email and password to create a free account.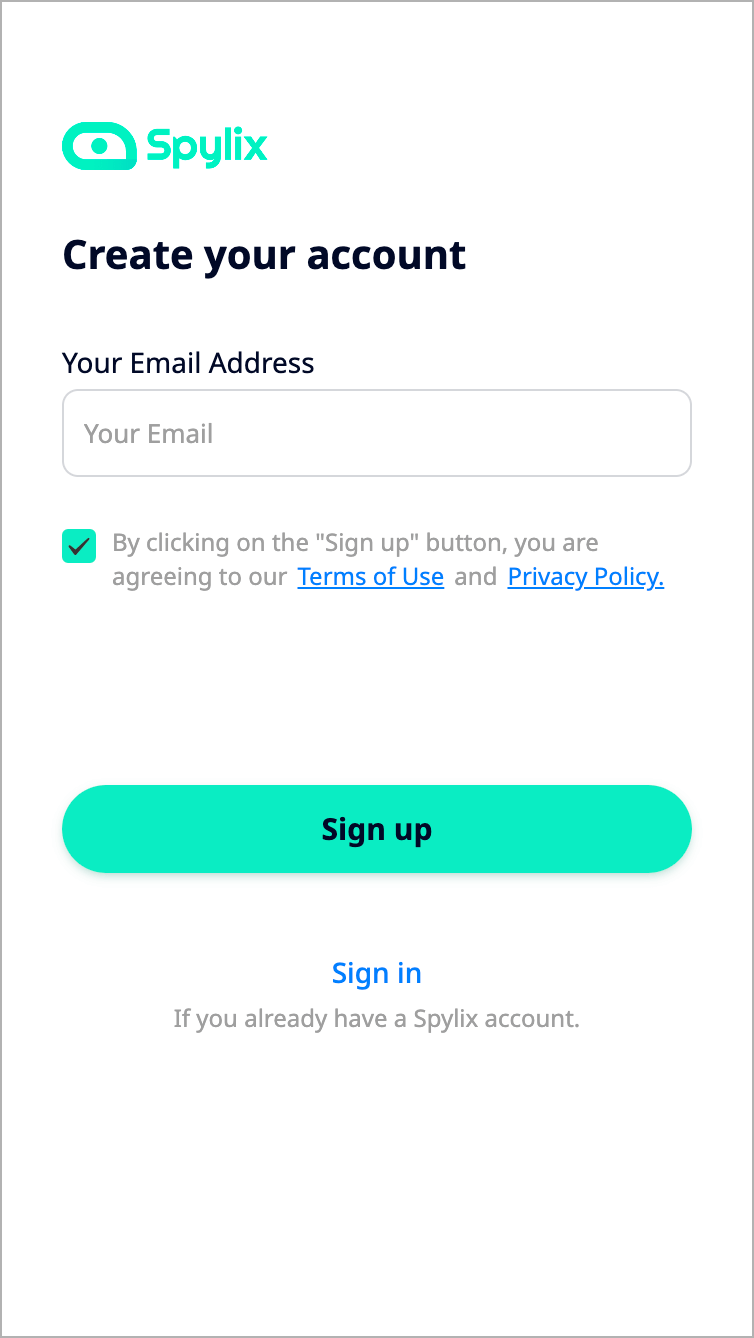 Step 2: Once your account is created, follow the welcome screen and choose your target device and payment plan.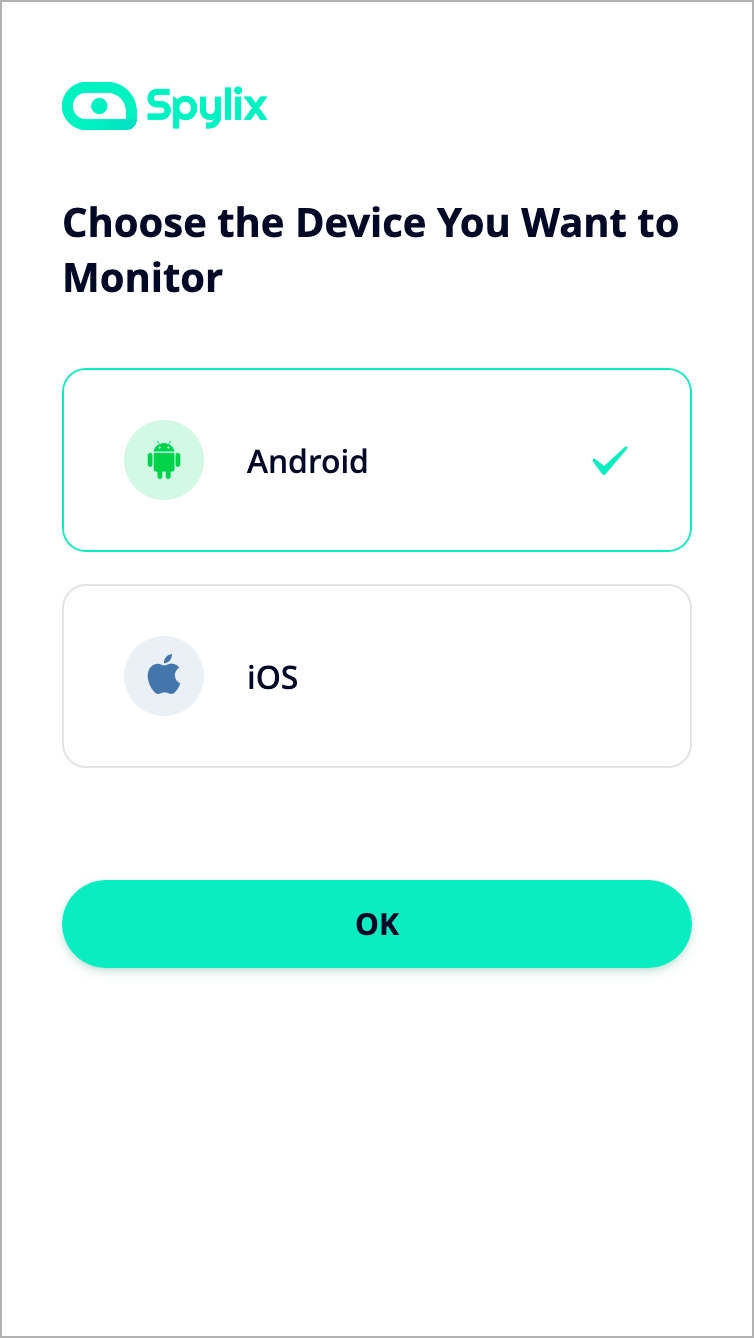 Step 3: Once your complete the needed instructions, login into your account. Under the Control Panel, you can start to monitor Text Messages on your target device.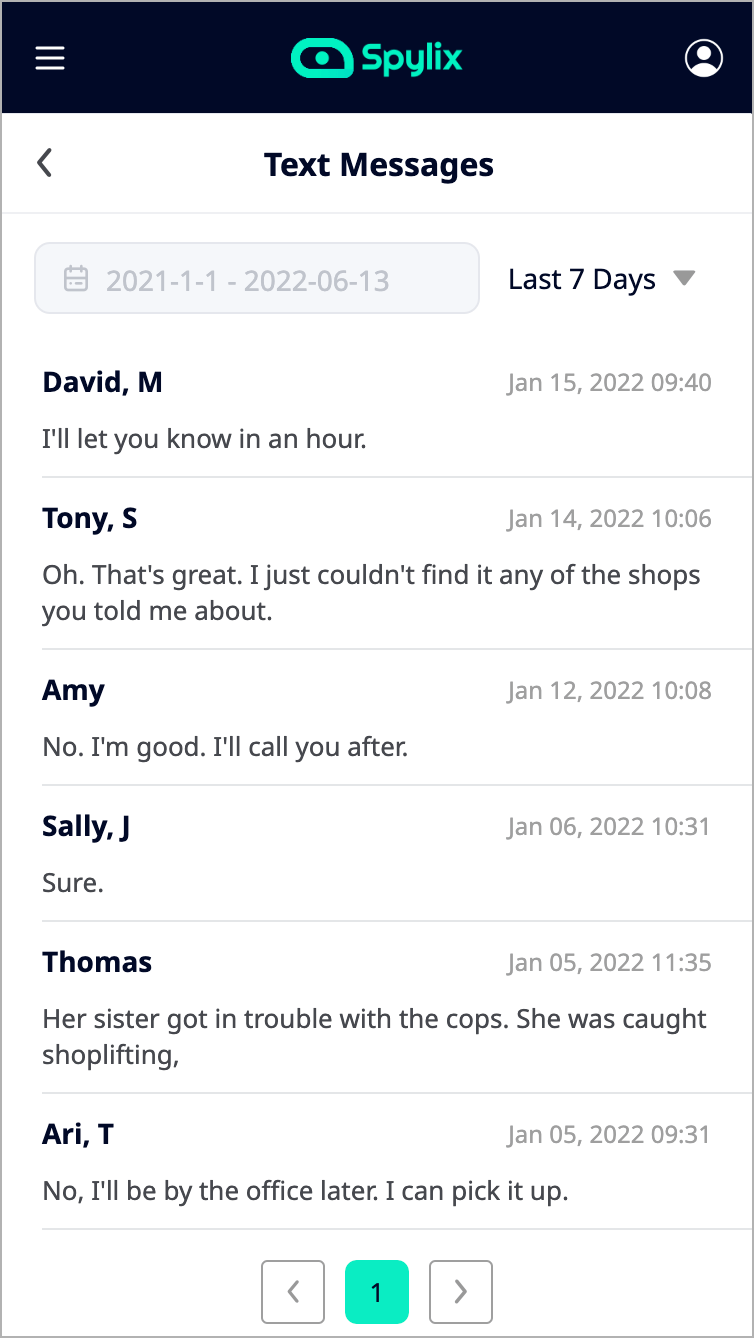 From your Control Panel, you can monitor the activities of your target device by clicking on your choice, whether it's photos, events, or any other choice. Once you click either option, the menu will expand to the right, and you will view more details of the same.
Part 3: Is it Legal to Intercept and Read Someone's Text Messages?
The legal part concerning intruding on one's privacy by intercepting their text messages is something you should first check out and understand before intercepting another person's text messages. To help you know more about this and answer the question, we look at various points below to guide the final decision.
The perspective of moral
The motive behind why you are intercepting text messages of the other party is vital. For instance, if you want to monitor your child's phone, this could be in good faith to ensure that you keep track of their activities. Moreover, it can help you track your child's location quickly, which is a good motive.
Moreover, you may opt to intercept your partner's phone over trust issues, or even if you are an employer and you want to monitor employees using the employee devices given to them. That, too, is a good motive making it legal to do so.
However, if you are the kind of person that wants to spy on another for malicious activities or due to hatred and end up exposing them online, that goes against data privacy rules, and it's illegal. You should ensure your motives are justified for the right intentions.
Legitimate use
Provided you are on the safe side of the law by ensuring that you are not monitoring the other person for commercial gains such as blackmail or manipulation, then you are good to go. However, confirm the privacy rules of your country as different countries can have different regulations addressing the same.
Permission of the person being monitored
Going behind the back of someone else to monitor them can break their trust when they discover you. Thus, provided you have the right intentions, you can seek the consent of your target victim to ensure that they are comfortable with you invading their privacy. Only in exceptional cases should you monitor them without their permission, such as tracking your child's location.
To sum up, although modern technology has made it easy to intercept text messages without the target phone, ensure you do it for the proper purposes to ensure you are on the right side of the law. Where possible, seek the consent of your victims first.
Part 4: Summary
If you are looking for quick and effective ways to attain long-term monitoring and spying of a target phone, then this article got you covered. The article introduced you to how you can intercept text messages online freely without the target phone. It also went ahead to introduce you to two methods at your disposal to use.
Among the two methods introduced, using Spylix is the recommended way. As with Spylix, you get more than just intercepting the text messages. Spylix enables you to gain control over your target phone. Moreover, you get access to chats, videos, and even access to social media accounts of the target phone.
The bottom line is that Spylix is the most recommended and easy-to-use spy application in the market. However, always ensure that you have the right intentions to monitor the other person and stay on the safe side of the law as you enjoy using Spylix.