We care about our families, and we would like them to be safe. Thats, however, not the case since issues pop anywhere and at any time. To take care of whats pressing adequately, a family tracking app can help.
It will show you what the loved ones are up to, and if they are in danger or planning something fishy, you will be able to take the necessary steps to curb it. This blog will contain family tracker solutions that you can use at home.
Lets start by defining what family tracking apps are and how to choose the best one for your folks back home. After that, you will see the ten best applications you can consider to tell you everything from who your target talked to, to where they are.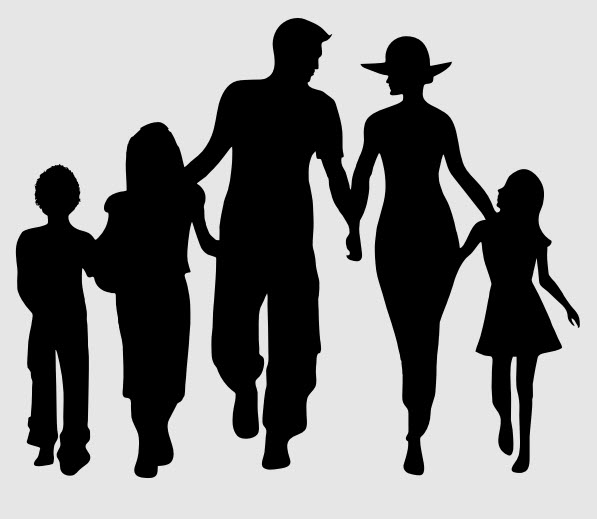 What Are Family Tracking Apps and How to Choose Them?
Have you ever used a spying application? Then you have an idea of what to find here. If not, dont worry, we will explain. A family tracking app is a monitoring application that can check on the members' phone and computer activities.
Most of them apply to phones, though. These apps use GPS to track the location, and since they are set up on the targeted phones, you will also get other activities such as the past locations and alerts if they leave or enter specified zones. After getting all the required information, these apps use an online account to reveal it.
You will get a dashboard with features holding all the details. The available specifications depend on what the app can do. So, you are bound to get more or fewer features based on the application you choose.
If you want to choose the best tracker app, then you can consider the one with the following functionalities:
Location and Geofencing: You want to know where your family members are. The best family tracking solution should have a location feature to show you the present and past locations. With Geofencing, you can set up perimeters to know when they enter or leave specified zones.
Multiple devices: The app in question should allow you to track more than one device. You follow up on your family, and almost everyone has a phone. Getting one solution to cover all is cost-effective, and it makes it easier to get everything on board.
Phone activities: Apart from tracking the family members, you also need to know what else they are doing on their devices. Therefore, you should be able to get the basic activities such as calls, SMSs, social media, and browsing history.
10 Best Family Tracking Apps
You now have a glimpse of what family tracking apps are and what to expect from them. The details below will give examples of such applications. Keep reading to see what they entail, what they can show you remotely.
Spylix The Family Tracker App That Keeps Everyone Safe
Spylix is a monitoring app that has found many use cases globally. Since it's launch, families, among other recognized groups, have used it to keep their subjects safe. It works on Android and iOS, and you dont need any rooting or jailbreaking techniques.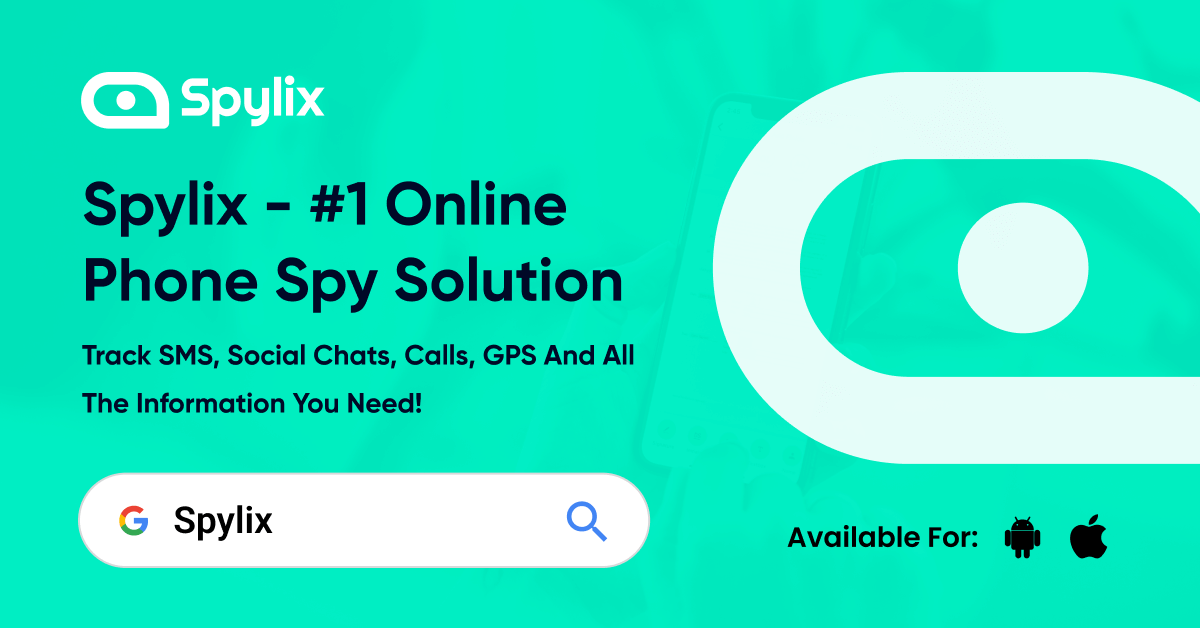 It's therefore easy to set up and use. Once you have it on the family phones, the results will appear in your online account. That means you have the freedom to check remotely. Spylix has a family GPS tracker that tells you the real-time location of the targeted phone.
It will also show you the past locations using coordinates and timestamps. Other ways to track include Geofencing, where you can set up perimeters to know when the subjects enter or leave specified zones. You can also use the Wi-Fi networks to detect the location.
Other features to explore include calls, contacts, social media activities, blocking websites, Wi-Fi and applications.
Pros:
Works on both Android and iOS
Interactive dashboard
No rooting or jailbreaking
Real-time tracking and getting the past locations
More than 40 functions to explore
Cons:
No packages available to monitor multiple devices
Editorial review rate: 5 stars
Life360 - Tracker App with Crash Results
Life360 is dedicated to family tracking, and that is why it qualifies to be in our review. You can use it on Android and iOS devices. The only issue is that it requires higher versions. For Android, it's 8.0 and above, while in iOS, you should have version 14.0 or later.
The application is solely dedicated to tracking. You get real-time location tracking, crash detection when a family member drives, and 24/7 roadside assistance. It's free to use, and you can try it for the next seven days before subscribing to a plan.
More features include advanced location sharing, getting location history of the last two days, and alerts, especially if a crash happens. There are also ID theft protection and SOS alerts when you find yourself in a tricky situation.
Pros:
Tracks location in real-time
Extra services such as crash reports and SOS alerts
Allows location sharing
Cons:
You need the app on your phone too to monitor your loved ones
No extra features such as call and SMS tracking
Not compatible with lower OS versions
Editorial review rate: 4.5 stars
Glympse - Family Tracking Using Location Sharing
Glympse can also help you know where your family members are. It's a recommendable family tracking app since it shows the location in real-time and uses GPS to track the phones.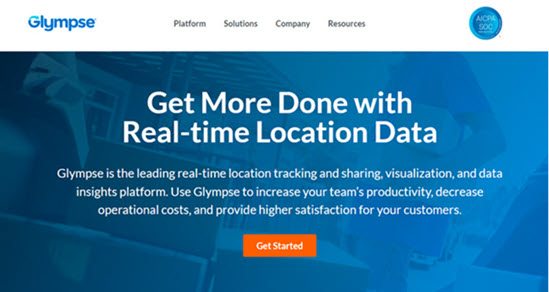 To get the location of the other members, you need to send a link via text or email to them. They will, in turn, access it using their browser. The beauty of using Glympse is that the other members do not need to download the application.
Apart from location sharing, you dont get much from Glympse, but you can communicate with other family members and friends by sending text messages. The main problem with Glympse is that you may not know where the other person is if they are not willing to share their location details.
Pros:
It does not require installation on the targeted phone
Tracking happens in real-time
Location sharing is easy through text or email
Cons:
Youll not view location information if the other party is not willing to share
Editorial review rate: 4.4 stars
Family Locator - Where Is My Family?
The Family Locator is parents tested and proven to help you locate your loved ones no matter where they are. The location tracking happens in real-time, but you and the targeted phones need to have the application.
After the installation, you can now share the location details with the other family members. You can know when someone reaches their desired location safely. If a kid or relative is lost, there is an SOS button to send the alert and the exact location.
The family Locator app also has the Geofencing feature where you can create the safe and unsafe zones as the app calls them. When a kid enters the endangered zones (or the safe ones), you will get an alert.
It's free to use the app based on the developers claim, but if you upgrade to the Lifetime Premium version, you will also view the location history for up to the last seven days.
Pros:
Allows real-time updates
Helps find a phone or person if they are lost
You get location history with the premium version
Cons:
It's not as free as the developer says. The features are limited if you are using the free version.
Editorial review rate: 4.4 stars
MyFamilyTracker - The Find My Family Application
You can use the MyFamilyTracker app to keep tabs on your family and know where they are at all times. It's an app that works on Android and iOS devices, and it requires installation regardless of the phones platform.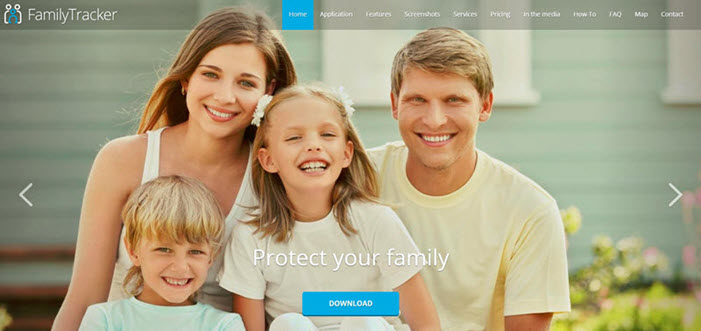 You can use it to track other phones on your mobile device or via the web. The prior requires you to install MyFamilyTracker on all devices and then add their emails on your end. For the web version, just install the app on the targeted phone, log into your account and add your email to connect with the phone.
You can view the location in real-time and also check on the history. More to that includes Geofencing and checking the target phones battery level. It claims to work worldwide, allowing you to track your loved ones regardless of their location.
Pros:
Works on Android and iOS
You can track via your phone or the web
Works globally
Cons:
Requires consent from the other party
No features to track other phone activities
Editorial review rate: 4.0 stars
Tracker Sprint - Family First GPS Tracker with Notifications
It is a mobile safety and security tracking app that helps locate and track your loved ones hence an excellent choice to be used as a family tracking app. As it helps protectthose you care about, you can view the locations in real-time and get alerts.
It's compatible with Android and iOS phones,and you dont need to root or jailbreak anything. Tracker Sprint is a favorablechoice for a family tracker,and some of it's key features are:
Real-timelocation tracking
Personalized Safety Zones and notifications
Location updates even if you are miles away
Tracks historical data
Built-inlight sensor detection
Pros:
Tracks up to five phones
The family tracker is easy to use. All you have to do is choose the number of the phone you want to track
Automated text messages once the tracked device is in the forbidden zone
Cons:
The GPS data is not always reliable.
The owner of the tracked cell phone may easily block the app from tracking their mobile phone.
The updates on the location may not always be timely.
You can only use thefamily tracker on the phones subscribed to the Tracker Sprint cell plans. It means that if your children or loved ones change the operator, you will not be able to track them.
Editorial review rate: 3.5 stars
Family Link App - Free Family Tracking Solution
This family tracker app allows you to create a specific Google account for your child,which appears as your account. You can set rules and dictate what your child can access, such as websites and apps,and for how long.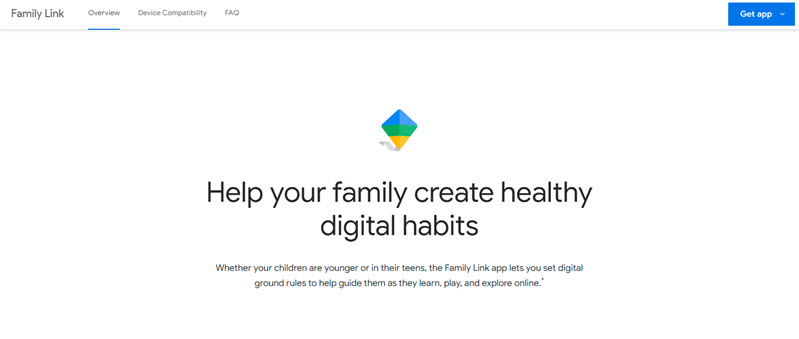 It also helps manage your child's purchases and downloads from Google Play. The key features include:
Manage purchases and downloads on the Google Play store.
Set limits on app usagebased on the Entertainment Software Rating Boardratings.
Set limits on movies and TV shows based on the same familiar rating systems used in theatres and TV stations.
Compatible withAndroid devices running version0 (Lollipop) and higher and iPhones running iOS 11 and higher.
Pros:
It is Free
Easy to use
Restricts use of Chrome, YouTube, Google Play Store, Search
Cons:
Very basic web content filtering
No Geofencing
Underpowered in most areas
Editorial review rate: 3.5 stars
Safe 365 - Family Tracker with Route Sharing
Unlike other free family tracker apps, Safe 365 is simpler and is preferred by many. Not only is the device capable of communicating a precise location in real-time, but it can also share travel routes and the remaining battery percentage.
The Safe365 smartphone app features multiple integrations to enable data capture and reporting. It is compatible with both Android and IOS. The features you get involve the following:
Individual profiles,including logging all training, certification,and induction records
Event reporting tool.
Risk hazard reporting tool.
Log safety observations, conversations, toolbox talks,and team meetings
Create and complete custom safety processes
Measure workforce perceptions
Pros:
Offers a real-time tracking solution
Either track loved ones or allow them to track you
Provides detailed route information, GPS location, and logs variousstats
The app cansend out an instant emergency help request
It givesthe user the ability to broadcast their location
Cons:
Due to the volume of features and tools,the app can feel busy at times.
Editorial review rate: 4.1 stars
Foursquare Swam - Track Family Location and Get Reports
Foursquare Swam provides you with a convenient layout where you can keep tabs on where your kids are going. When someone checks inat a place, you will get a pin showing the exact location.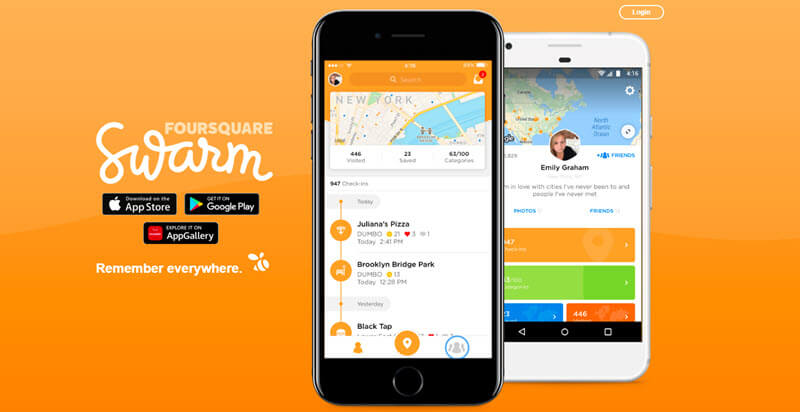 It's a great family tracking app as family members can do this when they get to different spots.The program has a statistics report system that gives data on the places people visit more often.
You can use this to track other people's behaviorsin your family. It is compatible with both Android and iOS,and it requires you to share your location with yourfamily members for it to work.
Pros:
Tracks GPS and network information based on check-in spots
Works better after detecting the most popular locations
It's free
Cons:
It usesup a large amount of battery power
Works best for people familiar with Foursquare
Editorial review rate: 3.8 stars
Google Maps - Free and Global Family Tracker
Google Maps has an awesome inbuilt location sharing feature available both on the mobile and the web. It is an excellent GPStracker that can work with Open StreetMapsorGoogle, preferred for outdoor activities or travel.
The app allows users to share their real-time location and hence can be used as a great family tracking app as it is compatible with Android and iOS.
Key features include:
Add stops to your trip
Check current and future traffic
Navigate through buildings
See inside places
Save your favorite locations
Tracking peoples locations
Pros:
Natively available in most phones
It shows battery percentages of added devices which is useful when tracking kids
Compatible with both Android and iOS
It's free
Cons:
No notification service for arrival and departure for contacts
Battery drain
Editorial review rate: 4.7 stars
How to Use Spylix to Track Family Online?
Step 1: Sign up for an account with Spylix, choose the targeted phones operating system, and then subscribe to the best plan.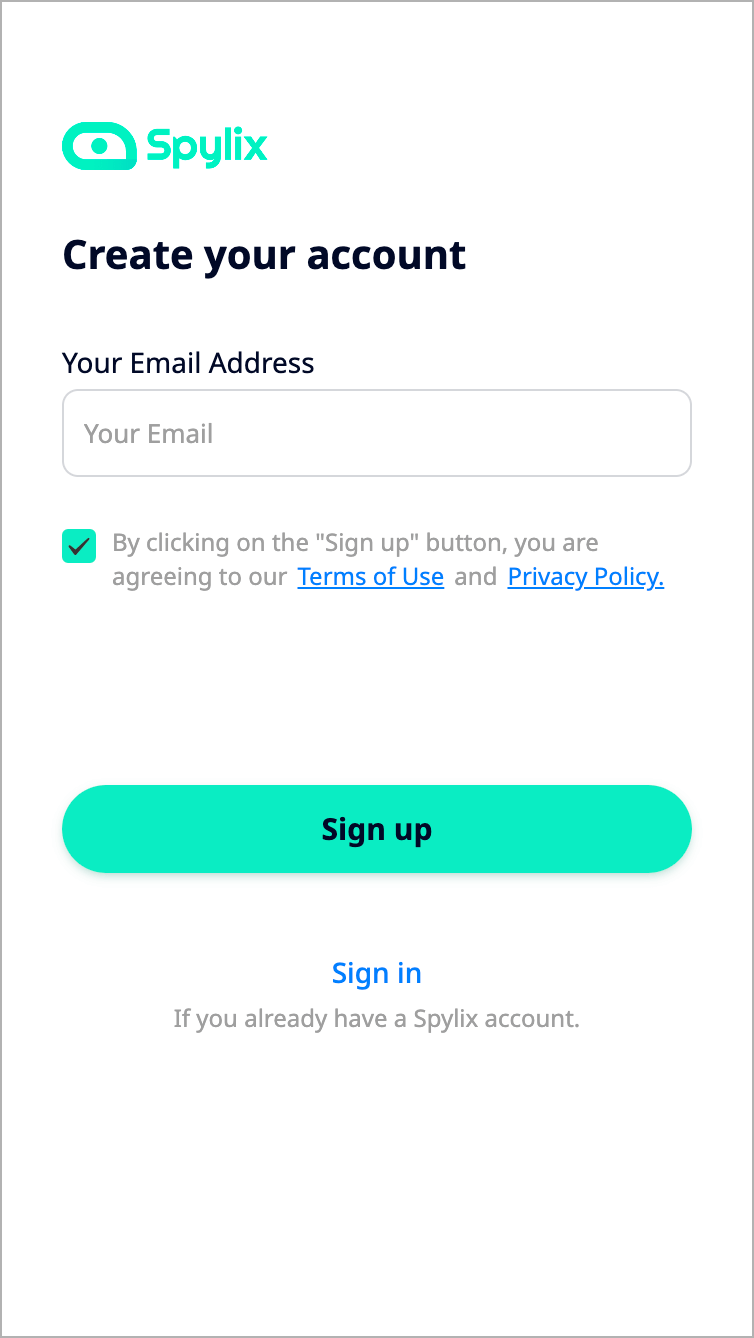 Step 2: After subscription, you will see an installation wizard page. Use the instructions to set up Spylix on the targeted phone.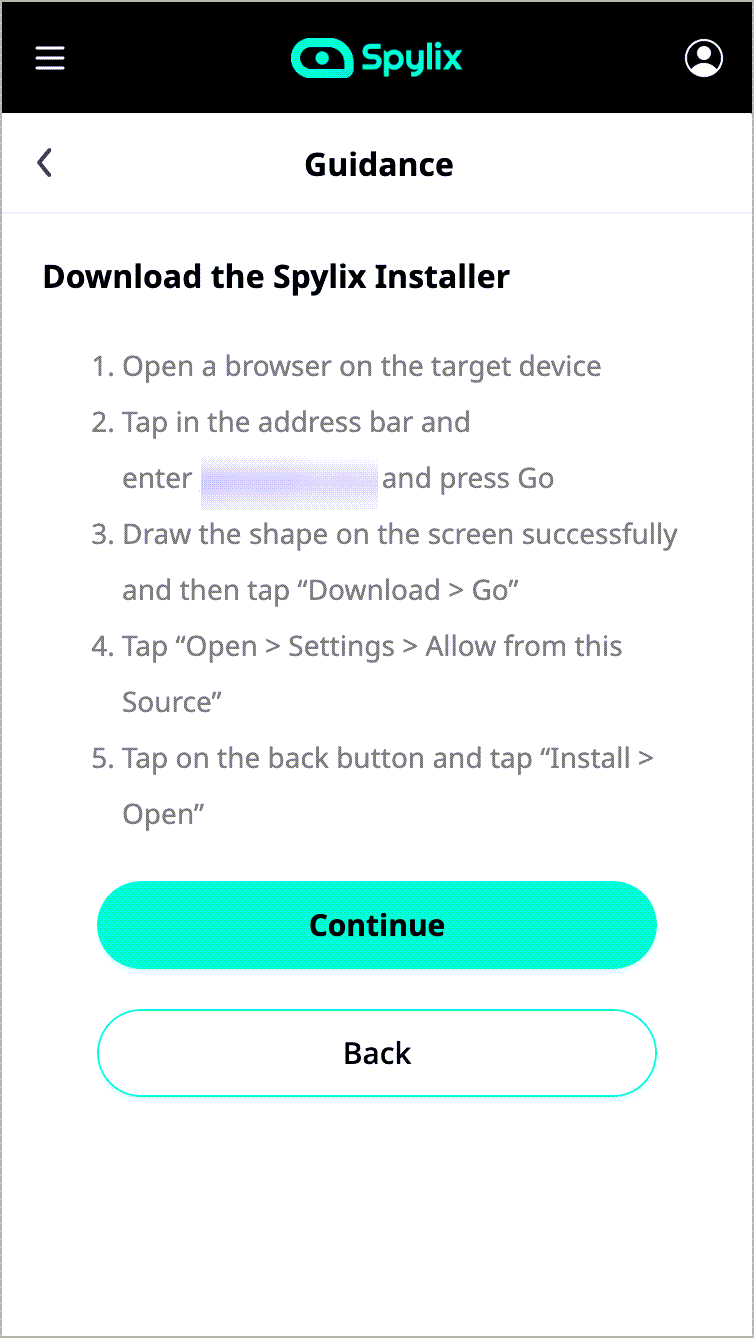 Step 3: Log into your account and access the dashboard. To track the family members phone, go to the Locations category and click on the GPS option. If you need some restrictions, use the Geofencing specification.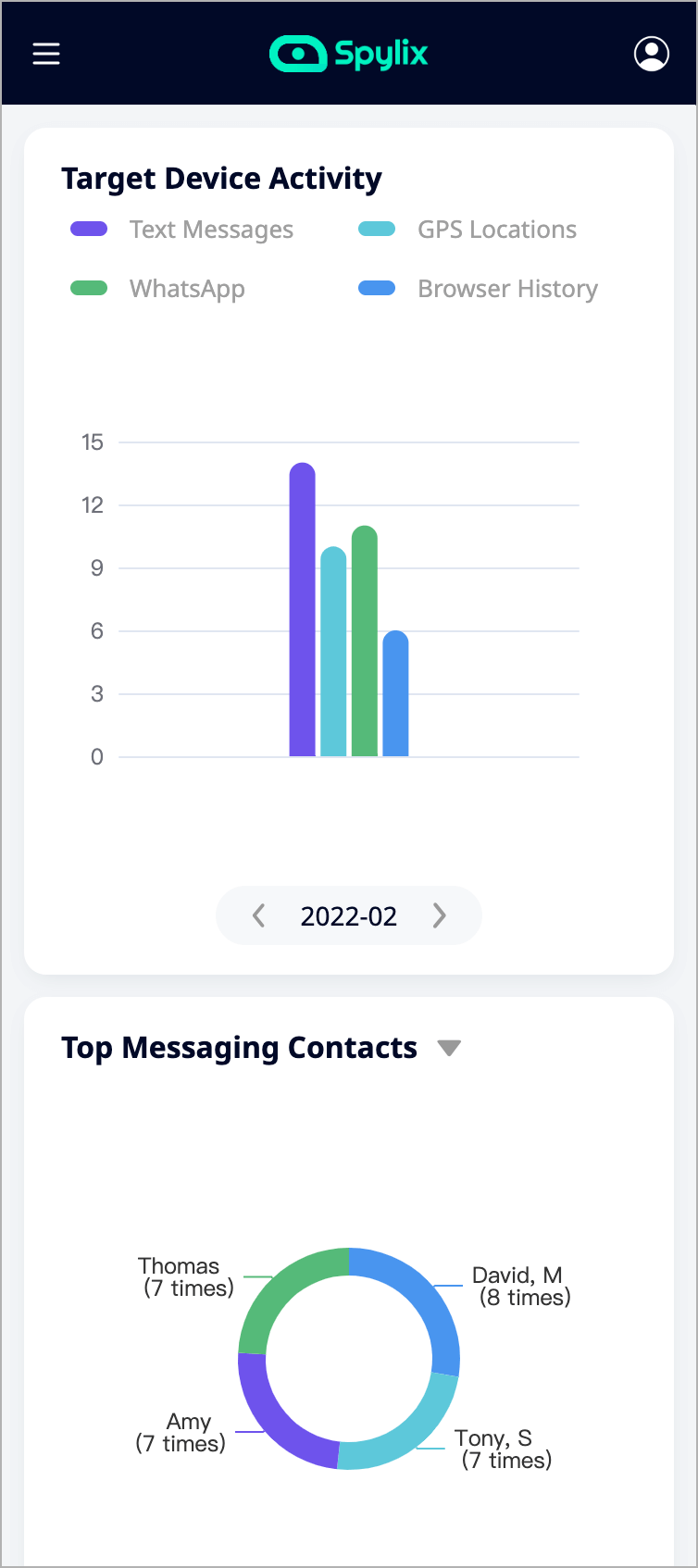 What Else Can Spylix Do?
Apart from utilizing it as a family tracker, you also get the following:
All the calls made on the phone and the saved contacts
Sent and received SMSs together with timestamps
Social media activities on Facebook, WhatsApp, Snapchat, Tinder, Kik, and more
Vie the installed applications
Get the saved media files (photos, videos, and audio)
Ability to block Wi-Fi connections, websites, and unwanted applications
Keystrokes via the keylogger
There are more than 40 functions to explore on Spylix. You should, therefore, check the main website for more information as you create an account.
Conclusion
Family tracking apps help us know where our loved ones are and act in time if there is danger. We have the ten recommendations above, and they will all help keep tabs on family members and friends.
Your job now is to choose the best one and proceed to use it. If you are still undecided, try Spylix and see what else it can do apart from being a family tracking app.