Children nowadays text their family and friends to communicate!
It is a useful medium to get the job done, but the parents can not determine what kind of messages their child sends or receives. They also can't determine whether the teen uses explicit words during their texts.
If you are one of those worried parents who have no clue what their child is up to, do not worry!
A keylogger can help you check out the required details. Follow this article to learn about the top undetectable keyloggers you can remotely install on an Android device.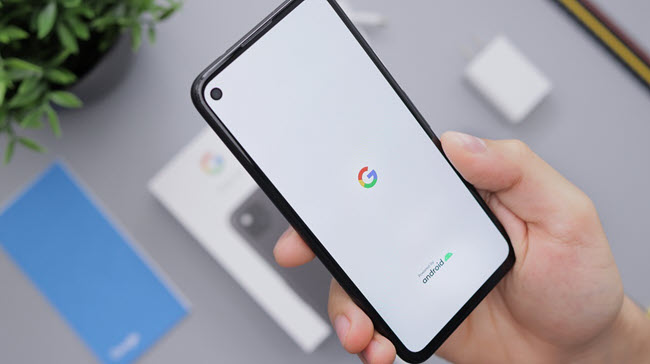 Part 1: What Is An Undetectable Keylogger for Android?
A remote keylogger for Android is an excellent tool for finding out everything about the target user's activities!
You can check their keystrokes, learn about their emails and SMS chats, and even spot the sensitive words the other user enters on their cell phone.
If your child shares explicit chats that are inappropriate for their age with someone else, then you can discover using a keylogger and do whatever is necessary to stop it before it is too late.
Similarly, you can learn whether your spouse is cheating on you. How?
Simply navigate one of the Android keylogger apps to check for keywords used in sexting!
If you find any, and the text hasn't been sent to you, then there is a possibility that your partner or spouse has committed infidelity!
In addition, you can determine the social media and email account passwords via the invisible keylogger for Android.
Part 2: How to Choose A Good Undetectable Android Keylogger?
The following attributes contribute to the best keylogger for Android:
Easy to Install

It should be simple to enable the keylogger on an Android phone. The interface should be user-friendly and catered to users with limited technical knowledge or skills.

Undetectable

The keylogger should not be discovered by the target user. It practically defeats the purpose since, upon detection, the person can easily remove or uninstall the app. The app should drain a limited battery and not have an icon on the phone's home screen.

Tracks All Android Activities

You need to track several apps on the Android device to learn the context of the keyword used by the target person. If the keylogger isn't compatible with, for example, social media apps like WhatsApp, then it is pretty useless.

Comprehensive Reporting

The keylogger should provide reports that are easy to understand since most parents or partners may not be familiar with the technical aspects of such a service.
Part 3: Best 10 Undetectable Keyloggers Remotely Installed on Android
Now that you understand what makes the top Android keylogger, we'll discuss the top 10 services accessible online.
There are hundreds of apps claiming to be the best, but only a handful of them are capable of sharing the required information without getting detected.
Read on!
3.1 Spylix Undetectable Android Keylogger
It doesn't matter which app the target user works on on their Android device; the Spylix app's keylogger tool can note the keystrokes without hassle.
The data is accessible on its user-friendly interface, which works on almost any web browser.
The Android app installation takes only a few minutes. Once enabled, the stealth mode prevents the user from noticing its presence on their device.
Besides Android, this app offers a dedicated keylogger for iPhones and iPads. iPhone tracking doesn't involve any software installation. Just enter the target user's iCloud credentials, and you are good to go!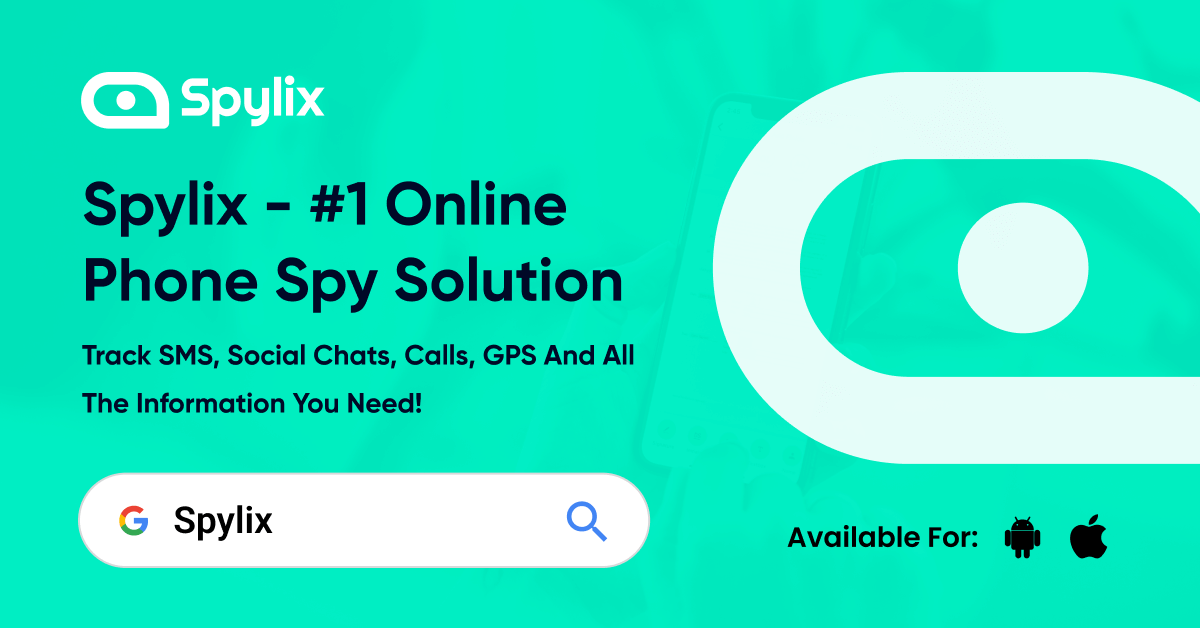 In addition, you do not have to root or jailbreak the target phone to make the keylogger work.
Here is what type of information you can access via the Spylix keylogger for Android:
Keep track of all keystrokes on the Android device
Check the app name and the logged text
Monitor the time and date of the specific activity
3.2 TheTruthSpy
TheTruthSpy is a high-quality Android keylogger that can track all keystrokes on the target device in real time.
These keystrokes are recorded and shared on the control panel, helping you understand the other user's activities.
Other features include location tracking, SMS/call monitoring, browsing history spying, and monitoring all the popular social media apps on the Android device.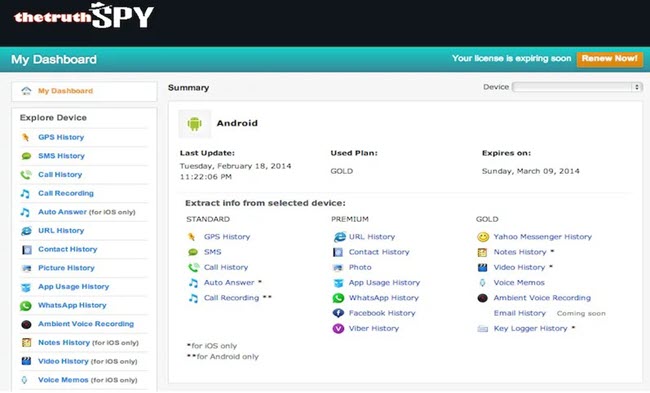 Shortcomings
It drains the Android device's battery. Also, it causes the phone to shut down regularly.
3.3 mSpy
mSpy is considered one of the best keyloggers for Android, which is accessible all around the world without any restriction. Using this app, you can easily track every keystroke made by the target user.
Also, its utility doesn't end here, as this call can locate the Android device's location, spy on all social media apps, view the user's browsing history, etc. In addition, the app can track iOS devices.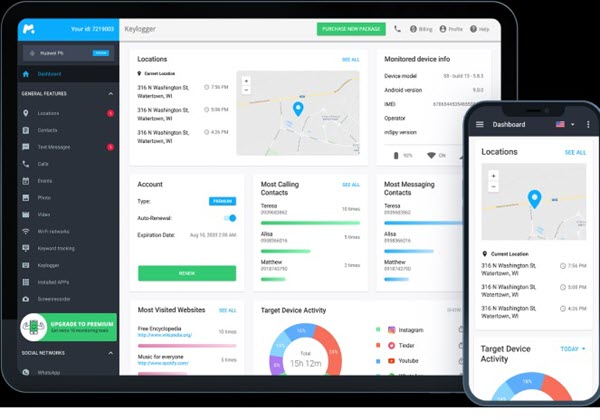 Shortcomings
It offers three pricing plans, and the standard Monthly package is too expensive for an everyday user.
3.4 KidLogger
As the name suggests, KidLogger is a dedicated tool for parents to keep an eye on their child's Android phone activities remotely. You can view every keystroke your kid makes using the keylogger on their device. The information is accessible on the online control panel, accessible on all devices.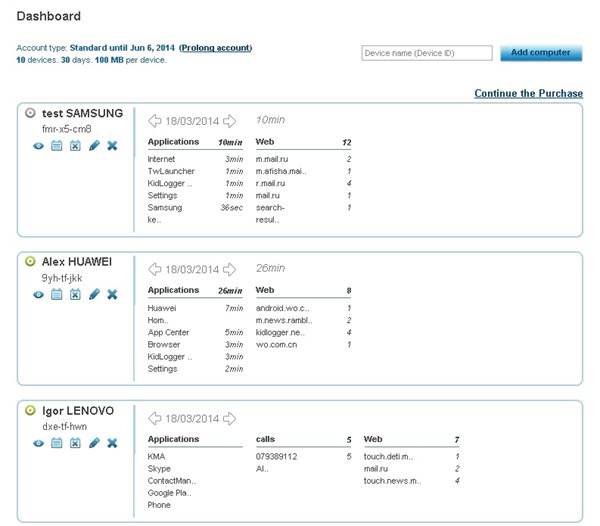 Shortcomings
The control panel is a bit outdated and complicated to navigate.
3.5 Hoverwatch
Hoverwatch is an excellent phone tracking tool that remains undetectable while allowing you to track the user's keystrokes via the online dashboard. The data comprises the text, app name, and timestamps.
Other than Android, this tool can track activities on iOS, macOS, and Windows computers undetected.
Basic features that are easily accessible include the location tracker, browser tracker, social media spy, call spy, and more.

Shortcomings
It is geo-restricted in some regions, and the prices are also on the higher side.
3.6 Snoopza
Snoopza is another useful Android keylogger capable of updating the keystroke information 24/7. It is easy to install and offers numerous phone spying features, such as a call recorder, social media spy, and internet tracker.
Also, you can take screenshots and spy on camera activities remotely.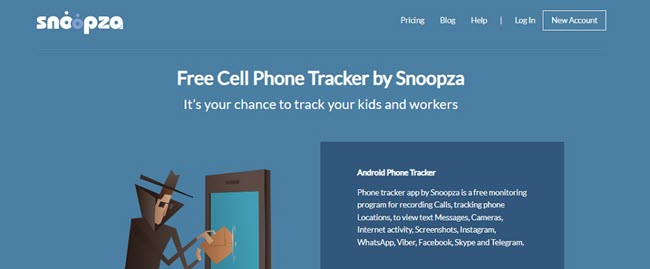 Shortcomings
It doesn't offer a live demo to get the hang of the keylogger feature before purchasing the service.
3.7 uMobix
uMobix's keylogger tool is an excellent way to track other users' keystrokes and learn intimate details about them undetected.
The user-friendly control panel offers the text, app name, and timestamps. Moreover, you can enable alerts whenever a keystroke is made on the target device.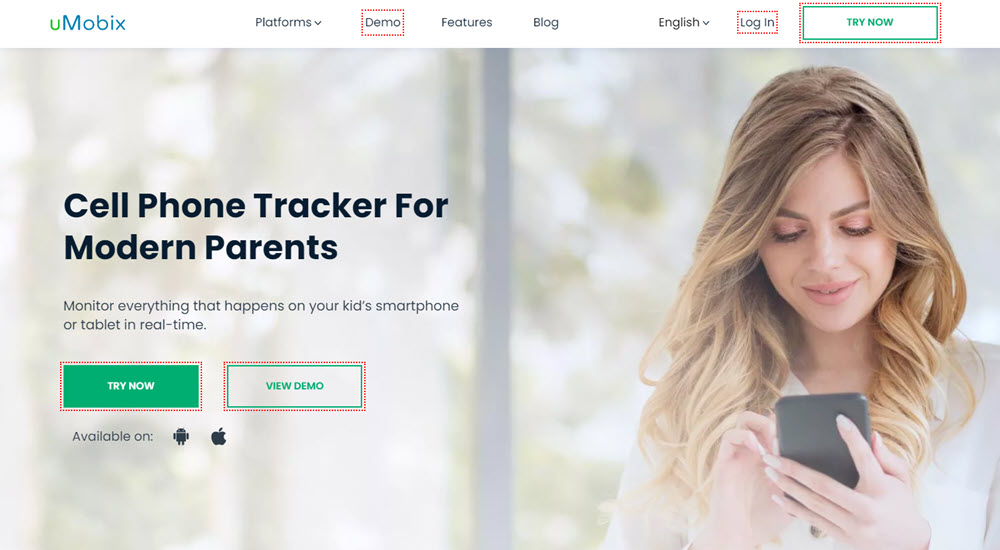 Shortcomings
Like Hoverwatch and despite its popularity, it has been geo-restricted by the owners.
3.8 SpyBubble
SpyBubble offers one of the most uncomplicated installation processes of all keylogger apps mentioned in this article. Besides, you can track the keystrokes, the name of the app used for specific keywords, and the time of the activity.
It has all the top features, including geofinder, app and website blocker, social media tracker, call logs tracker, and more. In addition, it offers customer service around the clock as well.

Shortcomings
Essential keylogger features such as keystrokes alerts aren't available with this application. It is also unavailable in regions outside North America.
3.9 Tispy
Not many users might be familiar with the Tispy app, but it is an excellent tool for checking the target user's text messages, passwords, and social media activities undetected.
The control panel is comprehensive and easy to navigate. Moreover, the application supports multiple languages.
You can also track location, address book, set geofencing alerts, and remotely manage app and website usage.

Shortcomings
It is an unfamiliar app, which may concern the users about their data privacy and security.
3.10 Spyera
It is a cross-platform application that can monitor keystrokes on the spot and offer the details on its user-friendly control panel. If rooting is enabled, you can utilize advanced features like call listening, call recording, and social media call recording.
Basic functions, such as call logs tracker, location monitoring tool, etc., are also available.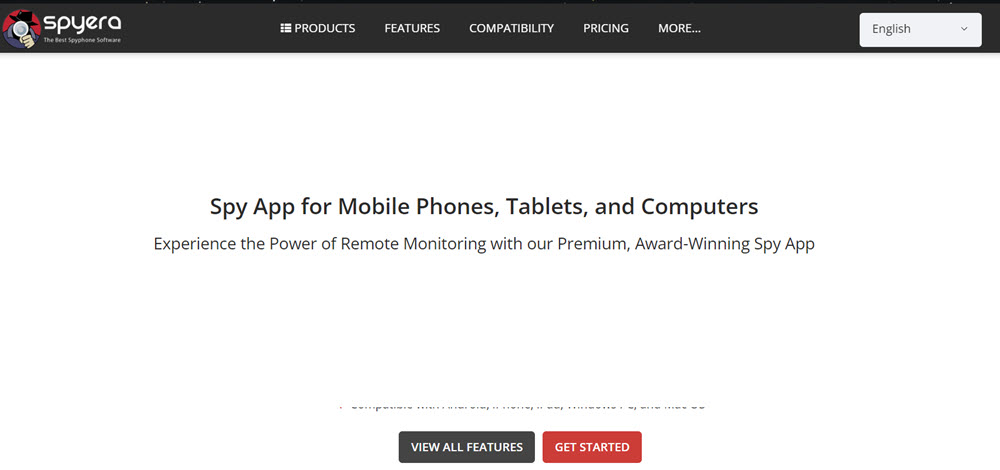 Shortcomings
There are some compatibility issues in enabling this spy app. You may need to root the Android device to unlock the features.
The plans are quite expensive as well.
Part 4: How to Remotely Install An Undetectable Keylogger on Android?
As shared earlier, it is pretty simple to enable the Spylix app on the Android device undetected. So, here we will discuss how to install it quickly!
Step 1: Create Your Spylix Account
Go to the Spylix website, and click the Sign Up Free button before providing your valid email ID to make a new account profile.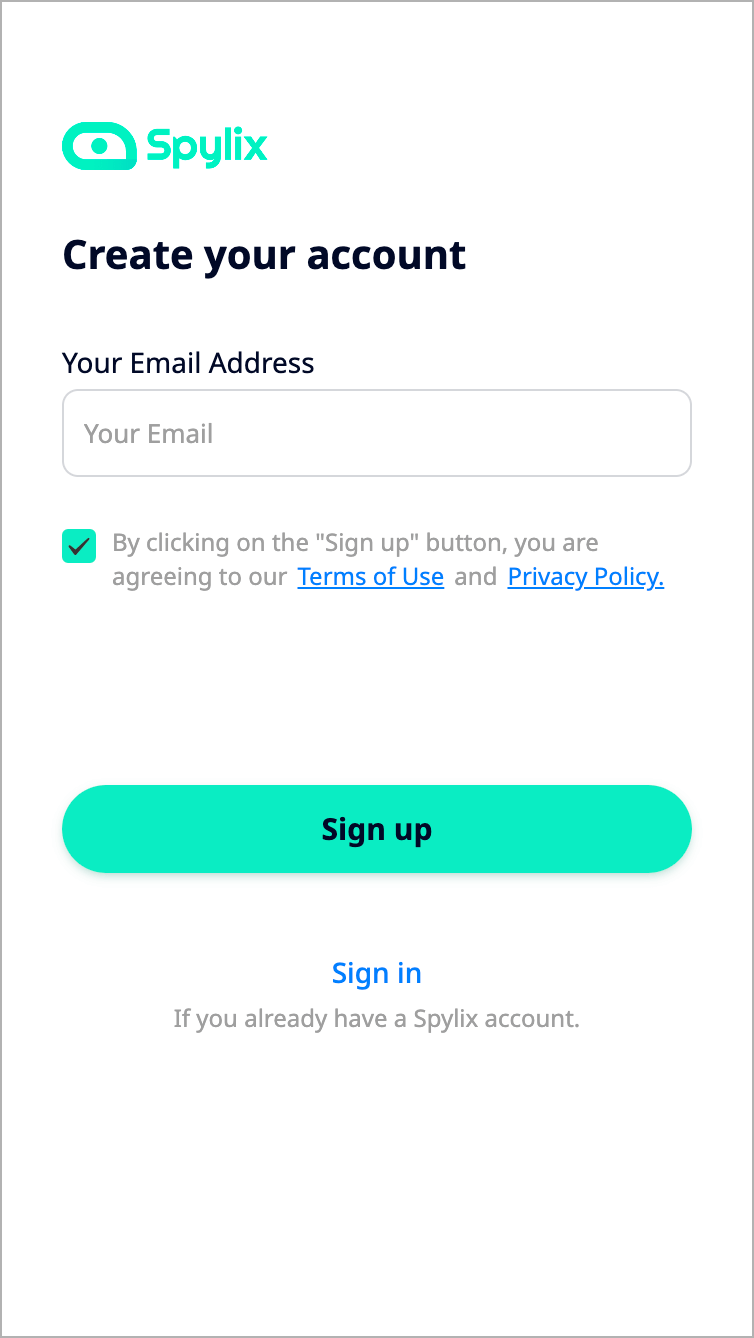 Step 2: Set up The Android App
Next, on your account, you can follow the instructions to learn how to set up the Android app on the target phone. Once you are done, proceed to the next step.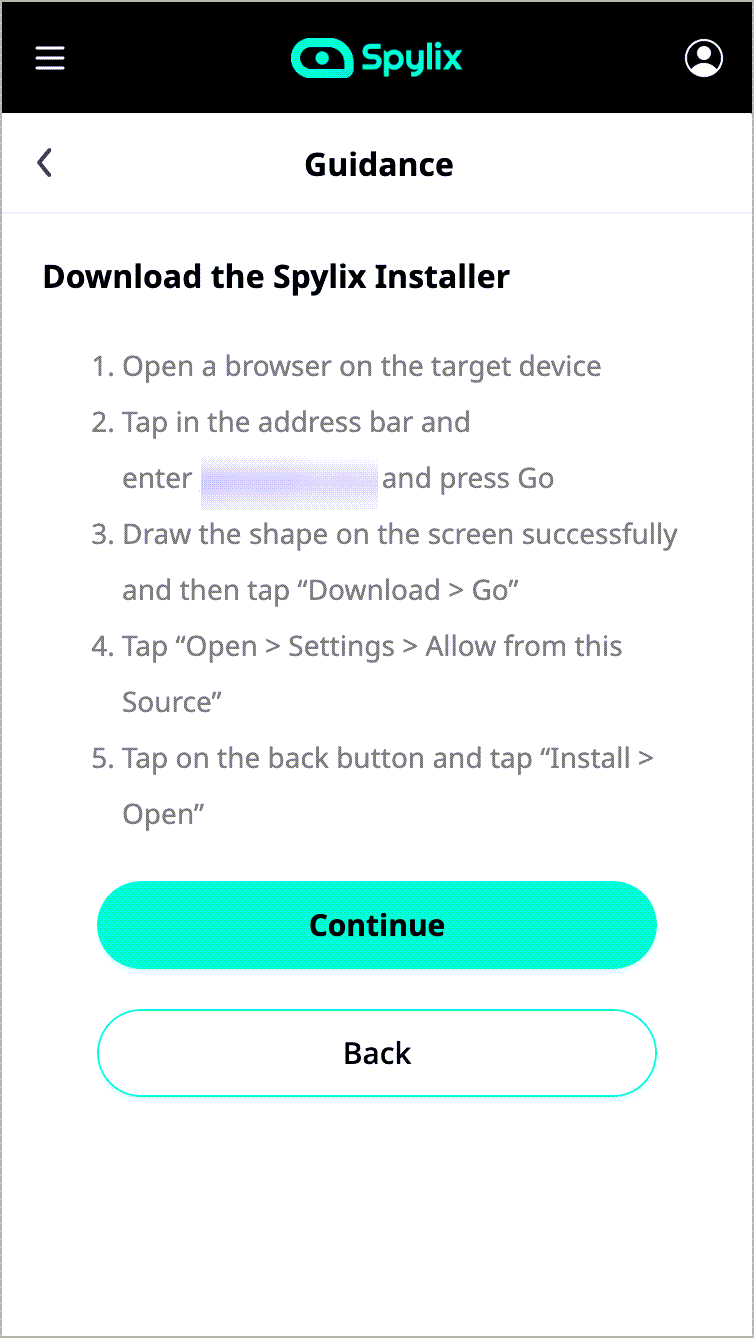 Step 3: Use The Spylix Keylogger for Android
Access the online control panel and click the Keylogger feature to track the app name, logged texts, and timestamps in real time.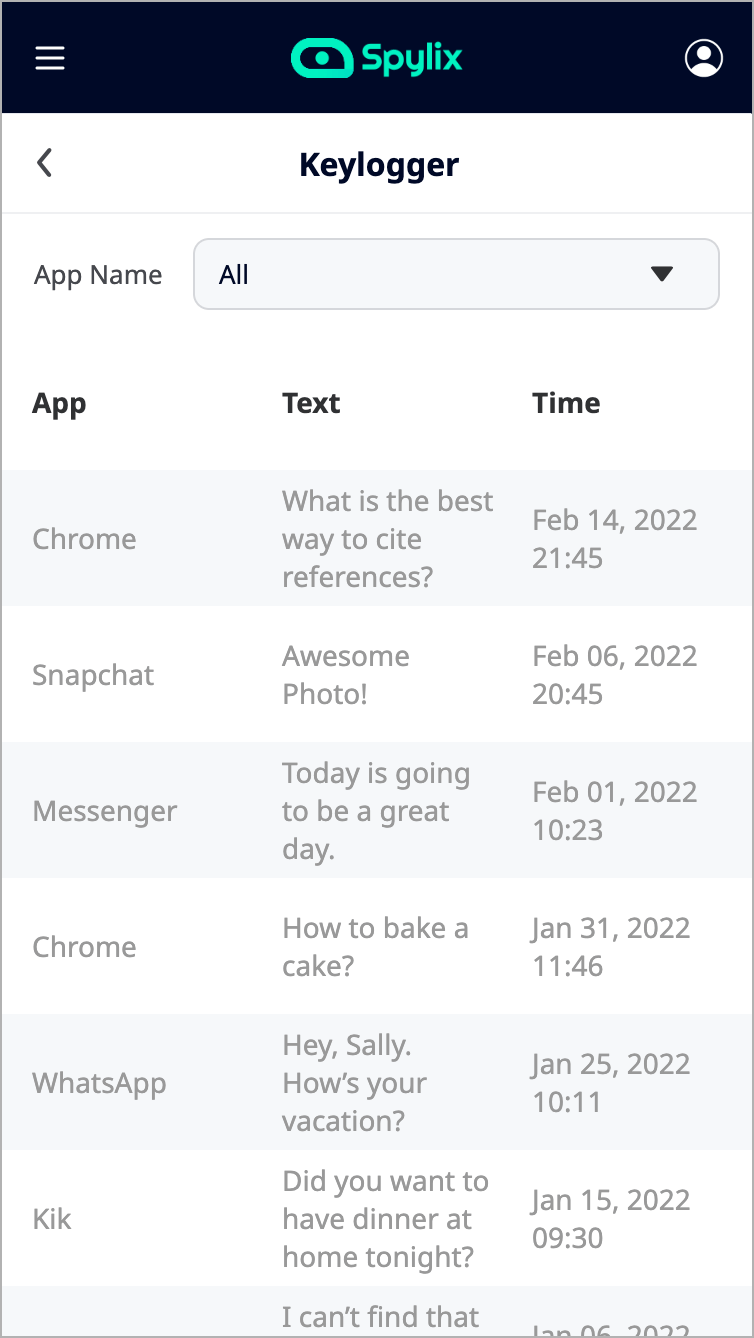 Part 5: What to Do If You Find A Keylogger on Your Android?
If you find a keylogger on your Android device, then the first thing you must do is not panic!
Access the app on your phone to learn who installed it. If you can retrieve such a piece of information, then you confront the person responsible for it or alert the relevant authorities about such an invasion of privacy.
Next, simply use the standard procedure to uninstall the keylogger from your device.
Go to the device Settings, and turn off the "Apps From Unknown Sources" option, preventing any future attempts at enabling a keylogger on your phone.
Please set up a strong screen lock, and we also recommend changing the passwords of your most important social media and banking accounts.
There is a chance that the person who enabled the keylogger can now access your passwords or relevant personal details.
Conclusion
If you are a parent, then learning the ins and outs of the undetectable keylogger to remotely install on an Android device is vital.
This way, you can keep your child in check, determine they aren't involved in destructive behavior, and ensure their safety. Try Spylix, an excellent tool for tracking the child's activities without them noticing.