Inappropriate sites consist of platforms containing adult-based, mature, or violent content.
For this reason, blocking adult content is a necessity when your child is surfing the internet, as coming across such material could negatively impact their mental growth.
So in order to protect them, you need to use some effective ways to block explicit, mature, and violent content.
Here we will share how to block inappropriate websites on phone to ensure your kid only experiences the positives of the internet.
So, here we go!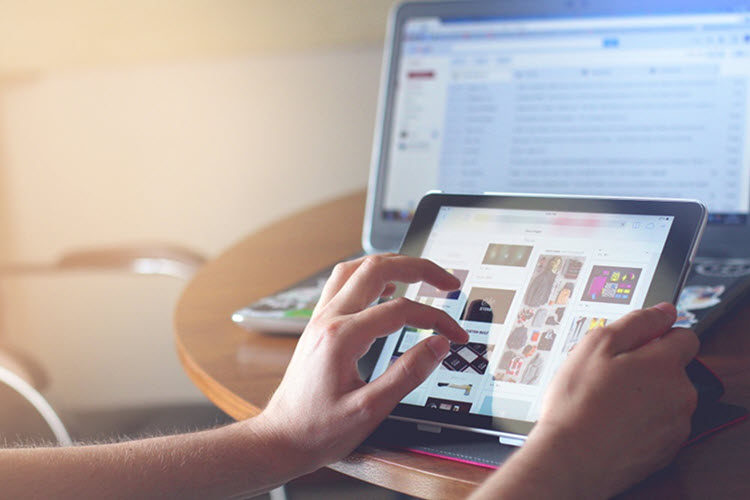 What Are Inappropriate Websites and When to Block Them?
The Inappropriate Websites category is a collection of websites that are generally offensive, deceptive, or the ones containing content unsuitable for individuals below 18 years of age.
Exposure to specific inappropriate sites containing pornography or similar content could damage the mental and physical growth of a child. Also, it leads to the kid struggling in school and maintaining relationships.
Given that almost every child has access to laptops, tablets and cell phones, there is a high chance that they could get exposed to inappropriate sites.
So, when the question arises of when to block such URLs?
Well, the answer is if a child wishes to surf the internet, then you should immediately unsuited websites from their device. It is because the main purpose of going through all such trouble is to protect kids from pornographic and violent content.
How to Block Inappropriate Websites on the Phone?
The internet is a free source of information, and statistics tell us that the majority of users have searched for pornography at some point in their lives. While online has its many benefits, one drawback is the ease with which people are able to access pornographic material.
Whether your child is watching such content intentionally or not, the important thing to understand is that children may be lacking behind in academic endeavors due to their hyper-focus on these adult-based websites.
A parental control platform, like Spylix can assist you in keeping your children safe by restricting the websites they should not be viewing and filtering out the ones containing adult material.
This user-friendly application supports blocking sites on both Android and iOS platforms without any hassle.
Which Sites that You Can Block?
You can block any site you believe could be destructive to your child.
However, if a platform promotes violence, hate speech, pornography, gambling, or a scam, then it is best to block the inappropriate content. You can block porn sites, online dating platforms (like Ashley Madison), and URLs to specific pages or groups accessible on social apps, such as Facebook.
How to Block Inappropriate Websites on Android?
Spylix lets you restrict harmful sites on your child's Android device. You only need to install the application once on the smartphone, and then you can easily limit the URLs remotely using your own computer or phone.
Here is how to block inappropriate websites on Android using Spylix:
Step 1: Create An Account
First, sign up for free by providing your email address and setting an unbreachable password.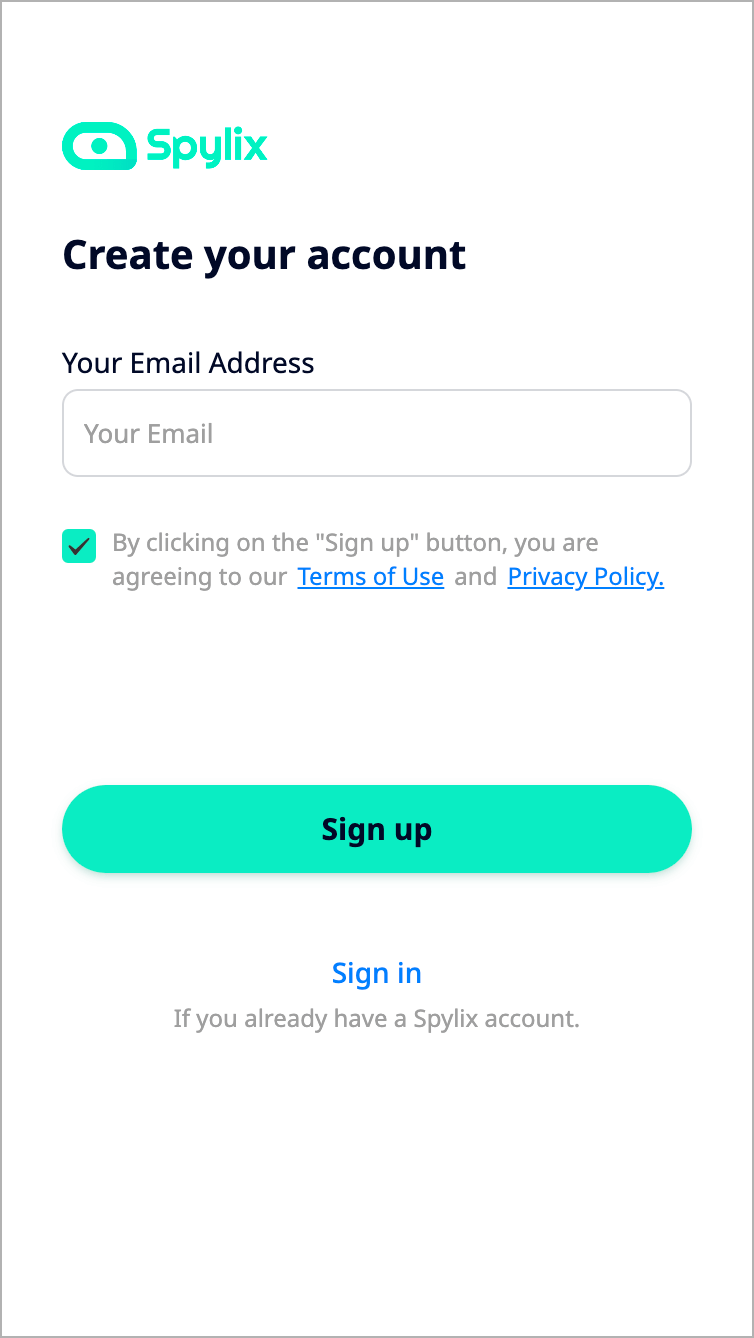 Step 1: Set Up on Android
Now, install the Spylix app on the child's Android phone. Follow the instructions onscreen to perform it quickly and successfully.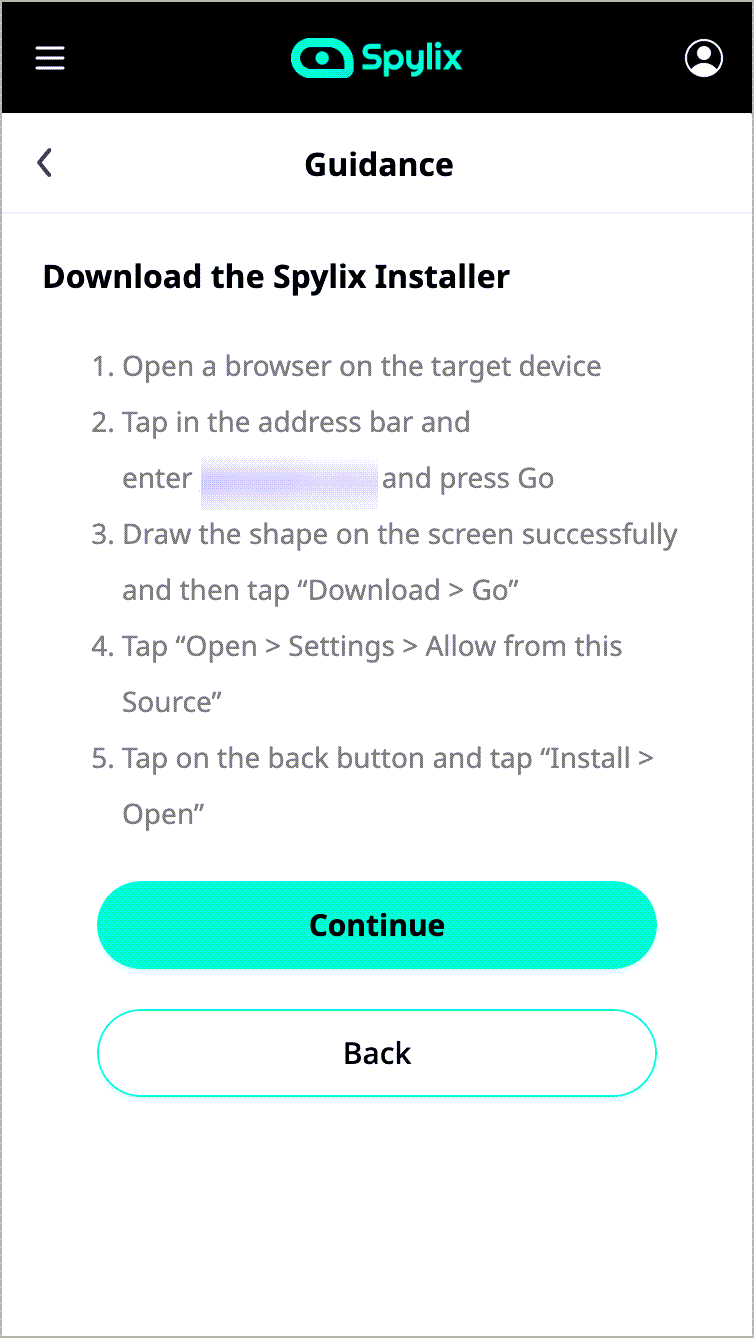 Step 1: Start Monitoring
Access the Online Dashboard using a Spylix account on any device, and add the inappropriate websites you wish to block.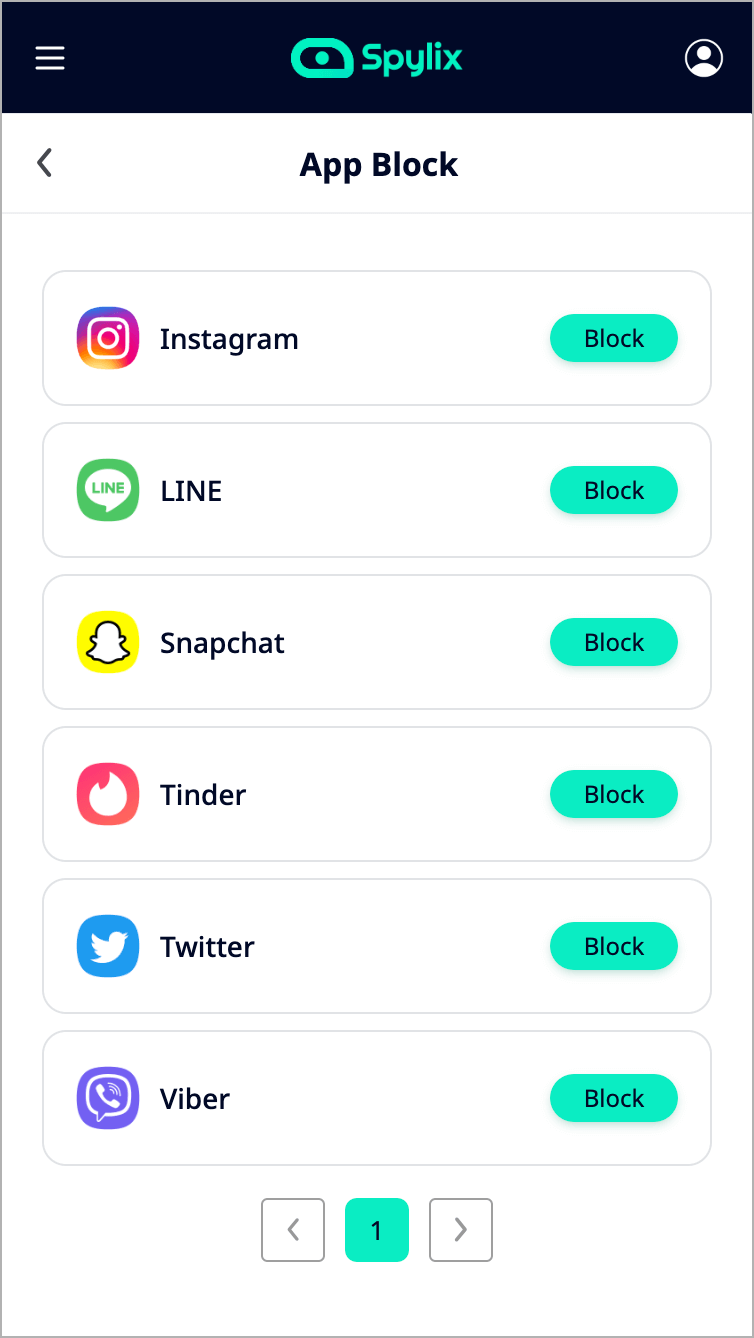 Why Choose Spylix to Block Inappropriate Websites?
Spylix is exceptionally convenient! You can easily block inappropriate sites remotely without your child knowing anything about it.
Simply add the URL you wish to restrict using the Website Block feature under the Controls section on Spylix Control Panel. From there on, your kid wouldn't be able to open it on their Android or iOS device.
3 Common Ways to Block Inappropriate Websites on Android
Besides Spylix, there are other ways you can understand how to block inappropriate websites on Android.
We have listed the common ones here. Check them out!
1. Enable Safe Search
Currently, one of the fastest ways to block inappropriate websites on Android is within the browser itself.
How?
Well, you can enable Enable Enhanced protection or Safe Browsing on the installed browser, such as Google Chrome, which is used by millions of people all over the world.
The next time your child accesses the internet, no inappropriate search result or website link will unintentionally come as a search result because of these easy steps.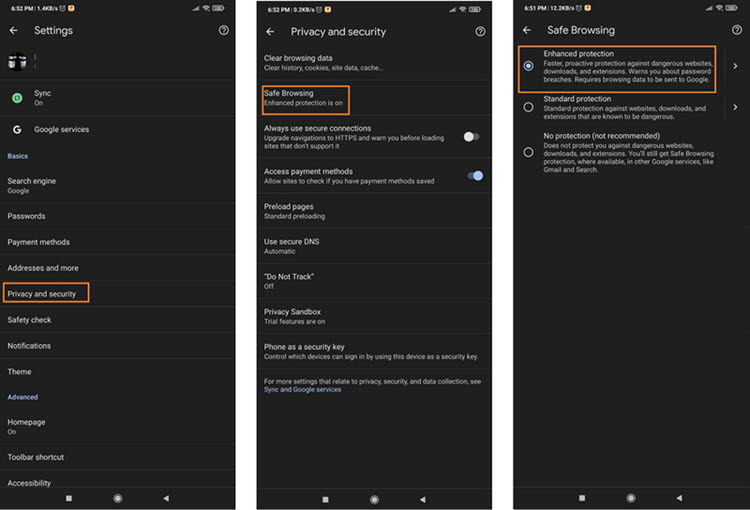 Pros:
Built-in utility
Easy to activate
Free
Cons:
Can be instantly disabled
Not a comprehensive solution
2. OpenDNS
OpenDNS is an excellent way to block inappropriate content on Android.
Whether your child is browsing on a laptop, phone or tablet, this will help to prevent search results filled with explicit content that they might have otherwise been exposed to when trying to visit a site.
You can access OpenDNS apps from the Google Play Store or manually alter the DNS1 and DNS2 addresses from the Android WiFi settings.
The choice is yours!
Pros:
Free
Multiple ways are available to enable this solution
Efficient
Cons:
Too complicated for parent with no technical background
Time-consuming
3. Google Play Store Settings
Besides websites, some Android-based apps can contain explicit content.
So, how to prevent your child from accessing or downloading such apps?
Well, the Google Play Store allows parents to keep their children from using games or apps on Android devices that aren't age-appropriate or cause overaggressive behavior.
Pros:
Free
Powered by Google
Pin-Protected
Cons:
Can be bypassed
Limited capability(works on limiting apps only)
How to Block Inappropriate Websites on iPhone?
It is quite straightforward to learn how to block inappropriate websites on iPhone, especially with the help of Spylix. You can enable the spy services on your child's iPhone without ever touching it, no matter where the device is(as long as iCloud Backup is enabled).
The steps are as follows:
Step 1: Sign Up With Spylix(for free)
Create a new account, enter your email address, choose iOS as the target device, and purchase a plan.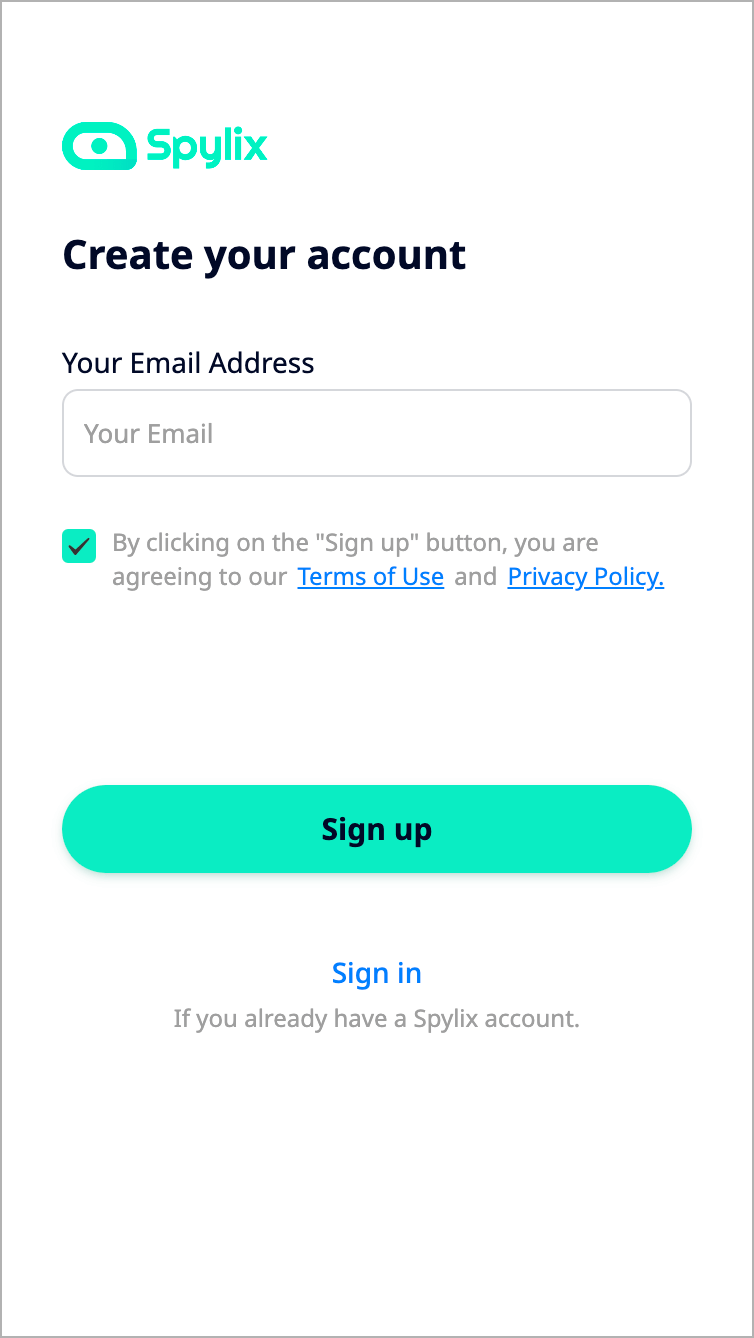 Step 2: Enter iCloud Details
Provide the child's iCloud ID and Password to verify the iPhone.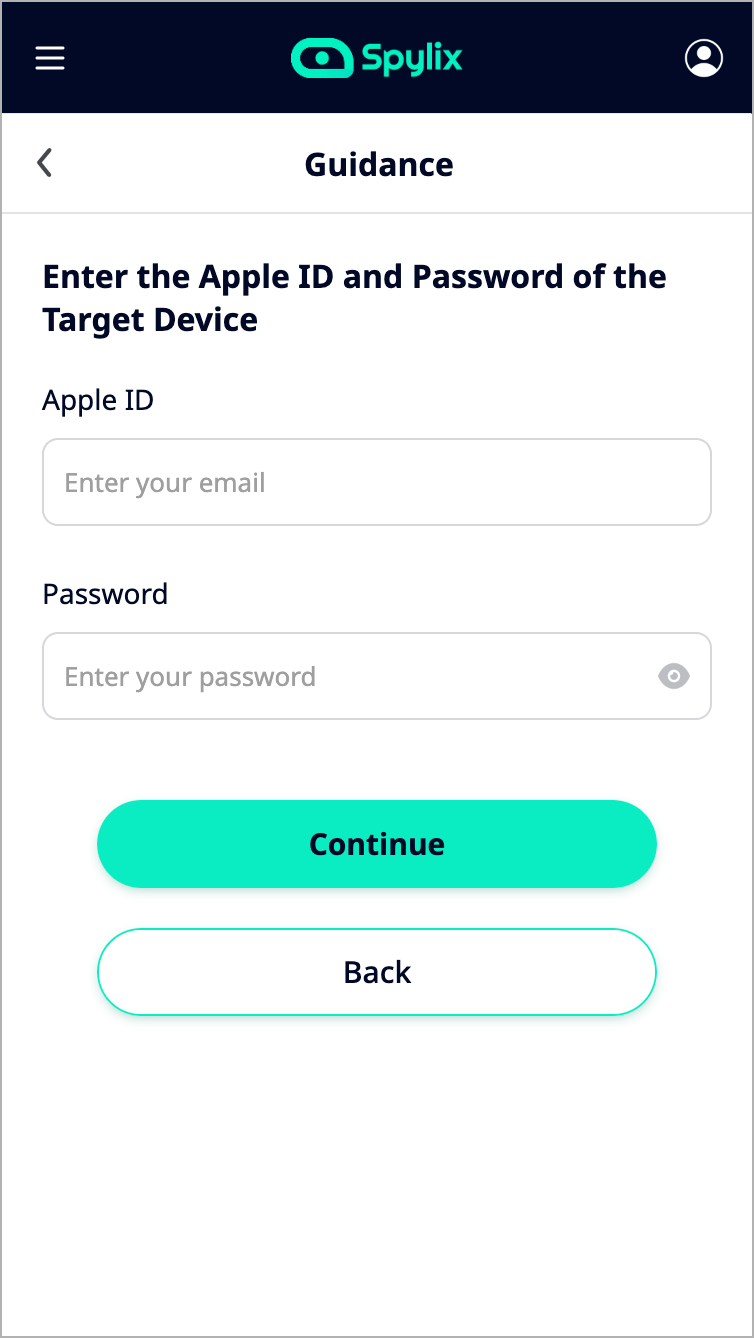 Step 3: Start Monitoring
Now, open the Online Control Panel and start blocking sites you feel your child shouldn't be visiting.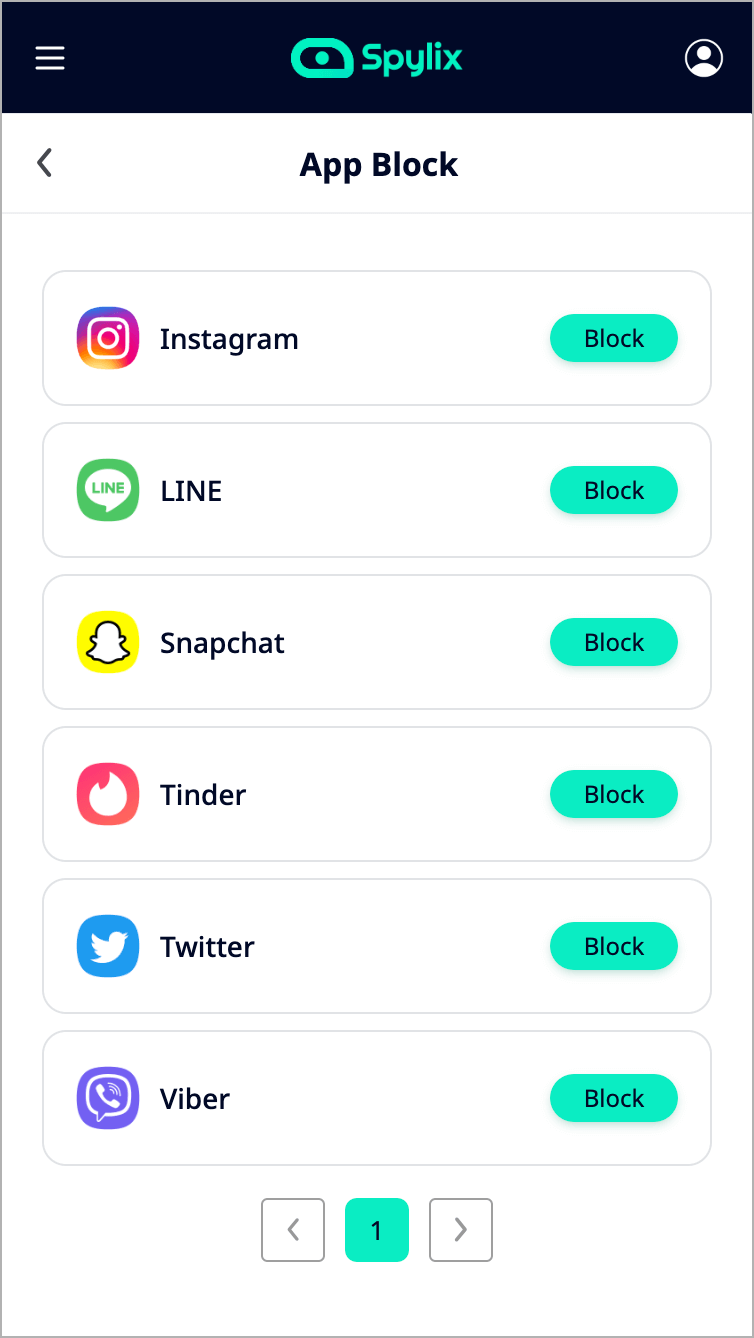 I was looking for an option to block mature websites on my child's phone without ever touching the device. Spylix helped me in this regard as there was no need to install an app to make it work.
Now, I can not only view my child's browsing history but also block any site that I feel is inappropriate.
What Else You Can Do with Spylix?
Other than blocking inappropriate websites, Spylix also enables you to restrict harmful or mature applications. Also, you can view your kids' SMS or social media texts to know whether they are exchanged with age-appropriate stuff or not(sexting).
Other than that, this handy app offers you to check where your kid is located, especially if they do not come home in time. Not only that, you can view the entire browsing history on Android or iPhone without them noticing.
All these features are readily accessible, and there is no need to ever jailbreak or root the target device. Plus, Spylix is utterly undetectable.
How to Block Adults Websites on My Phone?
There is another way you can block inappropriate content on your kid's iPhone, and that is by enabling the Screen Time feature on the device
Here is how you can activate this function:
Go to the iPhone Settings menu, and tap on Screen Time.
Tap Content & Privacy Restrictions from the list.
Next, select the Content & Privacy Restrictions tab, and turn it on.
Now, tap Content Restrictions, and choose the Web Content option.
There, press the Limit Adult Websites setting to block URLs containing mature content. Under the Never Allow section, you can add the sites you consider inappropriate.
Additionally, if you want your child to access specific web platforms only, tap on the Allowed Websites Only tab, and make a new list.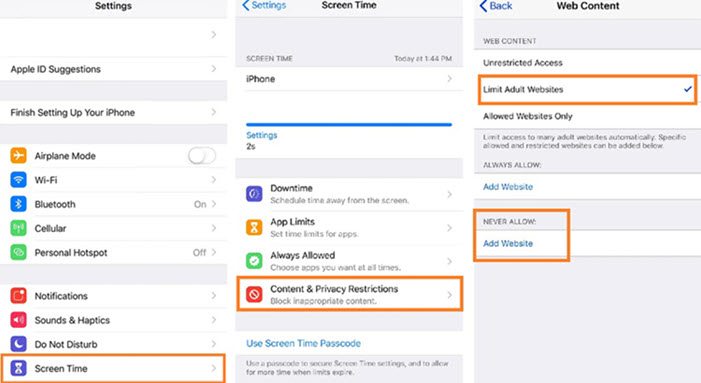 Pros:
Accessible
Powered by Apple
Cons:
Can be easily bypassed
Too one-dimensional
Requires you to manually access the device to enable the feature(unlike Spylix)
Conclusion
We hope that you know how to block inappropriate websites on the phone.
This post has discussed different methods to block inappropriate content on the phone. However, you can use a safer and more effective way: Spylix.
It could block the adult-based sites and filter the explicit content on the phone, as well as ensure the children are not affected by the harmful content.