The internet is an excellent tool for children to have at their disposal. However, it is not always appropriate for them to see all the content on their iPhones.
Parents will want to ensure that their kids can only access appropriate media while browsing the web.
However, children nowadays have become extremely proficient in handling technology, making it challenging for a parent to restrict something, especially if they know about the action.
Still, there are multiple ways to learn how to block websites on the iPhone without the kids knowing. We will discuss how to do this here.
So read on!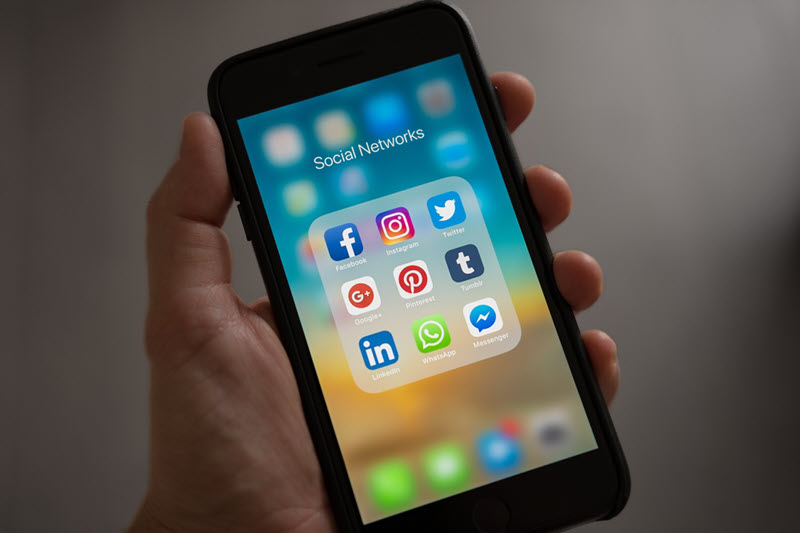 Can You Block Websites on iPhone?
If you are a parent concerned that your child might accidentally stumble upon explicit content because of their phones, then do not panic.
It is possible to block any website you believe can negatively lead your child, anywhere from social media to inappropriate websites, by thwarting them.
You can use the Screen Time utility or the Restriction feature accessible on the iPhone Settings menu to ensure your kid's safe browsing (block websites on iPhone).
Want to know how? Well, check out the next section for a detailed explainer.
How to Block Websites on iPhone?
The Restrictions feature allows you to limit adult sites from your child's iPhone (when enabled).
Also, you can create a customized list of websites (primarily social media ones) to block the kid's access to them, ensuring limited screen time.
Note: This method is useful if your child is using an iPhone with iOS 8 to 11.
Here is how to block porn sites on iPhone using the built-in Restrictions utility:
Go to iPhone Settings and select the General button.
Tap on Restrictions.
Next, press the Enable Restrictions option before setting a 4-digit PIN. This way, no one will be able to disable the function (other than you).
Now, access the Restrictions section and select Websites.
Under the Websites section, you can limit Adult Websites or create a list by adding URLs of sites you wish to restrict for your child.
That's it!
In case you have an iPhone with iOS version 12-15, then you can use the new Screen Time function to restrict adult-based or explicit websites.
This feature offers a similar utility to Restrictions for iOS 8-11.
Here is how you can enable it on your kid's iPhone:
Access iPhone Settings and select the Screen Time button.
Now, tap on Content & Privacy Restrictions.
There, turn on Content Restrictions, and choose Web Content.
Next, tap on the Limit Adult Websites option (all pornographic and gambling sites will be blocked).
Also, this feature lets you create an Allowed and Never Allow list to control what type of content your child should consume.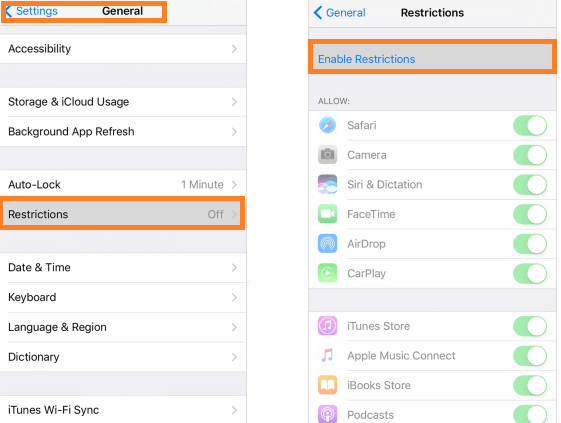 Pros:
Easy to enable
Built-in utility
Password protected
Cons:
Easily bypassed
It requires you manually access the iPhone
How to Block a Website on iPhone?
Generally, your child could be aware of the Restrictions or Screen Time features on their iPhone. It means they can disable them from accessing any site they want, which could be troublesome.
Plus, you must physically access the iPhone to activate the solution mentioned previously.
So, what should a parent do under such circumstances?
The answer is using a third-party parental control application, like Spylix, which allows you to block websites on your iPhone remotely(avoiding suspicion).
Other than blocking specific sites, you can view what type of applications your kid has installed on their device. If you find any of them to be inappropriate, then Spylix enables you to block them instantly.
Additionally, you only need to know your offspring's Apple ID and Password to enable Spylix without them knowing or ever touching the device. There is also no requirement to jailbreak the device to access the more advanced features, such as Social App tracking, location monitoring, and Keylogger.
Wondering how to activate Spylix on your child's iPhone? Well, check out the step-by-step guide below:
Step 1: Make a New Account (For Free)
Enter a valid email to make a new account, choose iOS to target, and purchase a suitable pricing plan.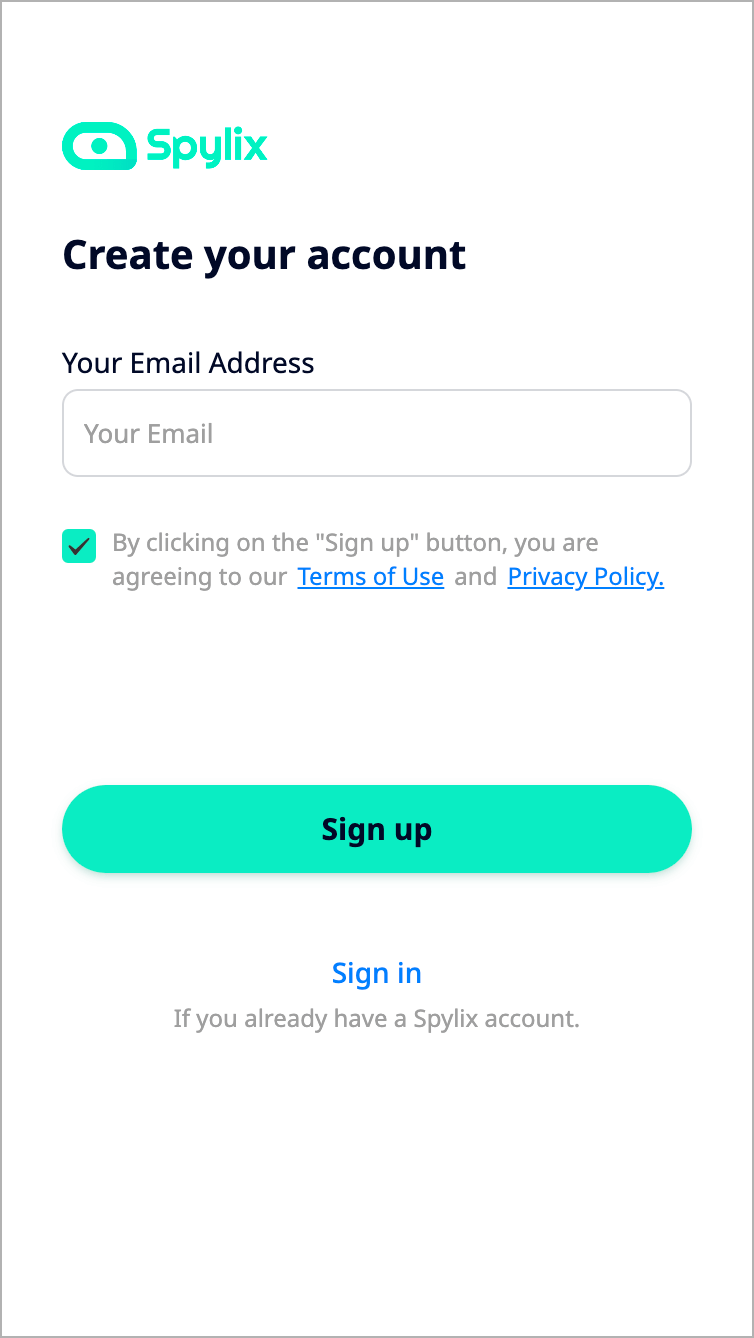 Step 2: Enter iCloud Information
Next, provide the Apple ID and Password of the iOS device you are targeting (ensure iCloud Backup is enabled).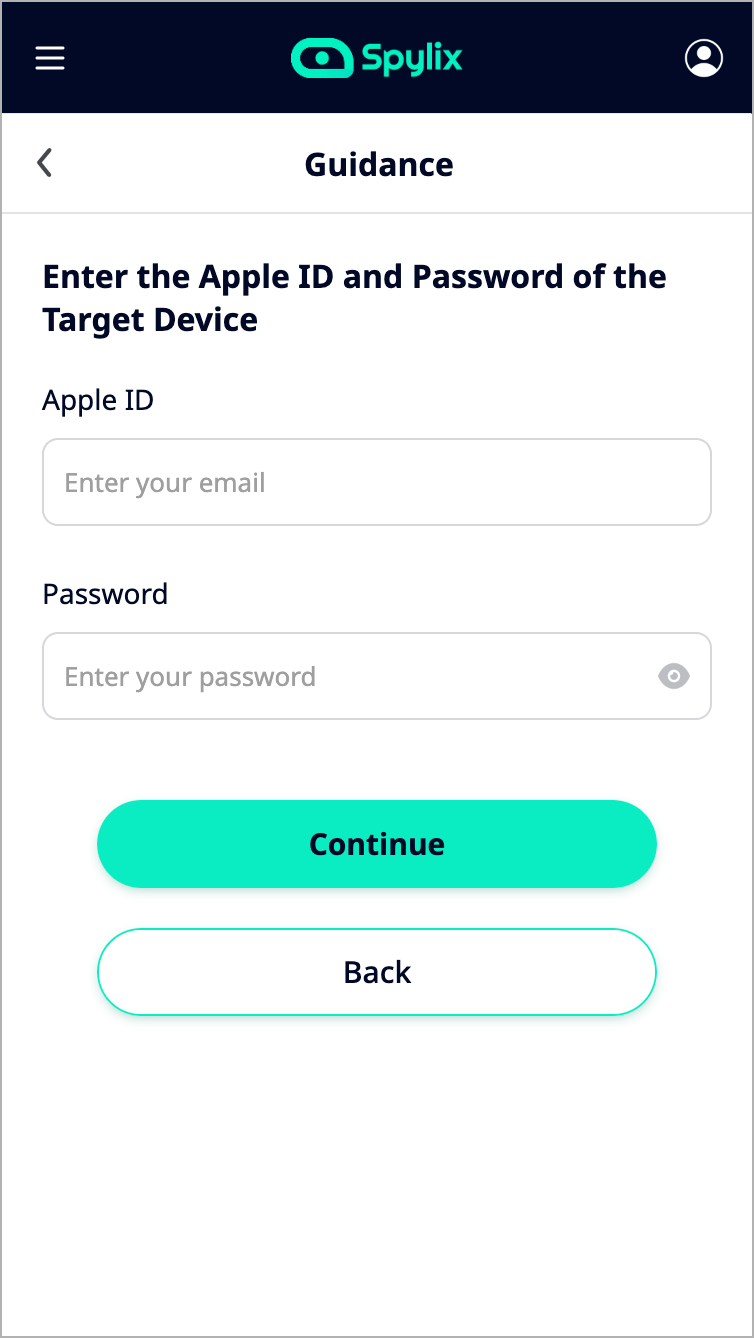 Step 3: Start Monitoring
Once the iPhone is verified, you can open the Control Panel to block specific adult sites under the Controls > Website Block section.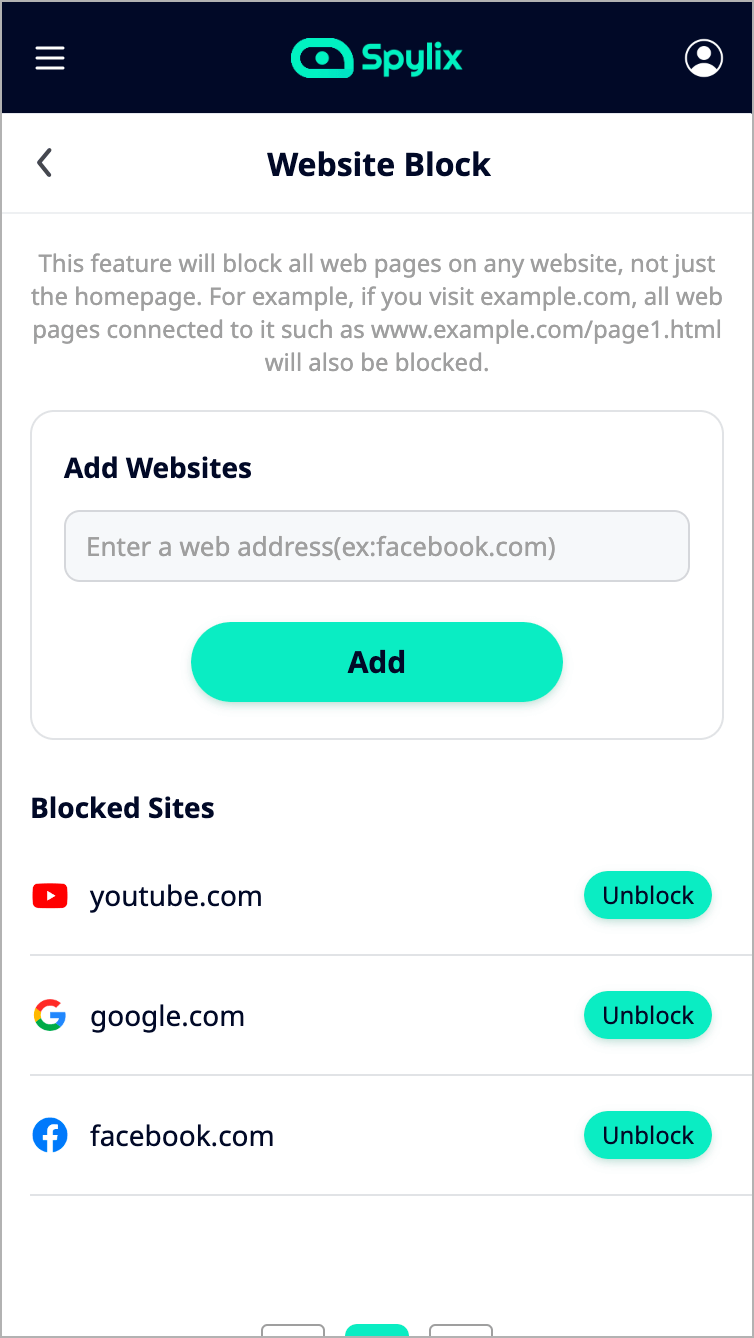 How Can I Block a Particular Website?
If you think that a specific website should be blocked permanently on your child's iPhone, then it is where a third-party application like Spylix can help.
Once you install the app on the target iPhone(follow the steps in the previous section), go to the online dashboard using any browser. There, locate the Controls button(click it), and tap Website Block.
Next, head over to the Add Websites section, and enter the URL of the particular website you want to become inaccessible on your kid's phone. Finally, tap the Add tab to make that site a part of the Blocked Sites list.
This is how to block sites on the iPhone in no time!
You can not only block porn sites but also limit specific social platforms, such as Facebook and YouTube, especially if you feel your kid is consuming too much time using such websites.
In case you want to unblock the previously restricted URLs, then click the Unblock button in front of the added website. It is extremely simple.
Also, you can view the Browser History using the Spylix dashboard to learn whether an inappropriate site has been accessed by your child or not.
It could be intentional or unintentional, you'll never know until you confront them, but this will cause severe trust issues. So, the best thing you can do is copy the URL of that website, and add it to the Blocked list on Spylix.
When and Why Will You Block Websites on iPhone?
The answer is quite simple: You need to block websites on the iPhone (your child's) when they are not supposed to use it at such a young age.
I mean, children nowadays have various smartphones (Android, iPhone or Blackberry) or iPads. It is always better to play with them at a very young age, as this cultivates their creativity, as well as their motor skills.
However, you have to have some sort of a rule because your child won't be able to distinguish between the real world and their own make-believe world.
This is when you would want to block websites on your child's iPhone to ensure that your child remains far away from the harms of the online world.
Also, with the help of third-party parental control applications(Spylix), you can continuously check your kid's browsing history. This way, you will know when to block a website on iPhone(if an unsuitable one is accessed).
How Do I Block a Website on My iPhone without Restrictions?
The internet is an excellent place for free information, but what about blocking websites with inappropriate content or sites making you unproductive?
Is there a way to block websites on your iOS device?
Yes! There are many ways to block websites on the iPhone.
You can add third-party extensions using the Safari or Chrome browser to limit websites. Simply add the specific URLs under the Not Allowed list without any hassle.
Also, you can configure the router settings to block some websites, but this solution is a bit technical and time-consuming.
Conclusion
The iPhone is one of the most convenient and useful devices that we have today. However, sometimes, the internet can be a distraction, and you might need to block websites on your iPhone to prevent you or your child from getting distracted.
There are many ways to block websites on the iPhone, and we have discussed the most effective ones in this article. Still, if you wish to restrict certain content from your child's phone without ever accessing their iPhone, we recommend Spylix.