In case you have a family member or partner who utilizes an iPhone, you might be intrigued by a specialized tracking app to stay updated on their location constantly.
Fortunately, various tracking apps for iPhones are available in today's market, and we'll provide information on the best options in this article. Let's get started!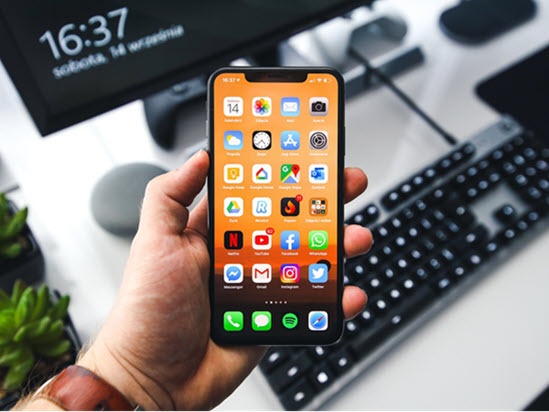 Part 1: What Do Tracking Apps for iPhone Do?
Learn all about the best apps for tracking iPhones.
Using these apps, you can track the location of your loved ones. Not only the live location, but you can also view the history of visited places with timestamps.
Moreover, you can enable the geofencing feature to get alerts whenever someone you care about visits a dangerous or unsafe neighborhood.
Similarly, with these family tracking apps for iPhone, you can restrict specific apps and URLs on your children's devices without them ever finding out. This makes their online browsing session safe and educational.
The utility of these tracking apps for iPhone does not end here, as they let you track other users' calls, texts, and social media activities.
Part 2: How Do Tracking Apps for iPhone Work?
There is one common attribute among the best tracking apps for iPhones.
Such apps do not require any software installation on the target device. You only need to provide the iCloud account enabled on or synced with the device.
After that, the spy app will verify the device, and all the real-time activities will be updated on the app's online control panel.
Part 3: How to Choose A Good Tracking App for iPhone?
Now that you know how these tracking apps work and what they do, it is time to understand how to pick the best one!
Why is it important?
Well, hundreds of spy apps are available online, claiming to be the best at their job. However, we all know that not every app can be the best!
So, we have mentioned some characteristics of a good tracking service, easing the selection process:
Easy to Use
A good tracking app should have a user-friendly interface that is easy to navigate, even for those who are not tech-savvy. This will enable you to effortlessly set up and use the app without any hurdles.
Cost Effective
While the cheapest option might not always be the best, finding an app that offers a good balance of price and functionality is crucial. Ensure that the app provides value for money and fits within your budget.
Feature-Rich
Look for an app with many features, such as GPS tracking, call and message monitoring, social media monitoring, and more. The more versatile the app, the better it will serve your needs.
Excellent Customer Support
A reliable tracking app should come with prompt and efficient customer support. This will ensure that you receive the necessary assistance if you encounter any issues or have queries about the app.
No Jailbreak Required
Some tracking apps require jailbreaking your iPhone, which can void its warranty and expose it to security risks. Opt for a tracking app that doesn't require jailbreaking, ensuring your device remains secure and uncompromised.
Part 4: 10 Best Tracking Apps for iPhone
The following iPhone tracking apps are the best in the business!
4.1 Spylix
Spylix is our top choice for iPhone tracking!
It is intuitive and cost-effective. Moreover, the service offers the best tracking tools to monitor your loved ones remotely to ensure their safety.
Do not bother about installing any software on the iPhone, as you can enable Spylix without physically accessing it.
It also offers top-notch and responsive customer support, allowing you to get help in case any issue arises related to the device's working.
Key Features of Spylix iPhone Tracker
This handy app comes with the following features:
Live updates on the device location
The history of visited places with addresses and other details
Map view of all locations
How to Track Someone's iPhone?
The Spylix installation process is quite simple. Follow the steps here to learn it:
Step 1: Register for a New Account
Visit the Spylix website and click on the Sign Up Free button. Enter your email ID to create a new profile for free.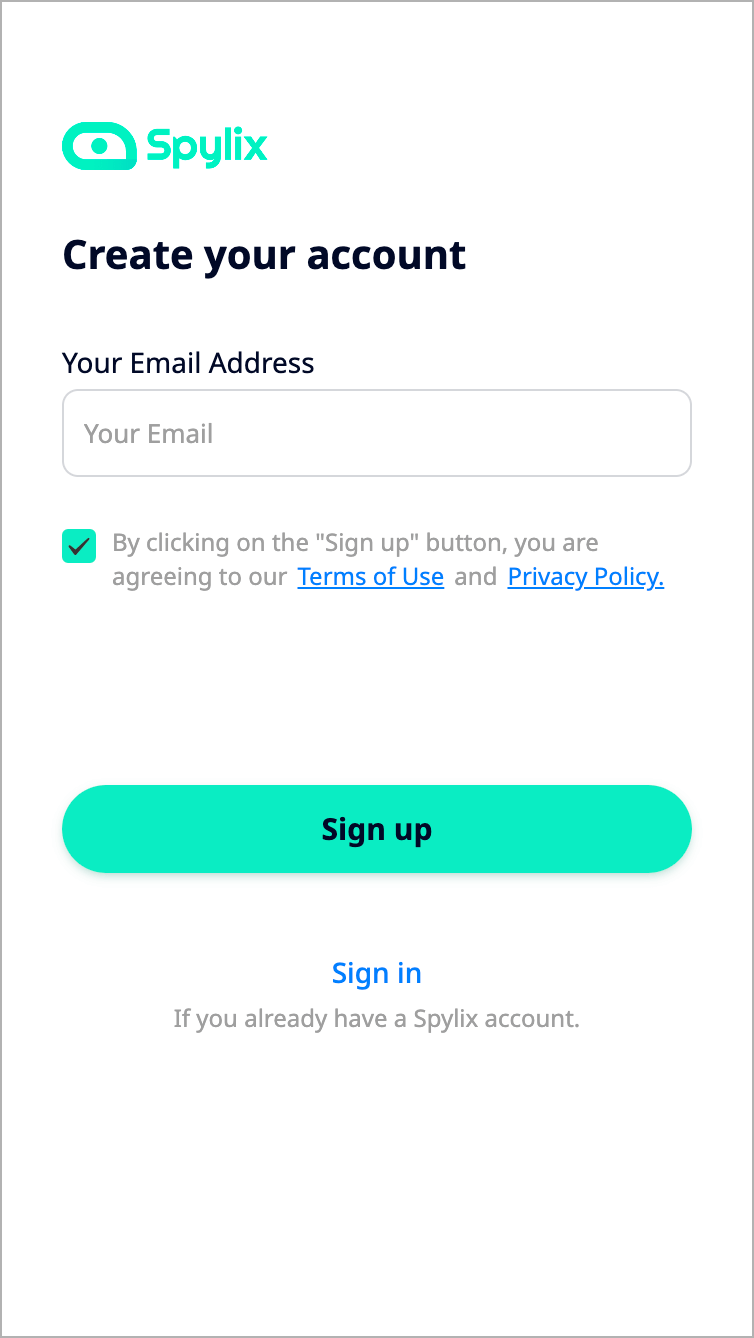 Step 2: Enter the iCloud Credentials
Enter the target iPhone user's iCloud account information, including their Apple ID and password.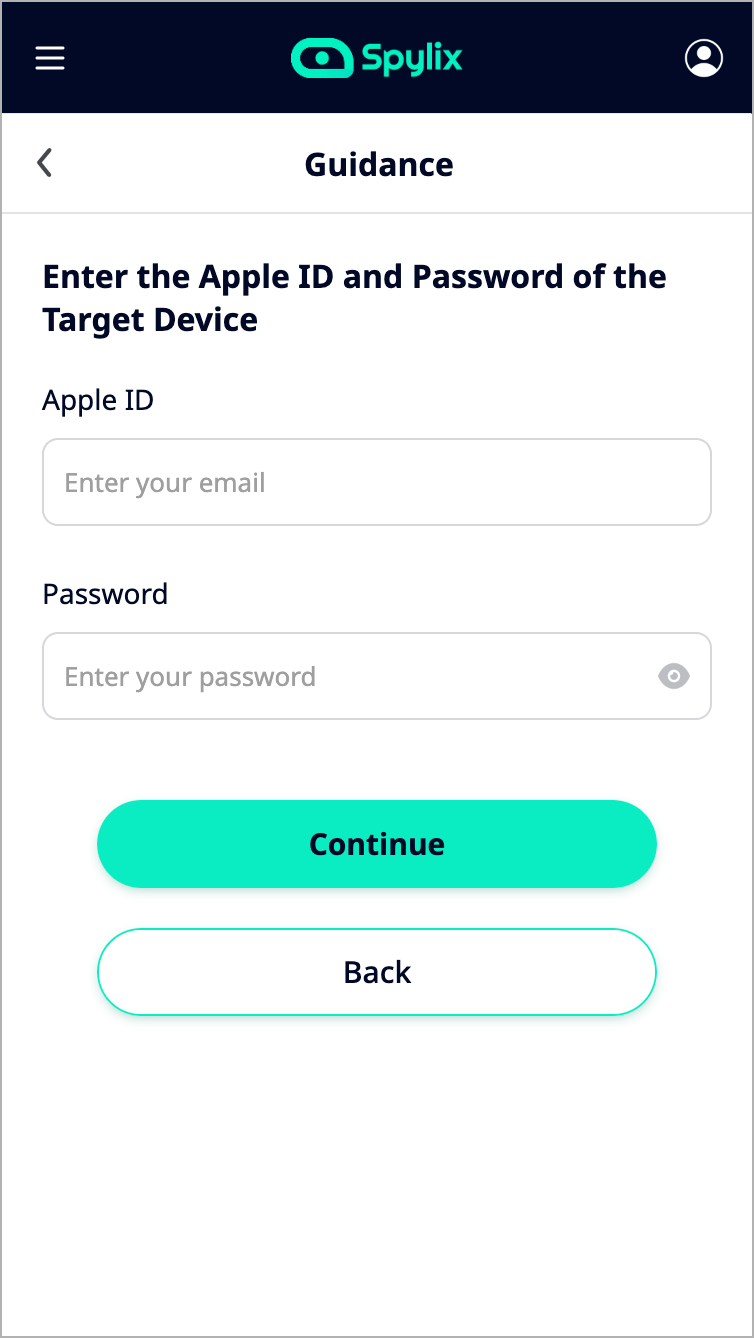 Step 3: Track the iPhone
Using your browser, open the control panel, and tap the GPS Locations feature to track the device.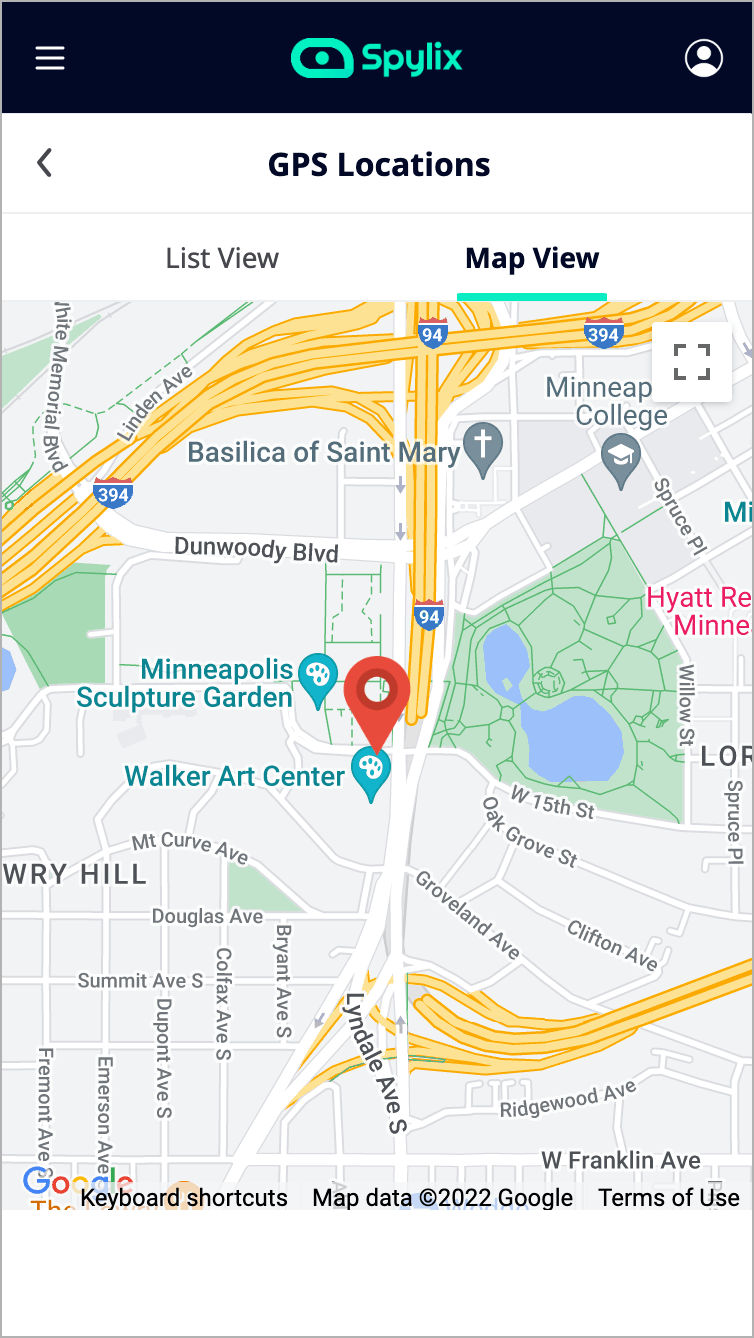 What Else Can Spylix Do?
Other than the handy location tracker mentioned above, Spylix also offers the following features:
Browser tracking – Learn the user's online activities on their browsers
Social media monitoring – Track the user's chats on their Instagram, Facebook, Messenger, Snapchat, Telegram, and similar accounts
Call and SMS spying – Check who the user has interacted with via call or text
Block apps and websites – See what type of content the other user(especially kids) is consuming on their phone, and block it if you find it appropriate
4.2 GEOfinder
Geofinder is an excellent online tracking tool to determine the iPhone's position. Simply enter the user's phone number, and get a text with details on their geolocation.
There is no need to install any software, just make an account, pay for the service, and get the desired results.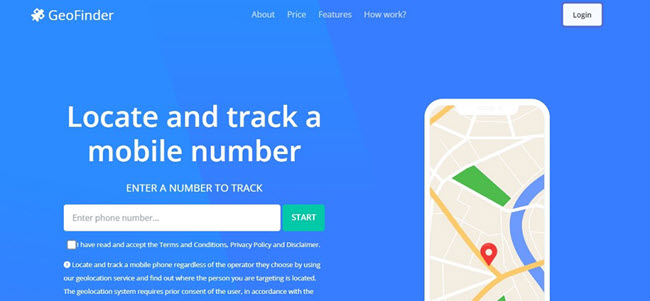 Pros:
No software installation required
Easy to use
Cons:
Limited to location tracking only
Not free
4.3 uMobix
uMobix is another spy app like Spylix that offers iPhone tracking remotely and privately. It offers top features like location tracking, social media spying, and more.
Moreover, you can enable it to spy on Android devices anonymously.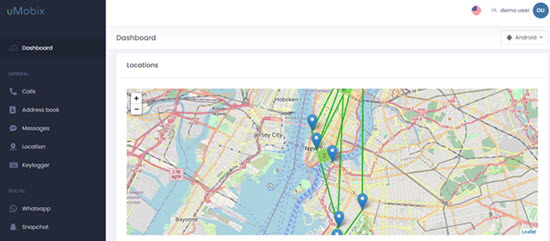 Pros:
Powerful
Feature-rich
Money-back guarantee
Cons:
One account only tracks a single iPhone
Expensive
Geo-restricted
4.4 iKeyMonitor
iKeyMonitor is another handy spy app that offers remote tracking of iPhone, Android devices, and even Windows/Mac computers. Features like geo-fencing, call tracking, and social media spying are also accessible with this app.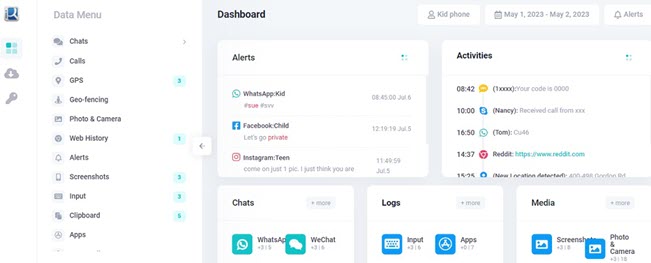 Pros:
Cross-platform compatibility
Free plan available
Cons:
Limited features with the free and basic plan
Advanced features are available as add ons
4.5 ClevGuard
ClevGuard is primarily known as a high-quality parental control tool to remotely manage children's phone usage. Features like remote control, live recording, location tracking, and data export make it a practical choice to ensure the safety of your loved ones.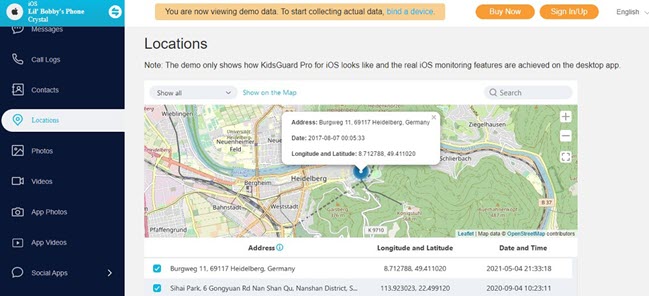 Pros:
Feature-rich
Intuitive dashboard
Cons:
4.6 Family Orbit
As the name suggests, Family Orbit is another dedicated parental control tool for adults to keep track of their children and to know that they are safe. Its top features include location tracking, text monitoring, social media check, and browser history spying.
The customer support is excellent, but the app offers no Live Demo to test the features.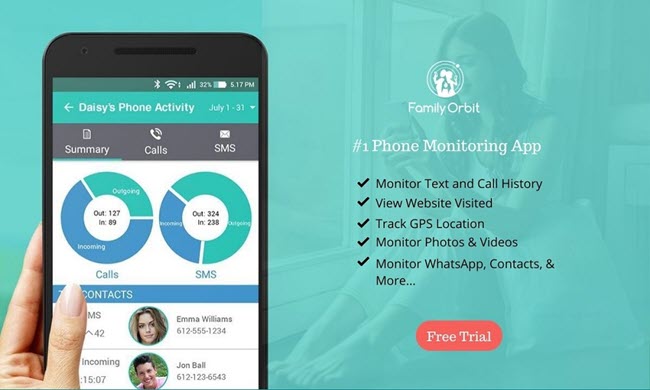 Pros:
7-day free trial
One account can cater to 5 devices
Cons:
Costly
Limited tracking features
4.7 Glympse
Glympse is a free spy app accessible on the Apple App Store. With this multilingual tool, you can glimpse the other user's real-time location. Moreover, you can also share your location with other users to let them know where you are at that moment.
Pros:
Cons:
Detectable – No privacy
One-dimensional location tracker
4.8 Life360
With Life360, you can keep track of all your loved ones at all times. Just add them to your account, and the app will share their whereabouts whenever acquired. However, this service doesn't offer other iPhone tracking features, like message, call, or social media monitoring.

Pros:
Cons:
Known for its data leaks
Dependent on prerequisites
Limited features
Consumed battery
4.9 Spyic
It is perhaps one of the most well-known apps on the market. Spyic offers all the best features, from location tracking and SMS/Call monitoring to social media spying and geofencing without hassle. It is compatible with Android and iOS devices.
Moreover, you can get all the info on the target device on its user-friendly online dashboard.
Pros:
Cons:
It is a simple yet effective location-tracking tool that doesn't require any software installation or other complicated requirements. Just visit the site, enter the target phone number, and receive a link via text to your number to check the details on the user's location.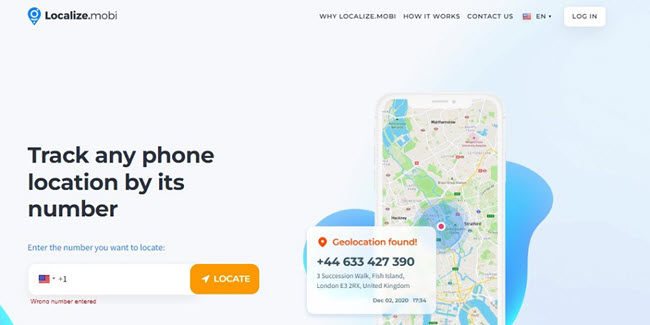 Pros:
Straightforward
Online-based – No software installation is needed
Cons:
One-dimensional
Details may not be accurate
Conclusion
This concludes our thorough guide on the best tracking apps for iPhone. We hope you have compared the features and aligned your requirements with each choice in this article.
However, if you are looking for a hassle-free and cost-effective experience while getting the hang of the advanced features to track the iOS device, then give Spylix a go!