Our iPhones help us communicate and relate with each other, and this can be through what we share, what we text, or any other way that we exchange conversations. If you have doubts about your spouse, you need a way to confirm your suspicions. Moreover, if you are a parent, you also need the means to protect the children.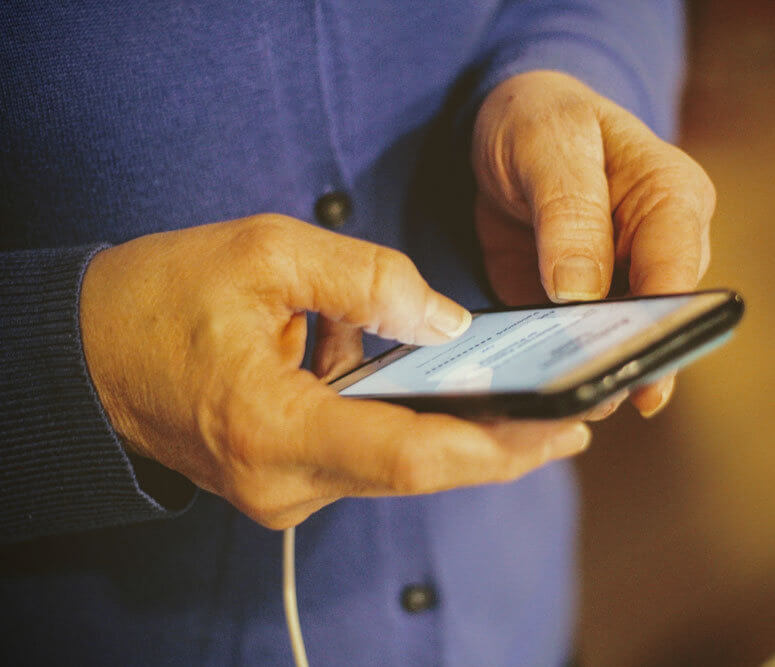 The best way to monitor another iPhone is by using an iPhone keylogger. Today's post will introduce the 6 free iPhone keyloggers to use in tracking all keys entered on your target device. Let's get started.
Part 1: What is an iPhone Keylogger?
An iPhone keylogger is an app used to record all the keys entered on an iPhone. It is a form of surveillance that secretly records all the keys that one click, including anything he downloads alongside any conversations. The keylogger keeps track of the target phone secretly to ensure that the target device owner won't suspect that he is being monitored.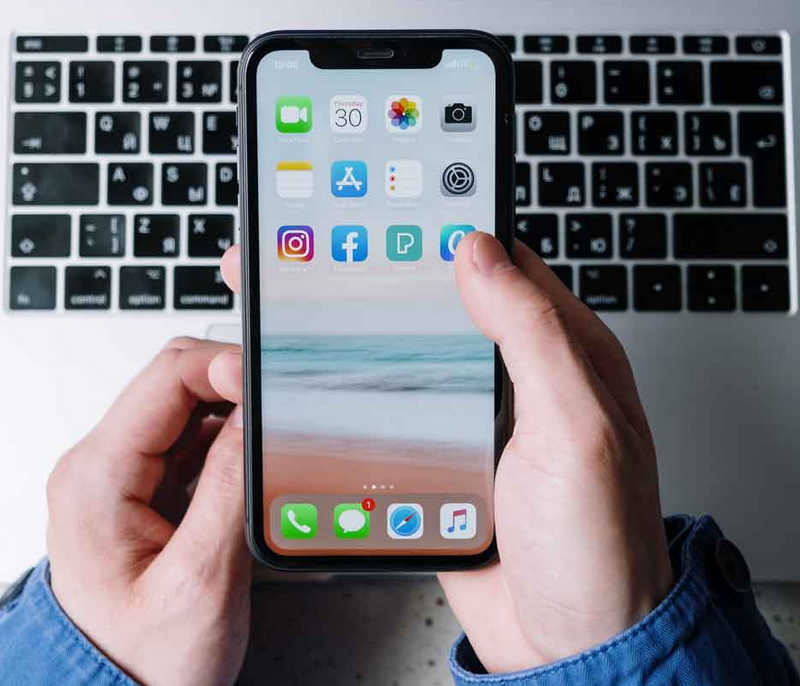 The iPhone keylogger free app is a secret way to see who people are conversing with and spy on what they are talking about. iPhone keylogger free app can be used by parents to monitor the different activities of their children and ensure that they don't engage in activities that may endanger them. Partners who want to keep track of their loved ones can also use the iPhone keylogger free app to track whether their partners are cheating on them.
Part 2: 6 Best Free iPhone Keyloggers & Apps
As we have learned from above, using a keylogger app is very useful and necessary in some cases. However, many iPhone keyloggers exist in the market, making it impossible for users to know which one is the best and most affordable. Although iPhone keylogger free apps exist in the market, they may not be the best because they contain limited features and can be insecure.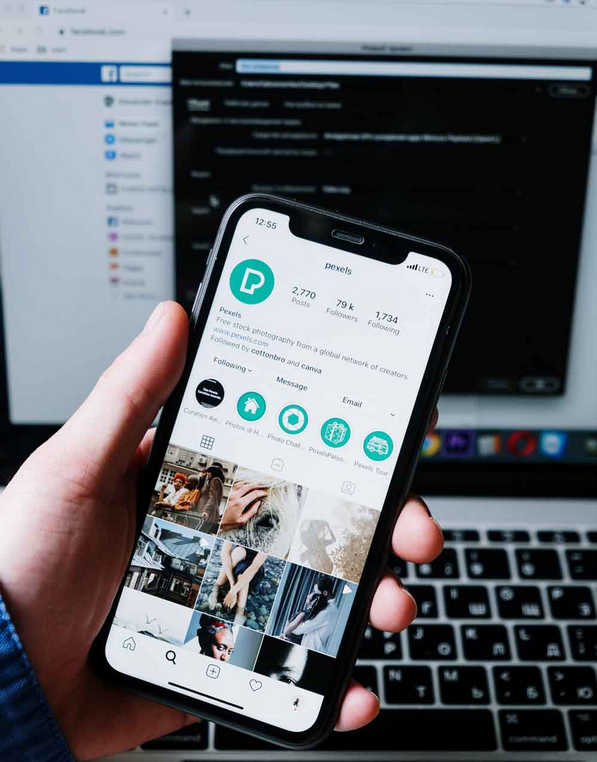 To prevent users from using unreliable and insecure iPhone keyloggers that may not satisfy their requirements, the article gathered data on the best six iPhone keyloggers free that you can choose from.
To enable users to make quick decisions, here is a short guide that can help.
| | | | | | | |
| --- | --- | --- | --- | --- | --- | --- |
|   | Available Social Apps | Geo-fencing | iMessage | Keyword Tracking | E-mail | Jailbreak Free |
| Spylix | 15+ | √ | √ | √ | √ | √ |
| mSpy | <5 | √ | √ |   |   | √ |
| Spyzie | <5 |   |   |   |   | √ |
| FlexiSPY | <5 |   | √ |   | √ | √ |
| CocoSpy | 10-15 |   |   |   |   | √ |
| iKeyMonitor | 5-10 |   | √ |   | √ |   |
2.1 Use Spylix - The Most Powerful iPhone Keylogger 
Spylix is the best keylogger app that you can use to monitor an iPhone secretly and conveniently. The app is very reliable and secure, making it the most suitable app in the market. Spylix comes with many features making it stand out.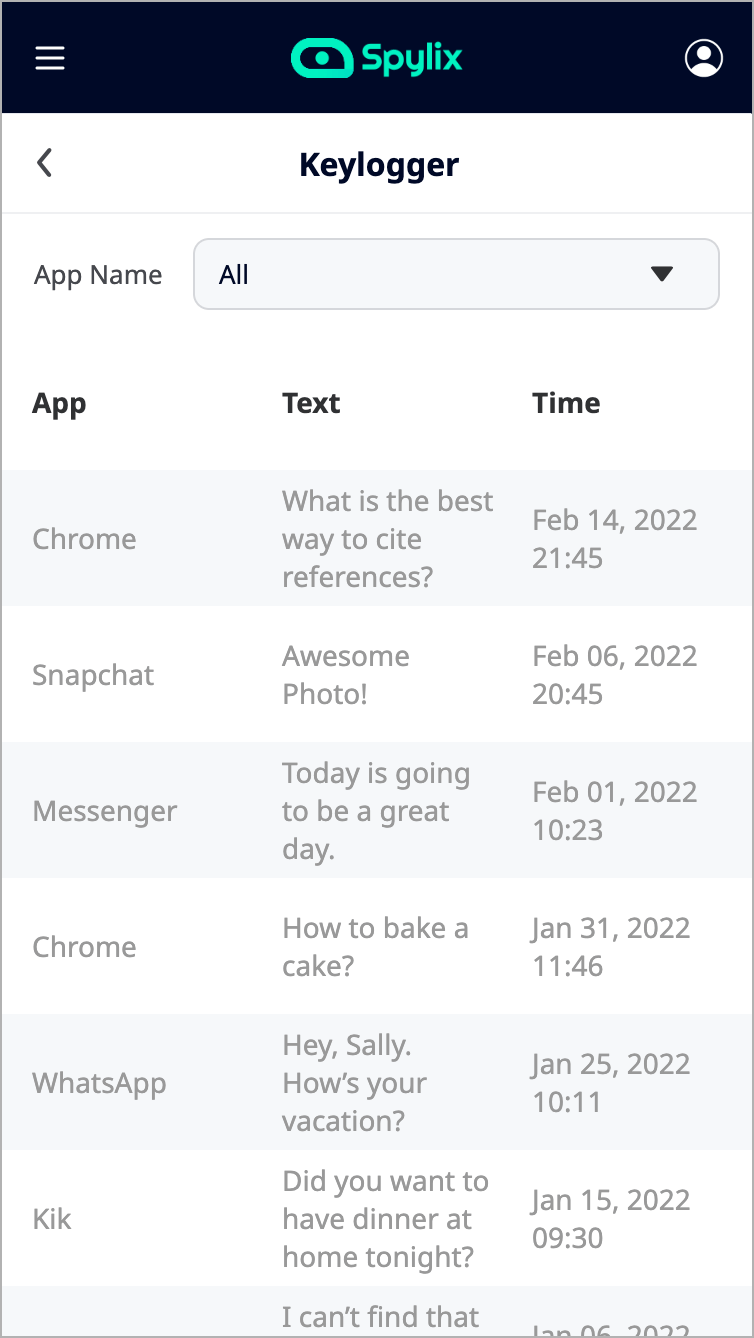 These outstanding features of Spylix are as follows:
Keep track and records all keystrokes

Spylix can monitor all the keys that one click, including all the passwords that one submits in different applications and web browsers. Track all incoming and outgoing messages
You can get all detailed information from the dashboard of Spylix to know the contents of the messages, the number of the sender or receiver.

Spy all social media apps activities.

Spylix can monitor all the activities of more than fifteen social media apps. It monitors different apps such as WhatsApp, Facebook, Snapchat, Kik, Line, and many other social apps.

Track the GPS Location

Besides viewing all the activities of different social media apps, Spylix can also help you quickly tell your target's location.
What Makes Spylix the Best iPhone keylogger free app
It provides most features in the market.

Spylix offers many features to ensure that the user can perform different operations using this one app. This enables the users to save money because Spylix alone can enable them to monitor several apps.

It runs in stealth mode.

While using Spylix, you don't have to worried that the target will detect you or suspect that he is being monitored because it works in stealth mode.

Works with all iPhone versions.

You don't have to worry about the iPhone version you are using because Spylix supports all the iPhone versions. Including the oldest and the newest ones.

No Jailbreak is needed.

Many spy apps in the market require the target phone to be rooted or jailbroken for the app to start working on it. However, with Spylix, you don't have to root the target phone.
How to Use Spylix iPhone Keylogger free app on an iPhone?
Step 1: Register for a free Spylix account
This is the first step that you have to perform to start using the app. Click on the "Try Now" button to create your free account within a few seconds.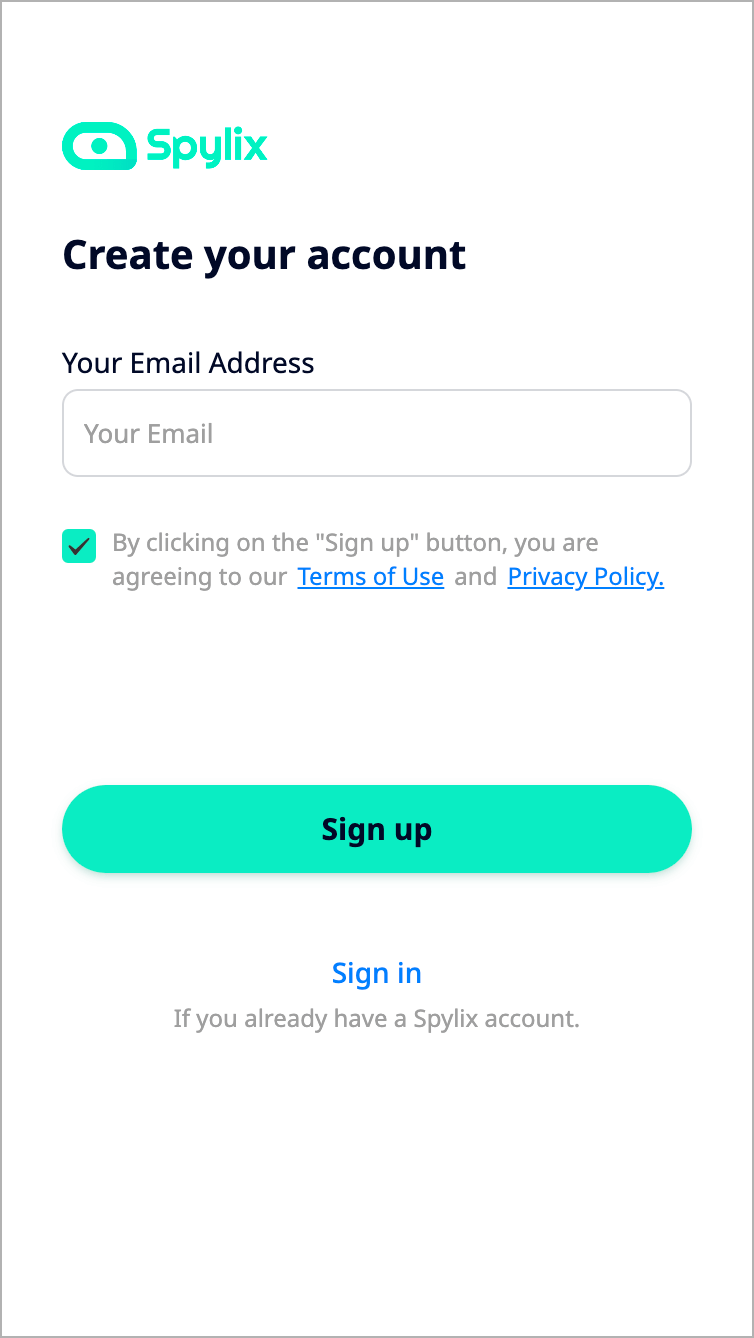 Step 2: Set up Spylix
Set up Spylix by simply following the guidelines displayed on your screen to start using the app.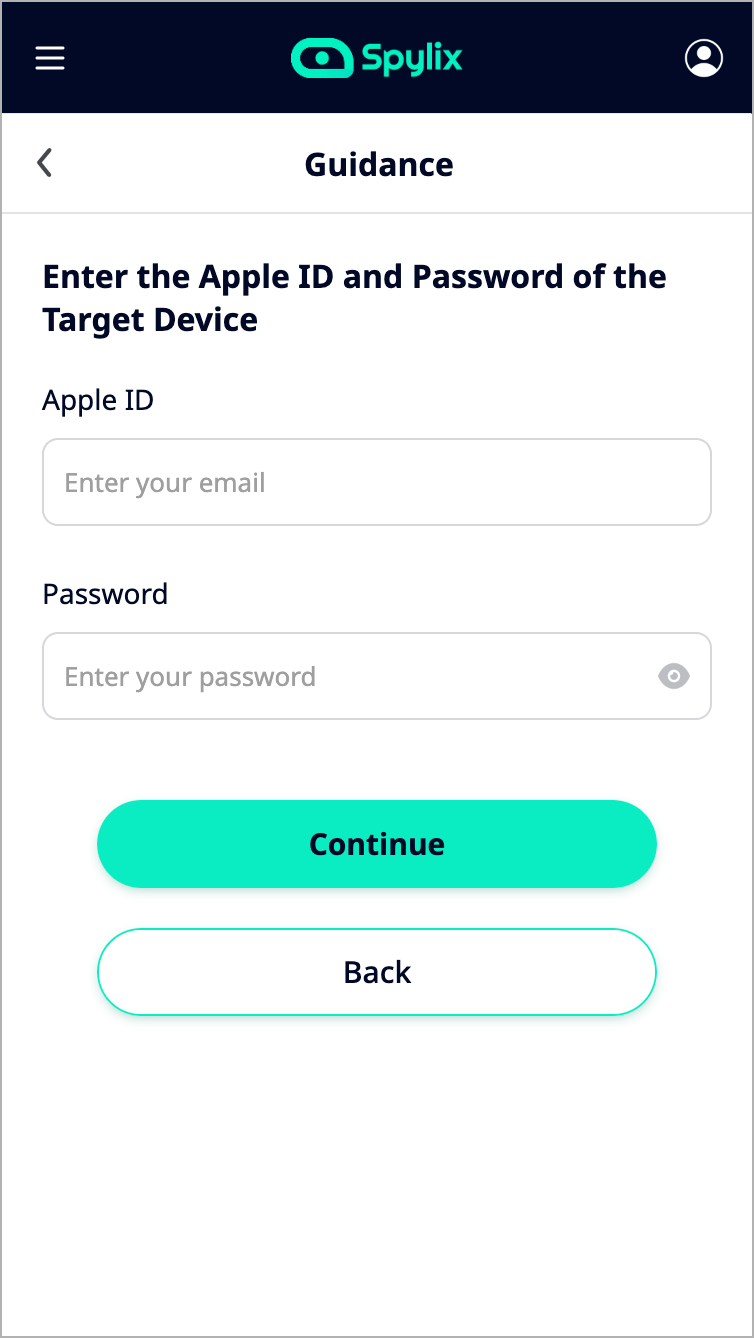 Step 3: Start monitoring your target
After setting up Spylix, start monitoring the target device by logging into your Spylix account and then accessing the target phone information from the dashboard.(Spylix also supports Android Devices as the best keylogger for Android)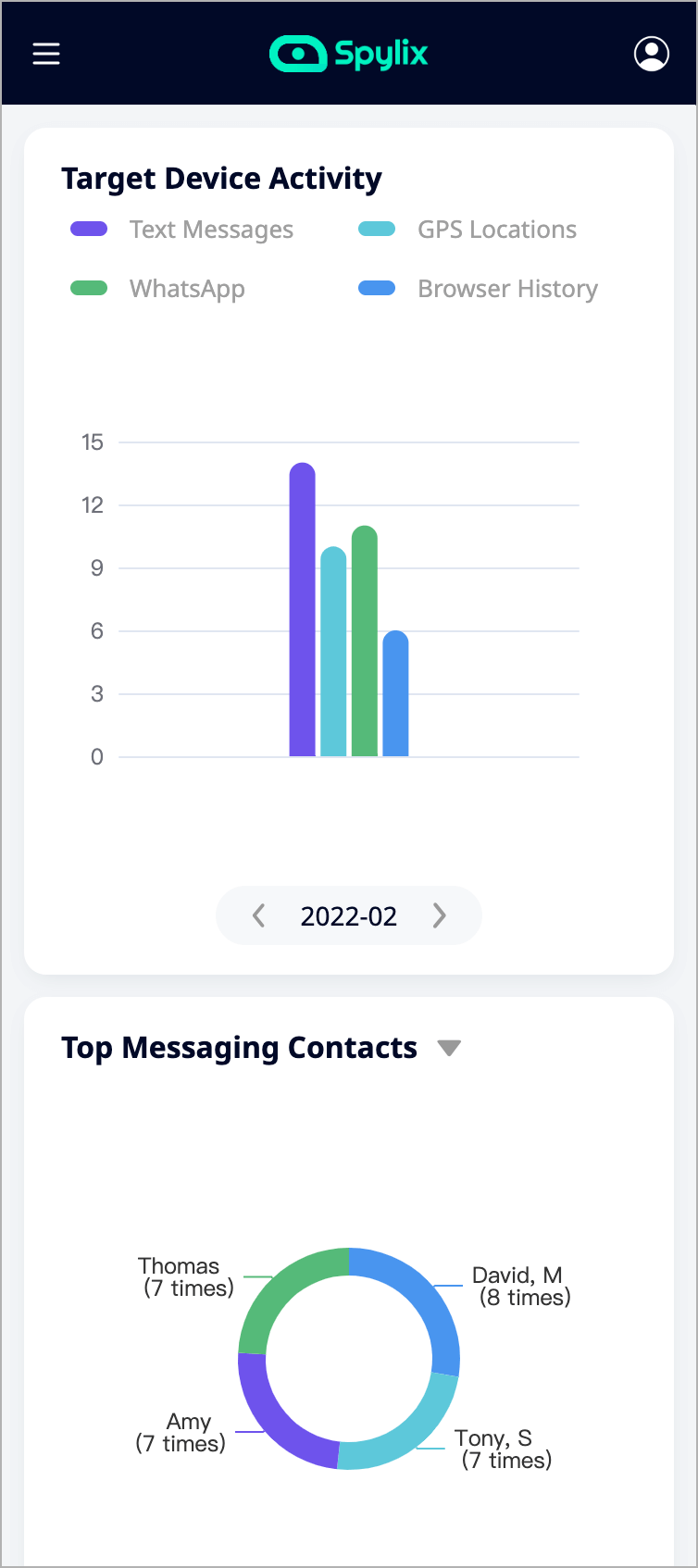 2.2 Use mSpy - A Keylogger Choice for iPhone User
mSpy is also another iPhone keylogger free app that can be used to track the target phone's activities. Spylix can track call logs, GPS locations, messages and allow you to view the contacts of the target phone.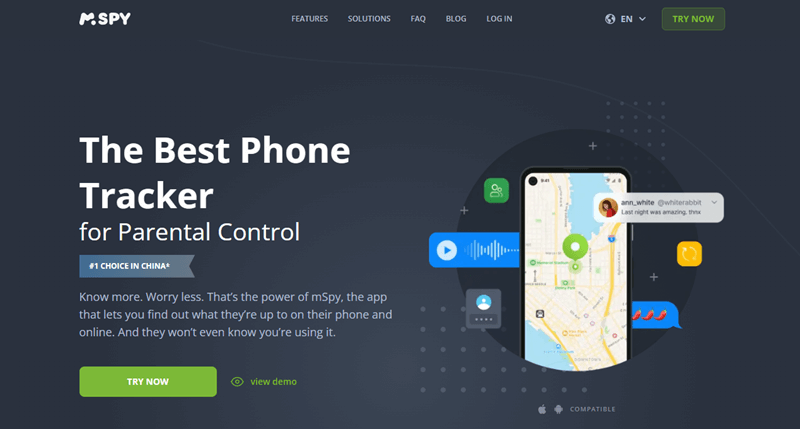 Pros:
The app is embedded with the uninstall alert feature that notifies you when uninstalled or damaged.
mSpy has the Geo-fencing feature that enables you to restrict some of your children's apps, hence protecting them.
Cons:
mSpy iPhone keylogger free app does not allow you to view the SIM card activities of the target phone.
You won't be able to access the photos and videos shared on your target device.
mSpy does not support all versions of iOS.
Compared with Spylix:
Spylix can be used to view the SIM card activities, unlike mSpy, which cannot.
Spylix supports all versions of iOS, including the old and new versions, but mSpy limits other iOS versions.
Unlike mSpy, which limits you from accessing videos and photos shared by the target phone, Spylix lets you view all videos and pictures, including the deleted ones.
2.3 Use Spyzie - An Eligible iPhone Keylogger
Spyzie is a reliable iPhone keylogger free app that can spy on the target phone, but it cannot be used directly on iPhone. For iPhone users who want to spy on Android phones, Spyzie can ideally monitor the phone.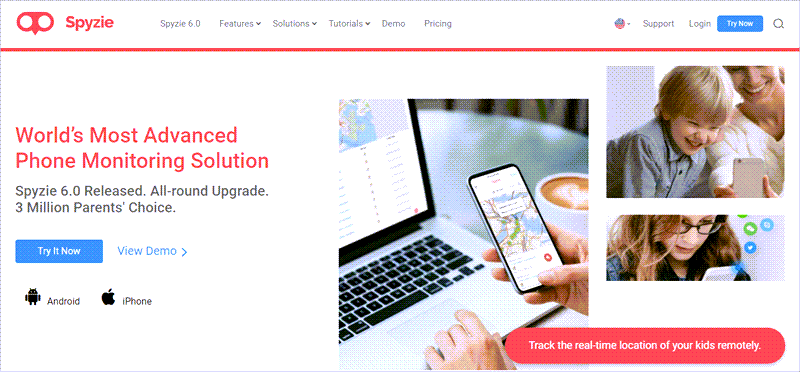 Pros:
The app can track the target phone without the need to jailbreak it.
Spyzie arranges all the screenshots that have been captured systematically, enabling users to read them easily.
Cons:
Spyzie can only be used by iPhone users who want to spy on an Android phone.
The app can only spy on WhatsApp messages.
It is costly, making it unsuitable for users with low incomes.
Compared with Spylix:
Spylix keylogger is suitable for Android and iOS devices. However, Spyzie is ideal for Android only.
Spylix is very powerful in that it can record activities of more than 19 social apps WhatsApp included, but for Spyzie, it only monitors WhatsApp messages.
Spylix is far much affordable than Spyzie, making it the iPhone keylogger free app.
2.4 Use FlexiSpy - Record Keystrokes for iPhone user
FlexiSpy is a valuable keylogger app. It supports some features such as enabling you to view all the call logs the received or dialed ones, view SMS text, and track the GPS location. Like Spylix, FlexiSpy does not require the target iPhone to be rooted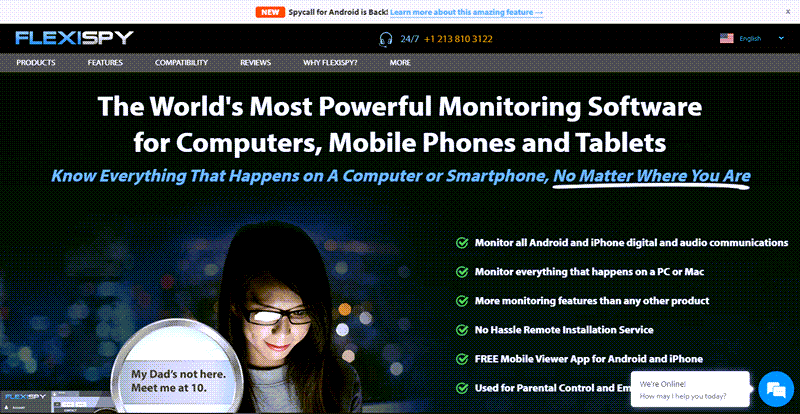 Pros:
FlexiSpy can be installed remotely on the target device without having to root the device.
The app allows you to intercept live calls of the target device.
Cons:
FlexiSpy does not allow the users to wipe the target phone's data remotely.
It is not possible to track keywords using the app.
The app allows you to track only a few social media activities.
Compared with Spylix:
Spylix allows you to view many social media activities than FlexiSpy.
With Spylix, you can track keywords, but FlexiSpy iPhone keylogger free app does not have this feature.
Spylix offers unlimited remote features such as blocking numbers. However, FlexiSpy does not provide unlimited remote features.
2.5 Use Cocospy- iPhone Keylogger
Cocospy is a common keylogger that can record all messages on a target device. With CocoSpy, all keystrokes are recorded, and an alert notification is given for each keystroke entered.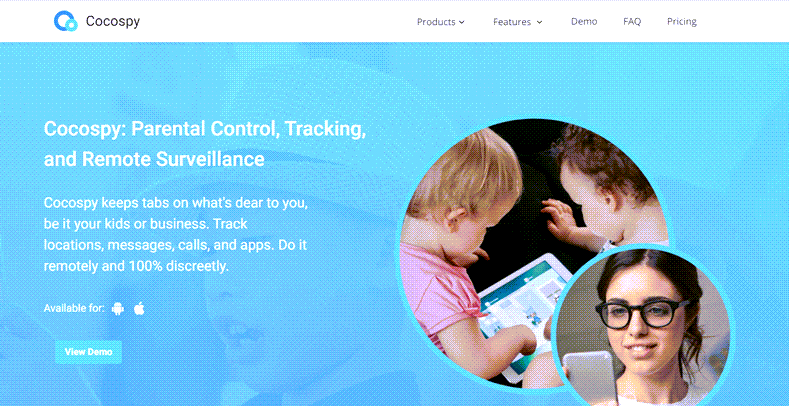 Pros:
The keylogger is easy to work with.
No jailbreak is required.
Monitors all messages sent and received.
Cons:
Not all iOS versions are supported by CocoSpy.
CocoSpy only supports the monitoring of two social apps.
No Geofencing feature is offered.
Compared with Spylix:
With Spylix, you can monitor over 19+ social media apps, unlike CocoSpy, which only monitors two of them.
Unlike CocoSpy, which is restricted in some countries, Spylix is globally accepted.
Spylix is not limited to the iOS versions. It works with all iOS versions and devices.
2.6 Use iKeyMonitor - Parental iPhone Keylogger
Another iPhone keylogger free is the iKeyMonitor, which is designed as a parental control app to monitor children's activities by recording keystrokes. Using iKeyMonitor, you can monitor messages, such as WhatsApp, Snapchat, and WeChat messages. However, jailbreaking is needed to access its advanced features.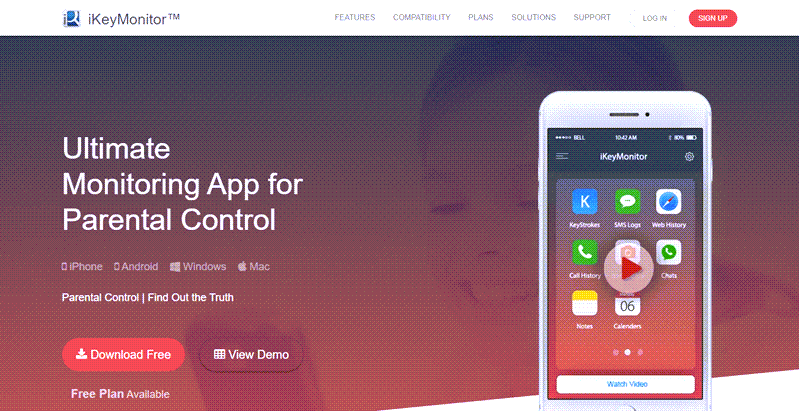 Pros:
It can access messages on a target phone.
Aids in parental control using its essential features.
Can capture pictures and video in the target device's environment.
Cons:
Jailbreaking is required to access advanced features.
iKeyMonitor is not compatible with all iOS devices.
Users have complained about its poor customer support.
Has limited features.
Compared with Spylix:
Unlike iKeyMonitor, Spylix offers more advanced features.
All the Spylix features are accessible without any jailbreaking needed.
iKeyMonitor is limited in terms of compatible iOS devices, but Spylix works with all devices.
Don't limit yourself by using a limited iPhone keylogger free. Try the Spylix iPhone keylogger today.
Part 3: Conclusion
Recording of keystrokes on a target device is possible using a keylogger. This article covered the 6 best iPhone keyloggers that you should check out. However, if you need an iPhone keylogger that is easy to work with, requires no jailbreak, and is reliable, go for the Spylix professional keylogger.